Today's world revolves around technology and the classroom is no different. Students need to use technology to be proficiently prepared for life beyond school, and teachers can benefit from all of the apps and websites available. Whether you are using ClassDojo for behavior management, SeeSaw to organize student portfolios, or DoInk to develop creative projects in your classroom, having the right tablet for the job can make teacher-life easier and less stressful.
Features to Consider
While there are many considerations when choosing a tablet, a few factors are key to determining the best tablets for teachers. The biggest consideration is the software used by the school that you work in. Adding an Apple product to a classroom that runs on Microsoft can create compatibility nightmares and vice versa. That said, there are some apps, like DoInk, that only work on certain platforms. Bringing a tablet in to run that platform may be worthwhile if you know it's an app that you will use often.
Once you've decided on an operating system, be sure to consider the following, as well:
Battery life
Pen options
The best speakers and microphone
Camera specifications
Processing speed
Screen size and display quality
Storage space
Wifi vs cellular connectivity
1. Apple iPad Pro
The Apple iPad Pro is the most extra tablet option for teachers, but that makes it perfect for those who use their tablet for everything from projects to grading. It has a large, 12.9-inch screen with Liquid Retina display that runs all of the way from edge-to-edge. The iPad Pro also has an A12Z Bionic chip that even includes a Neural Engine so that you have the best processor available.
Instead of stereo speakers, the iPad Pro offers 4 speakers and five studio-quality microphones in addition to the same 10 hour battery life that you'll find with all of the iPad models. It can connect to a wifi network or through a cellular data plan, too. With the iPad Pro, you won't be limited to fingerprint recognition, since it has Face ID to ensure secure authentication and connection with Apple Pay.
The iPad Pro has amazing camera power, too. The back camera is a 12 MP model and the 7MP camera on the front has a True Depth feature. With up to 1TB, you won't have to worry about space on this iPad, either. If you pair it with an Apple Pencil, and Smart Keyboard, you'll have everything you need to keep electronic records in your classroom. It's an amazing option for teachers who use their iPad as their primary electronic device in the classroom.
2. Samsung Galaxy Tab S9
Android users will love the Samsung Galaxy Tab S7 even better than the Tab S6. It has a 11 inch display screen and the S pen is one of the best tools to make working on a tablet feel as natural as writing on a board or paper. Teachers will find the price of the Samsung Galaxy Tab to be the best tablets for teachers on a tight budget. While the S7 is very similar to the Galaxy Tab S6, it has a few upgrades that make it an even better tablet.
It has a built-in microphone, great speakers, and works will all of the android apps available today. The S pen makes it easy to use and 1TB is plenty of space, especially if most of your work is happening in the cloud. The Samsung Galaxy is the best tablet for its price and will help any teacher keep class running smoothly in the digital age.
3. Microsoft Surface Pro 7
The Microsoft Surface Pro 7 is one of the newest tablets for teachers available. It comes with a pen, which will make it easy for teachers to record and write notes directly on the tablet, but the best feature of this tablet is its flexibility to turn into a fully functional laptop. It is the newest and best tablet and laptop combination for teachers. This is one of the best tablets for teachers because of its flexibility to transition from laptop to tablet and back again.
The Pro 7 has a processor that is two times faster than the Surface 6, so this tablet is one of the best for fast-moving teachers who want a device that can keep up with the speed of their classroom. It has a battery life of more than 10 hours and can recharge in little more than one hour! Of course, it's compatible with all of the Microsoft products, so it's one of the best tablets for schools that use the Microsoft Office Suite.
4. Apple iPad (10.2-Inch)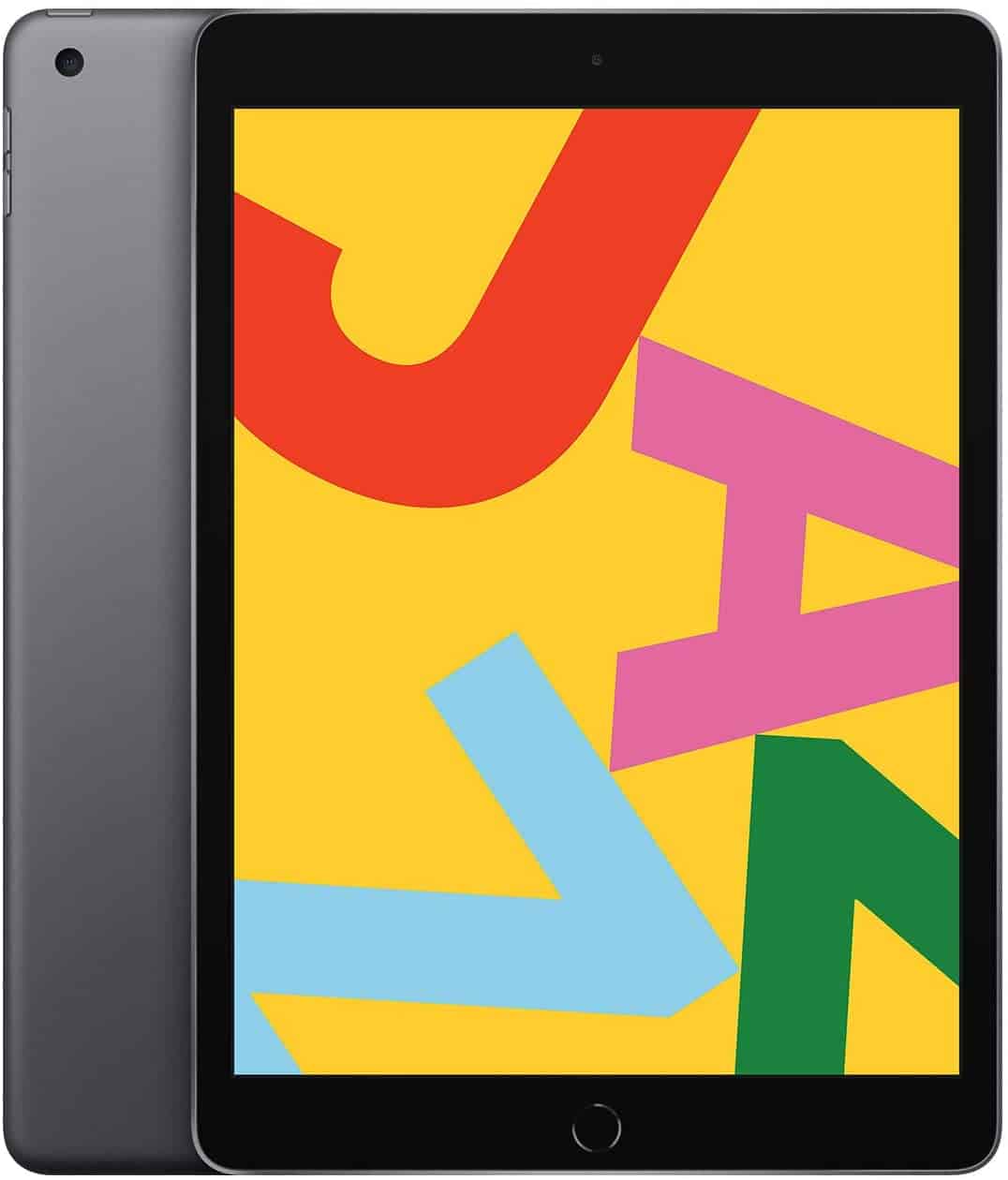 While Apple iPad are often the go-to choice when looking for the best tablets for classrooms, there are several versions of the iPad available. This model is the standard iPad that has a 10.2 inch screen with retina display. It includes the A12 bionic chip with neutral engine, so the processor will meet your needs. Since it has a fingerprint sensor for Touch ID to unlock it, you won't have to worry about students accessing the device without permission, too.
The battery life on this tablet should last all day, since it's good for up to 10 hours, and the stereo speakers will let students play back audio projects for the group to hear. One of the best features of this tablet is the camera set up. It has a standard 8MP camera on the back of the iPad that can be used for filming or snapping still photos, but it also has a second camera on the front of the iPad. The front camera is a 2MP camera, but it is HD and should adequately capture selfies and work for video conferencing.
The Apple Pencil can be a great addition to the iPad, too. It will make it easy to write notes and record grades directly on the iPad. With the Apple Pencil, you can avoid the hassle of writing with your finger on the tablet. This iPad will work with the wifi available at your school and home, but you need to know that this particular iPad does not work with cellular service. You will need a wifi network for it to connect.
5. Apple iPad Mini
For those teachers who wants to keep it lightweight and small enough to carry around with one hand, the iPad Mini may be the right choice for you. This is also a wonderful choice if you want a tablet that can connect using a cellular data plan. Of course, a wifi connection is still an option with the iPad Mini, too.
The iPad Mini has a 8.3 inch screen, so it is smaller and lighter than the other iPad options available. In fact, it's one of the smallest tablet options for teachers. It still has stereo speakers along with a fingerprint sensor for Touch ID to unlock the device when you want to restrict students' access to it.
Similar to the standard iPad, the Mini is expected to give you 10 hours of battery life, and it also has a front and back camera. There is a difference in the camera, though. While the back camera is the same 8MP, the front camera is a 7MP HD camera instead of the 2MP found on the standard iPad. The iPad Mini also has an A12 Bionic chip in its processor.
6. Microsoft Surface Pro 6
For those teachers who want a tablet that is compatible with Microsoft products and has the flexibility to function as a laptop, as well, the Surface 6 is a great option. It's a bit more "tried and true" than the Pro 7 and has a battery life of more than 13 hours.
Since it weighs less than 2 pounds, you won't have to build up your arm muscles to carry it around the classroom all day, and the 8th Generation processor will keep up with even the busiest of classrooms.
7. Lenovo Tab M10 Plus
For those teachers who need a powerful device but cannot afford a tablet towards the higher end of the price spectrum, the Lenovo Tab M10 Plus offers a premium product with a more affordable $200 price tag. Equipped with Android 9, a full metal body, and a slightly larger 10.3-inch full HD screen, this tablet functions and feels more high-end than the price suggests.
State-of-the-art touch and display driver technology (TDDI) allows for improved and seamless interaction with the tablet screen – an important consideration if it will be used daily for creating lesson plans or activities for students. The 2.3 GHz Octa-Core processor with 4GB RAM and 128GB of storage also ensures that you will experience quick and powerful performance that rivals many of the top performers. Additionally, built in eye protection technology will ensure that, if long hours are required behind the screen, your eyes won't suffer any strain.
Although the battery life is slightly less impressive than the Apple, Microsoft, and Galaxy alternatives, you will still be able to experience up to 7 hours of video playback and 8 hours when browsing the internet – more than enough to get through a day of teaching activities. You will also benefit from the immersive experience provided by 2 side speakers equipped with Dolby Atmos and the ability to stay connected with Wi-Fi and Bluetooth technology. Altogether, the Lenovo Tab M10 Plus is a solid all-rounder that is not only a great option for teachers, but it is also one that won't break the bank.
8. Amazon Fire HD 10
Similar to the Lenovo Tab M10 Plus, the Fire HD 10, operated by Amazon Fire OS, is an affordable tablet for those teachers who are working with a tight budget. If you are simply looking for smooth and robust performance, without all the bells and whistles, this tablet offers everything you need to get through a busy day of teaching. The 10.1-inch HD display offers a comparable viewing experience relative to higher-end products, and the 2 GHz Octo-Core processor with 2GB RAM gives you ample power to keep up with even the busiest of students.
With included accessories, such as the standing case, you can give your arms a rest in the classroom by leaning on hands-free functionality in either portrait or landscape mode. Additionally, the impressive 12-hour battery life means that you won't need to be tethered to a power point when delivering your lessons to students. If, however, the battery does die unexpectedly, the USB-C fast charger will ensure that you'll be back in action in less than 4 hours. Overall, the Amazon Fire HD 10 is a budget-friendly, yet powerful tablet competitor that is hard to beat.
Conclusion
It's not easy to identify a single tablet that is best for all teachers, because there are many reasons to bring a tablet into the classroom. Sometime a tablet will be the main electronic device for the teacher and will need to do the job of a laptop and a tablet. Other times, the teacher is looking to bring in the best tablet for a few specific apps that will be used primarily by students. Some teachers may be interested in the best tablets for a reasonable price to add options for students in classrooms that don't already have devices.
There are many factors to consider when looking at the best tablets for teachers today, but once you find the tablets that will meet your needs, you'll love the way it can streamline your class record-keeping, organize documentation, and enhance student creativity.