Take one of everyone's favorite nursery rhymes and turn it into a range of activities that are fun and engaging for your preschool and kindergarten students. Whether you are looking for Homeschool Activities or in-class, whole group activities, you are bound to find something in the list we have curated for you.
We have created a list of activities all centered on the Three Little Kittens Who Lost Their Mittens.  Although one of the classic tales, this nursery rhyme is so much more than a simple bedtime story. From reading skills to math activities, you can create a whole unit on the Three Little Kittens or embed these activities into larger units on winter or nursery rhymes.
Create laminated characters and props that students can use to act out the story. This is a great reading activity to keep students involved and gauge their comprehension.
Learn More: Keeping Life Creative
Print out colored versions of different mitten patterns. You can extend this activity by with older students by having them help create matching pattern mittens by coloring printables. Then, cut out the mittens. Mix them up and have your pre-K students find the matches.
Learn More: Keeping Life Creative
Cut out mittens from construction or card stock paper. Use stickers or printed-out pictures of different rhyming words to create "matching" mitten pairs. After reading the story with students, they can assist the kittens by finding the rhyming matches.
Learn More: Growing Book By Book
4. Popsicle Stick Kittens
Adapt this fun cat activity to a Three Little Kittens storyboard. You can use small pieces of colored felt for their mittens. Help students create their favorite scene from the story. This is a great class activity for younger elementary students.
Learn More: Crafty Morning
5. Three Little Kittens with Whiskers
Another cat activity that you can introduce as part of your Kindergarten lesson plan. Students can color the kitten faces before cutting them out. Then, work on fine motor skills by completing the craft with a lacing activity. Use pipe cleaners laced through holes to create the kitty's whiskers.
Learn More: Your Therapy Source
Turn the Three Little Kittens poem into a Week-Long Lesson. Use printables to move from book activities to a fun story-themed math activity.
Learn More: Education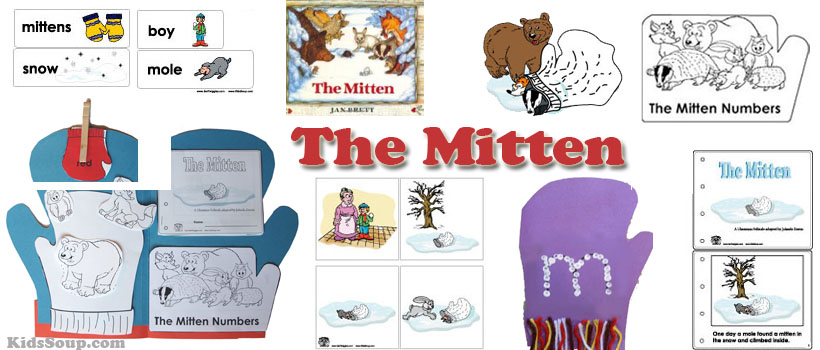 Print out pictures of words that begin with the letter M. Have students choose different pictures to decorate their mittens.
Learn More: Kids Soup
8. Mitten Matching Worksheets
Print out this fun coloring and matching worksheet. Have students work on motor skills and provide some coloring downtime. Tie this into color recognition and have your student color each pattern with a certain color.
Learn More: Sarah Pecorino
Choose from a number of designs and templates online. Turn this individual student activity into a whole class project by having the student paste their finished mittens onto a Three Little Kittens bulletin board or poster board.
Learn More: Get Coloring Pages
10. Visual Discrimination Activity
Create fun nursery rhyme centers activities. Include color printed or your own colored mitten sheets. Have students put a clothespin or paper clip on the mitten that is different. You can tie this in specifically to your Three Little Kittens lesson plan or a larger unit on nursery rhymes.
Learn More: Teaching 2 and 3 Year Olds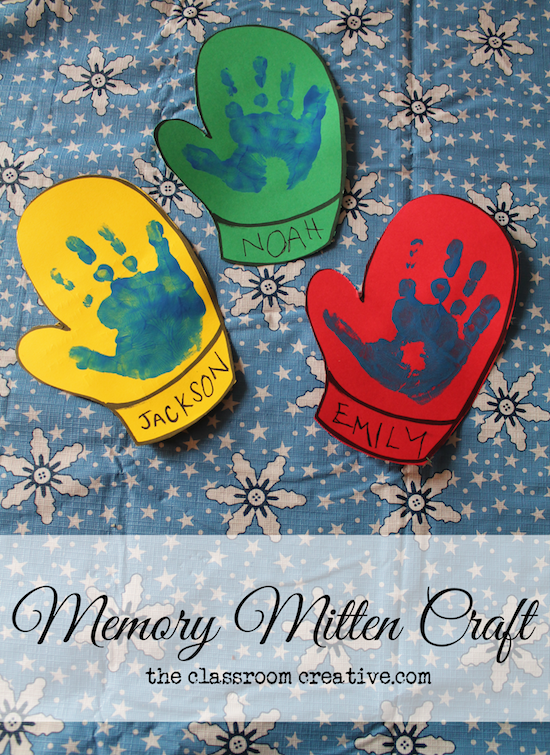 Use construction paper to create a pair of mittens. Let each student have a pair of mittens. Use contrasting colored paint to help students put their handprints on each mitten.
Learn More: The Classroom Creative
12. Cotton Ball Mitten Craft
Decorate mittens and work on fine motor and sensory skills with this craft idea. Prepare the entire class by reviewing the Three Little Kittens poem before starting the craft. Ask them how they think the Kittens' mittens looked.
Learn More: Messy Little Monster
13. Coffee Filter Cat Craft
Have your pre-schoolers or kindergarteners create their own kittens with this handy craft idea.  You could also use white paper plates if you think the coffee filters may not withstand their tiny hands. Use sensory elements to make whiskers and other details with materials like cotton balls, pipe cleaners, felt paper, or tissue paper.
Learn More: Look We're Learning
Have students work together to create their own version of the Three Little Kittens with this cute craft. Add felt or colored construction paper mittens to the bottom of the tube. Have students retell the story using their crafts as props.
Learn More: Play Ideas
15. Tissue Paper Collage Mitten
Work on fine motor and color skills with this art activity. Use colorful pieces of tissue paper to decorate pre-cut construction paper mittens.
Learn More: Preschool Activities
As you are doing your read-aloud of the story, ask student questions. To test comprehension ask them what happened. Make your questions open-ended so that they can add details from the story. When doing this, you are building the foundational skills for citing text evidence.
Learn More: Very Well Family
Help your students build their understanding of story elements with a story wheel activity. For pre-Kindergarten and Kindergarten create three "slices" for your wheel, labeling them "Beginning," "Middle" and "End." Students take the examples from the book and draw their interpretation of what was happening during each point.
Learn More: 4Kinder Teachers
Create word walls with laminated cards that have both the word and a picture from the story to illustrate the term. You can add these to your sight word wall or create a special themed bulletin board.
Learn More: Reading Rockets
19. Predictable Sentences Literacy Center
Using sentences from the story to make a Three Little Kittens literacy center while supporting foundational writing skills and comprehension. Students use a laminated card to fill in the blank on the sentence by placing it in the appropriate space in a pocket chart.
Learn More: Mrs. Will's Kindergarten
Turn a regular reading center into a compare and contrast activity.  Pre-K and Kindergarten students can work on their literacy skills by reading and viewing different versions of the Three Little Kittens. Follow this station with a teacher-led station where students tell you which version was their favorite and what they liked most about it.
Learn More: Pre-Kinders
For another center or class reading activity, after you read a Three Little Kittens book to class, allow them to retell the story on their own by creating their own book. For preschool students, you may want to have them retell the story with short sentences they trace and an area to illustrate.
Learn More: Homeschool Notes
22. Practice Writing on Magnetic Boards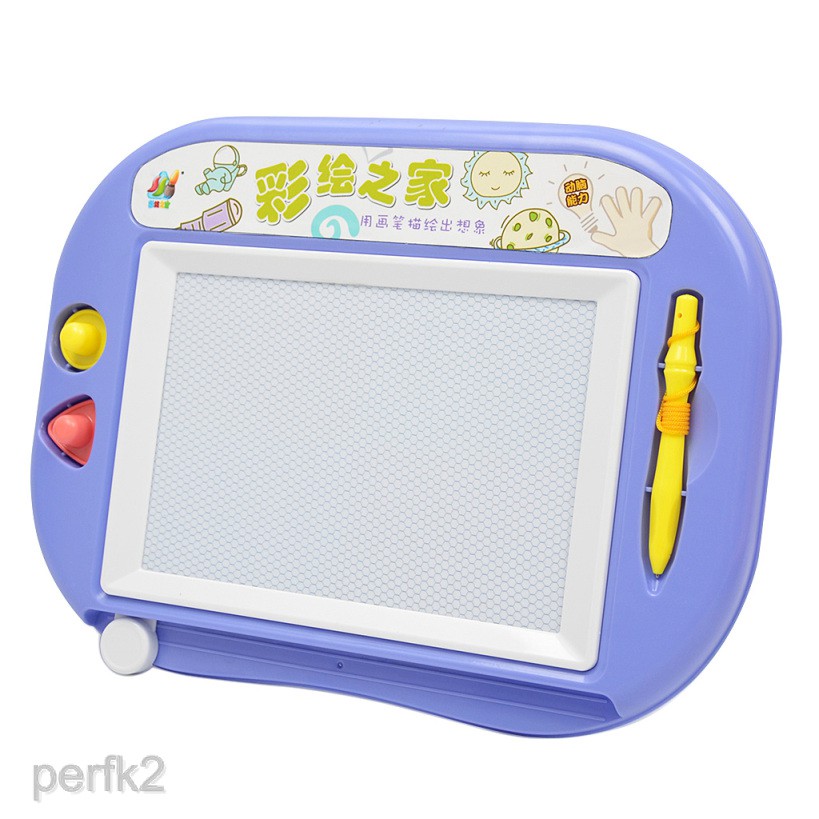 Have students use the Three Little Kittens Word Wall as a reference to practice their writing. Use magnetic or dry-erase boards (lined for preschool students) and have them write key terms from the story.
Learn More: Amazon
23. Spelling with Magnetic Letters
Expand your Three Little Kittens into a winter theme unit. Block out squares on a magnetic board. Place a word from the story, including other winter words, at the top of each box. Within the boxes, have the magnetic letters in the word scrambled for students to unscramble.
Learn More: Fun Learning For Kids
24. Read Aloud with Silly Voices
Students get to read the story in their silliest voice. Challenge them to read the story using a kitten voice, grandma voice, teacher voice, and more.
Learn More: Reading With Auntie Missy
25. Mix and Fix Sentence Station
Work on comprehension and sentence skills with this fun activity. Write out sentence strips that include the wrong information. For example, have your kittens lose their winter coats. Then, students can fix the sentence with the correct word or phrase. You can use word cards or ones with pictures as supports to differentiate this activity.
Learn More: Natalie Lynn Kindergarten