5th grade is a crucial year for students. The 5th grade average reading fluency rates are 195 correct words in a minute time frame. During 5th grade, students' fluency and decoding skills will grow immensely. They must be able to understand what they read and be able to read accurately, smoothly, and with many expressions.
Teachers and parents must provide fluency training drills for children to practice reading fluency. We are offering 10 reading fluency passages that will assist you as you provide these opportunities for your 5th grader.
1. Roll It Reading Fluency Center
Roll It Reading Fluency Center is a terrific and inexpensive resource to implement in your 5th grade reading classroom. Students will roll dice to determine how they will need to read aloud a short reading passage. They may read the passage with an accent, emotion, high-pitched voice, low-pitched voice, overexaggerated way, or with fabulous fluency. Kids will love this fun and engaging activity!
Learn more: Teachers Pay Teachers
2. Grade 5 Year Long Fluency Reading Intervention
This amazing bundle is filled with 35 fluency passages, and each passage includes a few extension activities and simple reading comprehension questions. One passage should be used each week which will make for year-long fluency reading intervention. Use these materials for whole-class fluency instruction or as homework activities. All materials in this bundle correlate with the Common Core Standards. Purchase this inexpensive resource for your 5th graders today!
Learn more: Teachers Pay Teachers
3. Fluency Passages 5th Grade Informational Science Bundle
This affordable and engaging resource offers awesome fluency passage practice for 5th grade students. It includes 18 passages and comprehension practice questions that are great for checking student understanding. These printable fluency passages can be used for whole group classroom instruction or as additional fluency practice at home. Use these passages with your students to improve their reading fluency while they learn more about important science topics.
Learn more: Teachers Pay Teachers
4. Rowdy Reindeer Fluency
These free 5th grade level passages are a wonderful addition to the reading curriculum and are a great activity to use in December. This resource includes 2 comprehension worksheets as well as a creative writing activity. You can print these passages for each of your students, and they can record their reading scores on them. Use the hot, warm, and cold reading strategies when implementing these passages in your classroom. Enjoy using this Rowdy Reindeer resource for fluency intervention with your 5th graders!
Learn more: Teachers Pay Teachers
5. Increasing Fluency with High Frequency Word Phrases Grade 5
Use this engaging resource for fluency practice with your 5th grade students. This workbook includes 20 print fluency passages that support successful learning and are correlated with college and career readiness standards. There is also an audio CD that models fluency by providing oral fluency readings of phrases and short passages. Use these reading fluency worksheets to help your students be successful before entering the 6th grade.
Learn more: Amazon
6. Activities for Fluency, Grades 5-6
This engaging workbook is one of the best resources for children in the 5th and 6th grade levels of the reading classroom. Each of these fluency lessons focuses on fiction, nonfiction, poetry, songs, or riddles. Find extension activities to assist students with struggling areas. Students also learn about breathing patterns which leads to better oral fluency. Assess student fluency based on their tone and accuracy.
Learn more: Amazon
7. 5th Grade Social Studies Fluency Passages
This resource is a helpful tool for improving oral reading fluency. Research shows a correlation between reading fluency and reading comprehension. Therefore, repeatedly reading short passages will improve fluency and comprehension. The passages included in this engaging resource are correlated with 5th grade social studies standards and focus on topics such as The Boston Tea Party, The Aztec Empire, The American Revolution, and many more.
Learn more: Teachers Pay Teachers
8. 5th Grade Reading Fluency and Comprehension Passages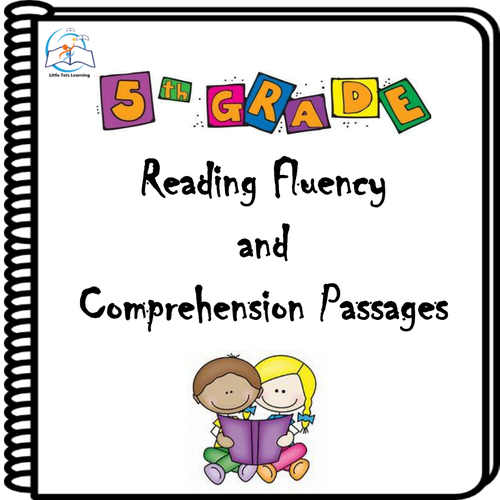 Your 5th grade students will have lots of fun with these reading comprehension activities and reading fluency strategies. This resource includes 32 passages, 13 reading posters, and charts for tracking students' growth and success. These 5th grade activities are correlated with the Language Arts standards and the Common Core State Standards.
Learn more: tes.com
9. Fifth Grade Weekly Reading Comprehension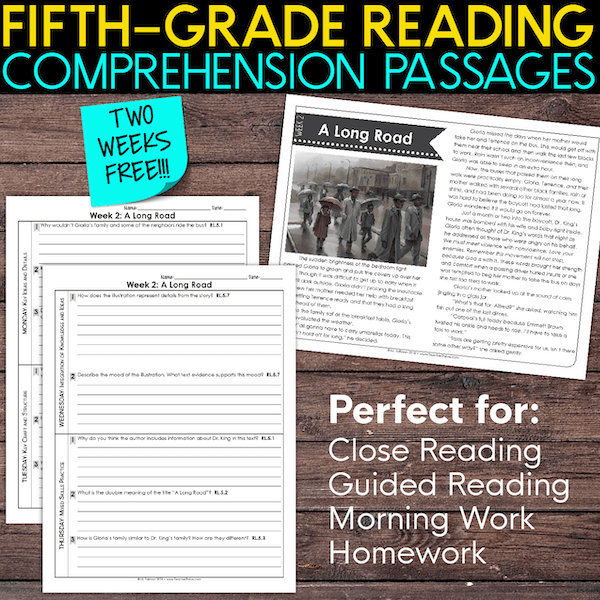 This free progress monitoring resource is perfect for shared reading, guided reading, close reading, classwork, or homework activities. It includes 2 weeks of reading comprehension activities that will also improve reading fluency. You can even use this tool with various grade levels for differentiation of reading instruction. This resource is a great practice tool for your 5th graders!
Learn more: Teacher Thrive
10. 60 Leveled Fluency Passages
Differentiate instruction and improve your students' fluency with this amazing resource which includes 60 leveled passages. This resource also includes a 10-page comprehensive guide that explains the purpose and importance of progress monitoring. Use these activities and passages for whole group instruction, center work, or homework. Your students will enjoy these high-interest topics and become more fluent readers!
Learn more: Teachers Pay Teachers