When I think about five-year-olds, I think about the world of imagination and endlessly learning possibilities- where the impossible is possible, and there are no limits and boundaries. Five-year-olds are eager to learn, help, and do. They are on the go from morning till night, so they need plenty of short activities to keep them entertained. We've compiled a list of 25 engaging activities, so dive right in and remember to have fun!
1. Play With Your Food
Kids are always told, "Don't play with your food." Well, in this activity, we are going to do just that! Ever heard of Rainbow Toast? Children will have edible paint and some toast and can let their imaginations go wild as they paint a rainbow. Afterward, they can enjoy an edible treat!
Learn More: Holley Grainger
2. Cookie Merger
Hundreds of years ago, Othello was first played with black and white stones in Japan. The game's object is to enclose the opposite color so it can be flipped over. This time we are using black and white sandwich cookies in a fast-paced game with a twist.
Learn More: Kids Activities Blog
3. Got Cups?
Plastic cups can be so much fun if you know what to do with them. Cup activities go far beyond just stacking them up. From bowling, ping pong, sorting, or drawing, plastic cup activities win hands down. Kids have big red plastic cups and small squares of construction paper, and the aim is to try and build the tallest tower.
Learn More: Pickle Bums
4. Egg Carton Planting
Little ones like the experience and idea of gardening, but many do not like all the hassle it entails. Children can have lots of fun in the classroom with egg carton plants. They can simply fill a carton with soil, plant the seed, water it, and watch it grow.
Learn More: Revolution Foods
5. Ants Go Marching
Ants are so interesting to learn about, and with this fantastic craft, children can make their own red and black ants out of spoons! Connect assorted spoons and paint them red or black. Glue on some googly eyes and pipe cleaner legs, and your ants are ready for marching!
Learn More: Danielle's Place
6. Junk In Your Trunk
This game takes a little bit of investment, but it is well worth it. All you need is some tissue boxes, ping pong balls, and a few other odds and ends. The game's objective is to get all the balls out of the tissue box as fast as possible. Shake, jiggle and move to get your "junk out of your trunk."
Learn More: JCTV Family Vlog
7. Shhh, It's Quiet Time
Children need downtime, and to create the best chill time for your kindergartener, you need to create the right atmosphere. Healthy music, low lights or soft lighting, crayons and paper, soft toys, and comfortable seating do wonder!
Learn More: Families In Schools
8. Bean Bag Fun
Bean bags are so easy to make, and they are essential in child development. Practice the art of balancing by getting your little ones to balance bean bags on different body parts. There are so many games that can be played with bean bags; whether it's a tossing or spatial activity, your learners are sure to have a good time!
Learn More: Empowered Parents
9. Inventive Activity Cards
Five-year-olds are full of imagination, and we have to help nurture their literary skills and public speaking. One great idea to help you do this is picture cards that can be bought or made. Children lay a few of the cards on the table and then tell us a simple story step by step.
Learn More: Tinker Lab
10. Scavenger Hunt For Beginner Readers
Using cards with simple instructions and some picture cards, pupils can work together and solve the puzzles to discover the treasure. Hide items in the playground or classroom for learners to search for.
Learn More: The Spruce
11. Lego Charades
This is a fantastic game! Each child gets a picture to recreate using Lego blocks. The other children will guess what they are building as they create. It seems complicated, but it works really well, and your little ones will love the interactive guessing part!
Learn More: Big Family Blessings
12. Musical Moves
This is an adorable, kid-friendly YouTube exercise video with easy exercise moves. All your little ones need to do is listen to the instructions and follow along. Exercise is important for everyone's health; if you start young, your students will have good habits!
Learn More: Monica Flores Fitness
13. Paper Plate Snowman
Snowmen crafts are fantastic Winter makes! Make a paper plate snowman using paper plates, glue, and googly eyes. Print out the body parts before cutting them out and assembling the body.
Learn More: Simple Everyday Mom
14. Learn With The Gruffalo
To teach reading, kids need to know how to decipher rhyme. The Gruffalo is a funny tale to help with rhyming, and children can then invent their own crazy animals like a COG or a SNOG!
Learn More: Deanna Jump
15. STEM Paper Airplanes
Paper Airplanes can be challenging to make, but with the right instructions, you have a great educational STEM project! All your learners need is some paper, crayons to decorate their finished product and a whole lot of patience!
Learn More: Engineering Emily
16. BIG or PIG
5-Year-olds are at the age where they are beginning to read. This website is great for practicing blending words and developing pre-reading skills that will improve your child's phonological awareness.
Learn More: Education.com
17. Bed Of Roses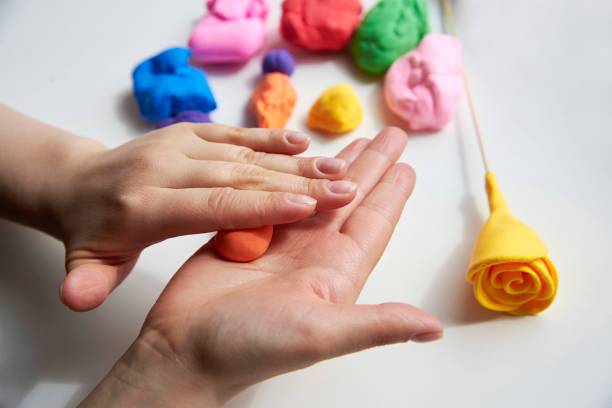 Make a beautiful bouquet of roses using play dough! They are truly beautiful and easy to make. Start with a few small pieces of playdough or clay – rolling them into small balls and then into oval shapes before pressing the pieces together and forming flowers.
Learn More: Krokotak
18. Twister
There is something exciting about being entangled with your friends! Time to take off your shoes and stretch a little. Challenge your learners to keep their balance as you spin the instruction wheel and have your students follow the prompts by placing their body parts on the mat.
Learn More: Little Learning Corner
19. Obstacle Course
Use some yarn and other household items you have lying around the house to create an awesome obstacle course. Get your little ones involved in designing and setting up their very own obstacle course before maneuvering through it for hours!
Learn More: Life Family Fun
20. Cotton Ball Balancing
This is an awesome activity to practice balance if you have a few teaspoons and cotton balls lying around. Place a cotton ball on the spoon and have your learners race from one end of the classroom to the other without dropping their cotton balls.
Learn More: A Mom's Take
21. Full Of Beans
Set up a sensory bin using assorted beans. Kids will love the sensation of running their fingers through the beans and enjoying the texture. They can use containers to pour the beans from one box into another or even practice their math skills by counting out a given number.
Learn More: Bounce Back Parenting
22. Hot Potato Balloon Game
Hot potato entails moving extremely fast. Blow up a balloon and have your learners stand in a circle. The object of the game is to keep the balloon in the air and not hold onto it for too long.
Learn More: Empowered Parents
23. Simon Says
Simon says is an awesome opportunity to practice listening skills. Learners can play by following the instructions called out by "Simon." If an instruction is given without the words "Simon says…", the learners who complete the action are out.
Learn More: Patty Shukla Kids TV – Children's songs
24. Dice Game
Moo like a cow, jump like a rabbit, sing like a bird- all of these options and more can be played in an animal activity dice game. Roll the die and follow the instructions written on a piece of paper. Make sure your learners have plenty of space to move around in.
Learn More: Twitchetts
25. Horse
Using smaller basketball nets and softballs, children can play this great classic game. The object of the game is to shoot the ball into the basket from different positions. If you miss after three tries, you get an H, and so on. Once you have the word HORSE spelled out in full, you're eliminated from play.
Learn More: Rookie Road