Core values are something that your students will all have, but may not be entirely aware of just yet. The first step in teaching your students about their personal values is to get them to name and define different values.
Once they have a good understanding of what values are, they are ready to define their own! Helping your students to reflect on the everyday decisions they make in their daily lives is a fantastic place to start.
Read on to learn about the 23 useful activities to get your students learning about personal values.
1. Naming and Defining Values
This personal values activity worksheet is a great starter task when introducing the idea of personal values to your class. This worksheet can be printed or completed online for students to match the definition to one of the options from the list of values.
Learn More: Live Worksheets
2. Character Building Journal Prompts
These writing exercises are a great way to get your students to reflect on different values. The initial activity prompts can be used to open up topics for a bigger discussion around students' own individual personal core values.
Learn More: Journal Buddies
3. Teaching Respect
Teaching students about respect is something that teachers do on a daily basis. Promoting and modeling these meaningful core values to students, like in this 'Respect Card' activity, is a fantastic way to teach children about values.
Learn More: Proud to Be Primary
4. Identity and Values Video
The video introduces the idea of personal values and how these relate to identity. It also highlights that just as other people have different identities from ourselves, they may also have different personal values.
Learn More: YouTube
5. Personal Core Values Wordsearch
This word search is a perfect starting exercise for your next lesson on personal values. Searching for the words in the list of values at the bottom of the page is a great way to introduce the vocabulary of some common values.
Learn More: Word Mint
6. Walk in Someone Else's Shoes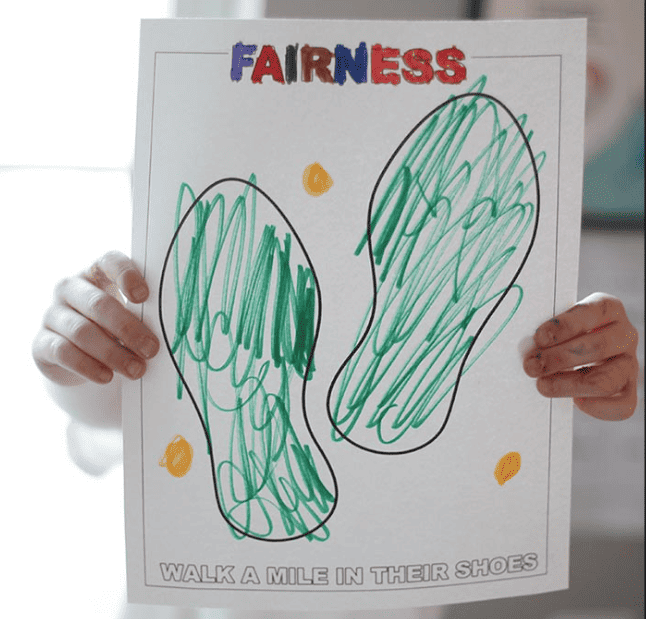 This free printable is a fantastic way to get your students talking about what is fair and how others' everyday life can differ from their own. Students can discuss how different paths in life can change what people prioritize as their own personal values.
Learn More: Sunny Day Family
7. Core Value Matching Worksheet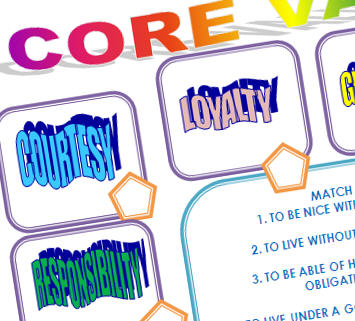 This free printable worksheet lists different common values and students can match the definitions in the middle to them. This personal values activity will get your students thinking about their own values and what makes them important to them.
Learn More: Busy Teacher
8. What Are Values Video
This fantastic video offers a step-by-step, adorably-illustrated breakdown of what values are and what they can look like to yourself and others and that there are no right or wrong values as they reflect what is important to you based on your own life and experiences.
Learn More: Your ACT Auntie
9. Match the Core Values to the Character
Ask your students to tell you the names of people, either actors or fictional characters, and discuss how they act in real life, or in the movie or show. Get your students to then come up with a list of what personal core values that person might have.
10. Discussion Questions PowerPoint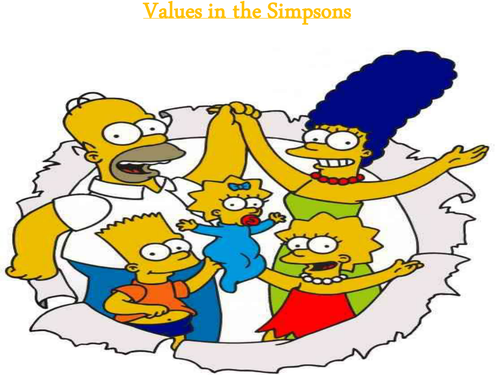 This fun interactive exercise will get your students really engaged with your personal values lesson. You can display a collection of core values and discuss what they each mean and discuss what each of The Simpsons' family member's core values is.
Learn More: TES
11. Create a List of Class Values Instead of Rules
Moving away from class rules and promoting class values is becoming an increasingly popular idea in classrooms around the world. Teaching and promoting class values to your students encourages ongoing reflection on their actions and if they fit with these values.
Learn More: Building Brilliance
12. Morals and Values Hanging Craft
These colorful, cute hanging crafts are a great way to liven up your classroom and are easy to make using basic craft supplies. You could use the values used in the activity, provide your own list of values or ask students to come up with their own.
Learn More: Jas Subroi Art & Craft and DIY
13. Teaching Values with Short Stories
These gentle stories are a great way to get students thinking about different values. Read these stories with your students then discuss the core values of the characters and why they think core values are different for everyone.
Learn More: TES
14. Discover Your Personal Values
This core values worksheet is a gentle way to get students to consider and reflect on their own personal values and what is important to them. The activity will explore different common core values and allow students to rank how important each value is to them.
Learn More: Play at Tune
15. Personal Values Lesson Plan
In this personal values activity, students will be guided to list 16 personal values. They will then go through a host of activities that will get them to create a hierarchy of values, choose between some of their current values, and even throw some away!
Learn More: The Responsive Counselor
16. How Do You Work Out Your Personal Values
This video is a great way to help guide your students to work out what their own personal values are. The video encourages students to think about their personal stories, priorities, passions, and principles when working out what their personal values are.
Learn More: The Right Question
17. Gingerbread Man Values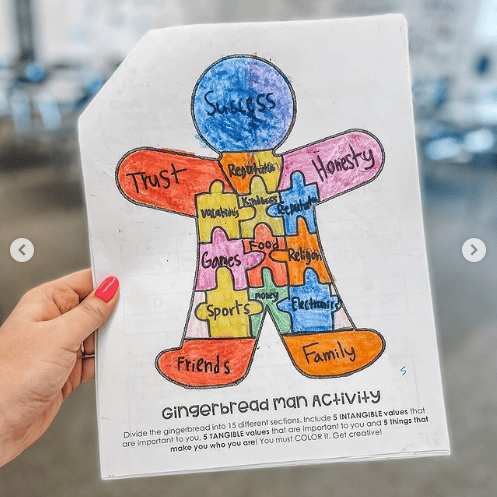 This super cute gingerbread men value activity is a great way to get students to consider different categories of values such as tangible and intangible. Students will need to reflect on their own values and settle on 15 personal values before they complete this activity.
Learn More: Instagram
18. Map of Me Core Values Quiz
This super fun and interesting personal values activity for older students asks 80 questions to determine their core values. Students then get to explore different aspects of the values listed on the website and learn more about them.
Learn More: Personal Values Game
19. Order the Values
Using these value cards, give students either in groups or as a class around 20-40 values. Discuss the definitions and nature of the values given. After this, ask your students to create a hierarchy of values placing the most important at the top.
Learn More: Kid Pid
20. What's Important to Me Worksheet
This printable worksheet is a quick way to get students thinking about their own core values by making it simple to see if these common values are important to them or not. Discuss students' results as a class after completing the worksheet to demonstrate that everyone's core values are different.
Learn More: Live Worksheets
21. What Are Your Values Writing Activity
This personal values activity is focused on either discussion or writing exercises which encourage students to explore their thoughts and beliefs about certain topics. This activity is super interactive and will get your students talking and thinking about their values.
Learn More: Teachers Pay Teachers
22. Values in a Jar
This fun, crafty activity is a way to visually see and display your students' own personal values. Students will select images from magazines or can find and print images online which show things that they value and then stick them onto their jar.
Learn More: Art Sphere
23. Tree of Life Activity
This personal values activity is perfect for older students. Students will need time to reflect on their experiences and thoughts but this activity will help them easily identify what their core values really are.
Learn More: Firefly: Light in the Dark