Adverbs are an essential part of the English language, providing details on how, when, and where an action is performed. Learning about this key grammatical concept can not only help students become better writers but also more confident communicators. This list of 20 activities for kids is engaging, interactive, and designed to help them understand and use adverbs correctly. From charades and word searches to board games and storytelling, these activities are sure to make language learning a fun experience for kids of all ages.
1. Sing an Adverb Song
This catchy and kid-friendly song can help students remember adverb rules while developing their musical confidence. Singing also encourages creative expression while promoting a love of learning.
Learn More: Silly School Education
2. Review Adverbs with a Slideshow Presentation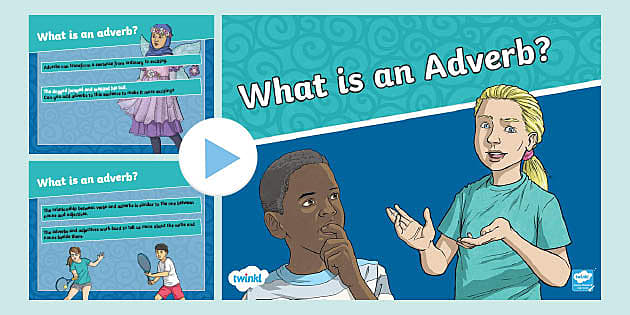 Full of colorful images and clearly organized explanations, this informative slideshow provides a detailed definition of adverbs along with plenty of contextual examples.
Learn More: Twinkl
3. Animal Adverb Worksheet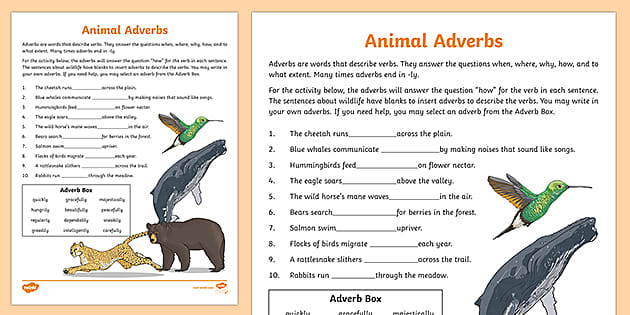 Incorporating animals into adverb learning is an effective way to help students visualize this tricky concept, as they can easily picture animals crawling and slithering across the jungle floor. Additionally, filling in the blanks with the correct adverb strengthens critical thinking skills while helping to integrate their scientific understanding and language skills.
Learn More: Twinkl
4. Video Activity for Adverbs
This entertaining animated video invites kids to join Tim and Moby as they explore what adverbs are and how they work in sentences. Full of colorful graphics, sound effects, and jokes, this engaging resource also features an adverb quiz to assess student understanding.
Learn More: BrainPOP
5. Fun Vocabulary Game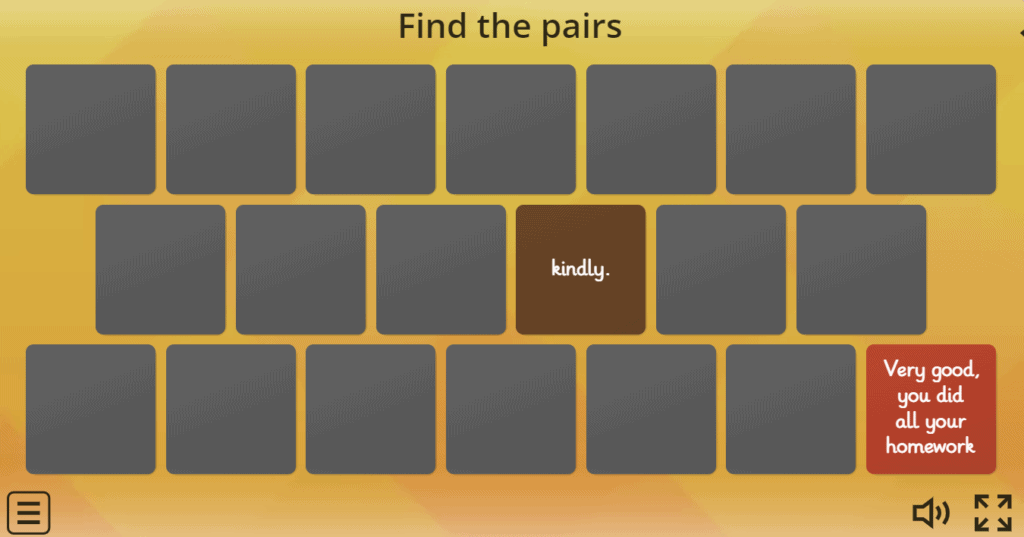 This digital version of the classic memory-matching game challenges students to find the appropriate adverb for each sentence. Apart from improving memory skills and concentration, it's a fun and interactive way to expand students' vocabulary.
Learn More: Wordwall
6. Adverb Chart Worksheet
This worksheet challenges students to sort a given list of adverbs into three categories based on how they modify the verb: how, when, and where. Developing students' ability to differentiate between the different types of adverbs can help develop critical thinking and writing skills.
Learn More: Worksheetplace.com
7. Fun Game For Kids
To play this simple speaking game, players spin the paperclip spinner and make a complete sentence with the words they land on. Challenging them to Incorporate adverbs of frequency into their sentences helps develop grammatical awareness while strengthening their speaking confidence.
Learn More: English Daisies
8. Play a Fun Board Game
To play this creative board game, players roll a die and move their game piece on the board by the corresponding number. They must then form a sentence incorporating a frequency adverb with the words on the square. It's a fun and interactive way to practice core grammar skills and encourage group cooperation.
Learn More: ISL Collective
9. Play A Grammar Game
This charades-based game is sure to elicit plenty of giggles as kids try to guess the adverb that is being acted out by their classmates. There's no better way to promote creativity and boost confidence while improving language skills!
Learn More: Teachers Pay Teachers
10. Fun Adverbs Word Search
Besides promoting relaxation, this educational word search can offer a fun challenge that boosts memory, and concentration while helping kids improve their ability to recognize adverbs in different contexts.
Learn More: Top Teacher
11. Printable Task Cards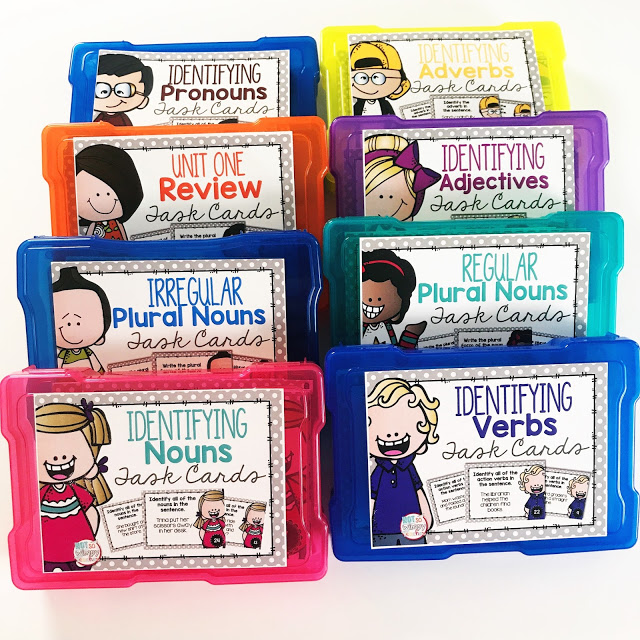 These bright, bright, hands-on sentence-building task cards are an interactive and engaging activity that helps students practice and can be used in literacy centers, small groups, or as a classwide activity. They make an excellent assessment tool while boosting student engagement.
Learn More: Teachers Pay Teachers
12. Adjective vs. Adverb Usage Quiz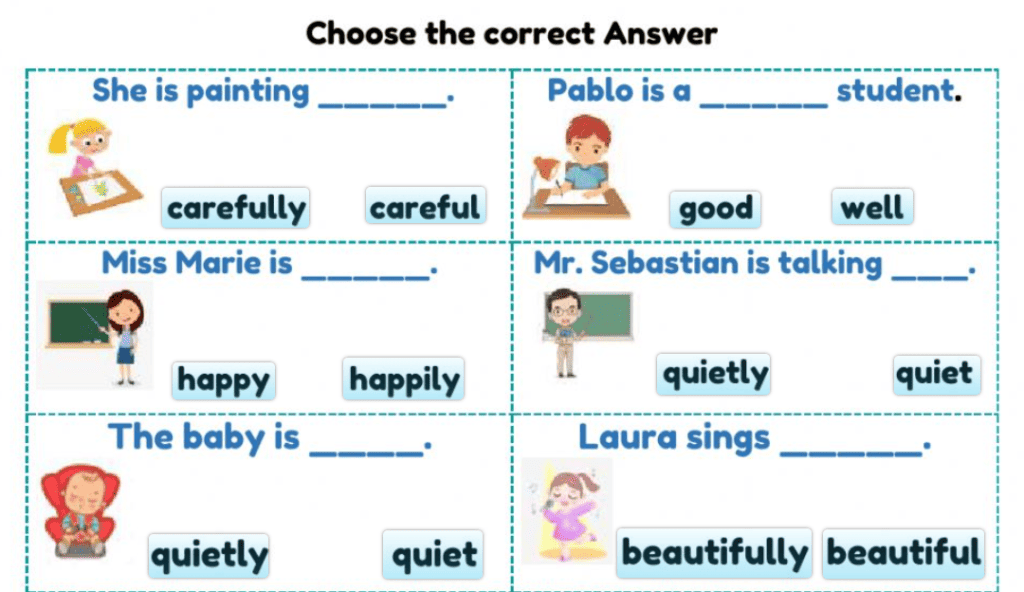 Differentiating between adjectives and adverbs can be tricky for kids, so why not help clarify their understanding with an open-book quiz? This versatile digital resource can be incorporated into an online lessor or printed for classroom use.
Learn More: Live Worksheets
13. Creative Adverb Activity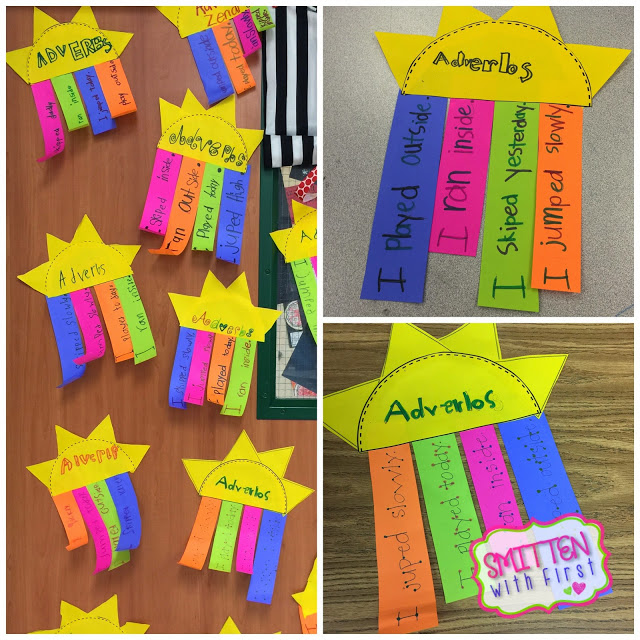 To create this eye-catching craft, students will create a Sun using construction paper before attaching four colorful rays featuring unique adverb sentences. The finished colorful craft makes a beautiful classroom decoration that can help serve as a visual reminder of student learning.
Learn More: Smitten with First
14. Make a Flip Flap Book Featuring Common Adverbs
This hands-on activity will keep kids engaged and learning as they write, cut, sort, and glue adverbs into four main categories before using adverbs in sentences. A flip-flap book makes for a concrete physical reference they can keep in their desks and refer to throughout a grammar unit.
Learn More: Simply Skilled Teaching
15. Read and Discuss a Mentor Text
This beautifully illustrated and humorous book follows a group of cats who explain what adverbs are and how they are used in sentences. Apart from telling silly jokes, they help break down the difference between adverbs of time, place, and frequency in a clear and memorable way.  
Learn More: Amazon
16. Advanced Adverbs Practice
Teach students how to add extra, colorful detail to their writing with the power of descriptive adverbs. Instead of saying "very hot," they can try "sweltering" or "scorching." This worksheet encourages them to brainstorm precise and interesting adverbs to make their writing more enjoyable for the reader.
Learn More: Education.com
17. Fun Adverb Lesson
These four interesting illustrations invite students to write descriptive captions in full sentences. It offers a word bank to get them started but also leaves room for creative input.
Learn More: Education.com
18. Make an Anchor Chart
This anchor chart addresses the two tricky rules about adverbs, namely that they don't end in -ly and that adverbs can also be used to indicate where an event occurred. As an extension activity, why not have students copy their learning into a journal to refer to during their writing practice?
Learn More: Upper Elementary Snapshots
19. Build an Adverb Tree
This adverb tree can be made by cutting out a tree from construction paper before writing four adverb sentences and attaching them to the leaves. It's a hands-on way to demonstrate and display students' grammatical understanding while building artistic and fine-motor skills.
Learn More: Amy Lemons
20. Color by Parts of Speech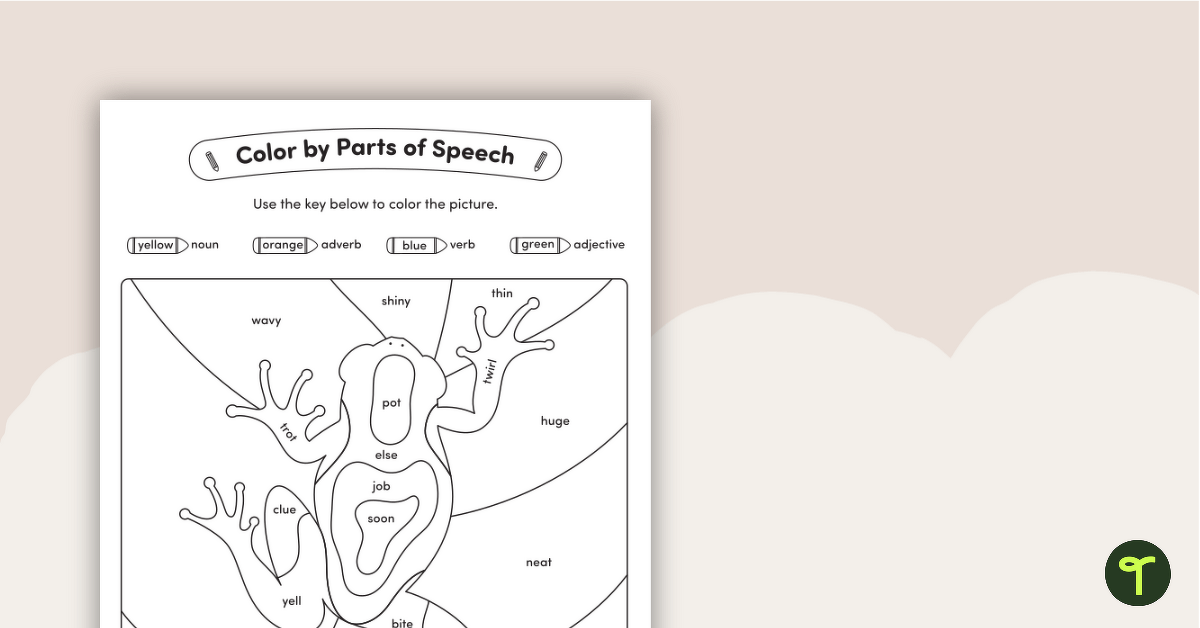 This coloring page invites students to differentiate between nouns, verbs, adjectives, and adverbs by using different colors for each part of speech. Apart from making a vibrant display for a school bulletin board, this digital worksheet can easily be modified with words and colors of your choice.
Learn More: Teach Starter