Do you ever notice your children or students speaking negatively about themselves? They may become frustrated when trying to complete a specific task or meet an academic goal. Sometimes, a negative thought may come to mind during these stressful moments and can make us feel rather inadequate. Teachers and parents can remind students of their worth by encouraging a growth mindset. Affirmation activities are an effective way to support the development of a growth mindset in children so, check out this collection for 20 inspiring ideas!
1. Daily Affirmations Journal
These simple exercises are an excellent way to start the day with positive thinking. There are many effective affirmations such as "I can control my emotions", and "Today will be a positive day". Children can select three different affirmations each day to focus on.
Learn More: Mom Loves Best
2. Affirmations Collage
Building a collage of positive affirmations is a fantastic method for building a growth mindset. Students will search through magazines and cut out photos for their collages. They can also type out affirmations or piece words together to create affirmations from the internet. Encourage them to be creative!
Learn More: Pure Wow
3. Effort Tickets
Teachers can encourage a positive mindset by celebrating effort. For this activity, you will create a ticket to reward students for their effort. Students can collect tickets and trade them for something special. You can include positive affirmations on each ticket to remind them not to give up.
Learn More: Inclusive Parenting
4. Affirmation Jar
These are printable affirmation cards that can be placed in a labeled jar for students to pick out when they are feeling low. These cards can be available for students to select anytime during the day. They can read them to themselves or to a classmate that may be struggling.
Learn More: Etsy
5. Positive Affirmation Art
To follow along with this tutorial you will need paper, a black marker, crayons or watercolor paints, and your favorite quote. You could also use uplifting lyrics to your favorite song for this project. You will simply watch the video and follow along to create your own positive affirmation masterpiece.
Learn More: Ms. Mendenhall
6. Positive Self-Talk Song
This song is full of positive affirmations for children! I love how the lyrics demonstrate positive self-talk. I would recommend using this with students during circle time regularly. They can even try turning their own favorite affirmations into songs of their own.
Learn More: Jo Jumper
7. Book of Affirmations
This book was written for children ages 4 through 8. It teaches children they are special and unique. Children will also learn that it is okay to make mistakes. These important life lessons are essential to teaching children for building self-esteem.
Learn More: ChildTherapyToys.com
8. Affirmation Alphabet
This activity is perfect for little ones that are learning the alphabet. Students will learn to connect each letter with a positive word, such as "A for Amazing". By including these reminders in their everyday lives, you can remind students of their abilities by referring to one letter.
Learn More: PhonicsMan
9. Affirmation Wheel
I love the idea of this affirmation wheel for children. They will take turns spinning the wheel to practice their positive thinking skills. You can use this wheel with the Bible verses included or you can adapt it to your preference.
Learn More: Etsy
10. Positive Writing Prompts
Writing in a journal is a great reflective practice for children. It can help them build healthy self-esteem and increase their confidence. Children will write about their personal strengths and what makes them special. Allow them to pick a writing prompt daily to respond to in their journal.
Learn More: Journal Buddies
11. Affirmation Stones
This is a beautiful, positive affirmation activity that both children and adults can enjoy. You can create your own affirmation stones by collecting smooth river rocks and painting them with positive statements and pictures. You can hide the rocks to brighten someone's day when they find them in the community.
Learn More: Fun Family Crafts
12. Mirror, Mirror
This is an excellent activity to promote positive self-talk. Students will write at least 5 genuine compliments to themselves in the mirror worksheet. Then, they will use a real mirror and speak the compliments aloud while looking at their reflection. You could also use sticky notes for the mirror.
Learn More: Pinterest
13. Affirmation Coloring Pages
Invite your students to create their own personalized affirmation poster. These printable coloring pages can be used in your classroom affirmation station or during students' free time. It would be amazing to use these posters to decorate the classroom. This would remind students to use positive thinking skills daily.
Learn More: Happier Human
14. Affirmation Vision Board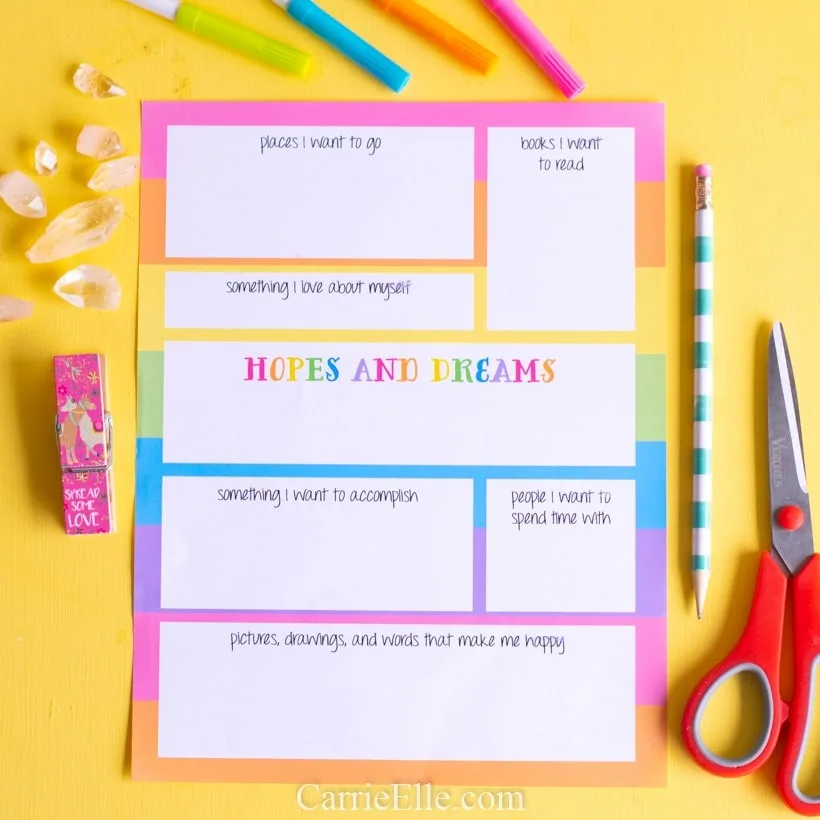 This activity would be a great exercise for adults and children to make together. There are benefits of affirmations in our everyday lives. Creating a positive vision board can motivate you to turn ideas into action. This vision board includes a space for affirmations, goals, hopes, and dreams.
Learn More: Carrie Elle
15. Praise Magnets
Creating praise magnets is a fun craft that can boost your child's self-esteem. First, you will use index cards to write positive affirmations, such as "I am brave", or "I believe in myself". Then, glue magnet strips on the back of each card to create a magnet. Read them daily!
Learn More: Connections Academy
16. Encouraging Letters
Children will have the opportunity to write letters to themselves. They will only be allowed to write positive, kind, and encouraging words. They can brainstorm what to write by pretending they are writing to a friend. They can read their letters when they are struggling and need encouragement.
Learn More: Two Little Birds Teaching
17. Affirmation Hopscotch
Students will use chalk to draw their own hopscotch board with affirmations of their choice. You can spread positivity by making this at a public park. Encourage children to say the affirmations aloud while they play a fun game of hopscotch.
Learn More: Calm Ahoy Kids
18. Affirmation Word Search
This free printable word search puzzle is a great reminder about affirmations to students. Word search puzzles are the perfect activity for students to complete during a break at school. Students will circle words as they find them, which will encourage a positive outlook for all.
Learn More: Reflect Affirm
19. DIY Watercolor Affirmation Cards
To prepare for this craft, you will cut out the cards and use a marker to write positive affirmations. Then, have your child use watercolors to paint each card. Cards can be used to give away to help others during difficult times.
Learn More: Indie Crafts
20. Kindness Bracelets
Hands-on projects are so much fun for children to create. They can create a bracelet that says "loved", "courageous", or "choose happy" to remind themselves to stay positive. I love activities for students that can be used as a craft and a learning experience.
Learn More: Projects With Kids