Alliteration is one of the many forms of figurative language that authors use to create meaning and rhythm in their work. It's defined as "the occurrence of the same sound or letter at the beginning of adjacent words". The best strategy for teaching alliteration is a ton of repetition! Adding this skill to your explicit or in-context instruction and games or activities is a great way to help kiddos learn how to recognize and use alliteration.
1. Alliteration Action
Students will listen to alliterative recordings and clap (with gloves on to muffle the sound) to the beats. When they are through, they will draw a picture of the song on a sheet of paper for evidence of learning.
Learn More: Florida Center for Reading Research
2. Alliteration Task Cards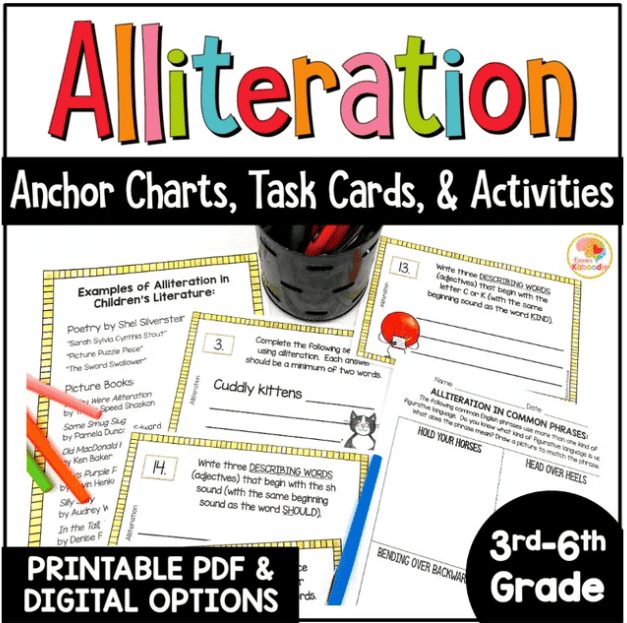 These cards would be the perfect addition to a classroom rotation or use within a small group practice. Have kids create their own silly sentences using the cards that include fun prompts to get them started.
Learn More: Etsy
3. Poetry Pizzazz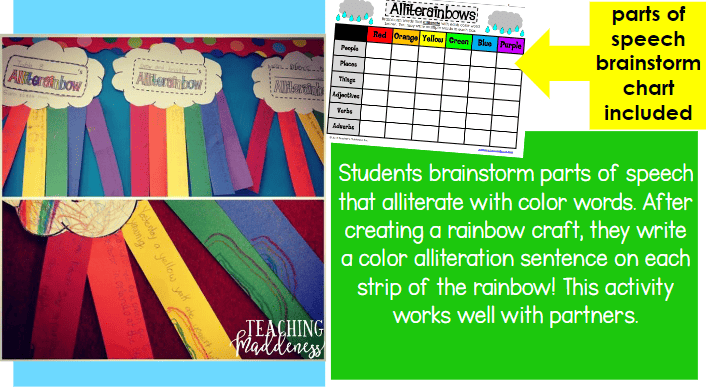 Included in this fun pack of teaching resources is the "Alliterainbow". Kids will use this craftivity to reinforce alliteration knowledge and create a visual poem using a variety of words that begin with the same letter.
Learn More: Teachers Pay Teachers
4. Spanish Alphabet Alliteration
This would be a nifty activity for preschool and kindergarten English language learners. They will use the Spanish alphabet to practice understanding what Alliteration is using this traceable letters and words worksheet pack.
Learn More: Teachers Pay Teachers
5. Flocabulary Alliteration and Assonance
This rap/hip-hop style video is an entertaining and engaging way to teach students about alliteration. It includes examples of alliteration and a catchy beat that your students won't forget. Play it as part of your daily routine to create a lasting memory.
Learn More: Flocabulary
6. Alphabats Game
This is a fun game that couples technology with learning. Younger kids will enjoy matching bats that display words to a corresponding bat whose word starts with the same beginning letter sound.
Learn More: ABCya!
7. Alliteration Video Guessing Game
Using this video, students have the opportunity to get creative. They will have to guess what the alliteration is that is being pictured and rack up points for their team. This video is also a great resource to use when introducing alliteration.
Learn More: Webbcasts
8. Jump and Clap Alliteration
This simple, low-prep game only requires alphabet cards! Younger kids will enjoy this activity because it requires them to move. They will simply turn over their alphabet card and come up with an alliteration for that letter of the alphabet. They will jump at the beginning of each word and clap when they are finished.
Learn More: Sugar Spice and Glitter
9. Alliteration Scavenger Hunt
To practice alliteration skills with this game, you will need a few piles of items that all start with the same letter. You will hide the items around the room, and assign each student (or team) a letter to hunt for. Be sure to offer a prize or incentive for the team who finds all their items first!
Learn More: Study.com
10. Alliteration Memory
This fun twist on the classic game of memory is a great way to help teach alliteration to children. They will choose a card with alliterative sentences and attempt to remember where it was as they hunt blindly for its match. Bonus: It's digital so there's no prep required!
Learn More: Match the Memory
11. Alliteration With Pete the Cat
A Pete the Cat puppet will invent alliterative names for each of your younger students. As they get their new names (Lucky Lucas, Silly Sara, Funny Francine, etc) they will find a small object in the room and sit down with it. They will then each introduce their item using an alliterative name.
Learn More: Pre-K Pages
12. The Alliteration Game Printable
This awesome alliteration worksheet is a great resource for older students. They will draw a letter of the alphabet and then use this recording sheet to answer the question. The trick is that they may only use words from the letter they choose.
Learn More: K12 Reader
13. Bamboozle Game Review
This online game helps kids review figurative language like alliteration in an entertaining and relaxed setting. They can customize how to play the game; choosing from a variety of options. This would work well for small groups or as an activity for early finishers.
Learn More: Bamboozle
14. Einstein Eats Eggs
Practicing initial sounds takes on another level of fun with this board game. Complete with a timer, gameboard, pieces, and cards, kids will compete to see who can be the fastest to spot the alliteration in these alliteration challenges!
Learn More: Pinterest
15. Improv Alliterations
This game of speed will get students thinking on their feet! In partners, kids will need to come up with as many words that start with the given letter before the timer runs out.
Learn More: Improv Encyclopedia
16. Add Movement
Using another learning modality is a fantastic way to increase learning. When going through some alliteration examples, have students "act out" whatever it is you are speaking. For example, in the sentence, "some snails are silly" have your kids act silly.
Learn More: Educational Toy Factory
17. Alliteration Explanation
This video provides an extensive and well-planned resource for a great lesson opener. Students will gain a lot of background knowledge from the video prior to beginning any lesson, activity, or unit on alliteration and figurative language.
Learn More: Grammar Songs by Melissa
18. Jack Hartmann
This famous singer and dancer have been around for years- teaching young kids basic reading skills. Alliteration is no exception! He has an entertaining and engaging video to help your kiddos develop their awareness of alliteration.
Learn More: Jack Hartmann Kids Music Channel
19. ABCs in a Jar
This fun alliteration activity uses plastic jars with alphabet letters taped to the outside. Kids will use objects or magazine cutouts that correspond with the letter sound on the outside to create alliteration jars.
Learn More: Pinterest
20. Going on a Trip
This silly game will have kids rolling with laughter and practicing alliteration all in one sitting! This fun activity requires kids to match the letter sound of the place they're going to an item they're bringing on their trip. Encourage your students to get extra silly with their packing choices!
Learn More: Teaching Maddeness