Allusions are a complex topic for teachers to cover in English classes. Students need to build adequate background knowledge about ancient texts and myths, and then be able to "get the reference" in a piece. Fortunately, the stories that allusions are based on are often fantastical, and teachers just need a few well-planned lessons to make these concepts memorable for students. This list of interactive allusion activities will ensure that the topic doesn't become your Achilles heel!
1. Person, Event, or Thing?
Give students several examples of allusions to explore, including a person, an event, and a thing. Students will research the historical or mythical references being made, and record the information on a graphic organizer. Encourage them to include as many details as possible to make the reference really stick!
Learn More: The Daring English Teacher
2. Casual Conversations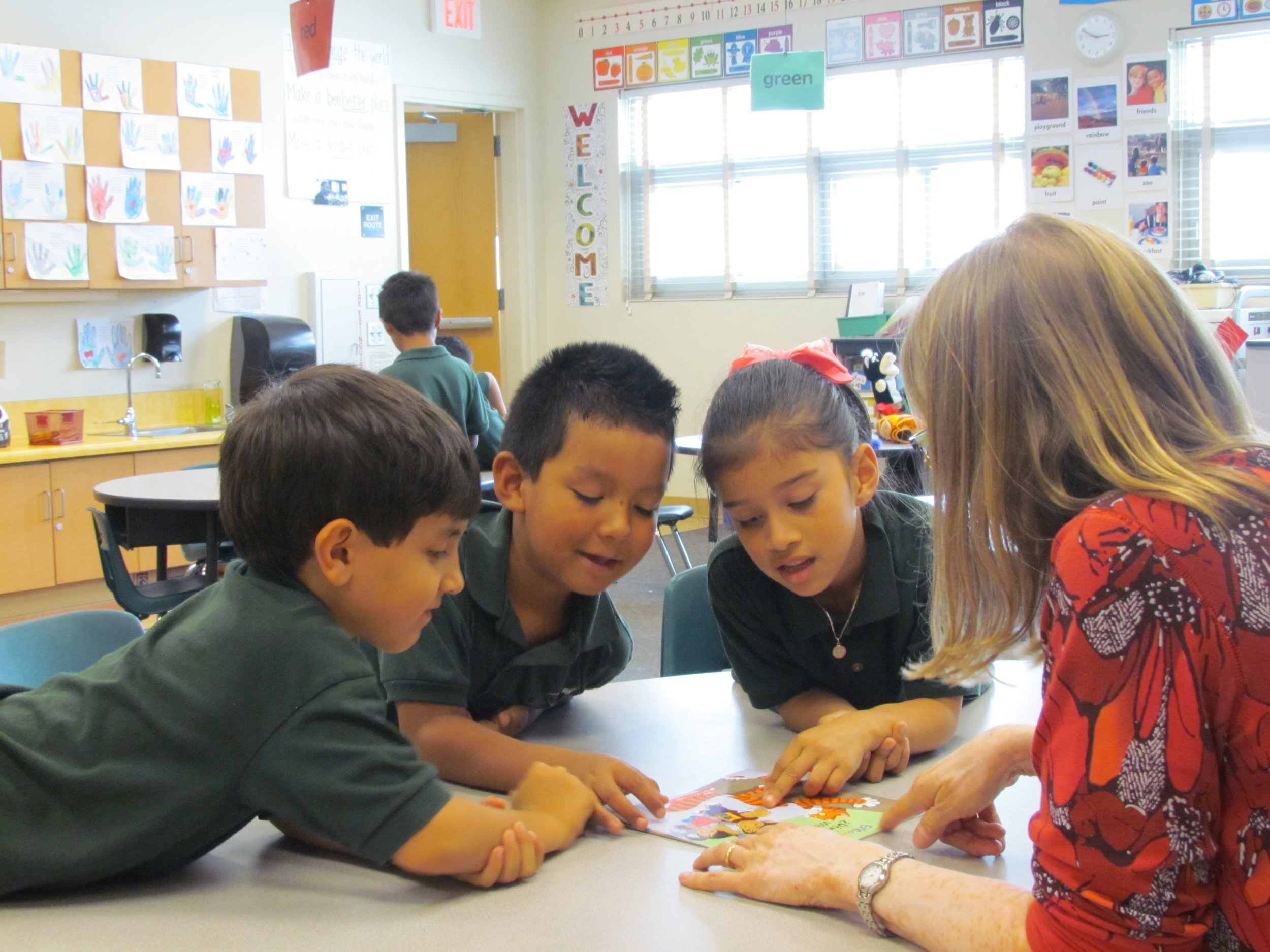 Inspire students to engage with a particular allusion through drama! Options are endless–they could have a pep-talk with Achilles, be Medusa's hairdresser, or experience a plague of toads of biblical proportions. These skits will help students solidify meaning in an enjoyable way!
Learn More: The Daring English Teacher
3. Teaching Pack
This resource is the Holy Grail of allusion activities! The pack includes Google slides with modern and historical allusions, task cards for independent practice, and assessment tools for the topic. Check out the link for a teacher talk on teaching allusions too!
Learn More: Teachers Pay Teachers
4. Sports Figurative Language Activity
This fun, sports-related coloring page will help your students practice identifying different examples of figurative language- allusions included. Students will simply color by type to complete the picture. It's a great low-prep activity for a review day!
Learn More: Teachers Pay Teachers
5. Movie Allusions
As students watch this short video, they'll learn that the elusive allusion is not so mysterious after all! As they view scenes from popular movies, they'll begin to see just how prevalent they are! To keep students engaged, have them tally the number of movies from the list that they've seen!
Learn More: Emily Murray
6. Allusions from Ancient Greece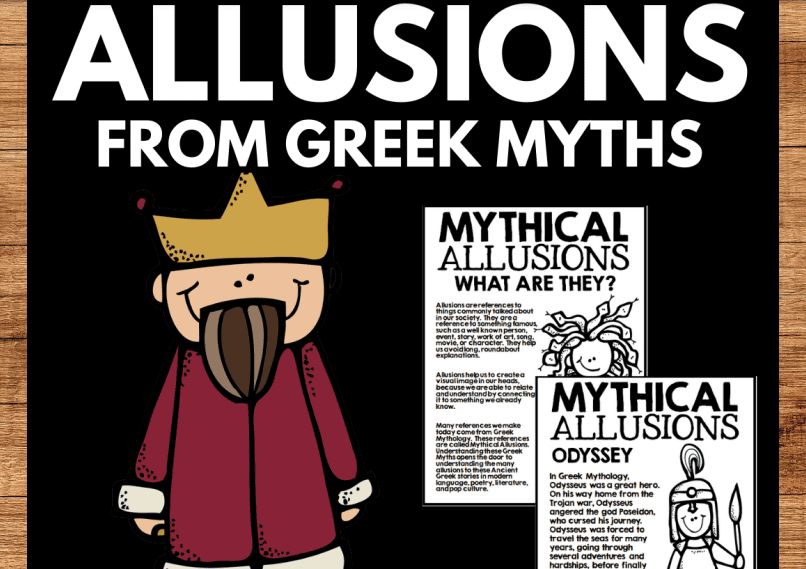 This resource includes 20+ pages of interactive notebook activities for exploring the history behind several mythological allusions. Begin your study with a whole group brainstorm of the allusions that students have encountered. Then, students can complete this at their own pace during independent work time to dive deeper.
Learn More: Teachers Pay Teachers
7. Conspiracy Theories
Spark healthy debates by introducing allusion-related "conspiracy theories" to your students. You might ask, "Was it fair for the Once Upon a Time writers to copy characters from fairy tales?" or "Are Michael Scott's allusions proof of foolishness or literary genius?" Let your students be the judge and jury!
Learn More: Secondary Sara
8. Explore the Allusion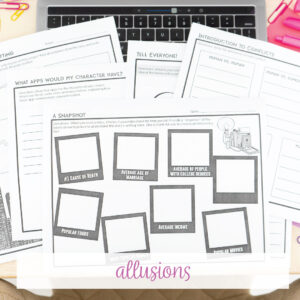 Use this printable set of graphic organizers as part of your allusion lesson plans! Encourage students to complete the page as they look for the historical significance of a particular allusion. This will aid your class in developing that foundational knowledge of allusions that will benefit their writing!
Learn More: Language Arts Classroom
9. Allusions in Songs
Can you think of a popular Taylor Swift song with an allusion to Shakespeare? Did you know "We Didn't Start the Fire" by Billy Joel has over 100 allusions? Tap into pop culture and have students search through their favorite songs to find examples of allusions to share.
Learn More: Room 213
10. One-Pagers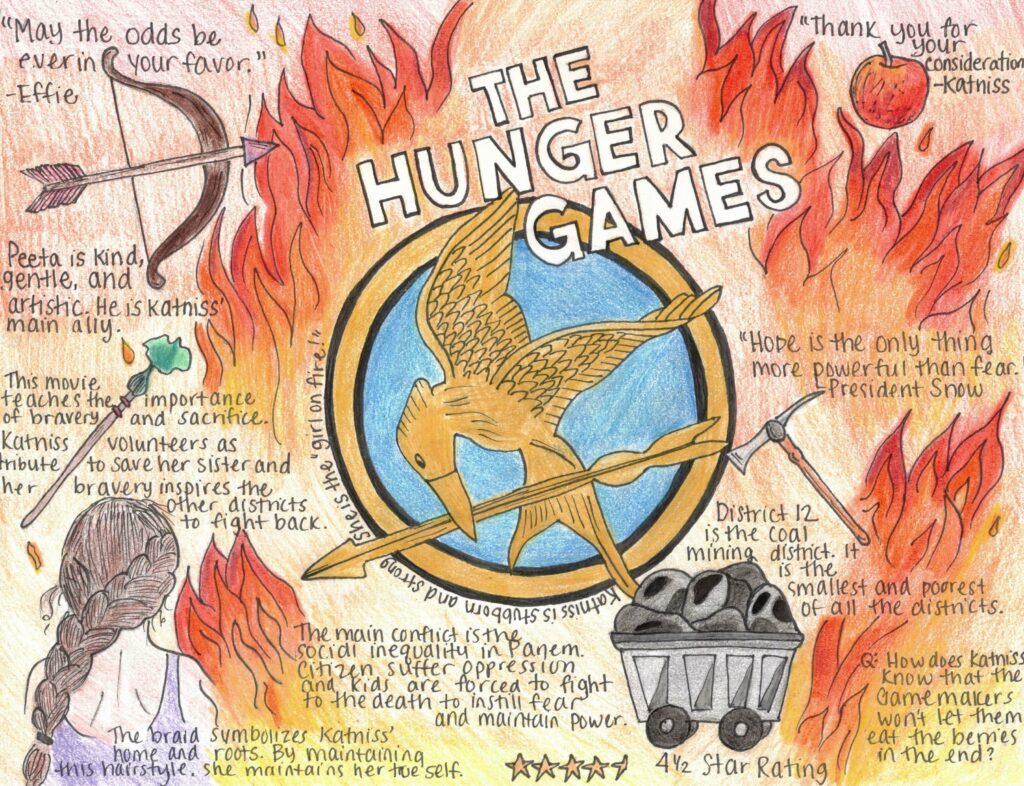 A one-pager is the perfect way to bring art into your study of allusions. One-pagers consist of drawings, doodles, quotes, and definitions to help solidify meanings for students. Allow students to select an allusion that interests them and then create a one-pager to present it and teach their classmates about it!
Learn More: Chomping at the Lit
11. Exploring Allusions in Words
Did you know that allusions to Greek mythology show up even in words themselves? This resource includes lesson ideas, a list of words, and assessment tools for your allusion unit. Students will gain extensive knowledge about the characters in Greek myths as well as a familiarity with allusion words that they can apply to their writing!
Learn More: Enjoy Teaching with Brenda Kovich
12. Greek Mythology Anchor Chart
Co-create an anchor chart with your students to keep track of the new examples of allusions they've learned. Brainstorm the deeper meaning of each allusion to include on the chart for students' reference. To challenge students, break them into teams to see who can find the first example of each allusion!
Learn More: Pinterest
13. Allusion Sort
Test students' understanding of references by having them sort them by type! Write a few common examples of different categories of allusion, like biblical, mythological, pop culture, etc. Then, challenge students to sort them into the correct group! Success in this activity indicates that students have adequate background knowledge to guide understanding.
14. Comic Lesson
The avid graphic novel and comic readers in your class will love this lesson! This resource makes the concepts of allusions accessible by presenting them in story form via a comic strip! This awesome lesson also includes a full-page definition of allusions with examples, as well as an accompanying activity featuring cupid.
Learn More: Teachers Pay Teachers
15. Whodunnit?
This incredible resource includes an entire "Whodunnit?" game in the spirit of Clue. Students will have to use their knowledge of figures of speech like allusion and analogies to solve clues and eliminate suspects from a "crime". You can choose the printable version or interactive Google slides!
Learn More: Teachers Pay Teachers
16. Partner Plays
Build reading fluency and a deeper understanding of literary allusions simultaneously! Partner plays are an excellent way to accomplish this by seamlessly incorporating the concept of allusions within the reading passages. Once read, test children's fluency and comprehension skills by having them answer questions about the allusions they read about!
Learn More: Teachers Pay Teachers
17. "I Have, Who Has?"
This simple card game is helpful for building an understanding of tons of topics, allusions included! Gameplay requires students to find out who has the subject of the allusion example on their card. This activity will help children build a bank of allusions to refer to in later writing exercises!
Learn More: Teachers Pay Teachers
18. Allusion Dominoes
Students will love this creative, game-like version of exploring the concept of allusions. They will play a regular game of dominoes, except they must match allusion subjects to examples rather than dot representations. Children can play alone, in pairs, or complete the exercise as a small group activity!
Learn More: Teachers Pay Teachers
19. Allusion Bingo
Playing figurative language games together is an excellent way to access tricky concepts. Allusion Bingo makes the concept of allusions fun for young learners and can be used as a practice or review tool. This Bingo game is also a great activity to leave for sub plans!
Learn More: Teachers Pay Teachers
20. Task Cards
These simple task cards are great for independent practice with identifying the subject of allusions. Allusions include pop culture references, mythology, historical figures, and more. Designing the questions as Facebook statuses makes this resource more relevant to middle school learners, too!
Learn More: Teachers Pay Teachers