Calling all animal lovers! Check out this list of 30 animals that all start with the letter J! Learn all of the fun facts about these animals and where you can find them. You will discover unique animals along with their special qualities and magnificent features. Get ready to become a J-animal expert!
1. Jabiru
The jabiru is a member of the stork family. This bird is one of the tallest flying birds in South America, standing up to 5 feet tall! The height along with the bright red bands at the base of their necks makes the jabiru easy to spot. It feeds on small animals; from fish to insects.
Learn more: Things Guyana
2. Jacana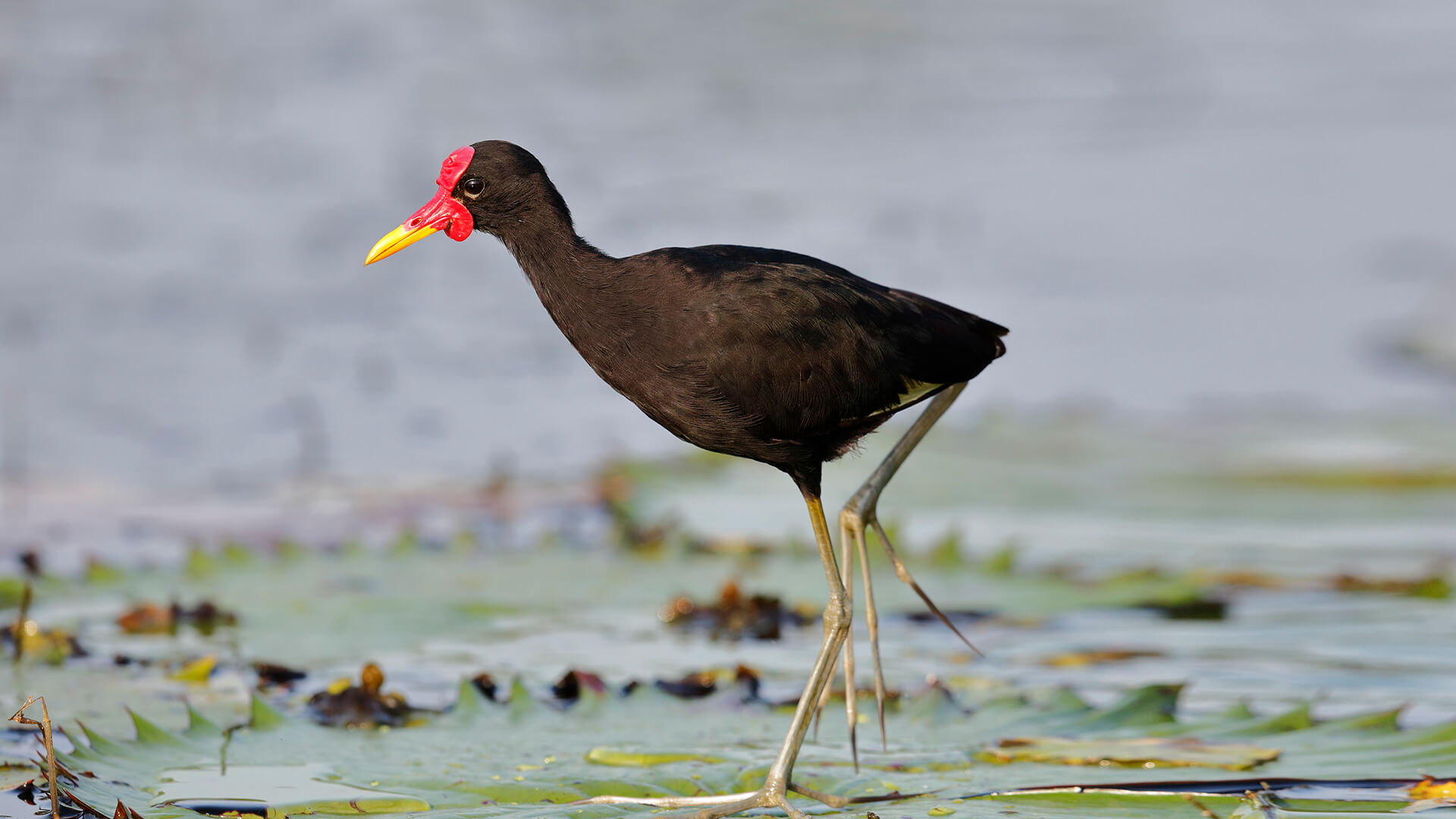 The jacana is also known as a lily-trotter. Jacanas have super long toes that allow them to walk across floating vegetation. You can find these colorful waterbirds in Asia, Africa, Australia, and America. The jacanas are carnivores and will use their bills to turn over lily pads to feast on insects, worms, and even small crabs.
Learn more: San Diego Zoo Wildlife Alliance
3. Jackal
The Jackal is a type of canine; they look very similar to a coyote or fox. These omnivores can be found in Africa in the open and wooded savanna. Jackals have family values! They have one mate for life, and most jackal pups help their parents raise their younger siblings.
Learn more: African Wildlife Foundation
4. Jackdaw
Jackdaws are highly-intelligent, small crows and are known as one of the world's smartest birds. They are smaller members of the crow family and find their homes in farmlands and woodlands. You can spot one by its light gray neck or its pale white iris.
Learn more: Discover Wildlife
5. Jackrabbit
Did you know that the jackrabbit is capable of reaching 40 miles an hour? Born with fur and larger than rabbits, jackrabbits aren't actually rabbits; they are considered hares! They have powerful hind legs that allow them to quickly escape predators whilst their own menu consists of plants.
Learn more: National Geographic Kids
6. Jaguar
These mighty cats are found in the Amazon rainforest and the Pantanal. The jaguar is the third biggest cat in the world and has the most powerful bite. Another fun fact about these cats is that they are magnificent swimmers!
Learn more: WWF UK
7. Japanese Beetle
The Japanese beetle is native to Japan and other East Asian countries. These beetles are good swimmers and herbivores. Whilst they are considered pests in the United States due to their damage to plants, they have natural predators in Japan, so they are less destructive.
Learn more: Kidadl
8. Japanese Dwarf Flying Squirrels
Although these squirrels are tiny, they sure are mighty with their giant leaps. The Japanese dwarf flying squirrel can glide up to 160 meters! These squirrels mainly feed on plants and insects, but they eat while hanging upside down. These squirrels are super tiny and hard to spot since they are nocturnal.
Learn more: Animal Sake
9. Javan Warty Pig
The Javan pig originates from the Indonesian islands but is considered an endangered species. These pigs are known for their three pairs of facial warts. These nocturnal pigs are primarily solitary and can weigh up to 239 pounds.
Learn more: Earth's Endangered Creatures
10. Jellyfish
Jellyfish have been around for millions of years, even before dinosaurs lived on Earth. These animals aren't actually fish, despite their misleading name. Jellyfish squirt water from their mouths in order to propel themselves forward.
Learn more: National Geographic Kids
11. Jerboa
Jerboa is a solitary and nocturnal animal found in Northern Africa, Eastern Europe, and Asia. This group of animals has 33 species! Very kangaroo-like in appearance, these rodents can jump! Their tail pushes them off of the ground and helps them maintain balance while their huge ears help them avoid predators.
Learn more: Fact Animal
12. Jico Deer Mouse
The Jico deer mouse is a rodent that looks oddly similar to a deer, minus the horns and antlers. They reside in tropical forests and originate in Indonesia. These little deer mice have small husks that they use to defend themselves from danger and primarily feed off of vegetation.
Learn more: Critter Facts
13. Joro Spiders
Joro spiders are native to Asia and originate from the name of a creature called jorōgumo in Japanese folklore. The female joro spiders can be as big as a person's palm. Their webs are magnificent and dense and help them easily catch their prey.
Learn more: Owlcation
14. Junco
Juncos have six different color variations! All of these birds have outer white tail feathers that you will see when they fly away. These birdies do their migrating during the night to avoid predators. Juncos love their seeds, and they like to feed on the ground. Be on the lookout for a white flash!
Learn more: Bird Watching HQ
15. Japanese Macaque
Japanese macaques are found on three of the four main Japanese islands; inhabiting subtropical forests and subarctic forests in mountainous regions. These snow monkeys have long and thick fur so you may find them in warm and cool climates. Their menu consists of insects, crabs, fruits, berries, seeds, and bird eggs.
Learn more: Animalia
16. Jaguarundi Cat
The jaguarundi is a wild cat that you can find in Central and South America. These cats are gray or red in color and are excellent climbers and swimmers. Don't be mistaken; these cats are no kitties; they are twice as big as a house cat! You can usually find them alone, as they are very shy and reclusive.
Learn more: Fact Animal
17. Jumping Spider
Jumping spiders don't need webs to hunt because they can easily jump and catch small insects. Did you know that they also have four eyes? Jumping spiders can sing and dance too!
Learn more: Tree Hugger
18. Javan Tree Shrew
Javan tree shrews inhabit Southeast Asia and reside in tropical forests. They resemble squirrels with pointy snouts and bushy tails. Unlike squirrels, Javan tree shrews don't have whiskers. These animals are known for climbing trees as they forage throughout forests; eating insects, fruit, and leaves.
Learn more: Animal Diversity
19. Javan Langur
Javan langurs live in tropical rainforests and can be found on Java, Bali, and Lombok islands. Langurs are considered leaf-eating monkeys and enjoy a wide array of leaves.
Learn more: Apen Heul
20. Junglefowl
The Junglefowl is considered an ancestor of chickens! These birds eat insects, seeds, and fruits. Junglefowl can be found in tropical habitats and are known to be quick flyers. Male junglefowls are orange, green, black, and red, but shed their feathers in the Summer.
Learn more: Utah's Hogle Zoo
21. Jay
Jays are members of the crow family and are important oak tree dispersers. A single jay may store up to 5,000 acorns in a single season! You won't be able to spot these birds easily, but you will catch their voices immediately. When they believe they are threatened or in danger, jays mimic other birds and animals.
Learn more: Discover Wildlife
22. Jack Russell Terrier
The Jack Russell terrier is a very active and intelligent canine. These dogs love to explore and have historically been bred for fox hunting. These doggies can jump up to 5 feet in the air! These dogs love everybody's attention and will make sure they are at the center of it!
Learn more: Happy Jack Russell
23. Jackson's Chameleon
These reptiles are known for their unique appearance, with three horns on top of their heads. They can be found in Tanzania and Kenya; in wooded areas and forests. Jackson's chameleons existed long before our time and resemble one of our favorite dinosaurs, the Triceratops.
Learn more: Chameleon Owner
24. Javan Rhinoceros
Javan rhinos are an endangered species living in Ujung Kulon National Park in Java, Indonesia. They are dusky gray in color and have a single horn that can grow to about 10 inches long! There are only around 60 Javan Rhinos remaining. These magnificent animals can weigh up to 5,000 pounds.
Learn more: World Wildlife
25. Jewel Beetle
Bright and shiny beetles do exist! Many cultures throughout history have used jewel beetles for decorative purposes, such as jewelry. The jewel beetle will catch your eye with its vivid and glossy coloring. From greens to blues, jewel beetles vary in iridescent colors. Despite their beauty, these active herbivores can cause major damage to crops.
Learn more: Bug Under Glass
26. John Dory
John dories are spooky-looking fish with two dorsal fins. These predators lurk throughout tropical oceans; eating a variety of schooling fish and invertebrates. The john dory is a solitary fish that you can find close to the ocean floor.
Learn more: Oceana
27. Japanese Rat Snake
The Japanese rat snakes come in all sorts of colors: olive green, blue, yellow, and even white. You can find these non-venomous snakes in forests, farmlands, and woodlands; feasting on rats, birds, frogs, and lizards. Farmers love these snakes because they help control the rat populations in the farmlands.
Learn more: Kidadl
28. Jamaican Boa
The Jamaican boa is a snake originating from Jamaica. These yellow snakes are non-venomous and can usually be found in trees. They are able to camouflage in order to hunt their prey. Rodents, bats, and birds are on the boa's menu!
Learn more: Central Florida Zoo
29. Jonah Crab
The jonah crab is often caught for food. These tasty crabs inhabit waters along the East coast of North America. Jonah crabs have two large, powerful pincers and are red in color. These crabs feed off of insects, mussels, snails, and algae.
Learn more: Roy's Farm
30. Jaeger
The jaeger is a fast-flying bird, a relative of gulls. You can usually find jaegers in the open ocean if they aren't breeding on the Arctic tundra. This bird is parasitic, but that just means they steal its food from other animals.
Learn more: All About Birds