One of the most impressive things about our planet is that it's home to so many different animal species! Some are cute and fuzzy, and others are slithery and a bit scary! Whether your class are animal experts or just curious about the animal world, they may be familiar with some of these animals, but chances are, they'll encounter some new species in our list of animals that start with the letter S. Keep reading to learn exciting facts about these spectacular creatures that we share our planet with!
1. Saber-toothed Tiger
Coming up first, have the saber-toothed tiger! This prehistoric cat-like animal originated almost 2 million years ago in the Americas. Although they may look similar to our feline friends, their long fangs and muscular bodies suggested they were far from being pals with humankind.
Learn More: Biology Dictionary
2. Saddleback Caterpillar
Next, we have the saddleback caterpillar. These creepy crawlers may look fuzzy on the outside, but those pointy hairs are venomous! Not only are they venomous, but some also suggest it has one of the most potent stings.
Learn More: Butterflies And Moths
3. Saint Bernard
Does anybody remember Beethoven? At number three, we have the Saint Bernard dog, which originated in Switzerland. This loyal breed of dog is famous for being heroes and saving people trapped in the snow during blizzards.
Learn More: Great Pet Care
4. Salamander
Next is the salamander, which are amphibians that live across the globe, although they are often found in temperate regions. There are over 700 species of salamanders, and they range in various colors and sizes. Some can even grow over 6 feet!
Learn More: San Diego Zoo
5. Satanic Leaf-tailed Gecko
Is that a crunchy leaf or a reptile? The satanic leaf-tailed gecko gets its name from its leaf-like appearance and can only be found in Madagascar. They look so unique that they are famously kept as pets, but conservationists fear that this is threatening their survival as a species.
Learn More: Animalia
6. Savanna Goat
Next, we have the savanna goat! These pure white, domesticated goats may look like your typical goat; however, they're man-made! Ranchers love these animals because they can eat a variety of vegetation, breed quickly, and produce delicious meat.
Learn More: Namibian.com
7. Savu Python
At number 7, we have the savu python, which can only be found in the Lesser Sunda islands. Their ghostly white eyes have famously given them the nickname the white-eyed python. Because they have a small natural range, they are considered to be endangered.
Learn More: Who Zoo
8. Sea Anemone
Are they plants or animals? Sea anemones are incredibly important to our Earth's oceans as they house certain kinds of fish, such as clownfish. Another interesting fact is that they can live almost as long as humans!
Learn More: Seattle Aquarium
9. Seahorse
Don't be fooled by the name! The seahorse is a cute little fish galloping through the ocean with its dorsal fins. An interesting fact about the seahorse is that even though the female produces eggs, the male carries them in its stomach until they hatch.
Learn More: Ocean SI Edu
10. Senegal Parrot
The perfect pet! The Senegal parrot is a wonderfully calm bird originating from West Africa. They are known for developing a close attachment to their owners if housed as pets and can live for around 30 years.
Learn More: The Happy Chicken Coop
11. Shih Tzu
If you've ever been to a pet store, there's no doubt you've seen one of these sweet companions. Shih tzus are well-loved pets from China that can live up to 18 years. One interesting fact about these dogs is that they were on the brink of extinction in the early 1900s, but are now a thriving breed.
Learn More: Dog Time
12. Short-faced Bear
The short-faced bear, also known as the bulldog bear, was a large animal that became extinct about 12,000 years ago. These enormous bears lived in North America and are said to have been the fastest bear in existence.
Learn More: The Revelator
13. Siamese Cat
Beautifully sleek with an ancient history, the siamese cat is a feline that's existed since the 14th century. Their characteristics include their distinct cream and brownish-black markings, blue eyes, and loud meows.
Learn More: The Spruce Pets
14. Snow Crab
Next, is the snow crab, sometimes called the "queen crab." They are often harvested in Canada, Alaska, and Japan, but only after the end of the molting season. This is because molting means they are soft and susceptible to death if harvested too early.
Learn More: Oceana
15. Snowshoe Cat
The snowshoe cat may have similarities to siamese cats with their markings and blue eyes, but they are unique in that they have white, boot-like markings on the ends of their paws.
Learn More: The Spruce Pets
16. Snowy Owl
At number 16, we have the snowy owl. This incredible Arctic bird is one of the largest owls on Earth and has a gorgeous white color. Although most owls are nocturnal, the snowy owl is diurnal- meaning they hunt any time of day.
Learn More: FWS.gov
17. Sparrow
Sparrows are tiny birds that have been around for ages. They can be found all over the world, but they have a preference for areas with a sizable human population. They often make nests on man-made structures such as houses and buildings. These birds are also exceptionally social.
Learn More: One India
18. Spiny Bush Viper
Watch out! The spiny bush viper is a venomous snake originating from Central Africa. These slithery reptiles have bristle-like scales all over their bodies and can grow up to 29 inches in length. Though some argue that their venom isn't very toxic, their bites have been fatal to humans, particularly in cases where their victims don't have access to emergency medical care.
Learn More: Thought Co
19. Sponge
Like sea anemones, sponges play a vital role in marine ecosystems. They act as water filters for their habitats- helping neighboring coral reefs thrive. Another interesting fact is that they've been on fossil records dating back 600 million years!
Learn More: Sanibel Sea School
20. Springbok
At number 20, we have the springbok. These antelopes originating from Africa are slender, with a gorgeous tan coat with black and white markings. Not only are they skilled runners capable of sprinting 55 mph, but they also can jump about 12 feet in the air!
Learn More: Just Fun Facts
21. Stag Beetle
The stag beetle is a giant insect that resides in woodlands and gardens in the United Kingdom. Surprisingly, the two "pinchers" on its head are antlers, and they use them to court mates. Although they may look dangerous, these gentle giants are relatively harmless to humans.
Learn More: Discover Wildlife
22. Stargazer Fish
With a name like a stargazer fish, you would expect these species would have a more majestic appearance. These hunters have eyes on the top of their heads and are masters of disguise. They blend into the ocean floor by burrowing deep and then quickly snatch any unfortunate prey that floats near them.
Learn More: Ocean Info
23. Stingray
These flat-bodied fish mostly live in our Earth's oceans, but can also be found swimming in the rivers of South America. They often dwell in the bottoms of the waters they inhabit so you have to be careful not to step on them or else they may sting you with their dangerous spines.
Learn More: Awesome Ocean
24. Strawberry Hermit Crab
These little hermit crabs are just absolutely adorable! The strawberry hermit crab gets its name from its marvelous red color and spotted shell. They can be found in tropical and subtropical areas along the coastline. Although they have a long lifespan in the wild, they only live a maximum of 5 years as pets.
Learn More: Aquarium Breeder
25. Striped Hyena
At number 25, we have a striped, dog-like animal originating in Africa and Asia. The striped hyena gets its name from its black-striped fur. These scavengers often feed on dead animals left behind by top predators though they will sometimes kill other weak prey. They have also been mentioned in old Middle Eastern folklore and symbolize treachery.
Learn More: Animal Corner
26. Sugar Glider
These marsupials are just darling! Sugar gliders are omnivores in Indonesia, Papua New Guinea, and Australia. They're called gliders because they have wing-like flaps attaching their front and hind legs, which allow them to glide from tree to tree.
Learn More: Animalia
27. Sulcata Tortoise
The endangered sulcata tortoise, also known as the African spurred tortoise, is the last living species of the centrochelys genus. They are also the largest tortoise in Africa and the third largest in the world. They make great pets if you're comfortable with their large size!
Learn More: San Diego Zoo
28. Sun Bear
This bear species is the second-rarest in the world, with the giant panda taking first place. They can be found in Southeast Asia and have bright markings on their chests, which resemble an orange sunset. Unlike other bears, the sun bear is considered to be primarily docile.
Learn More: Animalia
29. Swan
This water-dwelling bird is relatively quick when flying, soaring at speeds close to 70 mph! Though they will appreciate it if you throw them some leftover bread, be careful as they are known to be quite aggressive during mating season.
Learn More: Animalia
30. Syrian Hamster
And finally, at number 30, we have the Syrian hamster! These little rodents are native to Syria and Turkey and are famously kept as pets. If you ever want to get one of these fluffy hamsters as a pet, keep in mind that they can be highly territorial and may attack other hamsters if you have them.
Learn More: The Spruce Pets
31. Short-Beaked Echidna
As if this little guy isn't cute enough, their adorable babies are called puggles! They might be small, but short-beaked echidna have powerful snouts that help them break open termite mounds and logs. They are also known as the "spiny anteater" and are found in their native Australia as well as in Papua New Guinea.
Learn More: Bush Heritage Australia
32. Scarlet Ibis
No, that is not a flamingo in a tree! This peculiar South American bird gets its name from its bright red color that comes from the food it eats, typically a variety of crustaceans. Although this bird is quite shy, it is also pretty popular and has been named the national bird of two nations in the Caribbean!
Learn More: National Aquarium
33. Syrian Brown Bear
The Syrian brown bear might not be the mightiest of bears, but this stocky gray bear roams far and wide! It is found in parts of the Middle East, Russia, and Azerbaijan, and has recently been found in Lebanon where it was once extinct! Unlike most bears we know, this one is a vegetarian, except for the occasional fish or small mammal!
Learn More: SPNL
34. Sunda Clouded Leopard
This mysterious leopard gets its name from beautiful cloud-like markings. As these felines are nocturnal and very secretive, there is not a lot known about them; what we do know is that their bodies are made for climbing the trees in the forests of Borneo and Sumatra. They have a long tail that helps with balance and wide paws that help them climb high.
Learn More: World Land Trust
35. Sea Minks
Sadly sea minks became extinct in the late 1800s due to overhunting and the unregulated selling of their furs. These brown furry mammals lived in and out of the water along the Atlantic coast and were once an important food source for Native American tribes.
Learn More: Extinct Animals
36. Southern White Rhinoceros
This next animal is unique in color and also happens to be the third largest land mammal in the world, weighing in at up to 6,000 pounds! This critically endangered species is native to parts of Africa, and. when they are not shoveling pounds of grass into their bellies, you can catch them relaxing in their local mud holes.
Learn More: Maryland Zoo
37. Sangai
Thank goodness for the protection efforts of Manipur, India! In the 1950s, this auburn deer was almost extinct, and although it is still under threat, their numbers have increased over the years. The sangai is also known as the brow-antlered deer because of the peculiar antlers that appear to be coming from its eyebrows!
Learn More: YouTube
38. Somali Ostrich
Although this bird is called the Somali ostrich, it's not just found in Somalia, but also in Ethiopia, Djibouti, and Kenya! Similar to the common ostrich, the Somali ostrich is a flightless bird with distinctively long legs. This species, however, is a unique gray-blue color that becomes even more brilliant in males during mating season.
Learn More: Wild Life of Kenya
39. Steppe Wolf
Weighing up to ninety pounds, the steppe wolf is no lap dog! They are efficient hunters, and if not successful in their hunt, they are able to survive up to two weeks without food! They are considered a pest species in some areas, often being blamed for the death of livestock.
Learn More: Animal Photos
40. Superb Fairy-wren
The superb fairy-wren is a beautiful bird that flies throughout the skies of Australia and Tasmania. When mating, the blue feathers become even brighter on the male to attract female birds. They spend most of their time on the ground while poking around for small insects to eat.
Learn More: Birds in Backyards
41. Steppe Eagle
Unlike your typical bird nest made of twigs and moss, these large birds have been known to construct their nests from animal bones! That's a little intimidating. They also happen to like building their nests next to the colonies of one of their favorite prey – voles. At two feet long, they can be found hanging out in groups – sometimes as large as 100 steppe eagles!
Learn More: The Peregrine Fund
42. Scaly-Breasted Munia
This South Asian bird is now common in parts of coastal California and is starting to explore parts of Texas and Florida! They are big seed lovers and spend most of their time rooting through grass and stems to find food. The scaly-breasted munia belong to the finch family and like the saying 'birds of a feather, flock together', they love to hang out with other munias!
Learn More: Audubon
43. Sri Lankan Leopard
This intimidating but beautiful feline rules its native Sri Lanka as the number one predator. This big cat is an endangered species and is gradually declining due to poachers. The Sri Lankan leopard will kill anything from birds to monkeys, and has even been known to tackle full-grown buffalo!
Learn More: Jungle Dragon
44. Southern American Bushmaster
The Southern American Bushmaster wins the prize for the greatest body length in both Central and South America! These smooth snake species tend to slither around alone unless they are on a quest to reproduce. Their babies are born with a distinctive fiery orange tip on their tail which gradually disappears as they get older.
Learn More: LA Zoo
45. Southern Cassowary
This bird could have starred in the movie, Jurassic Park! The Southern Cassowary looks like a dinosaur-bird hybrid with its reptilian-looking legs and thick "fin" on its head. Not only does it appear prehistoric, but its warning call for danger is a deep rumbling sound that might leave you feeling a little uneasy!
Learn More: Australian Museum
46. Saharan Horned Viper
This little devil can lengthen its body as tall as a human! The Saharan Horned Viper is a desert dweller and prefers to hunt during the night when it's cooler. Another way it stays cool in the scorching desert is to bathe deep within the sand to avoid becoming overheated.
Learn More: Who Zoo
47. Scottish Wildcat
You might mistake this striped feline for your neighbor's tabby, but the Scottish Wildcat is much bigger and not as much of a fan of cuddles! Interestingly, due to dwindling numbers over the years, these wildcats began mating with domestic cats. Scientists now think that purebred Scottish Wildcats – the last wildcat in Great Britain – no longer exist!
Learn More: Science
48. Sheltopusik
Sheltopusiks have quite a unique name along with some interesting characteristics! Despite their snake-like appearance, they're actually legless lizards; unlike snakes, these creatures have eyelids and a less flexible jaw.
Learn More: Dubia Roaches
49. Southern Royal Albatross
Like penguins, these birds mate for life and even move into the same nest! Located on Campbell Island in New Zealand, the Southern Royal Albatross is a snow-white bird with a light pink beak and contrasting black wings. It's a member of the great albatross species with a wingspan that can reach over nine feet!
Learn More: New Zealand Birds Online
50. Seven-Arm Octopus
Not only is this octopus unique for appearing to have one less arm than usual, but it is also the second-largest octopus in the world! They were first discovered in the South Atlantic Ocean and while the females clearly have eight arms, males appear to only have seven. Upon closer observation, it was found that their eighth arm is actually hidden in a sac beneath their eye!
Learn More: Octolab
51. Smooth Newt
The smooth newt is no stranger to the backyard pond if you live in Britain or Ireland. Brownish in color with a spotted orange belly, these newts are only about four inches long in size. When the females lay eggs, they delicately wrap each one in pond weed – what a thoughtful mom!
Learn More: Amphibian And Reptile Conservation
52. Sooty Mangabey
The sooty Mangabey is almost as cute as its name! These primates have a brown silky coat, and dark gray or black hands, feet, and ears. Unfortunately, the majority have lost their homes in their native land of Sierra Leone, and other parts of Africa. These little guys enjoy eating nuts, flowers, and figs for protein, and remarkably, they can remember where they found fallen fruit!
Learn More: Bio Explorer
53. Spotted Dove
Spotted doves don't shy away from humans as their natural habitat is in parks and neighborhood gardens. They're hard to miss with their white polka-dotted black feathery wings and blueish-gray bodies. Although they're originally found in Asia, these stunning birds are typically seen today flying throughout the skies of Australia.
Learn More: Bird Life Australia
54. Siamese Crocodile
Although they don't look quite as endearing as the Siamese cat, these reptiles require our attention! They are one of the most endangered species of crocodiles in the world due primarily to loss of habitat. These freshwater crocodiles enjoy the murky waters of Southeast Asia's swamps and rivers feeding on fish, snakes, and small mammals.
Learn More: The National Parks
55. Smooth-Coated Otter
These playful animals are skilled swimmers and can be found throughout Asia. The smooth-coated otter is a close relative of badgers and weasels and weighs about as much as a small dog. Their silky brown coats are highly sought after by humans, which unfortunately is causing the species to rapidly decline.
Learn More: International Otter Survival Fund
56. Silver-Backed Chevrotain
Most people didn't even know this adorable creature existed until recently, including scientists! At first glance, the silver-backed chevrotain looks like a cross between a kangaroo and a mouse, or maybe a mouse and a deer! However, this small, hoofed animal is its own unique species that even has two fangs.
Learn More: Under The Skin Of Endangered Animals
57. Senegal Galagos
More commonly known as a bushbaby, these adorable animals are often seen in the tropics of Africa, and are as common a sight as ground squirrels here in the United States! Check out their reflective eyes and those large ears that help them navigate their surroundings at night time.
Learn More: New England Primate Conservancy
58. Swan Goose
Hence its name, this poised bird looks like a cross between a swan and a goose. They are herbivores by nature and mostly eat grass and other greenery. These tall, elegant birds are native to central Asia and are also characterized by their black beaks that are outlined in white and bodies that are covered in a variety of neutral-toned feathers.
Learn More: British Waterfowl Association
59. Siberian Musk Deer
Unless you are backpacking through the forests and mountains of Northeastern Asia, you will probably not come across a Siberian Musk Deer! These exotic-looking species resemble a hybrid of other common animals but because of their long fangs, they are creatively nicknamed "vampire deer"!
Learn More: Critter Science
60. Southern Pig-Tailed Macaque
These primates definitely have a pecking order! Similar to some human societies, social status is important and they rank the strongest at the top. They spend their days climbing trees and their nights sleeping in trees. If you look closely, you can see how their hairless, curly tails give the Southern Pig-Tailed Macaque their name.
Learn More: Restorasi Ekosistem Riau
61. Sand Lizard
These lizards have a huge but patchy territory that ranges from England to Mongolia! Although their babies are a solid brown color, the Sand Lizard becomes its brightest green during mating season. You can tell them apart from common lizards because of their larger size and stockier bodies.
Learn More: iNaturalist
62. Sitatunga
These beautiful antelope are adept swimmers and can even conceal themselves underwater with just their tiny nostrils showing! Similar in color and markings to a deer, Sitatunga live in swampland and have hooves specifically adapted to walk across floating vegetation.
Learn More: The Maryland Zoo
63. Sunda Flying Lemur
Despite their name, Sunda Flying Lemurs don't actually fly. These lemurs, found in Southeast Asia, don't exactly take flight like birds, but they do glide through the air using the thin layer of skin built into their arms. They are most lively at night and enjoy burrowing in trees during the day for a safe nap.
Learn More: Animal Diversity
64. Southern Hairy-nosed Wombat
Just look at that face! Southern Hairy-nosed Wombats are locals of southern and western parts of Australia, and if you can believe it, these amazing animals live underground! They use their powerful claws, strong jaws, and thick snouts like a bulldozer to dig up roots and burrow into the dirt.
Learn More: Australia Zoo
65. Swamp Wallaby
Did you know that swamp wallabies are one of the only animals in the world that can consume toxic plants without harmful consequences? These resilient marsupials also have many offspring which helps them avoid extinction. Another interesting fact is that they usually roam solo, but when gathered in a group, they are called a "mob."
Learn More: Cougar Mountain Zoo
66. Screaming Hairy Armadillo
Hear that shrill scream? That's the two-pound Screaming Armadillo that, despite its small size, is able to deliver an impressive high-pitched call to protect itself from predators. Their echoing yell can be heard throughout the sandy parts of Central America where they eat mainly plants and insects.
Learn More: Cincinnati Zoo
67. Slender Mongoose
This fairly independent animal roams much of the African continent. Although usually solitary, it can be common for a few males to band together to stake out territory where females might also be roaming. This small brown mammal has a distinctively black-tipped tail which is why it is also known as the Black-tipped mongoose!
Learn More: Kruger Park
68. Spotted Thick-Knee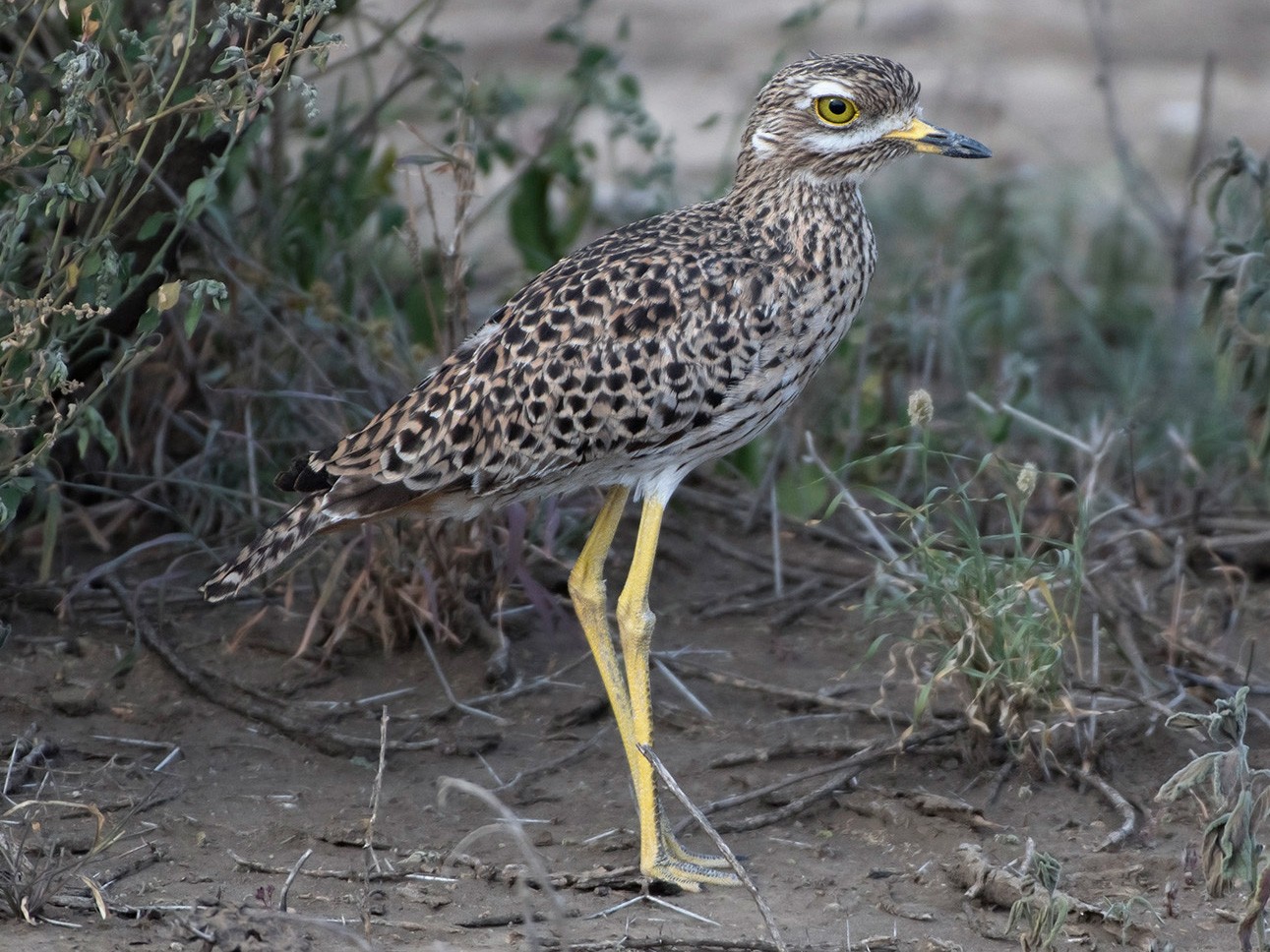 This polka-dotted bird gets its name from its knobby yellow knees! A couple of interesting facts about these feathery creatures is that they mate for life and play dead to protect their nests from predators! They live in the dry grasslands and savannas of sub-Saharan Africa where they eat lizards and small mammals.
Learn More: eBird
69. Silky Sifaka
The silky, white fur of this beautiful animal gives it its name. The silky sifaka is a fruit-loving primate that lives within the mountainous regions of Madagascar. Although they are an endangered species, those that remain enjoy half their time sleeping and eating with only a small amount of time for socializing. Sounds like the perfect day for an introvert!
Learn More: Animalia
70. Snail Kite
On your next vacation to Florida or the Caribbean, look out for these broad-winged snail kites! Their name is inspired by their favorite food, and they spend most of their time flying along the surface of marshes and swamps to scoop up a meal of escargot with their long, hooked beak.
Learn More: All About Birds
All Animals A-Z