Estimates show that there are almost 9 million different species of animals on Earth. That's a whole lot of animals! Today, we'll list 30 animals from both land and ocean, starting with the letter T. Some of these animals are cuddly pets you may have at home, while others are wild animals you may not even know exist. Either way, we hope you have fun learning some fun facts about these awesome animals!
1. Tahr
First up, we have tahrs! These fluffy friends are mammals that are closely related to goats and sheep. They are native to Asia and are herbivorous that feed throughout the day and night.
Learn More: Altina Wildlife
2. Tailless Whip Scorpion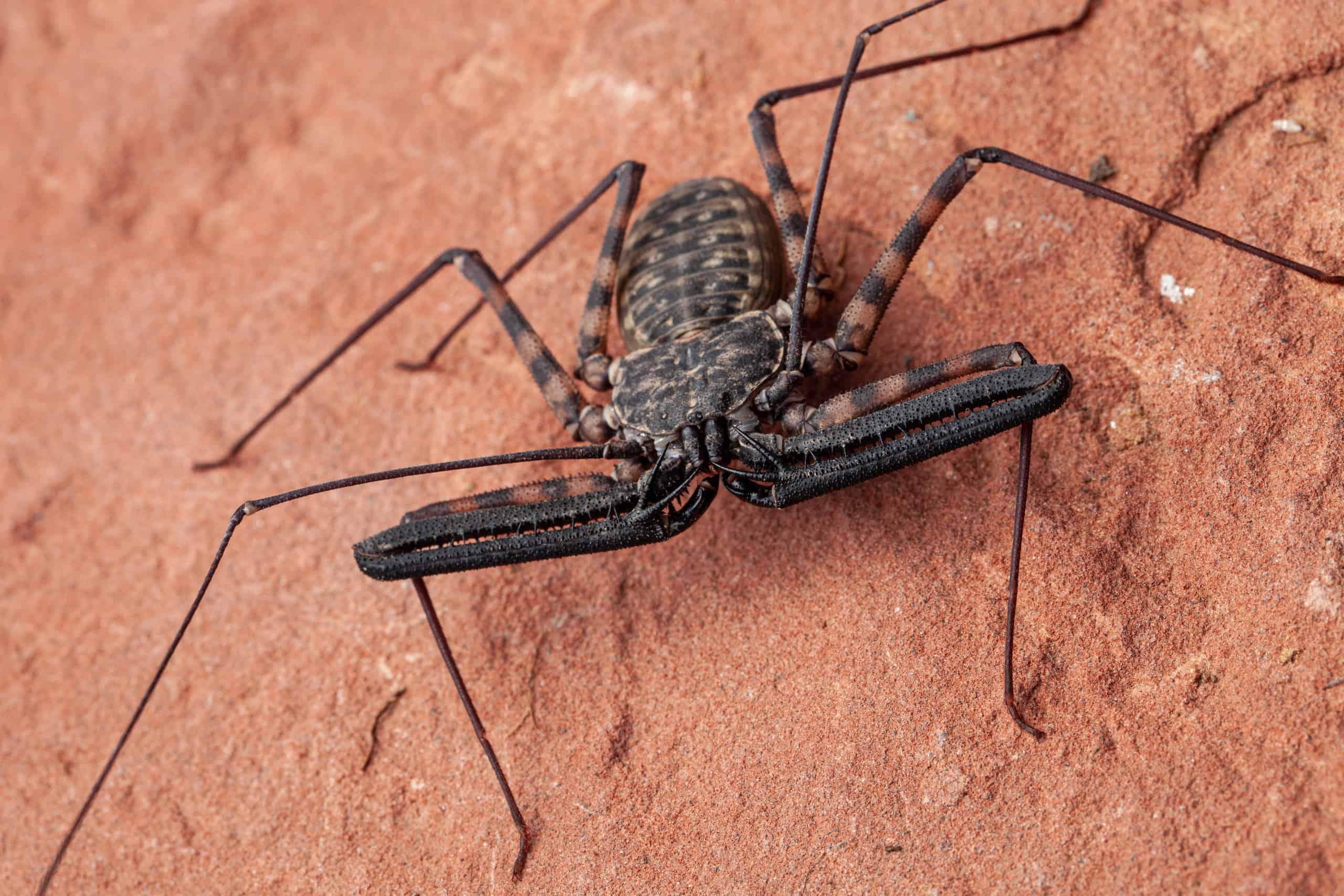 Next, we have the tailless whip scorpion! You can find these creepy crawlers in forests all over the world. Although they may look scary, they aren't very aggressive or venomous. Be careful if you're a cricket blocking its path! The nocturnal tailless whip scorpions are insectivores.
Learn More: Britannica
3. Tanuki
Here, we have the tanuki, AKA the Japanese raccoon dog. These animals are native to (you guessed it) Japan and are famous in Japanese folklore. According to ancient Japanese texts, these primarily nocturnal creatures are supernatural shapeshifters!
Learn More: Atlas Obscura
4. Tarantula
Watch your feet! Next up, we have tarantulas, which are hairy, venomous spiders found on several continents. They range from big to small, with the largest species being the goliath bird eater. Just be careful as these arachnids have powerful venom!
Learn More: Sandie Go Zoo
5. Tarantula Hawk
If you have arachnophobia, you'll love the tarantula hawk! These wasps get their name from their primary prey- tarantulas. Though these insects are mostly docile, if you accidentally provoke them their sting can be especially painful.
Learn More: NHM.ac.uk
6. Tasmanian Devil
Did this one bring back some childhood memories? The Tasmanian devil is an omnivore that can only be found in Tasmania. These mammals are peculiar black and white marsupials and have been reported to sometimes eat small kangaroos!
Learn More: NHM.ac.uk
7. Teddy Bear Hamster
Next, we have a species of hamsters that make the perfect pet! The teddy bear hamster, AKA the Syrian hamster, has big fluffy cheeks that expand to hold all kinds of foods. Though they make adorable pets, they have a short lifespan of around 2-3 years.
Learn More: Your House Pet
8. Texas Horned Lizard
Coming in at number 8, we have the Texas horned lizard. This spiked lizard can be found in the United States and Mexico. Don't let their spikes scare you! They are docile creatures that love to soak in the sun for vitamin D.
Learn More: TPWD.Texas.gov
9. Thorny Devil
Next up, we have another reptile known as the thorny devil. These devils can be found in Australia and have a "false head." This head is used in self-defense to scare away predators but that doesn't mean these reptiles are safe. Often, they are prey to wild birds.
Learn More: Fact Animal
10. Teira Batfish
This peaceful fish has many names, but many know it as the teira batfish. They often come in neutral colors such as grey or brown and can be found along the coasts of Australia, India, and Turkey.
Learn More: Fishes Of Australia
11. Tiger
This giant feline is certainly one of the first animals that come to mind when we think of animals that start with the letter T. The tiger is an endangered animal that is native to Asian countries. Just stay out of their territory after hours as these fluffy predators hunt prey at night.
Learn More: Britannica
12. Tiger Shark
"Get out of the water"! Next up, we have the tiger shark. These large predators get their name from their distinctive markings, which are similar to tigers. They grow to be rather large and are a highly aggressive species.
Learn More: Nature.org
13. Titi Monkey
Coming in at number 13, we have the titi monkey. Perhaps you haven't heard of them but you certainly should be aware of them as these monkeys are endangered, with no more than 250 adults left.
Learn More: National Zoo
14. Toad
Of course, we can't forget about the adorable toad. An amphibian with leathered and textured skin. Toads get a bad reputation for causing warts to grow on humans but don't believe this myth as it's completely safe to handle these pimply creatures.
Learn More: Woodland Trust
15. Tortoise
Next, we have the tortoise. These reptiles are ancient, dating back 55 million years ago. They can even live to be up to 150 years old although some have been reported to live to around 200 years old!
Learn More: Pet Keen
16. Toucan
Craving fruit-flavored cereal yet? Here we have the adorable toucan. These tropical birds have colorful beaks and are native to Central and South America. They are social birds that travel in groups of over a dozen.
Learn More: Tree Hugger
17. Toy Poodle
Awww, so cute! Toy poodles make adorable pets. Not only that, they are highly intelligent, making them popular choices for dog shows. The "toy" in their name refers to the fact that they are quite small.
Learn More: Pedigree
18. Trapdoor Spider
Next up is the trapdoor spider, which is a brown spider with golden hair. These arachnids are found in Australia and despite their name, they live in burrows that have an open entrances. They can live anywhere from 5 to 20 years.
Learn More: Nathistoc
19. Tree Frog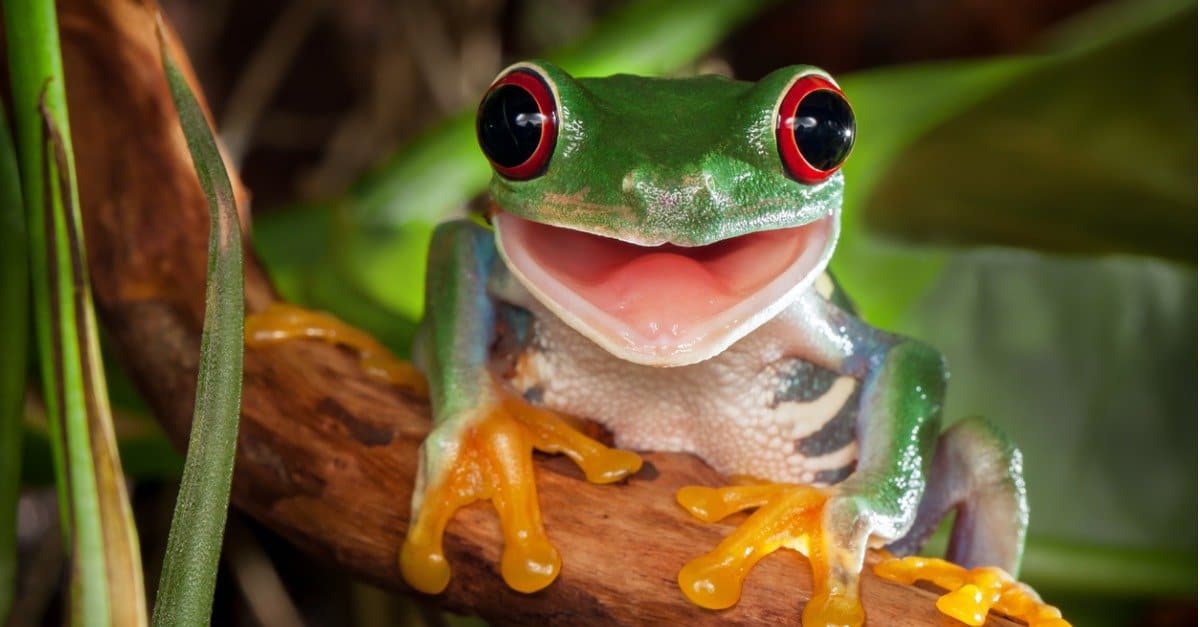 Tree frogs are adorable amphibians that makeup over 800 different species. They can be found in trees throughout the world and rarely leave the high ground. Tree frogs are excellent climbers due to their unique fingers and toes.
Learn More: Petco
20. Tree Swallow
These beautifully colored birds travel in flocks that can number into the hundreds of thousands! Tree swallows migrate across North America eating insects and berries as they go.
Learn More: Audubon.org
21. Trout
That's one serious "trout pout"! Trouts are freshwater fish that have a close relation to salmon. Native to North America, Asia, and Europe, these fish feed on both ocean and land animals. Due to their popular taste, many trout are raised in massive fish farms.
Learn More: Wild Trout
22. True's Beaked Whale
You may not know about this one because the true's beaked whale is so rare! These skittish whales live in the North Atlantic Ocean and venture out in predominantly deep waters. Because they're rare, scientists don't know their exact lifespan.
Learn More: Orcaire Land
23. Trumpeter Swan
Native to North America, the trumpeter swan has a white body and looks like it's wearing a black mask and boots. They often forage in shallow waters and can fly up to 60 miles per hour!
Learn More: All About Birds
24. Tufted Titmouse
Another North American native, the tufted titmouse is a grey songbird with black-beaded eyes and a small body. It has a voice that echoes through forests and is believed to be a symbol of good fortune if seen in a dream.
Learn More: Perky Pet
25. Tundra Vole
This mid-sized rodent can be seen in three continents: Europe, Asia, and North America. The tundra vole gets its name from its favorite habitat, tundras. If they're not hiding in a damp tundra, they're scurrying around in a grassy meadow.
Learn More: Animalia
26. Tundra Wolf
Next is the tundra wolf, AKA the turukhan wolf, which is found throughout Europe and Asia. Of the three species of wolves, the tundra wolf falls under the gray wolf species. During the Winter, these ferocious pups prey solely on reindeer.
Learn More: Be Arizona
27. Turkey
Is it Thanksgiving yet? Our next animal is a species of bird called a turkey. These giant birds are native to North America and have been known to be aggressive toward humans and pets if confronted in the wild. Fun fact: turkeys CAN fly!
Learn More: World Animal Protection
28. Turkey Vulture
Up next is the turkey vulture! These red-headed birds are new world vultures, meaning they are exclusively found in the Western Hemisphere. They are known for their powerful sense of smell and have been reported to smell other birds from a mile away.
Learn More: Audubon.org
29. Turtle
What's the difference between a tortoise and a turtle? One of the main differences is that the turtle has a shell built for living in the water while the tortoise has a shell built for land. Fun fact: turtles don't have any teeth, instead they have a strong beak.
Learn More: Toucan Box
30. Tyrannosaurus Rex
Last but certainly not least, we have the tyrannosaurus rex. Although these dinosaurs have been extinct for approximately 65 million years, they're unforgettable due to them being the apex predators of their time. One of their most distinctive features is their tiny arms.
Learn More: Fossil Guy