We've put together a list of 26 creative ideas that will spark your preschoolers' imagination and help them unleash their artistic talents. These arts and crafts activities are designed to be both fun and educational and make use of a wide array of materials such as natural elements, playdough, salt, and more! Jump right in to find inspiration for your next crafting session!
1. Playdough Masterpieces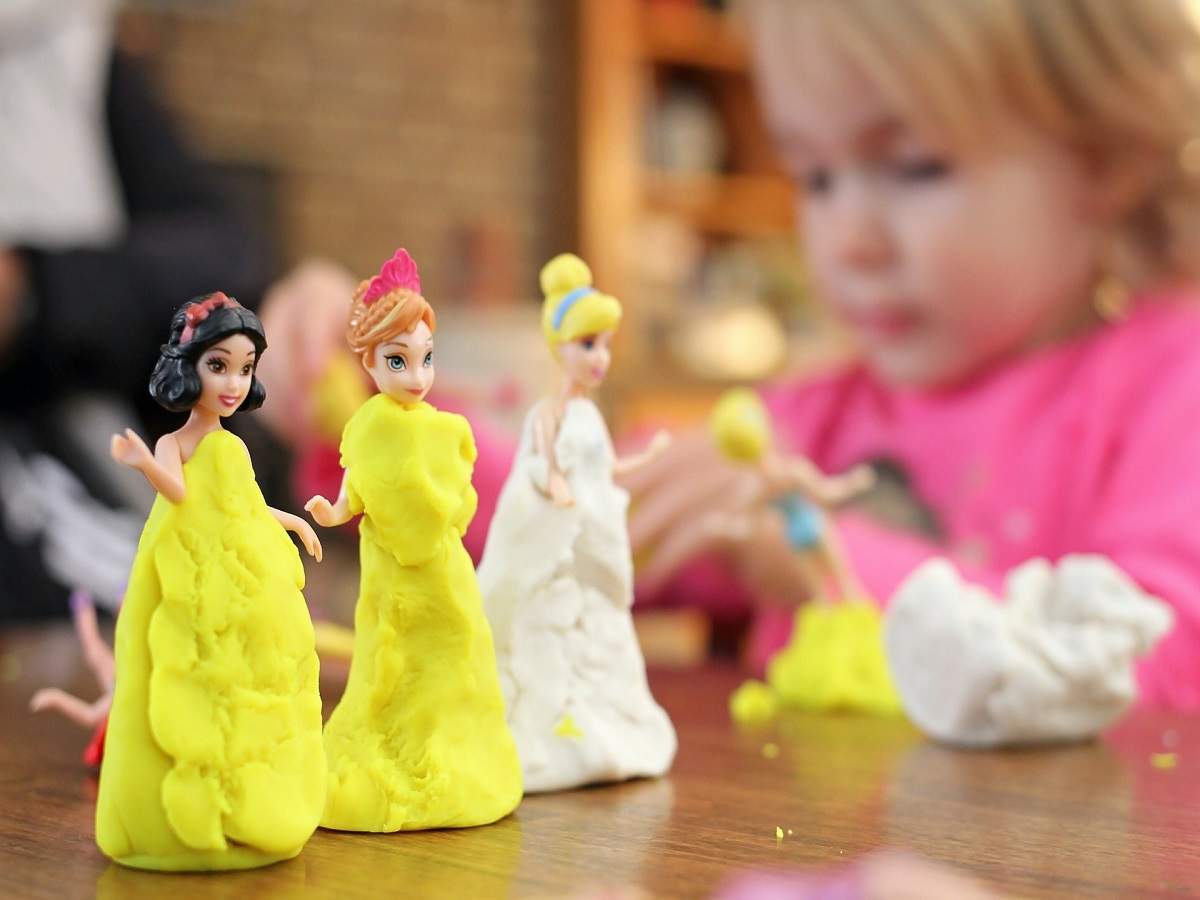 Spend some time enjoying a tactile pursuit! Have your littles mold and shape their very own playdough creations. Encourage them to use their imagination to make animals, shapes, or letters. They'll love exploring different colors and textures!
Learn More: Times of India
2. Nature Collage
Take your class on a nature walk and gather leaves, flowers, and other natural materials. Back in the classroom, provide them with glue and paper to create beautiful collages using their natural treasures.
Learn More: Fun365
3. Bubble Wrap Printing
Dip pieces of bubble wrap into the paint and let your kids press the bubble wrap onto a piece of paper. Watch as they create unique and textured patterns with every press.
Learn More: Artful Parent
4. Paper Plate Masks
Give each child a paper plate and let their creativity shine! They can decorate the plates to make animal, superhero, or imaginative character masks.
Learn More: Fun Crafts Kids
5. Yarn Painting
Dip pieces of yarn into different colored paints and guide your students to swirl, twist, and stamp the yarn onto paper. The result? Colorful and abstract works of art that can be used to adorn the walls of your classroom!
Learn More: Buggy and Buddy
6. Popsicle Stick Puppets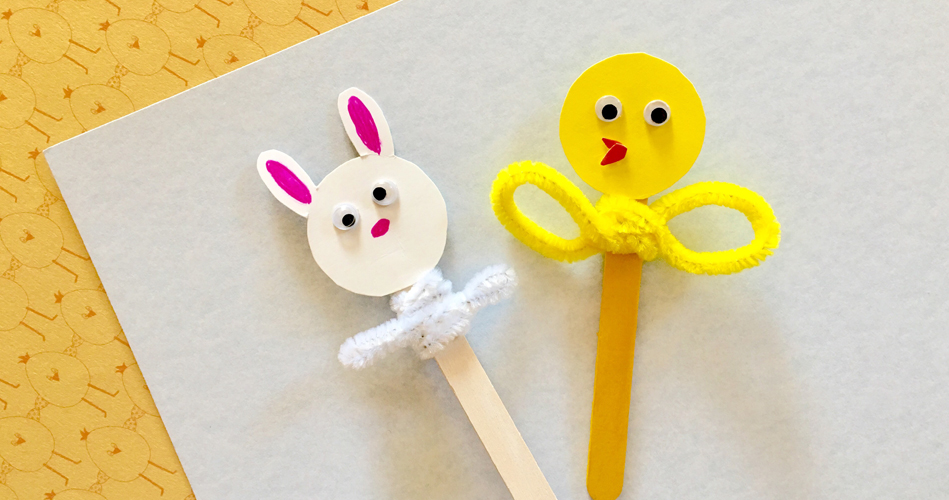 Lay out popsicle sticks and various craft materials like googly eyes, feathers, colored cardstock, and markers. Challenge your preschoolers to create puppets and then use them to put on a puppet show for the class.
7. Shaving Cream Marbling
What preschooler doesn't love an opportunity to get messy? Spray shaving cream on a tray, add drops of liquid watercolor or food coloring, and let your kiddos swirl the colors together using a stick or their fingers. Then, they can press a piece of paper onto the marbled surface to create a unique work of art.
Learn More: Babble Dabble Do
8. Recycled Robot Sculptures
This activity idea is the perfect combination of art and sustainability! Collect recycled materials like cardboard boxes, bottle caps, and toilet paper rolls. Encourage your students to assemble these materials to create an imaginative robot sculpture.
Learn More: Artsy Momma
9. Sensory Collage
Provide different textured materials like fabric, foil, and sandpaper. Let your little artists explore these materials and create a sensory collage by gluing them onto a large sheet of paper.
Learn More: Pinterest
10. Puffy Paint Creations
Mix equal parts shaving cream and white glue to create puffy paint. Allow your learners to use brushes or their fingers to apply the paint to their artwork. Once dry, the paint will have a raised, textured appearance.
Learn More: Happy Hooligans
11. Nature Impressions
Explore nature in a hands-on way! Take your class outside and provide them with clay or playdough. Encourage them to create impressions of leaves, twigs, and other natural items by pressing them into their piece of clay.
Learn More: Toucan Box
12. Tissue Paper Stained Glass
Cut out shape outlines from black construction paper and have your students glue small pieces of colorful tissue paper onto the shapes. When held up to the light, they'll create stunning stained glass effects.
Learn More: Artful Parent
13. Texture Rubbings
Place different textured objects like coins, leaves, and fabrics under a sheet of paper and prompt your students to use crayons or pencils to create rubbings; capturing the textures onto the paper.
Learn More: Adventurous Child
14. Salt Dough Creations
This is the perfect activity to work on before Christmas. Your learners can mix flour, salt, and water to create salt dough. Then, arm them with cookie cutters and have them cut out shapes and decorate them with paint or markers. Once dry, they'll have homemade ornaments to decorate their tree with.
Learn More: Monterey Bay Parent
15. Collage Storytelling
Cut out various pictures from magazines and let your littles create collages that tell a unique story. Encourage them to use their imagination and practice their storytelling skills with the finished product.
Learn More: YouTube
16. Bean Mosaic Art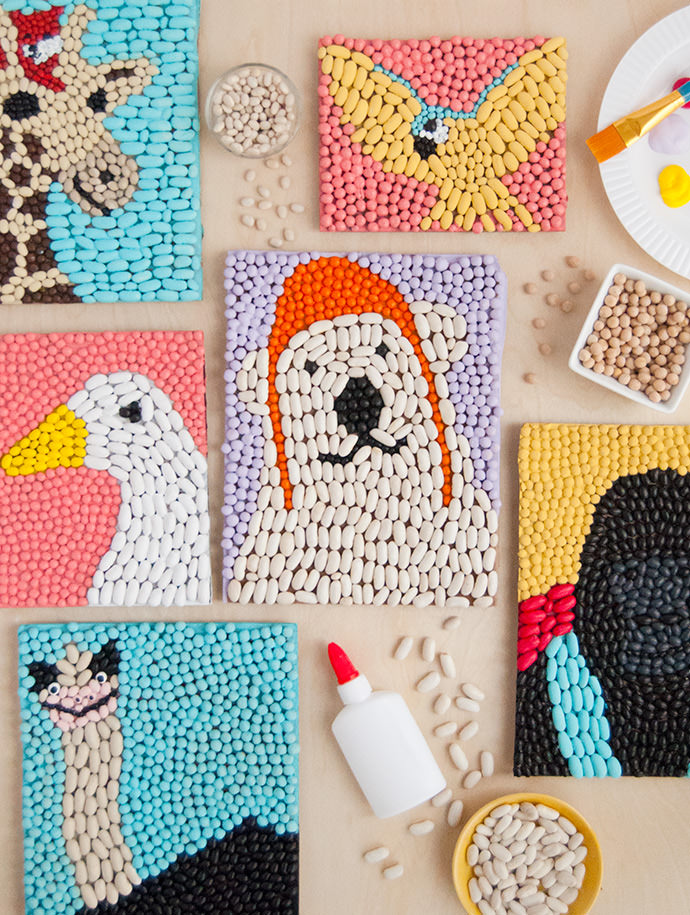 Bean mosaic art is a great way to explore colors, shapes, and textures. Equip your learners with different colored beans and glue. Have them arrange the beans on a piece of paper to create a vibrant mosaic pattern and then glue them down.
Learn More: Handmade Charlotte
17. Paper Bag Puppets
Give each child a paper bag and a variety of craft materials like construction paper, markers, and yarn. Inspire them to transform the bags into their favorite animals, characters, or even imaginary creatures.
Learn More: Kids Activities Blog
18. Nature Weaving
Create simple looms using sticks or cardboard and have your kids weave natural materials like grass, leaves, and yarn through the looms. They're sure to enjoy the process of creating their own tapestries and should be prompted to experiment with colors, patterns, and designs.
Learn More: Fun Crafts Kids
19. Fruit and Vegetable Stamp Art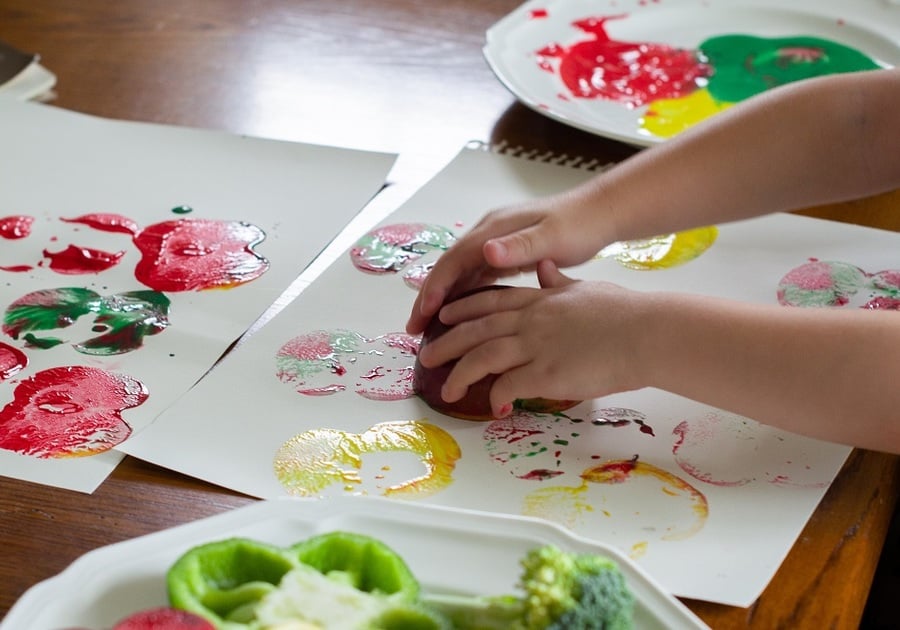 Cut different fruits and vegetables in half and let your kiddos dip them in paint before pressing them onto paper to make unique prints. Prompt them to experiment with different colors and shapes to create diverse artworks.
Learn More: Macaroni Kid
20. Shape Hunt Collage
This activity is fantastic for developing shape recognition! Give your learners magazines or old newspapers and have them search for specific shapes like circles, squares, and triangles. Once found, they can cut out the shapes and glue them onto a large piece of paper to create a shape-themed collage.
Learn More: Mrs. MeGown's 2nd Grade Safari
21. Paper Plate Weaving
Cut evenly spaced slits around the edge of a paper plate and provide colorful yarn for a fun weaving project. Littles can weave the yarn in and out of the slits to create woven masterpieces.
Learn More: Backyard Summer Camp
22. Salt Painting
Draw simple designs on dark-colored paper using glue. Have your students then sprinkle salt over the glue and drop liquid watercolors onto the salt. Watch as the colors spread and create beautiful patterns.
Learn More: YouTube
23. Coffee Filter Butterflies
This activity is perfect to include in a unit on metamorphosis! Have your students color coffee filters with markers and then spritz them with water to blend the colors. Once dry, they can gather and secure the filters in the center with a pipe cleaner to create a set of vibrant butterfly wings.
Learn More: YouTube
24. Nature Bracelets
Wrap masking tape, sticky-side out, around your children's wrists. Then, let them go on a nature walk and attach small natural objects like leaves, flowers, and seeds to their bracelets to create a wearable piece of art!
Learn More: Sprouting Wild Ones
25. Bubble Painting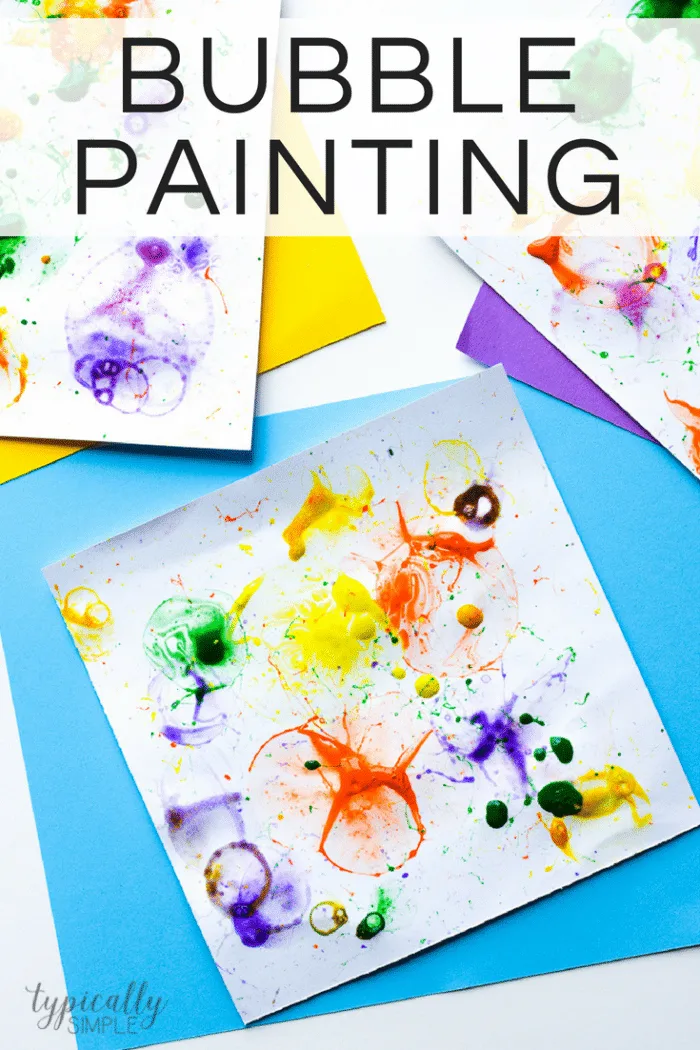 Mix liquid watercolors or food coloring with dish soap and water. Provide bubble wands and get your students to blow colorful bubbles onto paper to create abstract artwork.
Learn More: Typically Simple
26. Collage Self-Portraits
Time for some self-reflection! Give your children magazines or printed photos of faces and have them cut out facial features to create self-portraits. They can mix and match different eyes, noses, and mouths to express their creativity.
Learn More: Meri Cherry