Celebrate the last days of Summer and get ready for school with these unique activity ideas. Engage in sensory play, build motor skills, or just enjoy the outdoors! These hands-on activities are a favorite way to spend some family time together. Whether you're looking for activities with Summer themes or back-to-school themes, there's sure to be one from our collection that becomes your kid's new favorite!
1. Pool Noodle Patterns
Spend the last few days of Summer by the pool, lake, or a big bucket of water! Cut a few pool noodles into rings. Then, gather some friends and have them build social skills by learning to work together to collect different color patterns.
Learn More: Pocket of Preschool
2. The Wheels On The Bus
Get excited about school with this classic! This video is a good way to get kids ready for their very first school bus trip. Have them act out their favorite part of the song for some exercise as they sing along.
Learn More: Cocomelon – Nursery Rhymes
3. Phonics Buses
These cute little buses are perfect for introducing letters! Start by sounding out each one! Then, place the buses in a row to have your learners spell their names!
Learn More: Kindergarten Worksheets and Games
4. Watermelon Name Display
This cute craft is perfect for any preschool classroom. Write your students' names on a slice of watermelon. When they arrive for the first day of school, hand it to them to share with the class!
Learn More: Miss Jacob's Little Learners
5. Flower Collages
This crafty is great for developing color recognition skills. Cut out different colored paper from old magazines or new craft paper. Your little ones can then sort and glue the matching colors together on each petal!
Learn More: Hands-On As We Grow
6. Watermelon Seed Count
Introduce math concepts by counting watermelon seeds. After eating some tasty watermelons, collect the seeds. Use the printable template to help your little ones visualize what numbers look like.
Learn More: Teachers Pay Teachers
7. Exploding Watermelons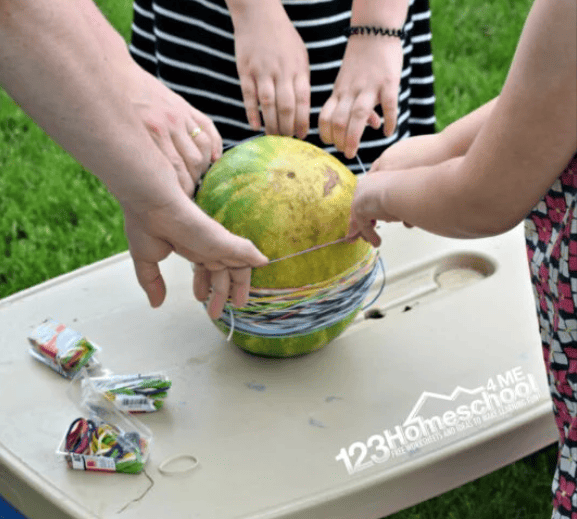 Exploding fruit is dangerous but makes a fantastic collaborative activity for the whole family! Grab some safety goggles and hundreds of rubber bands. Carefully stretch the bands over the watermelon as your kids watch in anticipation!
Learn More: 123 Homeschool 4 Me
8. Watermelon Sorbet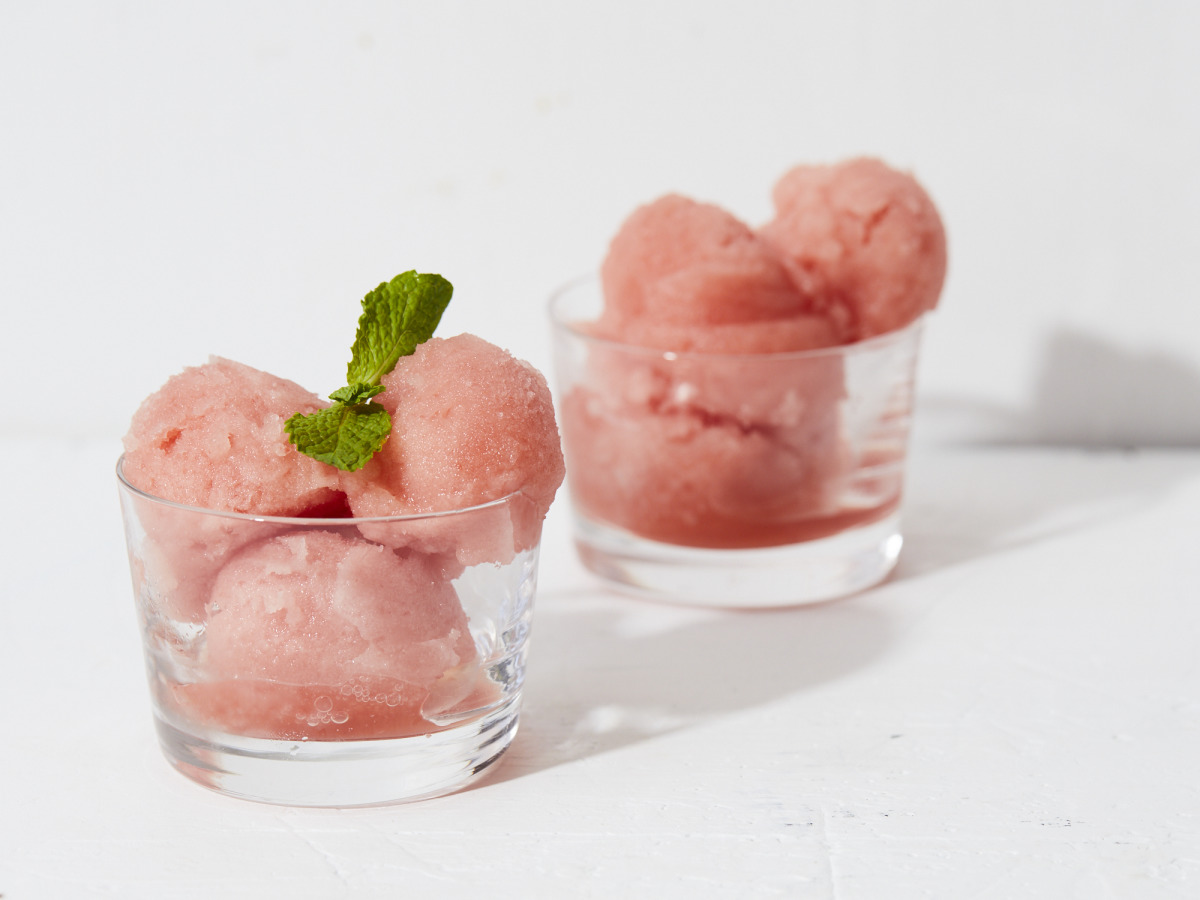 Looking for a refreshing treat? This simple sorbet takes minutes to make and is super healthy with no added sugar! Simply blend some watermelon with water and lemon juice. Be sure to freeze the watermelon ahead of time!
Learn More: Childhood 101
9. Watermelon Slime
This easy recipe is sure to be a hit with your kids! All you need is glue, baking soda, and some contact lens solution. Add small black pom poms to make them look like watermelon guts.
Learn More: Simple Everyday Mom
10. The Way We Go To School
This video is great for showing kids how to get ready for school! From getting dressed in the morning to carrying books, this catchy video covers it all! Use the video to build healthy habits like brushing your teeth every day.
Learn More: The Kiboomers – Kids Music Channel
11. Color By Number
Color by number is an awesome activity to introduce numbers and build motor skills by coloring in the lines. The completed coloring pages reveal a hidden picture! Coloring time can be the perfect time to talk to your kids about the new school year.
Learn More: Preschool Play & Learn
12. Berry Sensory Basket
Add some sensory play to your lesson plans to stimulate language development. Cut felt leaves and stems and mold strawberries out of sticky rice. Add some strawberry-scented barley to cover the bottom of the basket and let your kids enjoy!
Learn More: The Imagination Tree
13. Counting Sunflowers
Counting is an essential skill your kids will learn in their preschool classrooms. Give them a head start with this sunflower activity! Grab the biggest sunflower you can find and have your kids pick out the seeds. Help them count as they place the seeds in a cup.
Learn More: Teaching 2 and 3 Years Old
14. Edible Playdough
Non-melting ice cream? Yes, please! Blend together frosting and powdered sugar to make moldable "ice cream". Let your little ones play with their food to create dough pets. Give them dough shape mats to practice their shapes before they eat!
Learn More: The Soccer Mom Blog
15. Stained Glass Windows
Stained glass is perfect for any colors-themed lesson. Cut or tear sheets of colored tissue paper before building a window frame from craft sticks and then gluing wax paper to the back. Then your kids can design the window of their dreams with bits of scrap paper.
Learn More: Artful Parent
16. Water Balloon Parachutes
Take the last batch of Summer's water balloons and fill them up. Then tie the end around both handles of a plastic shopping bag and launch it into the air! Try to catch it before it lands and pops the balloon! Keep extra balloons handy just in case.
Learn More: Fantastic Fun and Learning
17. Lemon Volcanoes
Rainy days occur; even in the Summer. Keep your little ones entertained with this fun science experiment. Cut the top and bottom off of a lemon. Squish the insides to release the juice and add some baking soda to set off the volcano! Add dish soap for extra bubbles.
Learn More: Teaching Exceptional Thinkers
18. Park Bingo
Make your trip to the park even more fun with bingo! Print out the bingo cards and see how many of the squares your local park has. Your kids cross off the square as soon as they play on the feature! Give them a hand with the bigger play structures.
Learn More: Coffee and Carpool
19. Back to School Bingo
Help calm fears about going to school with a cool game! Fun activities can ease your preschoolers into learning. The cute school theme will help them recognize things around their classroom. Alternatively, use it on the first day of class to build a sense of classroom community!
Learn More: Preschool Play & Learn
20. Sunflower Butter
If your kids have nut allergies, let them enjoy a modified PB&J with some homemade sunflower seed butter! Making it at home allows you to control the ingredients and sugar levels. It's the perfect activity to build basic skills in the kitchen.
Learn More: Tessa the Domestic Diva
21. August Holidays
Find inspiration using this August activity calendar! Nearly every day during the month celebrates something special. You can decide if the day should include educational activities or be centered around an art or science theme!
Learn More: The Cozy Red Cottage
22. Summer Color Scavenger Hunt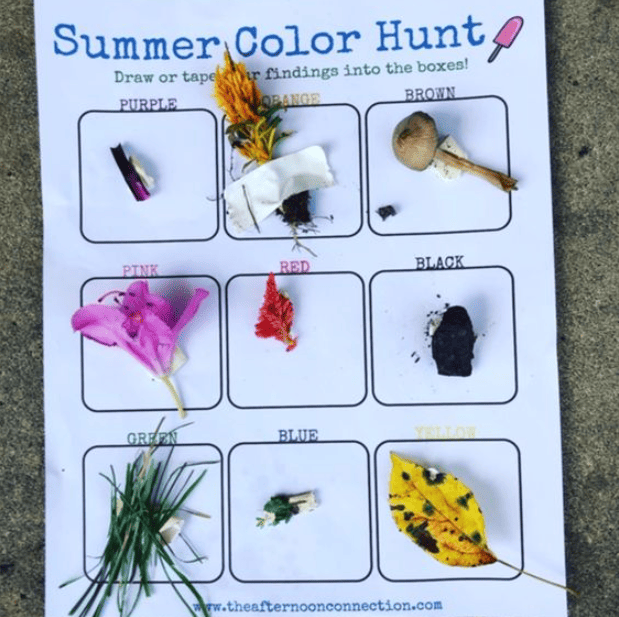 Explore the great outdoors and build color recognition skills at the same time! Lead your little ones around the backyard or through a flower-filled field to help them find parts of nature to match their colors!
Learn More: The Afternoon Connection
23. Lemonade Tasting
Lemonade is the perfect Summer drink. Make some yellow and pink lemonade. Taste each and tally who likes which one for counting practice. Introduce new words to start reading!
Learn More: Primarily Speaking
24. Whisking Bubbles
The best Summer activities always involve bubbles! Grab some whisk and dish soap from the kitchen. Pour soap into a container and let your kids whisk up some bubbles. Add food coloring to create rainbows!
Learn More: Emma Owl
25. Home-Made Bubbles
Enjoy some Summer fun with huge bubbles! Mix together the secret bubble solution and then help your little ones find or make different-shaped bubble blowers using pipe cleaners. Use a hula hoop to make massive bubbles and see what kind of bubble trouble you can get into together!
Learn More: 123 Homeschool 4 Me