There are so many exceptional authors writing literature for children today. From human values and cultural experience to true stories and colorful illustrations, there are extraordinary books in every genre for your kids to read. For a book to be an award winner it has to be very special, so we searched far and wide to find the best picks for this recommendation list! Scroll through, find a few you think your kids will enjoy, and use the link to buy. Happy reading!
1. What Do You Do With an Idea?
This inspiring and beautiful book tells the sweet story of how an idea can blossom with the right encouragement. When a child dreams big, it is important to teach them nothing is impossible if they work hard and believe in themselves.
2. The Watermelon Seeds
Let your kids' imaginations soar with this adorable American picture book for children about a crocodile who thinks if he swallows a watermelon seed crazy things are going to happen. We all had those myths told to us as kids about seeds growing in our bellies, so it's fun to go through the thoughts of this quirky character.
3. New Kid
An award-winning graphic novel with a relatable story many readers will appreciate. Jordan loves drawing, so when his parents decide they want him to change schools he hopes they will enroll him in his dream art school. Unfortunately, they decide to send him to Riverdale Academy Day School, a private school with almost no students who look like him. Can he survive being the new kid?
4. Frederick
A classic story of a little mouse who collects something unexpected for his winter supplies. This heart-warming tale will bring wonder and joy to readers as they follow Frederick as he spreads cheer to whoever he meets. Read together as a family or classroom, or enjoy this sweet book on your own.
5. Honeybee: The Busy Life of Apis Mellifera
Ever wonder what life is like for a honeybee? Well, wonder no more! This remarkable book tells the story of Apis, a honeybee as she is born and grows up in the hive and eventually ventures out as an adventurer! The close-up illustrations and details will amaze readers of any age.
6. I Talk Like a River
Named the best book of the year, and highly recommended because of its wonderful message and encouraging motifs. When we struggle with something, sometimes we need to approach the task from a new outlook or perspective. This is exactly what a little boy and his father do when he can't get his words out right.
7. Knight Owl
Released in 2022, this medieval-themed children's book is already being noticed for its creativity and imagination. An inspiring tale of bravery and tenacity is shown by a young owl hoping to become a knight one day. His first true test comes when he must guard the tower against a dangerous trespasser.
8. Outside In
This Caldecott Medal book brings the magic and beauty of nature to life in a way kids in American culture can relate to and understand. The colorful illustrations depict a world we are a part of even if we do not spend so much time in it. Our connection to nature is inside of all of us, just waiting for us to step outside and smell the roses.
9. Roll With It
Ellie doesn't let anything get her down. Despite having cerebral palsy and using a wheelchair, she aspires to be a professional baker when she's older. When Ellie and her mom move to a new town there are many hurdles Ellie must overcome, but making her first friend seems to make everything easier.
10. The Undefeated
An award-winning historical book about the heavy history Black Americans have had to endure over the years, from slavery to racism and everything in between. This picture book highlights key figures and portrays their passion, heart, and resilient spirits amidst all the prejudices they have had to overcome.
11. The Shortest Day
When the sun sets on the shortest day of the year, will it rise again? This poetic picture book tells a beautiful story of how people used to wonder and question the inner workings of the world. Read along as they sing, dance, eat, and celebrate life as a community.
12. Dragon Hoops
A graphic novel inspired by the book creator's own life and experiences! Gene Yang was never very much into sports as a kid, but now he is a high school teacher, and his school's basketball team is having a great year. Through opening up to new things, Gene shares the compelling story of how he got involved in a new side of himself and changed for the better.
13. The Gardener
Lydia brings this story to life, along with the giant city she moves to with some seeds and a vision. She begins by lightening up her Uncle's bakery with fresh flowers the customers love, but her true passion project is the garden on their rooftop!
14. Forest World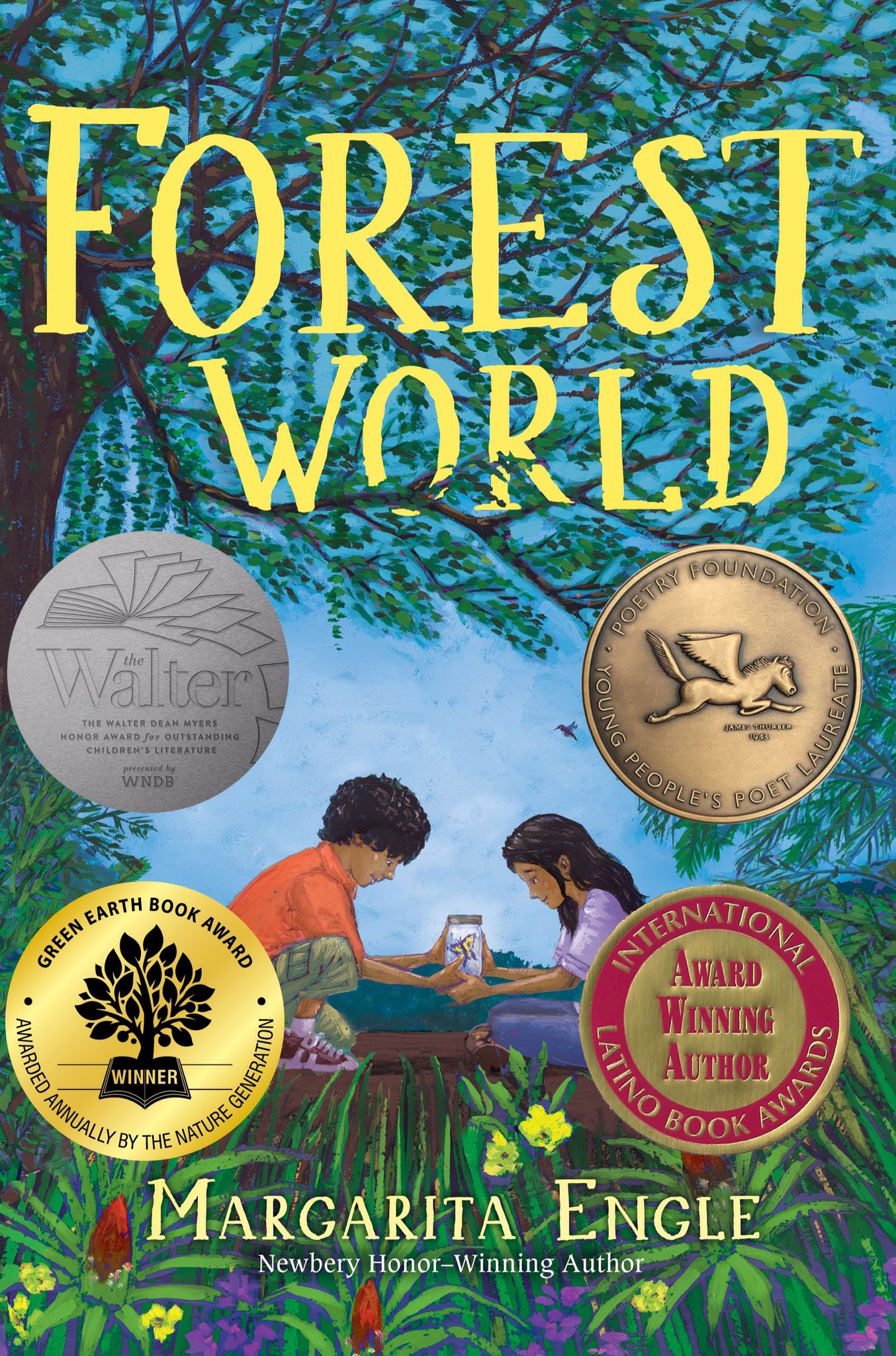 A transformative story by an award-winning author, about young Edver and his journey to Cuba to see his father and meet his older sister for the first time. There are many differences between busy city life in America and the wilderness of Cuba, and he and his sister Luza find themselves responsible for protecting this forest from some dangerous people.
15. Maybe: A Story About the Endless Potential in All of Us
One that should be on all book recommendations lists! This inspiring and sweet story shows each reader how special and unique they are. No matter what you wish was different about you, this book encourages you to love every part of yourself and the potential you hold between your fingertips.
16. Hello, Universe
Another award-winning kids' book by relevant author Erin Entrada Kelly is perfect for 5th-grade to middle school readers. This amusing book follows 4 very different kids as their lives wind together due to the fates of their actions and reactions, causing unlikely friendships to form.
17. Giant Squid
Ready to discover the mysterious creature living deep beneath the sea that has only been sighted in the last decade? This Robert F. Sibert Informational Book with vivid images and depictions of the giant squid will have young readers excited to see what else lies in the ocean's depths.
18. The Night Diary
An award-winning and distinguished contribution to American literature through the compelling story of a young girl taken from her home by the separation of her country. In a historical book set in 1947 India after the British takeover, Nisha and her father must leave their homeland and build a new life as refugees. Nisha shares their journey in a diary that is honest and heartfelt.
19. When You Trap a Tiger
Tae Keller has taken the writing world by storm with this bestselling novel that has won numerous book awards. Inspired by Korean folklore, about a magical tiger and family history, when you make a deal with a tiger you have to be prepared for anything.
20. A Wish in the Dark
This adventurous book can be read in middle school and tackles many complicated issues such as class, race, injustice, and poverty. Pong is a young boy who has just escaped prison and hopes to finally be free but realizes very quickly that the world isn't a fair and kind place. As Nok, tries to track him down and bring him back to jail, she is exposed to just how divided her city is.
21. Fighting Words
Winner of multiple annual awards for middle school readers, this book talks about some difficult issues that many kids are unfamiliar with, but many people have had experience within their lives. It covers trauma, abuse, and overcoming hardship through the bonds of sisterhood.
22. A Place Where Sunflowers Grow
Perfect for 3rd grade – 6th-grade readers to learn a little about the Japanese community and the hardships they had to face during WWII in the internment camps. Mari has an art class, but she feels uninspired until she begins to notice the small but beautiful things/people around her.
23. Watercress
This award-winning autobiographical story shares the experience of a family with watercress spanning over generations. Author Andrea Wang takes her family's history of immigrating from China as a lesson on food and the value of tradition and honoring where we come from.
24. The Angry Dragon
Here is a colorful picture book with an adorable story about how to manage our anger as children. A good book for preschool through 2nd grade, using dragons as an example of creatures that have a hard time understanding their emotions.
25. Sulwe
An inspiring picture book about a baby brown girl who wishes to be light like the rest of her family, but is quick to discover the beauty and magic of her own self that radiates through her.
26. Sewing the Rainbow
From American authors, comes the life story of Gilbert Baker, the man who sewed the gay pride rainbow flag. It has won parenting awards for books for children and teaches a message of following your heart and never letting your sparkle fade.
27. A Walk in the Words
Hudson is a smart kid, but he is ashamed of his slow reading skills even though he really enjoys stories. Using his drawing skills and big brain, he decides that he will use his slow processing speed to bring each and every part of the story to life, making slow reading fun!
28. Inside Out and Back Again
This coming-of-age story of a young Vietnamese girl who has to flee with her family during the Vietnam War will give readers a glimpse into the trials and hardships refugees have to face, as well as the great strength and resilience they possess.
29. Where the Wild Things Are
This is a classic children's book by Maurice Sendak. It tells the story of Max- a young boy who sails away to an island filled with wild things. He becomes the king of all wild things until he becomes lonely and returns home to his bedroom where his supper is still hot.
30. Matilda
Written by Roald Dahl, this book follows the story of Matilda; a very smart girl with not-so-smart parents. Matilda discovers that she has a special power, and with it, she teaches those who are unkind to her an important lesson.
31. Charlotte's Web
This beloved children's novel, written by E.B. White, tells the story of a livestock pig named Wilbur and his friendship with a barn spider named Charlotte. When Wilbur is in danger of being slaughtered, Charlotte writes messages on her web in an attempt to persuade the farmer to let Wilbur live.
32. The Giving Tree
Best described as a poignant narrative penned by Shel Silverstein, The Giving Tree captures the evolving bond between a young boy and a generous tree. Over time, the tree sacrifices everything; metaphorically showcasing the limitless love of parenthood. Through its simple prose, it touches upon themes of love, sacrifice, and how relationships evolve as they grow.
33. Green Eggs and Ham
This is an exhilarating read by Dr. Seuss, consistently championing the spirit of adventure and trying unfamiliar things. The persistent Sam-I-Am is on a mission to introduce a skeptical friend to his peculiar dish; leading to a roller-coaster of humorous situations. This whimsical tale invites your readers to be open-minded and adventurous when trying new things.
34. Goodnight Moon
Authored by Margaret Wise Brown, this tranquil narrative invites readers into a serene room. As evening approaches, a young rabbit says goodnight to everything in its surroundings before finally bidding a gentle farewell to the moon. The repetitive structure provides a calming effect, which is perfect for nighttime reading or as a sweet send-off before a lunchtime nap at school.
35. The Tale of Peter Rabbit
Beatrix Potter crafts an engaging tale revolving around Peter Rabbit- a mischievous protagonist. Venturing into Mr. McGregor's garden, Peter's escapades lead to thrilling adventures and narrow escapes. This timeless narrative wonderfully blends curiosity, consequences, and charm, and is sure to captivate all of your little readers.
36. Corduroy
Set in a bustling department store, Don Freeman's narrative follows Corduroy; a small teddy bear on a quest. With a button missing from his overalls, he embarks on a nighttime adventure to find it! On the way, he encounters various store wonders. This read truly is a touching tale about belonging and friendship.
37. The Little Prince
Antoine de Saint-Exupéry delves into profound philosophical insights as he details the journey of a young prince. As the main character traverses diverse planets, he meets unique inhabitants; each presenting him with a distinct lesson about life and human nature. This novella, though short, is dense with introspection and universal truths.
38. The Snowy Day
This narrative captures the pure joy and curiosity of a child's first snow experience. Peter, a vibrant young boy, is at the heart of Ezra Jack Keats' depiction of a wondrous snowy day. Cloaked in a red snowsuit, Peter ventures out- leaving footprints, creating snow angels, and relishing the wintry magic.
39. Harold and the Purple Crayon
This inventive tale underscores the power of creativity and imagination. Crockett Johnson introduces readers to Harold- a boy with a vivid imagination and a singular purple crayon. As he sketches, his surroundings transform; leading him through various adventures during which he encounters unique challenges and discovers appropriate solutions.
40. Brown Bear, Brown Bear, What Do You See?
This engaging read is both a visual and auditory treat for young readers! Bill Martin, Jr. crafts a rhythmic narrative that serves as a delightful introduction to colors and animals. With each turn of the page, a new creature and its respective hue are just waiting to emerge and be explored by your littles.
41. The Very Hungry Caterpillar
Through vibrant illustrations and a simple narrative, Eric Carle tells the story of a caterpillar's culinary journey. From fruits to pies, the insatiable caterpillar indulges until it undergoes a wondrous transformation. Summed up, this narrative is ultimately a celebration of growth, change, and nature's marvels.
42. The Rainbow Fish
This underwater tale shines with themes of generosity, sharing, beauty, and friendship. Here, Marcus Pfister has woven a special tale about a shimmering fish that's known for its radiant scales. When the Rainbow Fish refuses to share its dazzling scales, it learns valuable lessons about sharing.
43. Oh, The Places You'll Go!
Dr. Seuss, with his characteristic flair, has whipped up a motivational narrative that can undoubtedly be used to encourage your readers to embrace life's journey with courage and optimism. As the protagonist navigates varied terrains and challenges, the story underscores life's ups and downs. Owing to this, this makes a great read for someone who is embarking on a new beginning!
44. The Velveteen Rabbit
The Velveteen Rabbit is a heartwarming story about a stuffed rabbit who aspires to become real. Through the unwavering love and belief of his young owner, this fluff ball embarks on a transformative journey; exploring themes of love, belief, and realness.
45. A Wrinkle in Time
This narrative seamlessly fuses science, fantasy, and the battle between light and darkness. In Madeleine L'Engle's cosmic adventure, Meg Murry, alongside her friends, voyages across dimensions to rescue her father. Along the way, they encounter diverse worlds, dark forces, and puzzling tesseracts that your readers are sure to be enthralled by!
46. Harry Potter and the Sorcerer's Stone
This story marks the first of seven epic books that highlight the beginning of an epic battle between good and evil. J.K. Rowling introduces the magical universe of wizards, spells, and mythical creatures in this seminal book. As young Harry Potter begins his education at Hogwarts, he unravels mysteries about his past and makes formidable friends and foes along the way.
47. Because of Winn-Dixie
Because of Winn-Dixie is a touching story centered on India Opal Buloni and her scruffy dog, Winn-Dixie. The duo's adventures in their new town lead to heartwarming encounters and newfound friendships. At its core, this tale emphasizes themes of loneliness, community, and the magic of simple moments.
48. Diary of a Wimpy Kid
Jeff Kinney offers a hilarious peek into the trials and tribulations of middle school through Greg Heffley's diary entries. From friendship dramas to family antics, Greg's observations are comically candid. This diary-style narrative is a relatable and humorous portrayal of adolescent life and thus makes a great read for any middle schooler looking to enjoy a lighthearted story.
49. The Lion, the Witch and the Wardrobe
Invite your kiddos to discover C.S. Lewis' fantastical realm called Narnia as they join four siblings on an adventure that takes place in no ordinary wardrobe. As they navigate this magical land, they confront an evil witch and befriend a majestic lion named Aslan.
50. The Giver
This is a thought-provoking novel by Lois Lowry. It delves deep into a society where memories of the past are monopolized by a chosen individual, known as the Receiver of Memory. The protagonist, Jonas, is selected for this heavy role which later leads him to uncover the unsettling truths about his seemingly utopian world.
51. Holes
Louis Sachar spins a tale about Stanley Yelnats, a boy who, due to a wrongful accusation, finds himself at Camp Green Lake; a juvenile detention camp. Here, the boys are made to dig holes under the guise of character-building, but Stanley soon discovers a larger mystery at play.
52. The Secret Garden
The Secret Garden is a transformative narrative by Frances Hodgson Burnett. It follows Mary Lennox, a previously pampered child who, after the demise of her parents in India, is sent to England. As she navigates her new life, she stumbles upon a hidden, derelict garden, which becomes a symbol of rebirth and hope.
53. Alice's Adventures in Wonderland
Invite your fantasy enthusiasts to venture down the rabbit hole with Alice in Lewis Carroll's surreal masterpiece. In a dreamlike realm, Alice encounters bizarre creatures and perplexing riddles which are sure to challenge your kiddos' understanding of logic and reality with each flip of the page.
54. Pippi Longstocking
Astrid Lindgren introduces us to Pippi- an unapologetically strong and spirited girl with flaming red pigtails. Living sans parents, but with her loyal monkey and horse, she embarks on countless adventures that often leave a trail of chaos.
55. Bridge to Terabithia
Bridge to Terabithia is an emotional narrative centered around Jess and Leslie; two isolated kids who invent a magical kingdom known as Terabithia. As their bond deepens, they grapple with issues of friendship, imagination, and tragic loss.
56. Wonder
R.J. Palacio's poignant novel showcases the journey of August Pullman- a child born with facial differences. As he steps into a regular school, readers are given a window into the challenges of belonging that he faces. As they work their way through the story, your young readers will learn how, with a dash of courage and resilience, they can overcome any insecurities.
57. Charlie and the Chocolate Factory
Roald Dahl's enchanting tale revolves around young Charlie Bucket's visit to the enigmatic Willy Wonka's fantastical chocolate factory. Amidst rivers of chocolate and singing Oompa Loompas, Charlie's integrity shines through.
58. The Polar Express
The Polar Express is a heartwarming tale by Chris Van Allsburg. The story follows a boy's nighttime adventure aboard the Polar Express- a train bound for the North Pole. Along the way, he discovers the enduring magic of belief during the yuletide season.
59. The Gruffalo
Julia Donaldson's narrative revolves around a resourceful mouse who invents the fearsome Gruffalo to ward off predators. Through clever tactics, the mouse ensures his survival in the woodland. The tale is perfect for teaching your readers how a certain wit and cunningness can go a long way.
60. Percy Jackson & The Olympians: The Lightning Thief
Rick Riordan's modern mythological saga kicks off with Percy Jackson; a teen who discovers he's a demigod. Thrust into a world of Greek legends in present-day settings, Percy must locate Zeus's stolen lightning bolt and prevent a divine war.