Who doesn't love playing with balloons? Here you'll find 25 ideas for using them with middle schoolers. Kids will have a blast with these inexpensive, fun activities that require only a few household items. From conducting science experiments to producing art and relishing in other sensory pursuits, you'll have plenty of activities to choose from!
1. Balloon Cars
Using paper plates, balloons, straws, cardboard, and wooden skewers, you can build a balloon-propelled car! Kids can take the lead on the construction front which will provide you, as their teacher, insight into their knowledge of basic physics concepts.
Learn more: Teachers are Terrific
2. Balloon Rocket
This activity takes less time to set up but still demonstrates the same concept as above. Get your learners to identify dependent and independent variables before creating a rocket using a balloon, yarn, straw, tape, and 2 chairs.
Learn more: WY Quality Counts.org
3. Balloon-Powered Boat
This may be more difficult to recreate at school since you need a large amount of water, however, students can construct it at school and test it at home. Simply poke a hole in a plastic container, inflate a balloon, insert the straw and you have a boat!
Learn more: There's Just One Mummy
4. Balloon Structures
Get students to use long, twisty balloons to create any structure they can dream up! They could have a competition to see who can create the tallest tower or use their creations for an egg drop challenge. The possibilities are endless!
Learn more: STEM Activities for Kids
5. Magic Balloons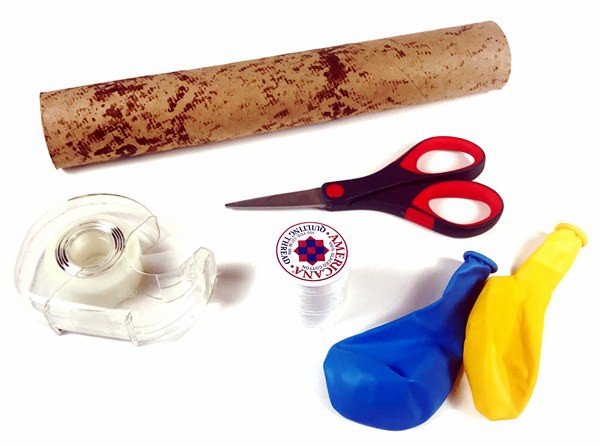 Bernoulli's Principle is perfectly demonstrated in this activity. If you are studying the weather, or live in a region with extreme weather, this demonstration is a must! It doesn't take much to set it up and your students will get a lot from it.
Learn more: Science Buddies
6. Skewer a Balloon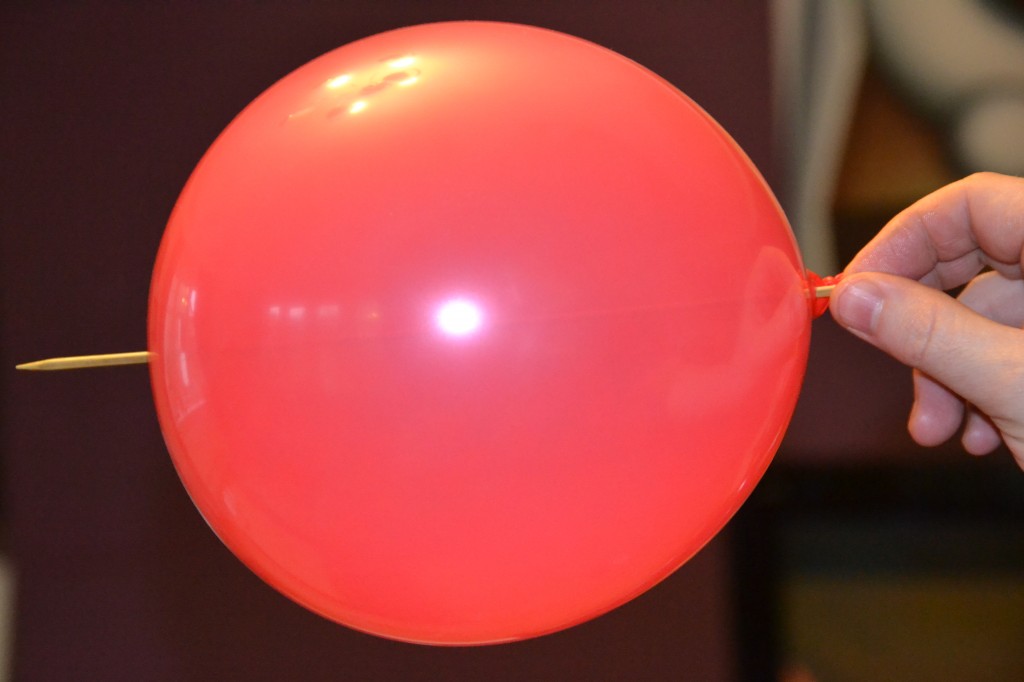 Did you know you could put a skewer through a balloon and not pop it? Get ready for some balloon science fun. Kids will be shocked when they see this experiment in action and will want to try it themselves.
Learn more: Science Sparks
7. Hovercraft and Friction Experiment
This STEM challenge invites kids to use a few household materials and turn them into hovercraft. Once their hovercrafts have been built, explore the concept of friction using different materials.
Learn more: Rookie Parenting
8. Back-to-Back Water Balloon Race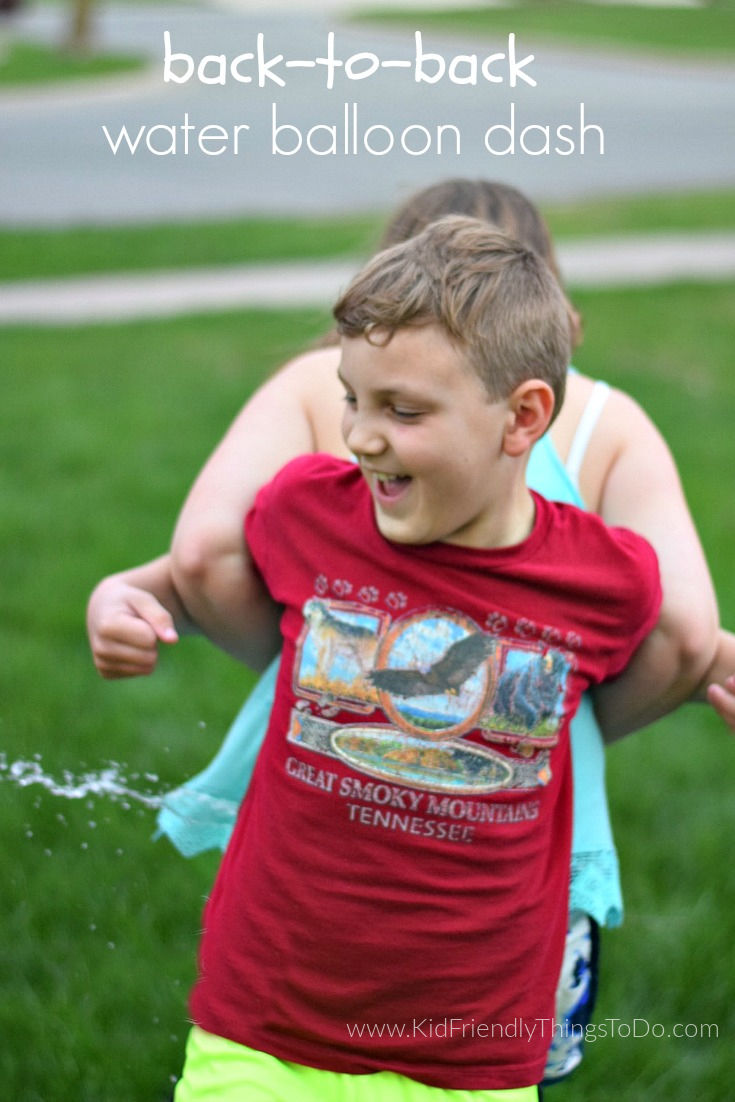 Here's a fun water balloon game for those hot Summer days! Kids will stand back to back with a water balloon in between them and race from the starting point to the finish line. If the balloon pops or falls, they have to go back to the start and get a new one. Whoever finishes first, wins!
Learn more: Kid-Friendly Things to Do
9. Mini Balloon Race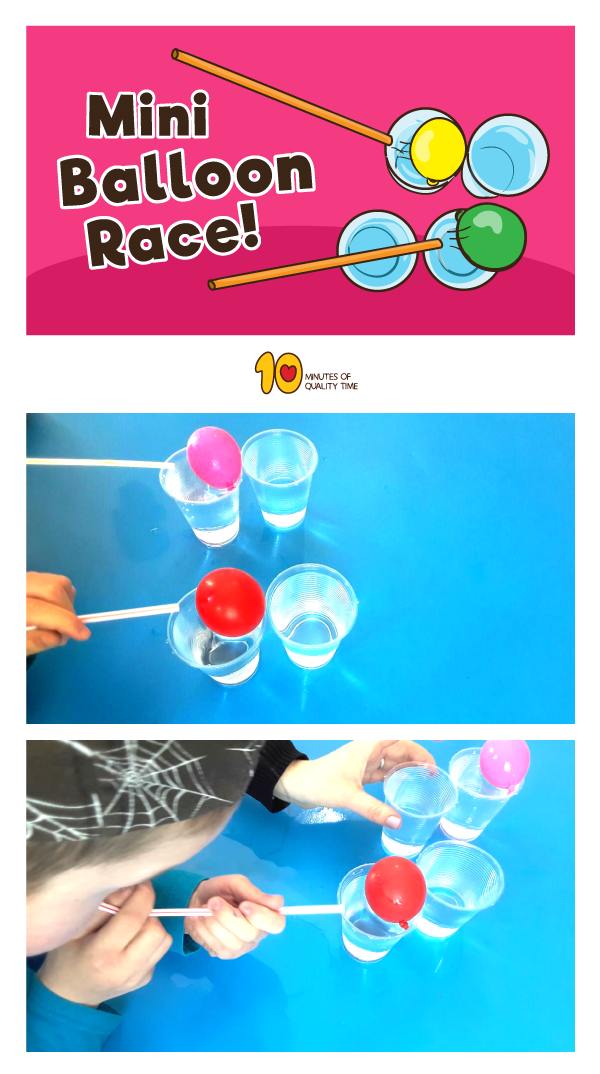 Kids will race to see who can blow their balloon across a series of glasses to finish first. Prepare a few mini balloons, glasses of water, and straws for blowing. Be sure to set this game up outside in case of spills.
Learn more: 10 Minutes of Quality Time
10. DIY Stress Balls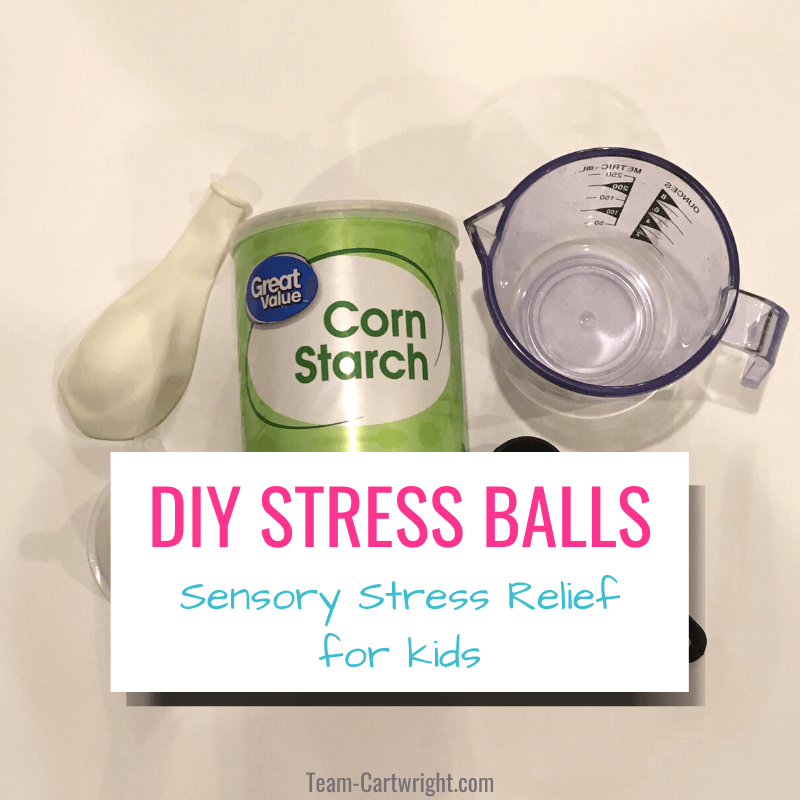 This is something that we can all use from time to time. Many balloon stress balls tend to use water beads, but this one uses a cornstarch and water mixture. To add some flair to their stress balls, have students draw funny faces on the outside of their balloons.
Learn more: Team Cartwright
11. Balloon Volleyball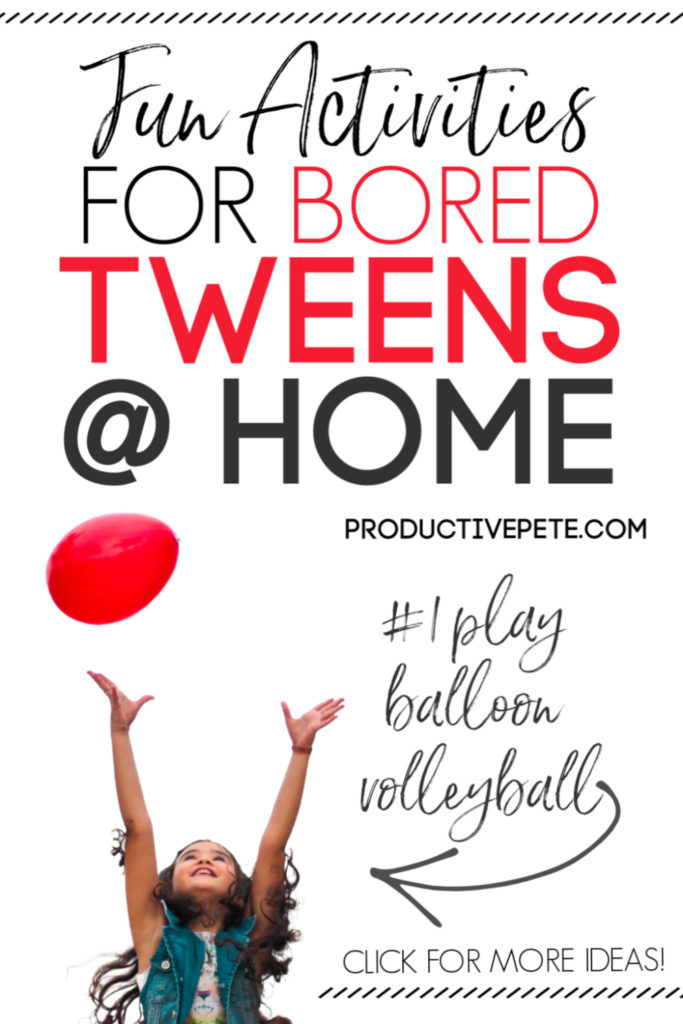 Balloon volleyball is a classic game that most of us probably played as kids. Here you'll find a version with a full set of rules for kids to follow. It's a great indoor game that can be used to help kids get out some energy and develop team-building skills.
Learn more: Productive Pete
12. Juggling Balls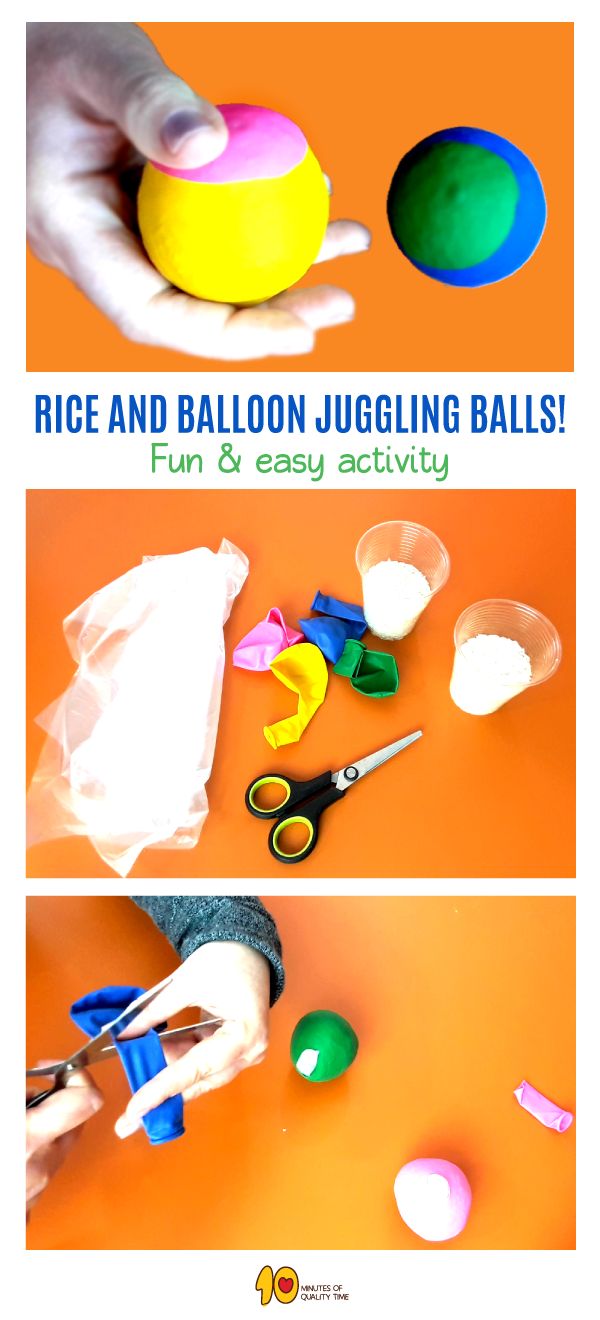 Learning how to juggle has many benefits; including resilience, motor skill practice, and more. You simply fill balloons with rice or sand and cut off the tail to make balls. They require a few layers to keep them secure, but are totally worth the effort!
Learn more: 10 Minutes of Quality Time
13. Balloon Tower
See who can stack up the most balloons in order to create the tallest tower. This fun balloon game is the perfect icebreaker or party game. Static electricity helps with getting the blown-up balloons to stay together.
Learn more: Guide, Inc.
14. Human Hungry Hippo
This is my favorite game on the list! It's the perfect indoor balloon game to play in gym class. All you need are some wheeled boards, balloons, and laundry baskets. Helmets are probably a good idea as well. Learners will compete to see who can gather the most balloons in their basket.
Learn more: ABC7 News
15. Balloon Tennis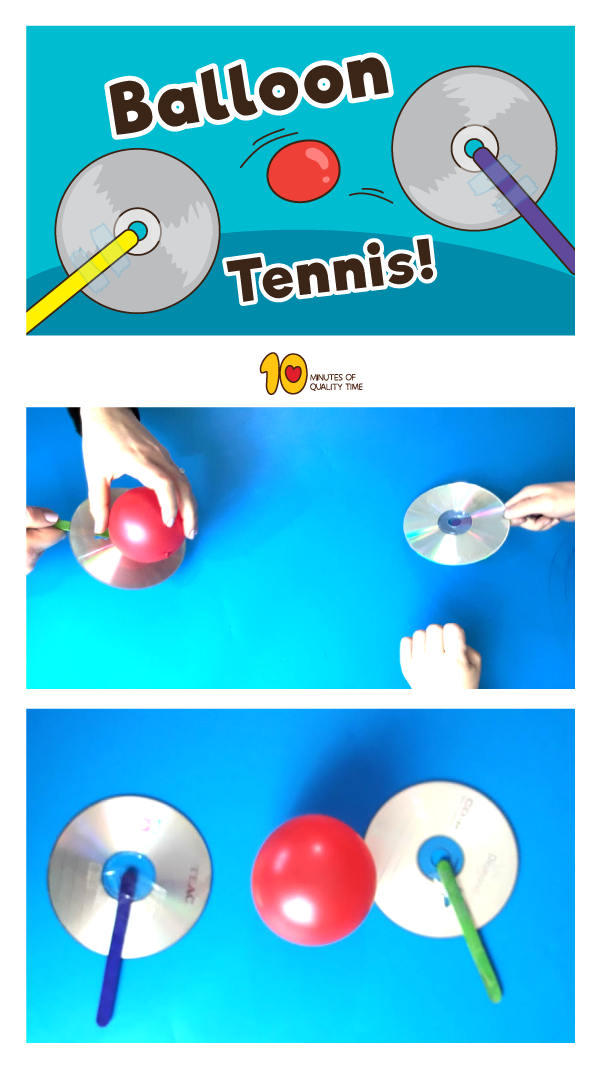 You can use a variety of household objects to create the rackets for this balloon table tennis game. The balloon replaces the ping pong ball, making it less hazardous to play at school. This also makes an awesome party game!
Learn more: 10 Minutes of Quality Time

16. Balloooniture
This activity is perfect for budding engineers! Students are tasked with building a piece of furniture using balloons and tape. They may choose their color and design, but can't use any other materials to complete the task. Set a time limit to up the ante!
Learn more: WMS Gifted and Talented
17. Design a Hot Air Balloon
Can your students make a hot air balloon that will actually lift something? With this activity, students will work in groups to design a hot air balloon, test it and redesign it if needed.
Learn more: Share My Lesson
18. Balloon Hockey
This chaotic balloon game will keep kids entertained when they can't go outside. Simply craft hockey sticks and goals using cardboard pieces and rolls and blow up some colorful balloons for learners to score goals.
Learn more: Creative Connections for Kids
19. Balloon Ring Toss
What a fun party game! Anchor down some balloons and toss hula hoops over them to see who gets the highest score. This new take on a classic game, adds an element of difficulty that makes it the perfect outdoor game for middle schoolers!
Learn more: Pinterest

20. Balloon Scavenger Hunt
Kids will be separated into 2 teams and each assigned a different color. They will then hide the opposing team's balloons. The first team to find all their balloons wins.
Learn more: Fun Stuff to Do

21. Balloon Animals
I've always wanted to learn how to make balloon animals. This link provides a step-by-step guide and some helpful tips so learners can make simple balloon animals in no time!
Learn more: The Spruce Crafts
22. Model Lung
The lungs are an amazing organ and it can be difficult for kids to understand how they work. This demonstration will show them how the diaphragm and lungs work together to provide our bodies with the oxygen it needs to survive. All you need is an empty soda bottle, a small straw, a rubber band, and some balloons.
Learn more: Science Sparks

23. Balloon Yo-Yo
Who knew you could make a yo-yo out of a balloon? Simply fill a balloon with rice, beans, or even water. Then, tie it up and attach a rubber band. It's great for kids who still have motor skill deficits and fun for those who just want a toy to play with.
Learn more: Tinker Lab
24. Bouncy Balls
This is a fun activity that is sure to have your kids playing for hours on end! Have your learners fill a balloon with a little water and then add a few balloon layers to create their bouncy ball.
Learn more: The Idea Room
25. Fish Sink or Float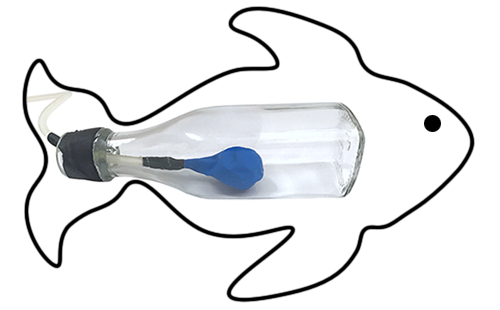 It's fascinating how fish can swim around without sinking or floating. This activity depicts just how that's possible by mimicking how a swim bladder functions. It's fairly simple to set up and provides discussion questions; making this an amazing balloon activity!
Learn more: Science Buddies