Kids find balloons fascinating. Using them in an activity helps them develop motor skills, movement skills, and, surprisingly, listening skills. From water balloon fights to painting and more, we have something for everyone to enjoy. Here are 16 fun balloon activities, crafts, and game ideas for your little learners to try out.
1. Hot Potato Water Balloons Style
This circle game involves kids sitting in a circle and passing the "hot potato" around as the music starts playing. When the music stops, the person with the hot potato is out.
Learn More: Ultimate Camp Resource
2. Balloon Splatter Painting
This simple activity makes a fun balloon painting project. Fill 5-10 balloons with paint. Blow them up, stick them onto a large canvas, and ask the kids to pop them one by one. Such art activities will reward you with a uniquely splattered canvas.
Learn More: Hello Wonderful
3. Balloon Car
Take a plastic water bottle and make four holes so that two straws go through it. Attach bottle caps to each end of the straw to make wheels. Now, to power up the car, you will have to make two holes- one at the top and the other at the bottom. Pass a straw through the holes, and attach a balloon to one end of the straw so that no air can escape. Finally, blow up the balloon and watch your car zoom!
Learn More: Design Squad
4. Balloon Duels
Place a string through 2 straws and then attach the string's ends to two sturdy, distant objects. To each straw, tape a skewer with the sharp end pointing toward the opposing balloon. Tape the inflated balloons to the straws to make balloon swords and let your learners battle away!
Learn More: Design Squad
5. Balloon Matching Shapes Worksheets
Balloon learning activities help preschoolers learn about shapes. This printable activity requires children to identify the various shapes of balloons and stick them to the corresponding shape on the template.
Learn More: Kinder Garten Work Sheets and Games
6. Balloon Musical
To play this classic balloon game, add rice to an empty tin can and cover the opening with a balloon fragment and elastic bands. Give the kids some sticks and turn them into drummers.
Learn More: Balloon Bongo
7. Balloon Puppy
Help kids make balloon puppies that they will adore. Blow a balloon and draw a puppy face on it. Add ears and feet using crepe paper, and voilà, your balloon puppy is ready for a walk!
Learn More: The Craft Train
8. Water Balloon Toss
Organize a balloon rally by asking kids, positioned opposite from one another, to toss and hit balloons. A new player will replace the person who misses a shot. This popular balloon activity improves eye-hand coordination and is a wonderful task for a hot Summer's day.
Learn More: Kid Activities
9. Pass The Parcel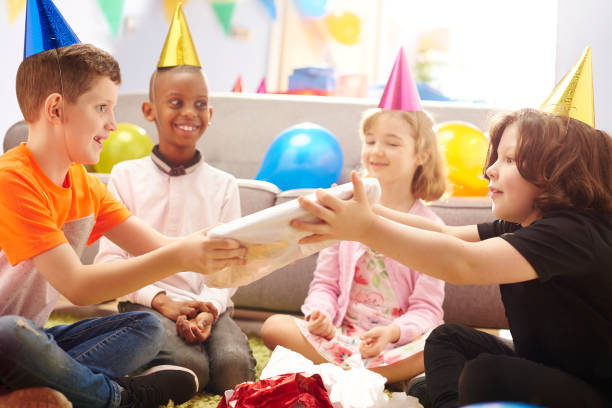 Play music and have the kids sit in a circle and pass balloons that are wrapped in several layers of paper. When the music stops, the kid with the balloon must remove the outer layer of paper without bursting the balloon.
Learn More: Empowered Parents
10. Balloon Yo-Yos
To create balloon yo-yos, fill small balloons with water and tie them up with an elastic band. Your little ones will have tons of fun bouncing their creations around outside.
Learn More: Inner Child Fun
11. Balloon Painting Activity
This cool balloon activity requires high-quality balloons. Fill the balloons with water and ask the children to dip them in paint before placing them on canvas paper and rolling them around. This fun Summer activity is perfect for some outdoor balloon fun.
Learn More: Meri Cherry
12. Cool Ninja Balloon Stress Balls
You will need two balloons to make a ninja stress ball. Cut the blowing end of the first balloon, and fill it with ¾ cup of play dough. Now, cut the blowing end of the second balloon, as well as a rectangular shape through which the inner balloon will peek. Stretch the second balloon over the mouth of the first so that the cut-blowing parts are at opposite ends. To complete your ninja, make a ninja face on the inner balloon peeking through the rectangular cut.
Learn More: Frugal Fun 4 Boys and Girl
13. Glittery Balloon Experiment
For this static electricity experiment, distribute one balloon per child. Ask them to blow it up. Pour glitter onto a paper plate, rub the balloon on the carpet, and then hover it above the plate to watch the glitter jump and stick to the balloon. For a fun challenge, ask kids to time how long the balloon sticks to different surfaces.
Learn More: Kinder Garten Work Sheets and Games
14. Balloon Tennis
Looking for fun games for kids? Try this fun balloon tennis idea! Take paper plates and tape popsicle sticks to the underneath part. Blow up a balloon or two to use as the "tennis ball".
Learn More: Mommy Poppins
15. Plate Balloon Pass
To play this cool circle game, gather lots of paper plates. Split the kids into two teams and give each child a paper plate. Challenge them to pass around a medium-sized blown balloon without dropping it. Set a time limit to increase the difficulty level of this great coordination game.
Learn More: Stac Creates
16. Balloon And Spoon Race Activity
This simple activity, using a spoon and a balloon, improves hand-eye coordination and reaction time. Kids must blow their balloons to medium sizes, balance them on spoons, and race towards the finish line.
Learn More: Happy Mom Hacks