This colorful collection of preschool bat activities includes hands-on crafts, inventive STEM experiments, and plenty of creative opportunities for literacy and numeracy-based learning. Kids are sure to have plenty of fun while gaining a newfound appreciation for these fascinating nocturnal animals.
1. Echolocation STEM Activity 
This collection of STEM experiments includes a sound waves tray that shows children how objects can interrupt waves, a visual way for them to understand the concept of echolocation.
Learn more: Preschool Powol Packets
2. Stellaluna: A Fun Activity Book 
Grab a bat template, a piece of paper, and plastic straws for this easy craft idea inspired by the story of the loveable bat, Stellaluna. This featured book, written by Janell Cannon has been voted one of the 100 best children's books of all time!
Learn more: Teach Beside Me
Turn your classroom into a bat cave with these adorable bat cutouts and some grey spider webs. Learning will be so much more fun with a cave background!
Learn more: Digital Divide and Conquer
4. Flying Bat Printable Activity 
With some fun straws and these free bat printables, kids will be off exploring physics, flight, and movement before you know it!
Learn more: Buggy and Buddy
This hands-on fall activity combines a fun letter recognition game with plenty of sensory skill practice. It's sure to become a favorite bat craft for your preschooler.
Learn more: A Dab of Glue Will Do
Children will love playing with this textured dough as it fizzles with baking soda and vinegar. It's a fun STEM activity for teaching about chemical reactions.
Learn more: Living Life and Learning
7. Bat Crafts with Paper Cups
Combine letter recognition, number identification, and fine motor skills all in one fun game! This hands-on game is easy to put together but makes for hours of flying fun!
Learn more: East TN Family Fun
9. Singing Activity For Kids
Kids will love singing along to this popular children's song while learning about the concept of echolocation.
Learn more: JumpStart Academy
This collection of bat fingerplays engages multiple senses while building language skills, coordination, and rhythm awareness.
Learn more: Teachers Pay Teachers
11. Sensory Bin Bat Activity
Sensory bin play is very open-ended, giving kids plenty of opportunities for imaginative play and meaningful learning.
Learn more: Pre-K Pages
Who would have thought clothespins and coffee filters could produce such a vibrant and beautiful craft? Kids are sure to love seeing these whimsical creations hanging from their classroom ceilings.
Learn more: My Bright Firefly
This no-prep, easy-to-use shape craft is a fantastic way to practice sorting and matching 2D shaped objects.
Learn more: Teachers Pay Teachers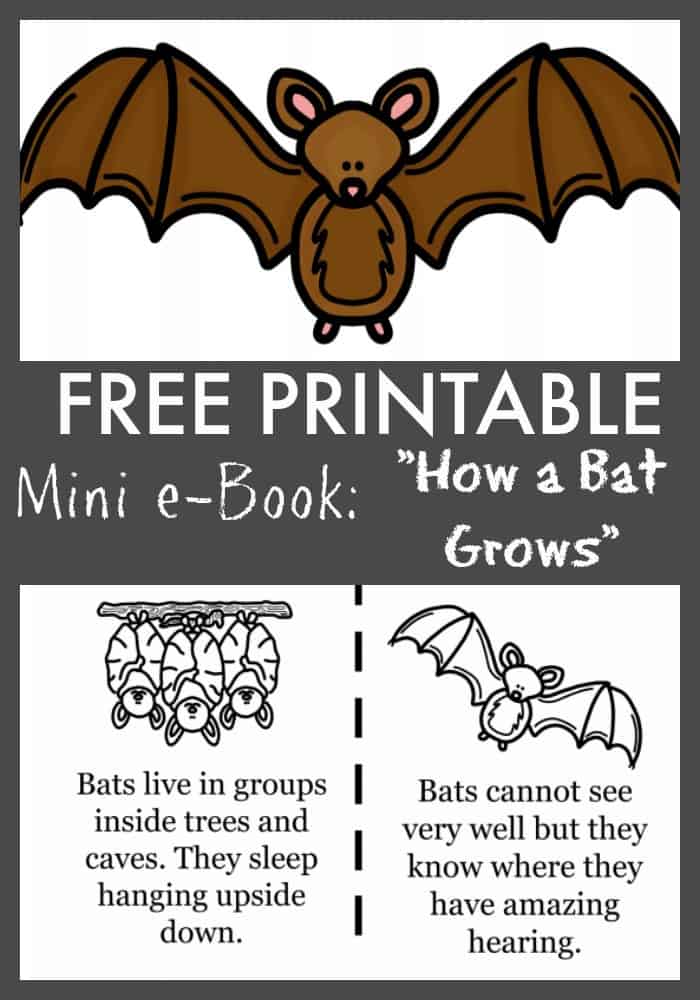 This free printable activity includes coloring sheets in a mini educational book format. It's an excellent way to answer all sorts of student questions about these amazing nocturnal animals.
Learn more: Surviving a Teacher's Salary
15. Bats Alphabet Activity 
16.  Make a Bat Headband in Color
Students will love flying around wearing these beautiful creations while learning the vocabulary words 'soaring' and 'gliding'.
Learn more: Fantastic Fun and Learning
17. Bat Color Matching Cards
18. Hands-on Activity with Handprints
These adorable flying bats can be decorated with googly eyes and acrylic paint to create some fun smiles and toothy fangs. Why not add some glitter and shiny stickers to bring the night theme to life?
Learn more: Kids' Craft Room
Combining bats with clothespins seems like a no-brainer since these creatures love to hang upside down. Let your kids put their own creative twist on these simple templates - the artistic possibilities are endless!
Learn more: The Kindergarten Connection
20. Toilet Paper Roll Bats
Is there a better way to reuse toilet paper rolls than with this adorable craft? This easy craft is also a great opportunity to discuss the importance of recycling household materials with your young learner.
Learn more: Easy Kids Craft
21. Fingerprint Bat Silhouettes
Kids love finger painting because it's easy to do and lots of messy fun. This craft is perfect for Halloween or can be combined with a picture book about bats to enhance student learning.
Learn more: Crafty Morning
Coloring is a calming activity to start or end the day and can be combined with fun bat-themed music for extra fun!
Learn more: Trail of Colors
Preschoolers can start with a circle, square, and triangle before moving on to more complex shapes bat shapes.
Learn more: Messy Little Monster
Join the fun at this bat cave by following along with all the wing-flapping moves!
Learn more: Skoolbo
25. Practice Counting with Bats
These cute printable cards are a fun way for kids to practice ordering numbers from 0 to 100 while getting plenty of number writing practice.
Learn more: Frogs and Fairies