Beach activities and games are a wholesome way to spend your vacation with your kids. So, head to the beach with your beach crew and lots of toys for some stimulating mental and physical activity!
You can try a range of activities, including bubble wrap starfish crafts, or simply carry a Liberty Imports Beach Builder Kit to create sand castles like a pro!
If you're planning a beach vacation or a teaching session for kids, here are 33 games and activities to add to your list.
1. Building Sand Castles
Building sand castles is one of the most popular classic games. Just plan a beach trip, carry basic beach toys, and ask the kids to make sand forts from wet or dry sand. Teach kids teamwork by asking them to build adjacent sand castles.
Learn More: Education.com
2. Beach Ball Relay
One of the best family beach games you can play is beach ball relay. Family members or classmates can pair up by dividing into teams. In this outdoor game, kids will balance a beach ball between themselves, without using their hands, and run to the finish line.
Learn More: Kid Friendly Things To Do
3. Musical Beach Towels
Ever played musical chairs? This is the beach version! Instead of a circle of beach chairs, you will have a circle of towels. Arrange beach towels (1 less than the number of players) in a circle and then start the music. As the music stops, players must find a towel to sit on. Anyone without a towel is out.
Learn More: Insane Scouter
4. Drip Castle
Beach days are incomplete without making a castle, and this one adds a nice twist to the classic version. You will need many buckets of water as your drip castle is made from wet sand. Just take extremely wet sand in your hand and let it drip down.
Learn More: Wired
5. Fill A Hole With Water
This is a fun beach game where you dig a deep hole with beach shovels and see how much water it can hold. Make it a fun competition and measure the amount of water with the help of a beach bucket or plastic water bottle.
Learn More: Beach Games at The Shore
6. Beach Bowling
This is a simple game that requires players to dig small holes and roll a ball into one of them. Award points according to the difficulty of getting to a hole and be sure to use a lightweight ball to increase the level of difficulty.
Learn More: Party Games 4 Kids
7. Beach Treasure Hunt
Download a free printable from the internet and search for the beach treasures listed. Use one listing shells, seaweed, beach stones, and other common beach items. Give each kid a beach bucket and ask them to collect as many beach treasures as they can.
Learn More: Play Party Plan
8. Water Bucket Relay
Relay races are a hit among kids, and this one puts a twist on the classic game of egg and spoon racing. Here, instead of balancing an egg, kids will carry water; making sure it does not spill from their container. Give each kid a beach bucket and a paper cup. The buckets stay at the finish line. The kids must race to transport water in their cups and fill their buckets.
Learn More: Party Games 4 Kids
9. Sand Dart
Take a twig or a stick and make a dart board on the sand. Give the kids beach rocks and ask them to aim them at the board. They get more points when they hit inner circles—the highest point is awarded when the central circle is hit.
Learn More: Sylvan Beach
10. Game Of Catch
This is another classic game that you can play on the beach using a ping pong ball. Give each kid a plastic cup and ask them to toss the ball to their partner who will catch it with a cup. To make it more difficult, ask partners to take a step back after each shot.
Learn More: Ping Pong Ball Catch Game
11. Sand Angels
Making sand angels is one of the easiest and most fun activities for kids. In this activity, kids simply lay flat on their backs and flap their arms to make angel wings. The best part? There is nothing but sand on the list of required items!
Learn More: There's Just One Mommy
12. Fly A Kite
All kids love kite flying; and with the powerful beach breeze, your kite is sure to soar higher and higher! Just don't forget to include a kite in your beach vacation packing list.
Learn More: Run Wild My Child
13. Beach Volleyball
Another classic game, beach volleyball is the perfect sport for some beach action. It's one of those beach ball games that people of all ages love! Break the kids into two teams, secure a net, and start hitting the ball.
Learn More: Party Games 4 Kids
14. Beach Limbo
Limbo is a fun game that kids can play anywhere. In the beach limbo version, two adults grab a towel, beach umbrella, or a stick to represent a bar, and the kids move under it. Reduce the height of the towel to increase the level of difficulty. The one who can cross the lowest bar wins the game!
Learn More: Bathing Suits Info
15. Beach Clean-Up Activity
Have an active beach day with this simple and conscious activity. Go to the beach and give each attendee a garbage bag. Make it one of the best family beach games by declaring a prize for the person who collects the most trash.
Learn More: Project Giving Kids
16. Bubble Blowing
This is one of the activities that are perfect for any open location. Buy a bubble wand and make your own bubble mix and watch the kids chase bubbles.
Learn More: Run Wild My Child
17. Beach Habitat Activity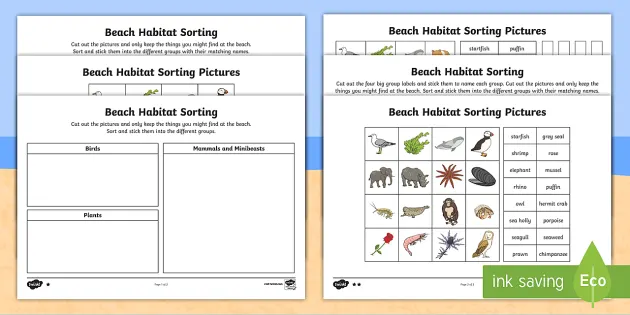 The beach atmosphere is ideal for teaching students about beach habitats. Download printable sheets about the animals found at the beach and ask the kids to search for them. It's like a treasure hunt for animals living in the beach habitat!
Learn More: Twinkl
18. Sand Hangman
Sand hangman is no different from the classic hangman—sand and a stick simply replace paper and pencil. In this game, one player thinks of a word, and the others have to guess what it is. The kids get nine chances (corresponding to the nine parts of the body), and if they don't guess correctly, the sandman is hanged.
Learn More: Family Education
19. Beach Ball Race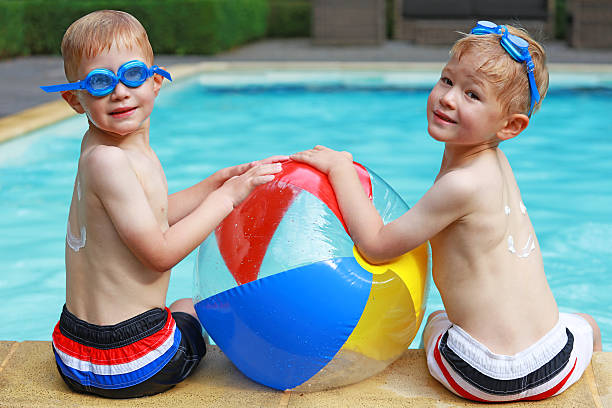 This activity is better played in a swimming pool. Inflate the beach balls and have a swimming race with the kids pushing the ball ahead of them using their noses.
Learn More: Kidspot
20. Boogie Boarding With Kids
If it's a beautiful beach day, collect your boogie boards, and have some beach-day fun. This fun activity is perfect for a relaxing day on the beach.
Learn More: Run Wild My Child
21. Seashell Hunt
For this hunt, give the kids a seashell printable and ask them to search the beach and collect as many of the listed shells as possible. Make it a competition by challenging the kids to get the biggest shell or the maximum number of shells.
Learn More: LeroyLime
22. Beach Obstacle Course
The sky's the limit when you're preparing your beach obstacle course. Collect as many objects as you can find and develop your own course. Jump over towels, crawl under open beach umbrellas, and leap over self-dug holes to enjoy some fun family time.
Learn More: Active for Life
23. Water Balloon Toss
For this fun catch game, divide the kids into teams of two. One player throws the balloon to their teammate, and the other must catch it without popping it. The aim is to catch more balloons than the opposing team.
Learn More: The Genius of Play
24. Have A Beach Music Party
Have a beach party and dance to your favorite beach music. It's a fun activity with no rules. Simply make sure everyone is aware of the surroundings and follows all beach safety rules to avoid any accidents.
Learn More: Love to Know
25. Beach Family Photoshoot
Plan a beach-themed photo session and take advantage of the beautiful scenery. If you live near a beach town, you will have ample opportunities, but if you are on a vacation, this is a must!
Learn More: Local Lens
26. Rock Painting
For an artsy beach day, paint rocks and have fun at the beach with family. Collect your art supplies and enjoy one of the most fun activities.
Learn More: Inspire Kindness
27. Beer Pong
One of the most common beach drinking games! Kids can also play beer pong (minus the beer, of course). This mini beer pong version has two teams with 6 cups and two ping pong balls each. The teams have to aim at the cups of the opposing team; the team that successfully puts one ball in each cup wins the game!
Learn More: Bucket Ball
28. Bury A Friend
Beach time with children may easily turn chaotic if you don't know how to occupy them. Ask the kids to dig a big hole with the help of a beach shovel. It must be big enough to bury a friend. Now, make one kid wear beach goggles and lay down in the pit. Ask the kids to bury their friends and have a fun time.
Learn More: Tinkergarten
29. Beach Reads
This is a self-explanatory beach activity where you can enjoy some bonding time whilst reading a story to your kid. Enjoy the story and lap up the calming noise of the ocean in the background.
Learn More: Fantastic Fun and Learning
30. I Spy
To play this game, one kid locates any object on the beach, and the other kids have to guess what it is. For example, the kid will say, "I spy a yellow beach tent" and all the kids will search and point to the yellow tent.
Learn More: raisingchildren.net.au
31. Tug Of War
In this classic game, two teams play tug of war. Divide the kids into two teams and use beach towels instead of rope. To make the dividing line, use shells as markers!
Learn More: Party Games 4 Kids
32. Build A Sand Snowman
A snowman from snow is not a big deal, but one made from sand can be quite intriguing, especially for kids. If you're on a compelling beach like Bennett Beach, sand activities are a must, and for this one, you don't need an 18-Piece Sand Toys Kit. Simply dig up the sand and make a sandman of the shape and size you want.
Learn More: The Beachouse
33. Play Tic-Tac-Toe
In the beach version of tic-tac-toe, make the board on a beach towel using tape. Now, ask kids to collect similar types of shells, rocks, and mirrors, that will represent their Xs and Os.
Learn More: kids activities.com