Behavior management: it's what every early-years teacher has to learn on the go, and what veteran teachers seem to have mastered. But, the reality is, what works for one class will not always work for the students next door! Having a variety of strategies for supporting and responding to student behaviors is crucial in creating a learning environment that benefits everyone. From social stories to routines and board games, there are plenty of ways to encourage positive behaviors in your classroom from start to finish!
1. Social Stories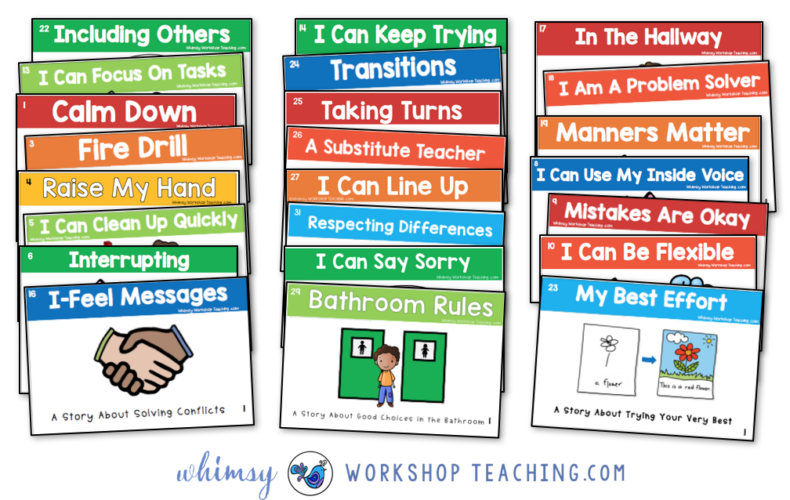 Positive behaviors and social skills are learned. From the very beginning of the year, you can support their development by reading social stories about the skills they need practice in. Social stories span the topics of bathroom routines, apologizing, making mistakes, and more!
Learn More: Whimsy Workshop Teaching
2. Picture Books
Many children's authors recognize the importance of having a moral enshrined within their stories. Read books on friendship, like "How Do Dinosaurs Play with Their Friends?" or books about kindness, like "Have You Filled a Bucket Today?" to inspire your students with multiple examples of positive, caring behaviors.
Learn More: Growing Book by Book
3. Expectations
You must explicitly teach your young learners whatever your expectations are for (developmentally appropriate) classroom behavior. Model and practice appropriate phrases to use for sharing, boundary-setting, and classroom routines. Continue doing so throughout the year, particularly after breaks or if a specific conflict becomes common.
Learn More: How Wee Learn
4. Responsibilities
Responsibility can be a challenging skill to master, especially for little ones who are just starting school. Delegate a classroom task to each learner and have them carry it out daily or weekly, to slowly take on more responsibility. Responsibilities help create a disciplined and collaborative atmosphere where everyone works together to create a happy classroom.
Learn More: Positive Action
5. Co-Creating Rules
Considering what you need in your classroom to be an effective teacher and looking for child feedback on reasonable rules is a critical way to establish boundaries and routines for your class. Get their input on what positive behavior looks like at school, and then post the agreed-upon rules!
Learn More: Pre-K Pages
6. Class Promises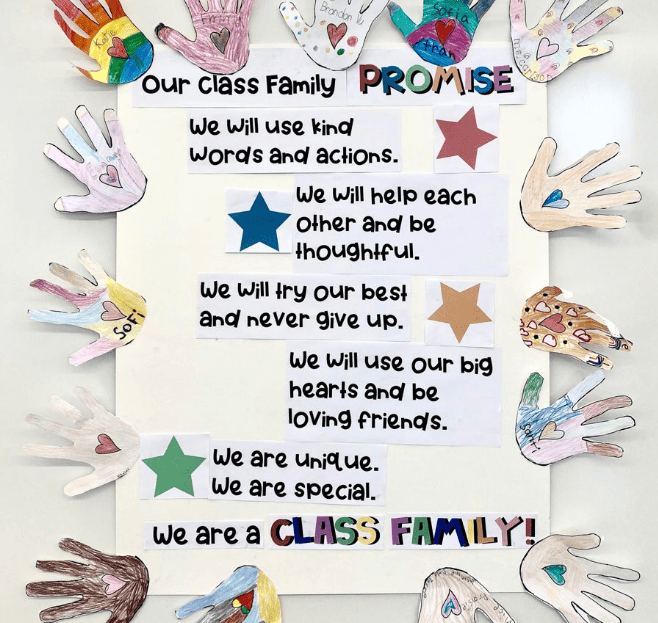 Another way to establish appropriate boundaries and make your classroom a welcoming place is by creating "Class Promises". They're pretty similar to class rules, but "promises" often seem more sacred to young children. Have everyone sign off on the poster or leave a handprint to demonstrate their commitment!
Learn More: Pinterest
7. The Kindness Tree
Conscious Discipline espouses: "What you focus on, you get more of". This part of their philosophy gives way to The Kindness Tree, where students record acts of kindness by placing a small heart on a tree display. Watching the tree fill up will motivate further acts of kindness!
Learn More: Conscious Discipline
8. Social Songs
You don't always need detailed lesson plans to teach skills- sometimes a simple song will do! PlayKids' YouTube channel has tons of songs for your social-emotional skills curriculum. Play them at the beginning of morning meetings or during transitions between activities; focusing on one skill each day!
Learn More: PlayKids
9. Model Manners
One of the best positive behavior activities for your class is modeling manners (and an appropriate response to poor manners) yourself! This could look like joining the dramatic play center for a tea party, or using "sharing words" to ask for what you need in the blocks center.
Learn More: Meraki Lane
10. Little Spot Of…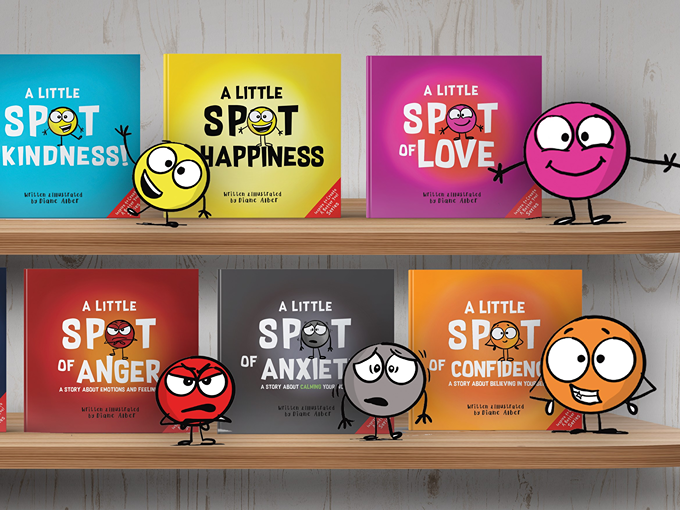 The Little Spot of Kindness and the associated series are perfect for classroom guidance lessons. The original book includes a challenge for completing kind acts over the course of a week, and the rest of the series helps children learn how to label their emotions.
Learn More: Diane Alber
11. Behavior Buddies
Children love stuffed animals; it's why we all have them in our classrooms! But, did you know they can also be used as an excellent behavior management tool? When students exhibit positive behaviors, they get to have a specific stuffed animal friend the whole next day!
Learn More: Teaching with Crayons and Curls
12. Social Hour
Children are humans, and humans are social creatures. They need time to talk! Not only does this build conversational skills, but it also supports your developing classroom community! Make sure that you start each day with time for students to play, socialize, and ease into learning.
Learn More: Miss Giraffe's Class
13. Kindness Jar
Help young children begin to recognize acts of kindness with a kindness jar! Fill it with whatever you have on hand- pom poms, buttons, beads, etc. Each time children complete a kind act, they get to place one in the jar. Let children pick out a special reward for when it gets full!
Learn More: Playground Park Bench
14. Quiet Turtles
If talking at inappropriate times is the behavior category in question, try this awesome idea for positive behavior management. "Quiet turtles", made from pom poms and googly eyes, will grace the desks of students who are focused and working quietly. Students will love a visit from this little desk pet!
Learn More: Miss Giraffe's Class
15. Visual Supports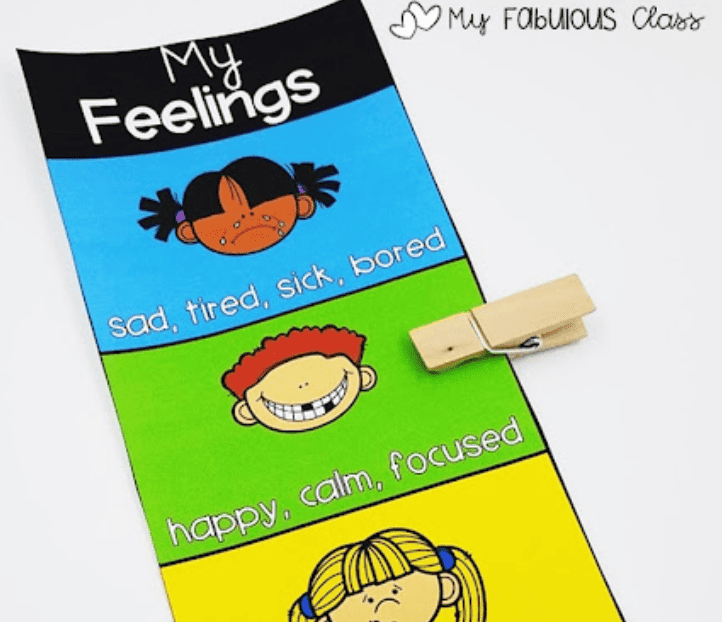 Helping children identify their feelings is key to helping them deal with hard situations using positive coping strategies. Try giving each child a clip chart for their desk to record their mood periodically throughout the day. Then, you can help them identify alternative actions for dealing with uncomfortable emotions!
Learn More: My Fabulous Class
16. Feelings/Needs Wheels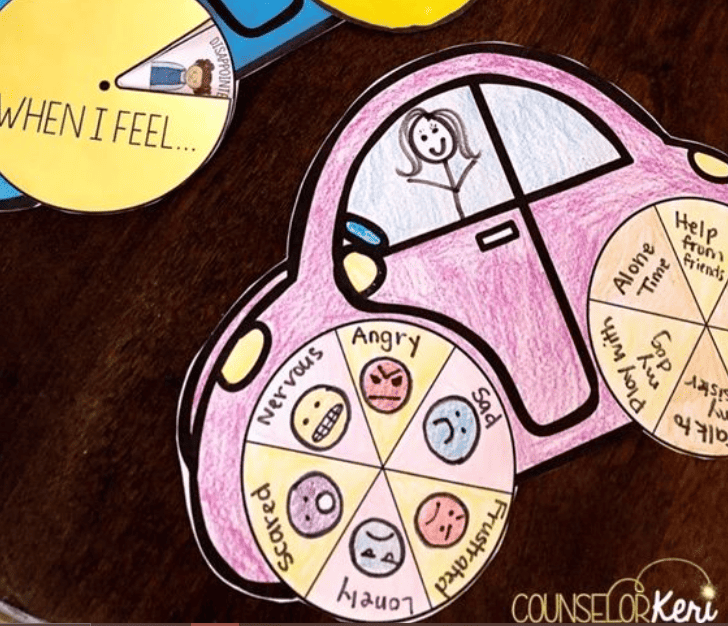 This sweet car craft helps elementary-aged children consider their feelings and coping strategies for those that are uncomfortable! Identifying these feelings-strategy connections can help children be better communicators when they are having a difficult time. Give sentence frames like "When I feel…I need…" to support your students' learning!
Learn More: Counselor Keri
17. Give Me Five
Coming to carpet time is a common transition that children often have difficulty with. Practicing the concept of "Give Me Five" will help children remember the classroom rules for whole group time. After the initial teaching of expectations, post a reminder like the one above where students can see it from the carpet!
Learn More: Teach Junkie
18. Mindful Breathing
Mindful breathing is an excellent coping strategy to teach young children as a behavior management tool. Anytime your class is getting too loud, starting to show signs of relationship breakdown, or simply needs a moment, have everyone take a collective deep breath.
Learn More: The Pathway 2 Success
19. Color-Coded Tools
Using the color-coded concept of Zones of Regulation gives children a visual tool for what they are feeling and helps them identify positive self-regulation skills. Once you've got a good handle on the zones themselves, you can begin to introduce zone-specific, self-selectable tools in your cozy corner or calm-down center.
Learn More: Mrs. P's Specialties
20. What Color is My Chameleon?
Another way of thinking of the Zones of Regulation is with the metaphor of the ever-changing chameleon! Children think of each zone as a chameleon color, which will help them identify appropriate techniques to deal with their feelings. Use this table to help children practice identifying feelings and their potential responses!
Learn More: Bright Futures Counseling
21. Coping Skills Game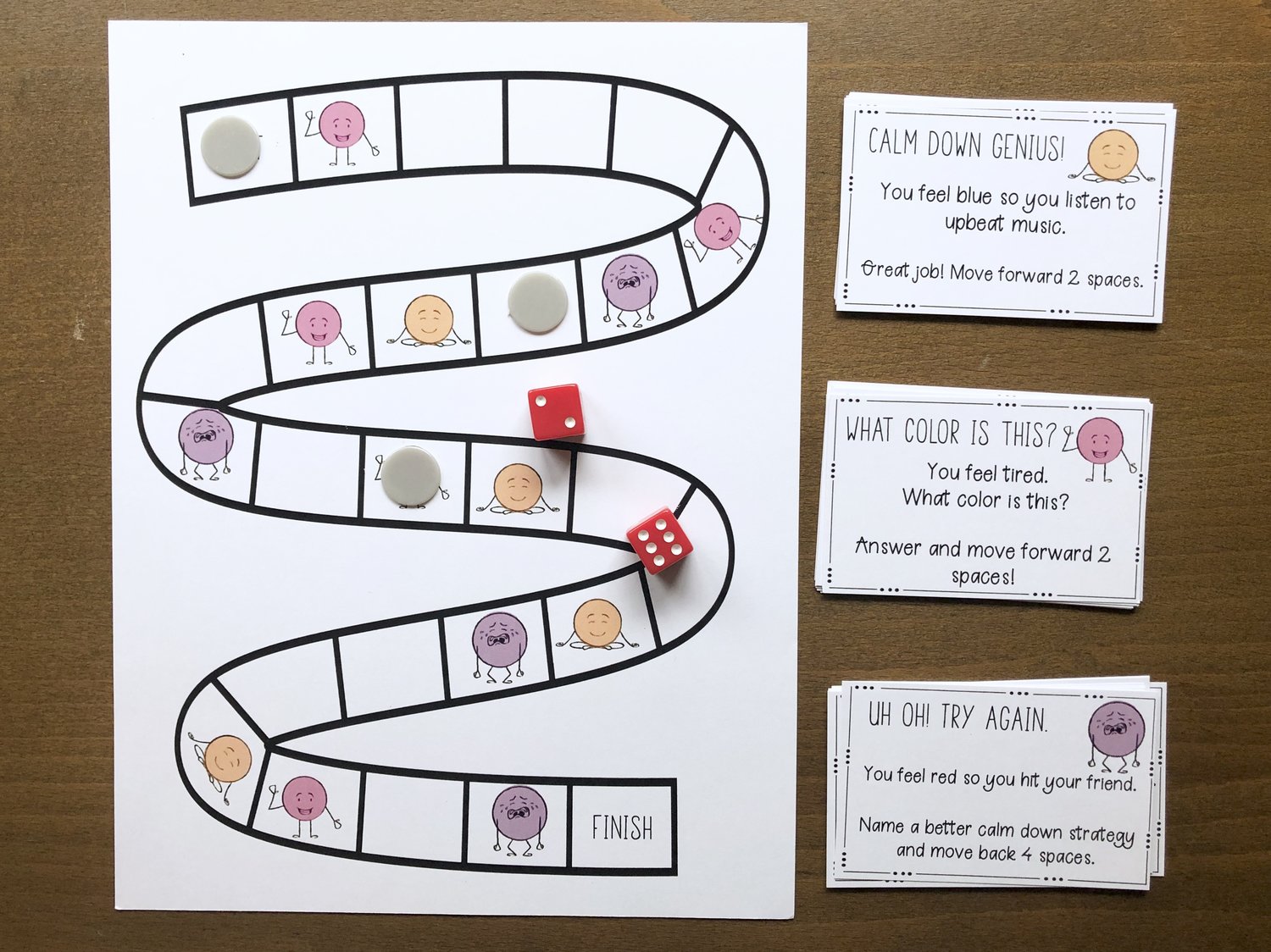 Regular practice with the Zones of Regulation will help children expand their understanding of self-regulation strategies and better control behavior. Using this fun board game with students helps with just that! Children land on a particular color and have to do things like identify alternative actions or just hear about positive strategies.
Learn More: Bright Futures Counseling
22. Size of the Problem Detectives
One of the biggest difficulties young children can have in the classroom is identifying the size of a particular problem and, subsequently, an appropriate level of response. Encourage children to become "Size of the Problem" detectives and identify these two elements within a given social story. Adding magnifying glasses adds extra excitement!
Learn More: Speechy Musings
23. Friendship Soup
Stone Soup is one of those classic stories that spark conversations about behavior, including topics of sharing, collaboration, and kindness! After reading, have children contribute to making "Friendship Soup"! Children will practice essential social skills as they work together to cook and prepare to share a meal.
Learn More: Little Sprouts Learning
24. ADAPT
Learning to respond to challenging behaviors can be a challenge in and of itself. Being mindful of your own level of self-regulation and response to behaviors is important, but can be difficult at the moment. The ADAPT acronym can help educators remember a supportive sequence of actions to take in tough scenarios.
Learn More: The Pathway 2 Success