Crafting a compassionate classroom is about more than managing student behavior, it's about fostering an environment where your students can learn from their actions, embrace responsibility, and cultivate emotional intelligence. Ultimately, this journey begins with understanding and reflection. Dive into our collection of meticulously curated behavior reflection sheets, each designed to empower your students to think, feel, and make choices that contribute positively to your classroom environment and beyond. Get ready to transform your teaching approach and inspire your students on their path to self-improvement with these resources!
1. What Happened Reflection Sheet
Let's unlock the doors to understanding! Guide your students in pondering their actions and reactions. What led them down a certain path? This reflection sheet brings empathy and responsibility to life- culminating in a transformative journey that takes place within the very heart of your classroom.
Learn More: Pinterest
2. "Feelings Map" Reflection
Feelings, feelings everywhere! Help your students navigate their emotions after any event by having them draw a map of their feelings. Let them get creative with this visual project, which will help them increase emotional literacy and regulation.
Learn More: Reward Charts
3. Behavior Consequences Sheet
Have you ever considered the impact of your actions? Ask your students to dig deep into their behaviours and think about how what they do affects themselves and others.
Learn More: Laura Candler
4. My Behavior Plan Worksheet
Time to shape future success! With this worksheet, encourage your students to outline a robust behaviour improvement plan. To do so, have them write down concrete goals to improve their future actions. This activity is more than just planning; it's about taking ownership and making a genuine commitment to positive change.
Learn More: Have Fun Teaching
5. Behavior Journal Reflection
Open the doors to daily discovery! This behaviour journal reflection invites your students to engage in a self-dialogue. Have them check in with themselves as a good daily kick-off to your lessons by encouraging them to explore a variety of topics, ranging from their emotional well-being to their openness. The options are endless!
Learn More: Twinkl
6. Self-Evaluation Reflection Sheet
Guide your students in evaluating their behavior by taking a good look at who they are. Pondering, exploring, and growing – that's what this activity is all about! Watch them bloom and flourish as they take stock of their lives in uncharted ways.
Learn More: Squarehead Teachers
7. Peer Impact Reflection Sheet
Encourage your learners to be a positive addition to your classroom community by reviewing their impact with a peer impact reflection sheet. This sheet will help them see how their actions affect others and consider ways in which they can be more empathetic in the classroom.
Learn More: Twinkl
8. Goal Setting Reflection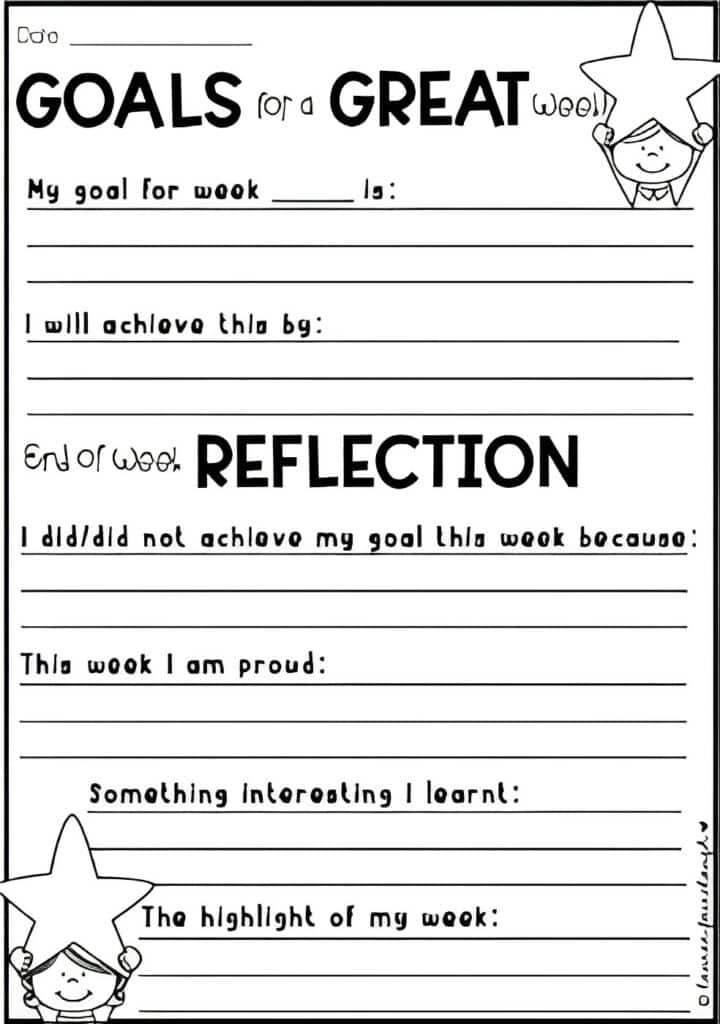 Goals: Whether big or small, we all need them! With this tool, your students can set, strive, and achieve. Ask them to write down specific goals and detail how they plan to accomplish them.
Learn More: TPT
9. Time-Out Reflection Sheet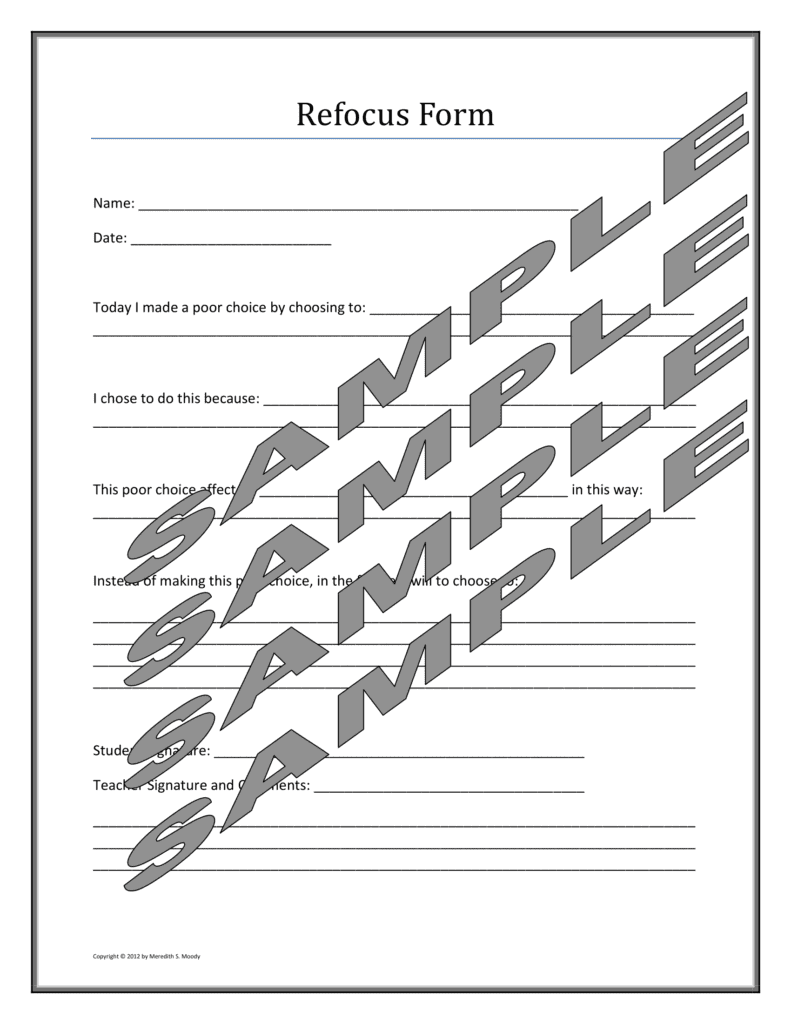 Time-outs aren't just for toddlers or sports teams – a pause for personal growth can be beneficial to your students as well!! Encourage them to reflect and grow by taking a moment or two to sit in solitude.
Learn More: TPT
10. Behavior Chain Sheet
Invite your learners to dive into the causes of their behavior by completing a behavior chain sheet. With this exercise, they're offered an opportunity to deeply explore their triggers and reactions. Be sure to encourage them to be understanding and compassionate with themselves and others as they take time to reflect.
Learn More: Pinterest
11. Teacher-Student Conference Sheet
Bridging gaps and building connections is what this sheet is all about! Foster dialogue between yourself and your students to nurture trust and rapport. Ask your students to reflect on their interactions with you, and how both of you can be more understanding of one another moving forward.
Learn More: Ninja Plans
12. Making Amends Reflection Sheet
Apologies can heal, and so can forgiveness. This reflection sheet helps your students make amends and embrace reconciliation. Ask them to put themselves in their peers' shoes to understand why their classmates may have acted in a certain way. Empathy, humanity, and compassion take center stage here!
Learn More: Kid Pointz
13. Behavior Reflection Using Painting
Art and emotions blend in this colorful approach to understanding behavior. Break out your art supplies and have your students craft a painting that reflects how they felt or what they did in a specific scenario. Then, have everyone share their pieces! This creative approach may help reluctant students express feelings they otherwise might not have known how to express!
Learn More: Kinder Art
14. Positive Behavior Reflection
Shine a light on positivity with this thought-provoking task! Celebrate and encourage the good things that your students do by asking them to spend time reflecting on them. If they struggle, step in to help them recognize the good and build on it; encouraging a culture of positive actions amongst your learners.
Learn More: Social Emotional Workshop
15. My Behavior and Learning Sheet
With this sheet, your students can explore how learning and behavior influence each other. Encourage them to think of behaviors that positively impact their ability to learn and behaviors that could still use some improvement. Connecting life and learning in a harmonious dance, this activity acts as a delightful classroom tool that's sure to have a tangible impact on your lessons.
Learn More: Laugh Eat Learn
16. Respect Reflection Sheet
Honor and respect are two important foundational elements of any classroom environment. Engage your students in understanding respect's true meaning by asking them to reflect on what it means to them, and how they use it in their day-to-day lives. This sheet is perfect for nurturing self-esteem and encouraging your kiddos to consider their values.
Learn More: Printable Word Searches
17. Behavior and Emotions Sheet
Unlock the world of feelings by bringing in a sheet that connects emotions with actions; shaping emotionally intelligent students. As your learners embark on a journey that's sure to bring them closer to themselves, prompt them to consider how their emotions influence their day-to-day decision-making.
Learn More: Twinkl
18. My Impulse Control Sheet
Teaching mindfulness has never been easier! Guide your students to take a moment to pause before they react using this impulse control sheet. Have them practice staying calm and collected by considering their options before taking action. Their future selves will thank you!
Learn More: Pinterest
19. Learning from Mistakes Reflection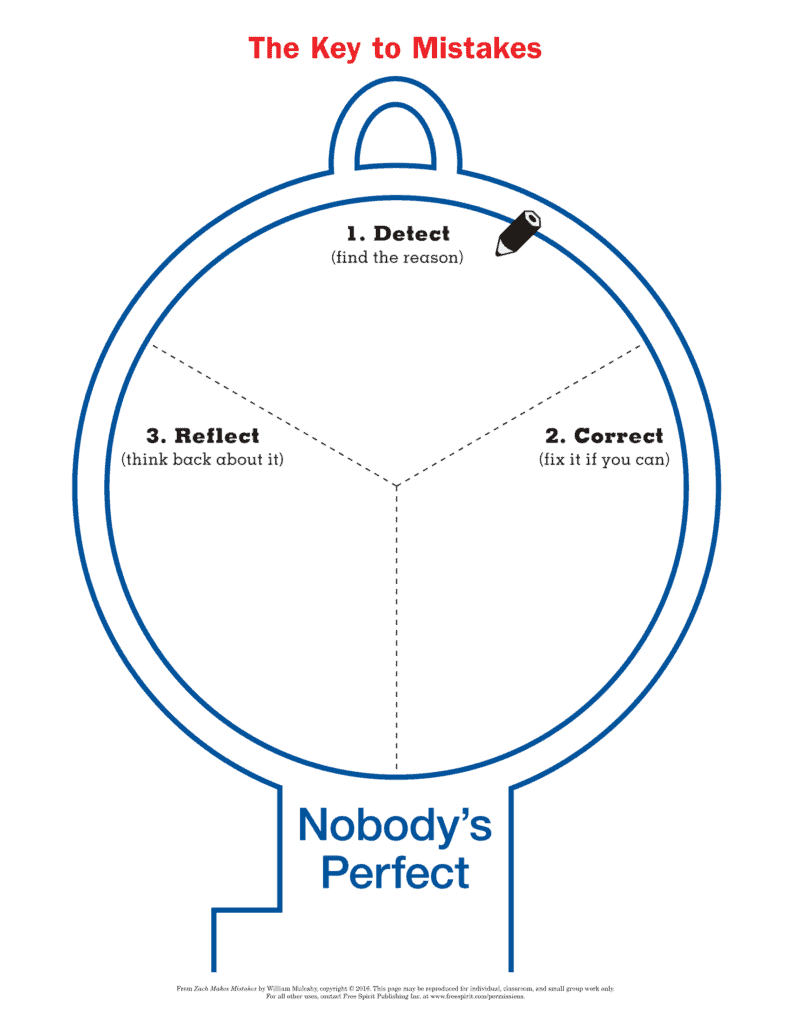 Mistakes are meant to be embraced! Help your kiddos transform their errors into milestones by asking them to reflect on the mistakes they've made, and considering how they can ensure that they don't happen again. Make sure to include themes of resilience in this activity, and let them know that with experience comes wisdom!
Learn More: TeacherVision
20. Taking Responsibility Reflection
Accountability is the main focus of this reflective tool. Lead your students towards responsible learning by encouraging them to consider how their actions have direct consequences.
Learn More: Twinkl
21. Calm Down Reflection Sheet
In a world that is increasingly stressful, it's important to have the ability to stay calm! Help your students learn this skill with a sheet that has them reflect on ways to relax during high-stress situations. Encourage mindfulness, breathing exercises, and self-reflection to help them explore and manage these feelings.
Learn More: Pinterest
22. Behavior Change Contract
Take your goal-setting sheet one step further and create a behavior change contract for your students. Let them commit to betterment by signing a piece of paper detailing what they will do to improve themselves within your classroom. Ensure they're active participants in creating the contracts, and join them on the journey by signing it as well!
Learn More: Scribd
23. My Choices Reflection Sheet
Choose your own adventure! With a choices reflection sheet, you can walk your kiddos through a series of decisions and detail how they often lead to different end results. Provide them with intriguing paths, full of twists and turns, and see how they start to connect the dots of their own choice patterns!
Learn More: Twinkl
24. Weekly Behavior Reflection Sheet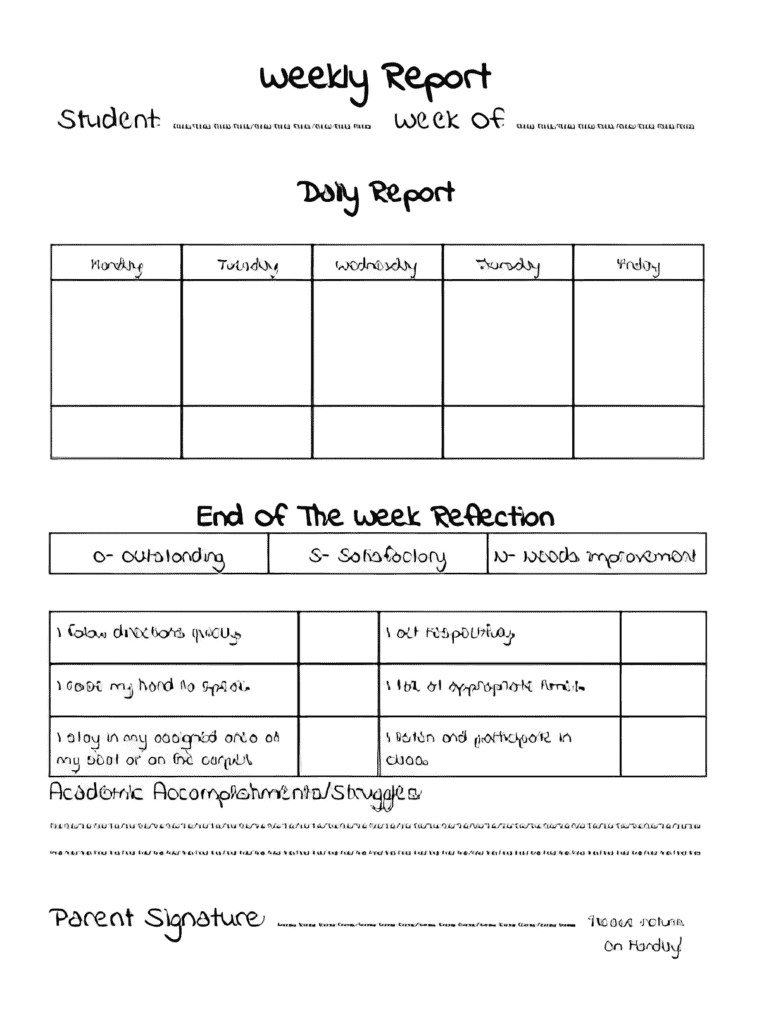 Encourage Your students to celebrate their improvements on a longer time scale by taking time to reflect on their weekly behavior. Point out patterns, and foster interest in their continual growth by using this exercise as a chronicle of your students' improvement, and as a roadmap to their future success. Feel free to share with their parents at the end of the year!
Learn More: TPT