When the school days grow long, the marking seems never-ending, and all you can think of is that well-deserved holiday break, we've got just what you need! Our round-up of 30 energizing poems is intended to speak right to your weary teacher's heart and impart the inspiration your need to finish the semester strong!
1. "Teaching the Ape to Write Poems" by James Tate
This whimsical poem paints a picture of teaching an ape to write; a comedic metaphor for the complex process of teaching and learning. It's a creative exploration of the struggles and victories inherent in education.
Learn More: Poem Hunter
2. "What Teachers Make" by Taylor Mali
This poem depicts an evocative response to a lawyer's presumptuous query about teachers' earnings. It celebrates the profound and priceless impact that educators have on their students' lives- underlining the crucial fact that teaching transcends monetary rewards.
Learn More: YouTube
3. "The Lesson" by Roger McGough
The Lesson is a piece of sarcastic commentary on maintaining control in a classroom and instilling knowledge in its pupils. McGough humorously exaggerates the classroom chaos- giving us an insight into the demanding role of a teacher.
Learn More: Up Divine
4. "Reading Aloud to My Father" by Grace Paley
This heartfelt poem reflects on a poignant role reversal- a child becoming their parent's teacher. It highlights that teaching isn't confined to the classroom, but that it's a fundamental part of our everyday life.
Learn More: YouTube
5. "I Am the Teacher" by David McLansky
This beautiful write-up is an honest portrayal of a teacher's life; constantly juggling responsibilities, joys, and struggles. McLansky's poem serves as an ode to teachers- recognizing the complexities and rewards of their role.
Learn More: Poem Hunter
6. "On Teaching the Young" by W.H. Auden
Auden probes the responsibility of educating the young; offering philosophical reflections on the nature of learning. This thought-provoking poem poses profound meditation on an educator's role in shaping young minds.
7. "A Teacher's Song" by Sidney De Love
This compelling poem expresses a teacher's yearning to inspire, guide, and love her students. It's a holistic affirmation of a teacher's dedication to enriching the lives of their students throughout the school year.
8. "Teaching" by Robert Hayden
A testament to the transformative power of teaching, Hayden's poem narrates the journey of growth experienced by both the teacher and the student- emphasizing the mutual exchange in the learning process.
9. "The Delight Song of Tsoai-talee" by N. Scott Momaday
This poem illuminates the joy found in teaching students to perceive the world in innovative ways. It encapsulates the delight and wonders that learning brings.
Learn More: Flip Snack
10. "The Teacher" by Langston Hughes
Hughes commends the inspiring role of a good teacher- one who can spark hope, light the flame of imagination, and instill a love for learning in students' hearts.
Learn More: YouTube
11. "Teacher, You Touched My Life" by Joanna Fuchs
This poem is a deeply touching tribute to teachers who leave an indelible impact on their students' lives. It perfectly encapsulates a student's gratitude for their teacher's positive influence.
12. "Teaching from the Heart" by Paula Fox
Paula Fox's verses unfold the emotional rewards of teaching and the enduring influence that teachers can have on their students. It's a heartwarming reminder of the deep connections formed in classrooms.
13. "To Teach" by Ella Wheeler Wilcox
To Teach is a sobering reminder to teachers of the influence and impact that they wield over their students. It highlights the lasting imprint a teacher leaves on their students' lives.
Learn More: Poem Hunter
14. "Why God Made Teachers" by Kevin William Huff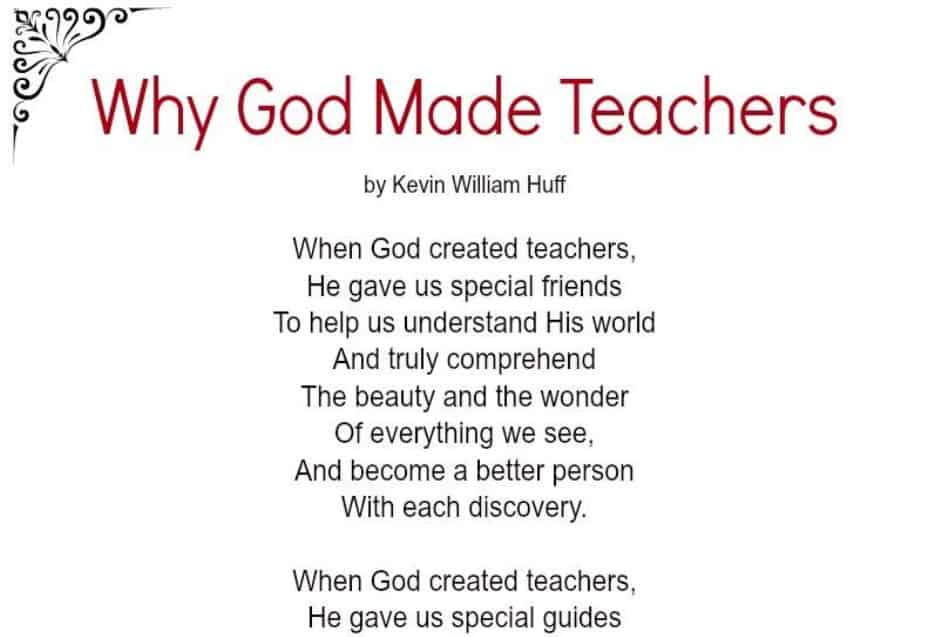 Why I Teach is an earnest poem that outlines the immense satisfaction and sense of purpose derived from teaching. Huff beautifully describes the feeling of fulfillment when shaping young minds.
Learn More: Facebook
15. "The Classroom" by David Romtvedt
Romtvedt's verse depicts the bustling atmosphere of a classroom and the unique bond shared by teachers and students. It beautifully captures the lively energy and learning spirit of an educational setting.
16. "A Teacher's Lament" by Kalli Dakos
Dakos has managed to perfectly transcribe a witty and slightly mournful poem about a teacher's day-to-day hurdles. Her verse shines a light on the less glamorous, but equally integral, aspects of a teacher's job.
Learn More: YouTube
17. "Education's Light" by Wes Stephenson
This enlightening poem portrays teachers as lighthouses; guiding their students through the sea of knowledge. It's a beautiful metaphor for the guidance and wisdom that many educators provide.
18. "The Children's Hour" by Henry Wadsworth Longfellow
Longfellow's write-up is a blissful depiction of childhood and an educator's role in safeguarding this innocence. His verse is a tender homage to the joys of learning throughout childhood.
Learn More: YouTube
19. "Teaching the Caterpillar to Fly" by William Martin
Here's a metaphor-rich poem that highlights the transformative power of teaching. It's an elegant representation of how educators foster growth and change in their students.
20. "A Letter to My Daughter's Kindergarten Teacher" by Jennifer Sullivan
Here, Sullivan pens a sincere expression of gratitude to a teacher who has made a profound difference in a young child's life. Her words ring with heartfelt thanks and deep respect.
21. "My Teacher Wasn't Half As Nice As Yours Seems To Be" by Roald Dahl
Dahl's humorous verse captures the thrilling and sometimes terrifying classroom adventures from a child's perspective. This light-hearted poem encapsulates the mix of fear and fascination often associated with early school years.
Learn More: Poem Hunter
22. "What I Learned From My Mother" by Julia Kasdorf
Kasdorf has crafted a soul-stirring poem that portrays teaching as an act of love and compassion. She beautifully illustrates that every act of kindness teaches something invaluable.
Learn More: Hungry Phil
23. "Teachers" by Kevin William Huff
Huff's rendition of a reverential tribute to teachers is one that celebrates their dedication, passion, and transformative influence. His poem pays homage to educators who play a crucial role in shaping society's future.
Learn More: Twinkl
24. "The Best Teachers" by Joanna Fuchs
This poem applauds the teachers who make learning a joyous journey and inspire students to unlock their full potential. Fuchs captures the essence of an ideal teacher with heartfelt appreciation.
Learn More: Poem Source
25. "Teacher's Prayer" by James J. Metcalfe
This humble poem depicts a teacher praying for wisdom and strength to guide their students. Metcalfe's words beautifully sum up the hopes and fears of a dedicated educator.
Learn More: Teaching With TLC
26. "A Teacher for All Seasons" by Joanna Fuchs
This creative poem likens teachers to the best aspects of each season; celebrating their resilience and unwavering dedication. Fuchs' verses radiate with a profound admiration for the timeless influence of teachers.
Learn More: YouTube
27. "A Teacher's Gift" by Belinda Stotler
Stotler speaks of the priceless gift a teacher bestows through education and guidance. It's a heartfelt tribute to a teacher's invaluable contribution to their student's lives.
28. "The Impact of a Teacher" by Steve Karten
This verse highlights the profound and long-lasting impact that a good teacher can have on their students. It serves as a powerful reminder of the far-reaching influence of educators.
29. "Only A Teacher" by David L. Weatherford
Only a Teacher is a thought-provoking poem that brings to light the often-underappreciated, yet incredibly significant role that teachers play in society. Weatherford's words resonate with respect and gratitude for teachers.
30. "A Special Teacher" by Joanna Fuchs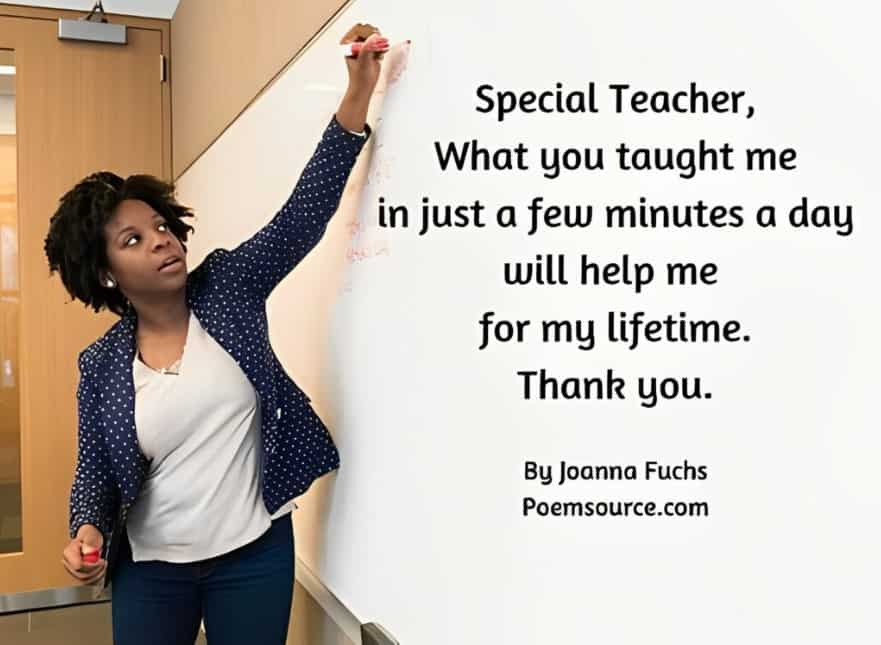 Fuchs expresses heartfelt gratitude for those teachers who always go above and beyond to ensure that their students feel loved, understood, and eager to learn. This poem is a sincere thank-you note to every teacher who has made a difference.
Learn More: Poem Source