We've rounded up a collection of 33 poignant poems that are inspired by music. From joyous childhood melodies to the profound silence of solitude, these poems beautifully intertwine the art of music and verse. With them on your side, you can set the stage for enlightening discussions and creative reflections within your classroom! Without further adieu, jump right in to discover the best poems about music.
1. "A Song" by John Donne
Inspire your students to use their critical thinking skills by analyzing this short poem by John Donne. Have them read or listen to this enchanting poem; to discover more about the beautiful bond between poetry and music.
Learn More: YouTube
2. "Harp Song of the Dane Women" by Rudyard Kipling
This poem brings forth the lament of wives left behind by Viking warriors. Kipling's mournful choice of words gives voice to their longing; echoing throughout the evocative verse.
Learn More: YouTube
3. "The Piano" by D.H. Lawrence
The Piano encapsulates a musical journey back in time. Each word rekindles childhood memories; immersing us in a symphony of nostalgia. This thought-provoking poem will allow students to explore their emotions and innocence.
Learn More: YouTube
4. "The Guitar" by Federico García Lorca
This poem is a heartbreaking saga of pain and passion told through the story of a guitar. Lorca's poignant metaphorical imagery is sure to inspire students and teachers alike. Through this poem, students can explore metaphorical depictions of emotions.
Learn More: YouTube
5. "To a Skylark" by Percy Bysshe Shelley
To a Skylark is a heartfelt tribute to the winged minstrel of the sky. In Shelley's verse, the skylark's celestial melody is elevated to represent an ethereal spirit of pure self-expression.
Learn More: YouTube
6. "Sing-Song" by Christina Rossetti
Capturing the delightful simplicity of childhood rhymes, Rossetti elegantly illustrates the joy and innocence of early music experiences, setting words to the cheerful tunes of nursery songs.
Learn More: YouTube
7. "Jazz Fantasia" by Carl Sandburg
Here, Sandburg captures the improvisational spirit of jazz. His words weave a portrait of urban energy and freedom; perfectly depicting everything that's encapsulated by the traditional jazz scene.
Learn More: Jazz Fantasia by Carl Sandburg
8. "The Weary Blues" by Langston Hughes
Accompanied by a stunning jazz performance, Hughes masterfully encapsulates the rhythm of the Black experience in his prose. This poem will allow your students to explore emotion, and the human experience from a different point in time.
Learn More: YouTube
9. "Beat! Beat! Drums!" by Walt Whitman
Explore themes of conflict through this expressive and passionate poem by the infamous Walt Whitman. Bugles and drums are used symbolically so be sure to encourage your students to analyze their meaning and significance.
Learn More: YouTube
10. "Ballad of Birmingham" by Dudley Randall
This poem recounts a historical tragedy that echoes like a mournful song. The rhythmic cadence of Randall's verses reflects the musical structure of a ballad; only making the grief of the lines resonate that much deeper.
Learn More: YouTube
11. "A Minor Bird" by Robert Frost
Poetry and song intertwine in this short poem about a songbird; pestering Robert Frost by his window. These beautifully-crafted verses will encourage your students to listen to birdsongs in nature and explore poetry in new ways!
Learn More: YouTube
12. "Poem about Chinese Drumming" by Yusef Komunyakaa
This poem throbs with cultural heritage and communal memory. The hypnotic beat of Chinese drums echoes in Komunyakaa's rich verse; keeping alive the rhythm of a timeless legacy.
Learn More: YouTube
13. "Music, When Soft Voices Die" by Percy Bysshe Shelley
This melancholy poem echoes with the haunting refrain of the silenced. Prompt your students to reflect and contemplate on the lasting resonance of their voices and songs long after they've faded into silence.
Learn More: YouTube
14. "With a Guitar, To Jane" by Percy Bysshe Shelley
A lyrical love letter, where passion strings together themes of music and emotion. Shelley's words strum the heartstrings, composing an ode to a beloved muse
Learn More: YouTube
15. "Music Swims Back to Me" by Anne Sexton
Resonates with the healing vibrations of music amidst mental turmoil. This personal journey explores how music can be a lifeline when adrift in the sea of mental health struggles.
Learn More: YouTube
16. "Listening to Jazz Now" by Jimmy Santiago Baca
The timeless magic of music breaks free in this short poem. Santiago Baca presents jazz as a transcendent force that is more than just music.
Learn More: Poets Org
17. "Street Music" by Arnold Adoff
An urban symphony that captures the lively, rhythmic pulse of city life. Adoff utilizes the diverse sounds of the streets, interpreting them in a musical manner – this is sure to inspire students to hear musical tones within the ordinary sounds of everyday life.
Learn More: YouTube
18. "Music" by Ralph Waldo Emerson
This imaginative poem encapsulates the essence of existence through a symphony of words. Emerson's words allow us to see that music reaches and influences all parts of life.
Learn More: YouTube
19. "The Man with the Blue Guitar" by Wallace Stevens
This enchanting and haunting poem presents an expansive meditation on music and art's transformative potential. Stevens uses the blue guitar as a symbol of the power of music to create new realities.
Learn More: YouTube
20. "Theme in Yellow" by Carl Sandburg
In this poem, Sandburg paints an autumnal landscape and personifies pumpkins as children's vibrant songs celebrate the essence of Halloween in the fields.
Learn More: YouTube
21. "Music, I Heard with You" by Conrad Aiken
A tender elegy to shared memories, as vivid and intimate as a favorite song. Aiken's verse captures the poignant power of music to evoke and preserve our cherished moments.
Learn More: YouTube
22. "The Shroud" by Antonio Machado
Somber hymn to the inevitable passage of life. Each verse resonates like a solemn chant, a deep reflection on mortality couched in the gentle cadence of a song.
Learn More: Chansons Innocentes by E. E. Cummings
23. "Song for Nobody" by Thomas Merton
With themes of profound silence, this poem is likened to a song sung for no one. Merton's contemplative verse resonates with the profound emptiness of solitude.
Learn More: Pinterest
24. "Ode to a Nightingale" by John Keats
A lyrical exploration of life's fleeting beauty, inspired by the enduring song of a nightingale. Keats' verse weaves a rich tapestry of sensations, as timeless as the bird's enchanting melody.
Learn More: YouTube
25. "Sonnet to a Nightingale" by Charlotte Smith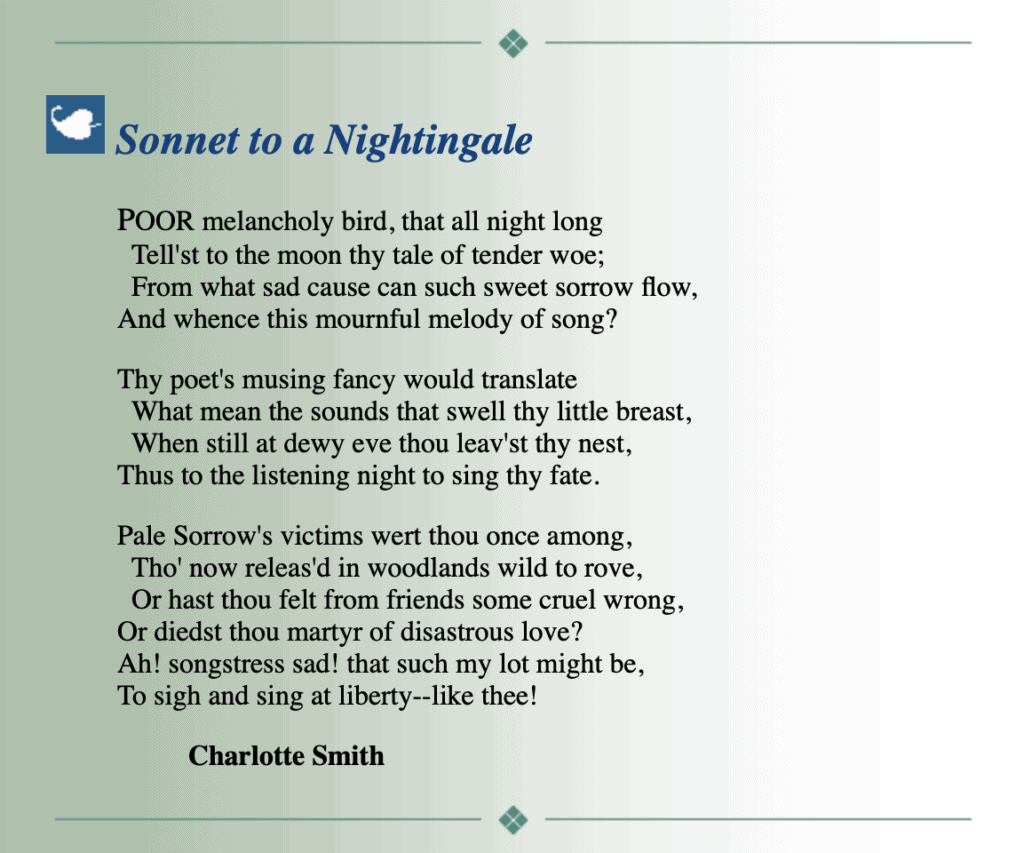 A tribute to the nightingale's eternal song, Millay's sonnet explores longing and solace in nature's melodies. She invites readers to reflect on their connection with the natural world, as seen through the prism of song.
Learn More: The Other Pages
29. "The Guitarist Tunes Up" by Frances Cornford
The Guitarist Tunes Up is a delicate poem that likens tuning a guitar to a lover's touch. Cornford's gentle metaphor resonates with intimacy; creating a rich soundscape that will encourage students to explore connections between music and emotions.
Learn More: All Poetry
26. "I Know Why The Caged Bird Sings" by Maya Angelou
Here, the contrast between caged and free birds creates a soulful melody in Angelou's poetic voice. This poem is an allegory for freedom and oppression; delivering a song that resonates with historical and universal truths.
Learn More: Fine Art America
27. "Harlem Night Song" by Langston Hughes
Harlem Night Song is a lively celebration of nightlife, music, and community. Hughes's words dance through the streets of Harlem- filled with jazz and the spirit of a people, bringing the vibrant music scene of a past era to life.
Learn More: YouTube
28. "The Bells" by Edgar Allan Poe
The rhythmic cadence of Poe's verses mimics the chiming of bells and swings between themes of joy and tragedy. Through the sound of bells, this hypnotic poem provides an excellent opportunity to study onomatopoeia and symbolism.
Learn More: Poets.org
29. "Orpheus" by Dollie Radford
Wordsworth explores the myth of Orpheus, whose music could charm all living things. His contemplative verse illustrates the transcendent power of art and the creative spirit.
Learn More: Poem Hunter
30. "A Hymn To the Muses" by Robert Herrick
To the Muses is best described as an elegant tribute to the divine inspirers of art and music. Herrick's classical invocation sings praises to the muses and fosters an understanding of the connections between creativity, divinity, and inspiration.
Learn More: Internet Poem
31. "The Trumpet" by Edward Thomas
The echoing sound of a distant trumpet inspires Thomas's reflections on war and peace. This poem rings with somber undertones; allowing students to delve into the dual nature of music as both a call to battle and a plea for harmony.
Learn More: University of Oxford
32. "Hymn of Pan" by Percy Bysshe Shelley
A lyrical celebration of nature's music, this poem resounds with the ancient, mystical song of Pan's flute. Shelley's verses draw readers into a world where nature itself becomes a symphony.
Learn More: Poemist
33. "Music's Empire" by Andrew Marvell
A majestic ode to music's universal reign, this poem sweeps across cultures and eras. Marvell's verse declares the sovereignty of music over the human soul; a theme that offers rich insights into the connections between power, art, and humanity.
Learn More: YouTube