Are you looking for fun and engaging ways to connect with your child and family while also learning about the Bible? Look no further! We've compiled a list of 30 exciting games and activities that you can do with your kids to deepen their knowledge of the Bible. From scavenger hunts to trivia games, there's something for everyone to enjoy. Get ready to have fun while learning about the Word of God!
1. Bible Scavenger Hunt
Turn your home or church into a treasure island by hiding verses for your kids to find. After the scavenger hunt, take time to discuss the meaning of the verses and how they relate to your family's lives. This learning opportunity is themed all around the Armor of God!
Learn More: Littles and Me
2. Bible Charades
Bring Bible stories to life by acting them out with your kids. Not only is this activity fun and interactive, but it can also help your children understand the stories and characters better. Take turns playing charades for different stories and characters, and discuss their meanings and lessons afterward.
Learn More: Confessions of Parenting
3. Bible Jeopardy
Create a fun game show-style experience by making a Bible Jeopardy game. Use trivia questions about the Bible and challenge your kids to test their knowledge. Make it more fun by adding buzzers and a game show host. Don't forget the prize for the winner- it could be anything from a candy bar to a family outing.
Learn More: Teach Sunday School
4. Bible Bookmarks
Spend time with your child creating a bookmark for their bible. Work together to design something that they would like to use every day as they read their Word of God. Children can choose to use watercolor, colored paper, or markers to make their own. They can finish their creations by writing their favorite verse on the bookmark.
Learn More: Etsy
5. Encouragement Cards
Create beautiful encouragement cards with bible verses for your friends and family. Encourage your child to bring these to their Sunday School class to help offer words of encouragement and joy to their Christian friends.
Learn More: Pinterest
6. Bible Verse Art
Help your child illustrate and depict their favorite bible stories through art. Use examples, like the one below, to illustrate what the verse is trying to teach and the symbolism that comes through. This is a beautiful way to talk to your child about the World of God. It could even be used as a gift for a family member or Christian Friend.
Learn More: Ben and Hannah Dunnett
7. Bible Pictionary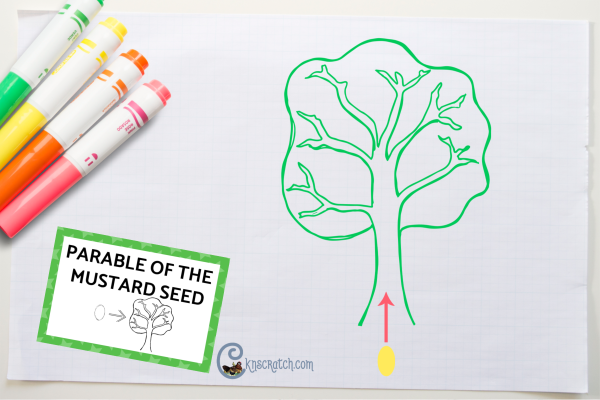 Let your kids express their creativity by drawing Bible stories or characters. This simple game can be done with just a few people or with the whole family. After each drawing is guessed, take time to talk about the story and character that was drawn.
Learn More: CKN Scratch
8. Bible Memory Match
Play a memory game with a Biblical twist by creating a memory-matching game using verses or characters. After each match, encourage your kids to recite the verse and discuss what it means.
Learn More: Teach Them Diligently
9. Bible Trivia Game
Create a board game with Bible trivia questions and challenges. Parents can make it more fun by adding in physical challenges, like hopping on one foot while answering questions or doing a silly dance. Make it a family game night and include snacks and prizes for the winner.
Learn More: Pinterest
10. Bible Bingo
Create Bingo cards with Bible verses or characters and play as a group. To make it more exciting, use small treats or toys as markers instead of traditional Bingo chips. The downloadable gameboard helps kids learn about the different Books of the Bible.
Learn More: Bible Stories
11. Bible Story Mad Libs
Create fill-in-the-blank stories with Bible themes and characters. Get creative with the stories by including silly and unexpected words to make them fun for everyone. Have each family member or Christian friend take turns filling in the blanks and reading the story aloud.
Learn More: Bible Crafts by Jenny
12. Bible Verse Relay Race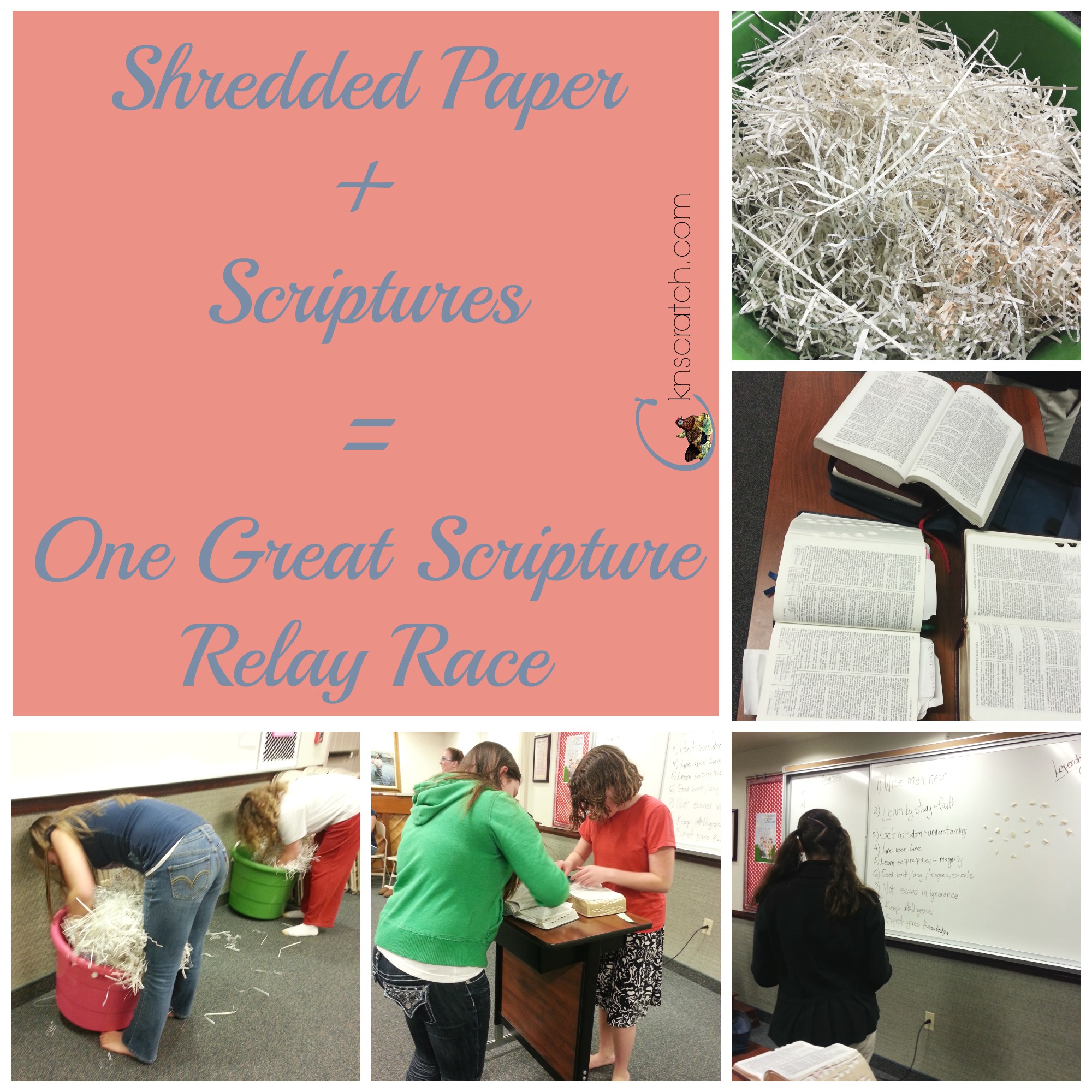 Have teams race to find and read Bible verses in a relay format. To make it more exciting, add physical challenges like jumping jacks or push-ups between each verse. The first team to finish reading all their verses wins a prize.
Learn More: CKN Scratch
13. Would you Rather?
Get your family thinking with the Bible version of the game "Would you Rather…?". Use these printables to organize a quick, low-prep game, with maximum interest and engagement for the whole family! Plus, you can make the game as serious, funny, or interesting as you want to depending on the cards you put in the deck.
Learn More: Out Upon the Waters
14. Word Search
Create a word search puzzle using Bible terms and themes. To make it more challenging, use diagonal and backward words. Have a race to see who can find all the words first or work on it as a family to find all the words together!
Learn More: Christian Books
15. Bible Coloring Pages
Print out Bible-themed coloring pages for kids to color. Not only is this activity fun for kids, but it can also be a way for them to learn about Bible stories and characters as they color. Display their finished artwork around the house or in their bedrooms.
Learn More: Mary Dean Draws
16. Crossword Puzzle
Create a crossword puzzle using Bible terms and themes. This activity can be done individually or in teams and is a fun way for kids to learn about the Bible while practicing their critical thinking and problem-solving skills.
Learn More: Hide and Seek Ministries
17. Trivia Pursuit
Create a game similar to Trivia Pursuit with Bible questions and challenges. This game is perfect for family game nights and can be adapted for kids of all ages. Plus, it's a great way for kids to learn about the Bible in a fun and interactive way.
Learn More: Etsy
18. Bible Story Telling
Have kids take turns telling their favorite Bible stories or retelling stories from memory. This activity encourages creativity and imagination while also reinforcing their knowledge of Bible stories and characters. You can even record their retellings and watch them back later.
Learn More: My Mundane and Miraculous Life
19. Prayer Jar
Help your child connect to the Bible by creating a "prayer jar". Your child can write different people's names to say a prayer for, different bible verses that they want to pray about, or reflections they want to ponder. You can then pick a time for your child to pull a stick and say a prayer daily.
Learn More: SSWW
20. Bible Verse Balloon Pop
Write Bible verses on small pieces of paper and put them inside balloons. Have kids pop the balloons and read the verses. This activity is both fun and interactive and is a great way to help kids memorize Bible verses in a creative way.
Learn More: Kids Bible Teacher
21. Bible Verse Jigsaw Puzzle
Make Bible verse learning fun with a jigsaw puzzle! Choose a favorite verse or story and make it into a puzzle for your child to put together. Once they finish, have them recite the verse or story out loud.
Learn More: Childen's Ministry Deals
22. Pick your Favorite
Work with your family to each pick your favorite bible verse. This is a simple and meaningful way to connect with your family and The World of God. Consider adding your child's favorite as a poster in their room as a reminder.
Learn More: Etsy
23. Christian Karaoke
Worship with karaoke! Look through popular Christian songs that you can karaoke to. Consider trying out an upbeat one from Hillsong or use one of your child's Sunday School songs.
Learn More: Faith Filled You
24. Spot It
Challenge your child's memory skills with a Bible version of the game, Spot It! Children can try finding symbols from the World of God in this easy, competitive, and fun activity. Download the printables to start playing today!
Learn More: CKN Scratch
25. Bible Tic-Tac-Toe
Put a new spin on the classic game of tic-tac-toe by using Bible verses or characters. Use Bible stickers or draw them on a whiteboard and have your child play with a partner. This activity is an easy and low-prep option that provides maximum enjoyment!
Learn More: Mr. Mark's Classroom
26. Bible Verse Twister
Get your child up and moving with Bible verse Twister! Use tape to write Bible verses on the mat and have your child act them out while playing the game.
Learn More: Kids Ministry
27. Bible Verse Hopscotch
Hop, skip, and jump your way to Bible verse memorization with hopscotch! Write Bible verses on the ground and have your child hop to each one while reciting them aloud. This activity will help your child memorize verses while also getting some exercise.
Learn More: Mr. Mark's Classroom
28. Bible Story Dice
Add some excitement to Bible storytelling with a Bible story cube! Create cubes with pictures of Bible characters or stories and have your child roll them. They can then act out the story or retell it from memory. This particular story connects to the Nativity Scene and helps kids learn symbols relating to the stories of Christmas.
Learn More: Healing Home
29. Bible Verse Bop
Turn Bible verse memorization into a dance party with Bible verse bop! Set Bible verses to a fun beat and have your child dance and sing along or learn different bible songs together. This activity will be joyful for the whole family and give kids a boost of energy!
Learn More: Everyday Christianity
30. Bible Verse Emoji
Test your child's knowledge of Bible stories and characters with a Bible verse emoji match-up! Put different emojis together to depict Bible verse clues. Then, have your family match them to the correct story or character that they think it is referring to.
Learn More: My Party Games