Laughter and good times are commonly part and parcel of birthday celebrations. Why not sweeten the fun with our collection of 50 unique jokes? From animal antics to food-related wit, these jokes will have even the toughest of cynics cracking smiles!
1. Why did the birthday cake visit the psychologist? Because it was feeling crumby.
2. Why do we put candles on the top of birthday cakes? Because it's too hard to put them on the bottom!
3. What party game do rabbits like to play? Musical Hares.
4. What did the elephant wish for on his birthday? A trunk full of gifts.
5. Why did the teddy bear refuse the birthday dessert? Because it was already stuffed.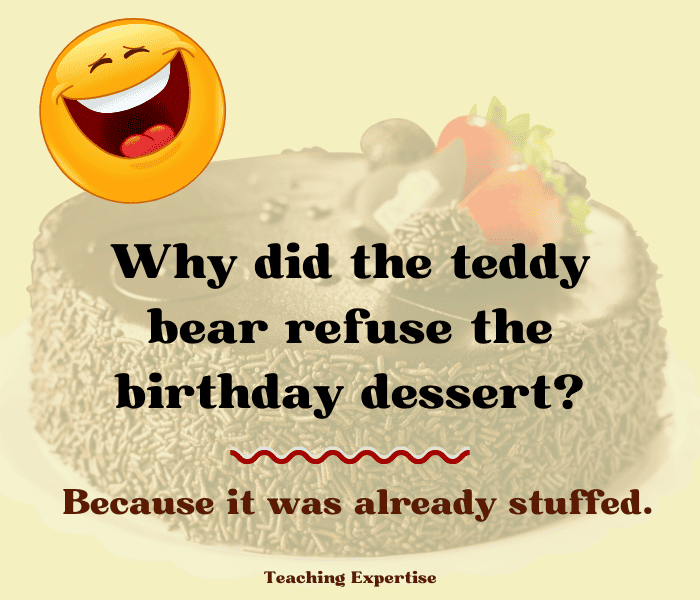 6. Why did the boy put candy under his pillow? Because he wanted sweet dreams on his birthday!
7. What does a cat like to eat on his birthday? Mice cream and cake.
8. What did the birthday balloon say to the pin? "Hi, Buster!"
9. What's an astronaut's favorite part of a birthday party? The space cake.
10. Why was the math book unhappy at its birthday party? Because it had too many problems.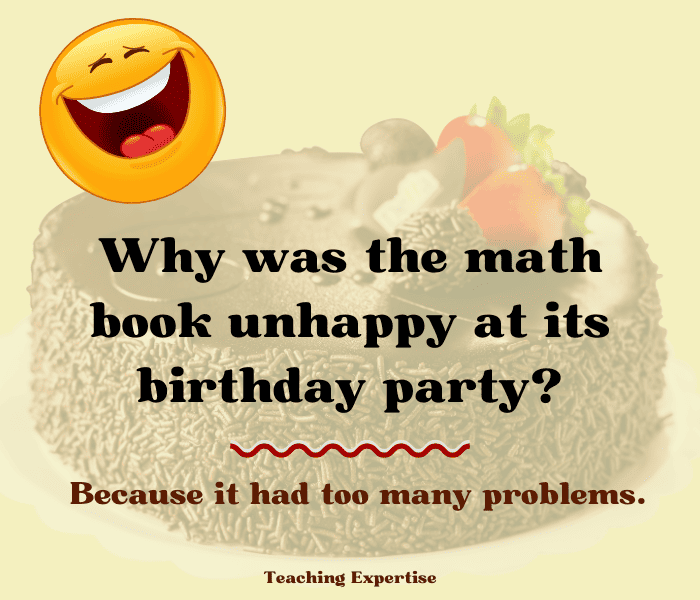 11. What goes up and never comes down? Your age.
12. Why was the computer cold at the birthday party? It left its Windows open!
13. How do pickles celebrate their birthdays? They relish the moment.
14. Why did the bicycle fall over at the birthday party? It was too tired.
15. What did the birthday cake say to the ice cream? You're cool.
16. Why do candles never exercise? They always burn out!
17. What's a golfer's favorite birthday present? A birthday p-putt-ty.
18. Why did Tommy hit his birthday cake with a hammer? He said it was a pound cake!
19. Why didn't the lion eat the clown at the birthday party? He tasted funny.
20. What do clams do on their birthdays? They shell-ebrate!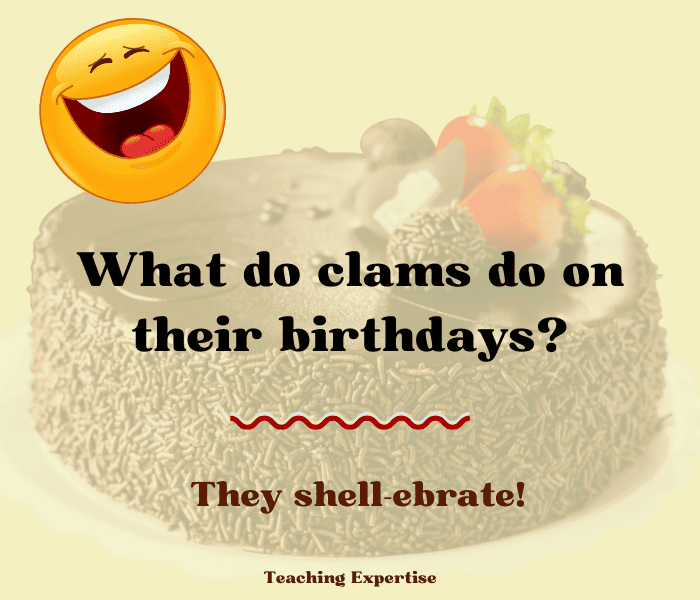 21. What did one candle say to the other? "Don't birthdays burn you up?"
22. Why did the girl bring a ladder to the birthday party? Because she thought the party was up there in age.
23. What do you say to a kangaroo on its birthday? Hoppy Birthday!
24. What's a balloon's least favorite kind of music? Pop.
25. Why are ghosts bad at lying? Because you can see right through them!
26. Why don't skeletons fight each other? They don't have the guts!
27. What do you always get on your birthday? Another year older!
28. What do you give a 900-pound gorilla for its birthday? I don't know, but you'd better hope he likes it!
29. How do you know if an elephant's been to your birthday party? Look for the footprints in your birthday cake!
30. What kind of music is scary for birthday balloons? Pop music.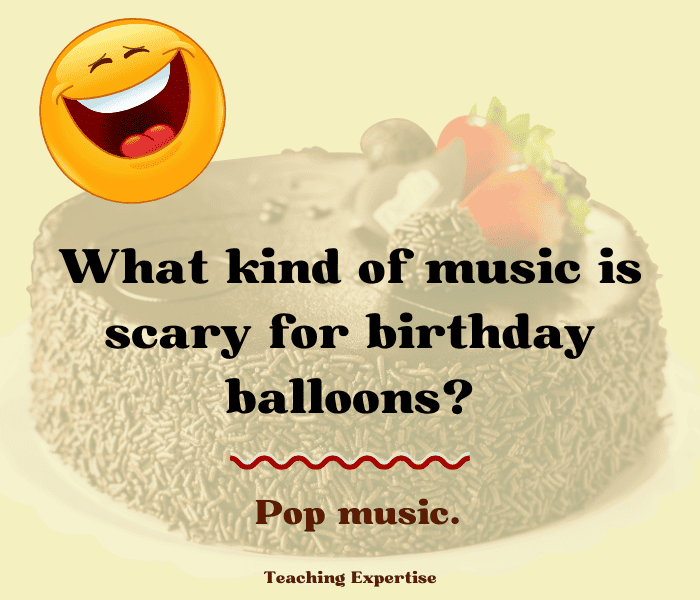 31. What does a bee say on its friend's birthday? Happy Bee-day!
32. Why do we invite mushrooms to birthday parties? Because they're fun-gis.
33. How does a cat celebrate its birthday? By having a paw-ty!
34. Why did the birthday boy smear peanut butter on the road? Because he wanted to go on a traffic jam!
35. How do you invite a dinosaur to a birthday party? Tea Rex?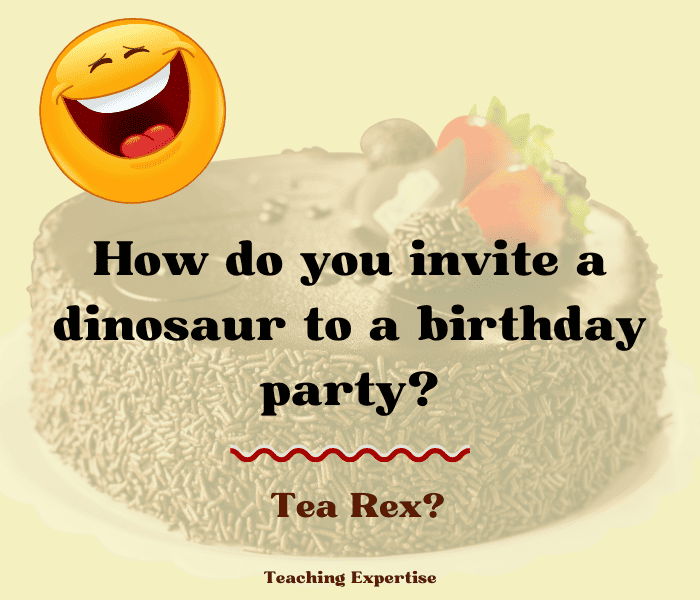 36. What do cows do at birthday parties? They moo-ve to the music.
37. What did the elephant want for his birthday? A big present.
38. Why did the chicken join a band? Because it had the drumsticks!
39. What's a tree's favorite drink? Root beer!
40. Why don't birthdays and holidays get along? They always upstage each other.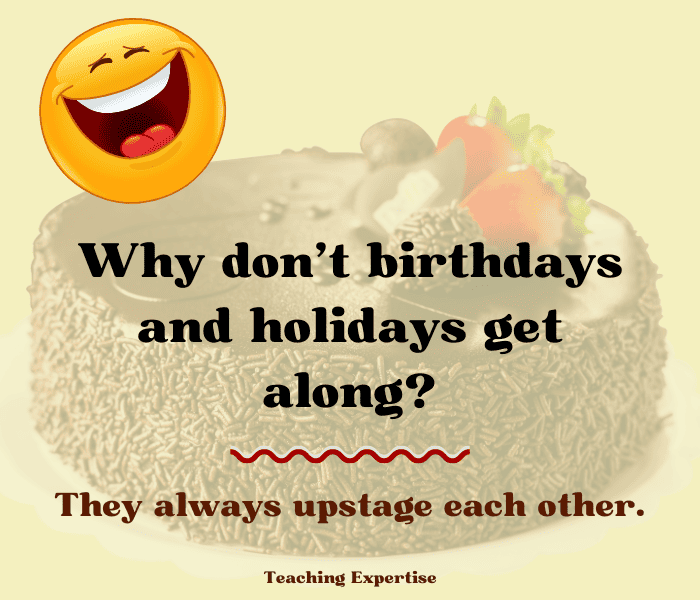 41. Why are ghosts happy at birthdays? It's a party in the grave-yard!
42. What's a snowman's favorite dessert? Ice cream cake!
43. How do fish celebrate their birthdays? They shell-ebrate on the sea-bed.
44. Why did the cookie go to the doctor? Because it felt crumby.
45. Why was the sand wet? The sea-weed!
46. Why don't some animals play cards? Because they're afraid of cheetahs!
47. What do you call a droid that takes the long way around? R2 detour.
48. Why don't scientists trust atoms? Because they make up everything!
49. How do you organize a space party? You planet.
50. Why did the tomato turn red? Because it saw the salad dressing!