As educators, we should all strive to illuminate the myriad of threads woven into our shared historical tapestry. With Black History Month just around the corner, we implore you to guide your students through 35 pivotal facts that capture the spirit of African-American heritage. This voyage will have them exploring the courage of iconic individuals and tapping into areas of groundbreaking legislation, significant events, and the pervasive influence of African-American culture. Join us in a celebration of the resilience, achievements, and enduring impact of this phenomenal community.
Facts Related To Remarkable People:
1. Carter G. Woodson
A historian with a mission, Woodson founded "Negro History Week" in 1926. This was the precursor to the current Black History Month and has been celebrated every February since 1976.
Learn More: Black America Web
2. Dr. Martin Luther King Jr.
King was a peacemaker with international acclaim. In 1964, in recognition of the efforts he made to fight against racial segregation in the US, this extraordinary man was awarded the Nobel Peace Prize.
Learn More: History
3. Harriet Tubman
A heroine of epic proportions, Tubman's extraordinary courage, and strategic acumen saw her guide over 300 enslaved people to freedom; earning her the moniker, "Moses of her people".
Learn More: History Hit
4. Jackie Robinson
With a bat and a dream, Robinson shattered Major League Baseball's color barrier in 1947- setting the stage for integration in sports.
Learn More: The Philadelphia Tribune
5. Rosa Parks
More than just a passenger, Parks' quiet act of defiance in 1955 triggered the Montgomery Bus Boycott which was a key moment in the Civil Rights Movement.
Learn More: Owlcation
6. Barack Obama
Breaking the highest glass ceiling in 2008, Obama made history as the first African-American President of the United States- marking a milestone in the history of racial progress.
Learn More: Share America
7. Dr. Mae Jemison
Reaching for the stars, Jemison became the first African-American woman to journey to space in 1992. In doing so, she expanded the frontiers for women of color in science.
Learn More: Facts Just for Kids
8. George Washington Carver
Carver transformed the agricultural landscape by developing over 300 uses for peanuts. As the innovative scientist that he was, he significantly improved the Southern economy and health.
Learn More: Biography
9. Frederick Douglass
From enslavement to leadership, Douglass emerged as a powerful voice for abolition in the 19th century- wielding words as his weapon against injustice.
Learn More: JSTOR Daily
10. Madam C.J. Walker
Madam C.J. Walker was an entrepreneur ahead of her time! This remarkable woman turned her haircare products into an empire- becoming America's first self-made female millionaire.
Learn More: Mental Floss
11. Louis Armstrong
A jazz titan, Armstrong's innovative musical style and charismatic performances shaped the course of popular music in America.
Learn More: Interesting Facts
12. Ruby Bridges
A courageous symbol of desegregation, Bridges, at the tender age of six, stepped into an all-white school. In 1960, this was a significant milestone in breaking down racial barriers in education.
Learn More: The Edvocate
13. Langston Hughes
A luminary of the Harlem Renaissance, Hughes' profound literary works continue to resonate; embodying the voice and spirit of African Americans.
Learn More: Your Dictionary
14. W.E.B. Du Bois
An intellectual heavyweight, Du Bois co-founded the NAACP and challenged the status quo with his groundbreaking writings on race and society.
Learn More: Mental Floss
15. Thurgood Marshall
Making judicial history, Marshall, appointed in 1967, redefined American jurisprudence as the first African-American Supreme Court Justice.
Learn More: Have Fun With History
16. Booker T. Washington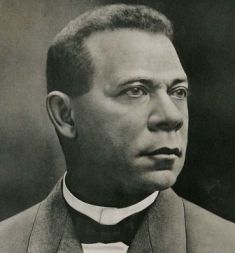 An advocate for economic upliftment, Washington championed vocational education as a pathway to racial equality in the post-Reconstruction South.
Learn More: Ducksters
Significant Law-Related Facts:
17. 13th Amendment
A watershed moment in American history, this amendment, ratified in 1865, abolished slavery and heralded a new era of freedom.
Learn More: Have Fun With History
18. Brown v. Board of Education
This landmark 1954 Supreme Court case dismantled the "separate but equal" doctrine- marking the end of legal school segregation.
Learn More: Have Fun With History
19. The Civil Rights Act of 1964
A monumental law, this act dismantled the legal framework of discrimination as it called for equality for all persons- regardless of race, color, religion, sex, or national origin.
Learn More: CNN
20. Emancipation Proclamation
President Lincoln's powerful 1863 decree altered the course of the Civil War; declaring enslaved people in Confederate-held territory free.
Learn More: American Battlefield Trust
21. The Voting Rights Act of 1965
This significant act tore down legal barriers and enabled African Americans to exercise their fundamental right to vote.
Learn More: Britannica
Key Events Related To Black History:
22. The Harlem Renaissance
A roaring cultural movement of the 1920s, the Harlem Renaissance marked a golden age for African-American art, literature, and music.
Learn More: Learnodo Newtonic
23. Juneteenth
A day of jubilation and reflection, following the arrival of Union soldiers in Texas on June 19, 1865, Juneteenth commemorates the end of slavery in the US.
Learn More: Chase Oaks Church
24. Tuskegee Airmen
Braving both enemy fire and racial prejudice, this group of African-American pilots proved their mettle in World War II; inspiring future generations.
Learn More: PBS
25. Little Rock Nine
These nine brave students walked into Little Rock Central High School in 1957; marking a critical moment in the fight for school integration.
Learn More: National Parks Conservation Association
26. The Montgomery Bus Boycott
A 381-day movement led by Dr. King, the Montgomery Bus Boycott saw African Americans in Montgomery refuse to use public buses in an effective protest against racial segregation.
Learn More: 10 Interesting Facts
27. The Greensboro Sit-ins
The Greensboro Sit-ins were marked as a quiet revolution ignited by four college students in 1960. Their peaceful sit-in at a segregated lunch counter sparked a wave of similar protests across the South.
Learn More: History
28. The Black Panther Party
A symbol of resistance and empowerment, this organization, founded in 1966, advocated for Black self-defense and systemic change.
Learn More: Melanin is Life
29. The March on Washington
The epicenter of the Civil Rights Movement, this 1963 event saw King deliver his stirring "I Have a Dream" speech, reinvigorating the fight for racial equality.
Learn More: USA Today
30. Black Lives Matter
A contemporary rallying cry against systemic racism, this movement champions justice and equality for Black individuals in society today.
Learn More: Britannica
31. The Great Migration
A transformative era spanning 1916- to 1970, the Great Migration saw millions of African Americans move from rural Southern states to urban centers in the Northeast, Midwest, and West. This exponentially reshaped America's cultural and political landscape.
Learn More: University of Washington
32. The Amistad Case
In a triumph for justice in 1841, the U.S. Supreme Court freed the Africans aboard the Spanish slave ship, Amistad, acknowledging their rights as human beings.
Learn More: History
Exploring Facts Related To Culture & Influence:
33. African American Vernacular English (AAVE)
More than a dialect, AAVE is a testament to the resilience and creativity of African Americans, embodying their history, experiences, and cultural identity on a broad scale.
Learn More: YouTube
34. Lift Every Voice and Sing
Commonly known as "The Black National Anthem," this song penned by James Weldon Johnson, stands as an enduring hymn of resilience; expressing the African American journey and greater aspirations.
Learn More: Atlanta Journal Constitution
35. The African American Influence on Music
From the soulful strains of jazz and blues to the pulsating rhythms of rock and roll and hip-hop, African-American musicians have left an indelible imprint on global music, defining the soundtrack of generations.
Learn More: See Africa Today