One of the most intriguing sciences to learn is biology- the study of life. A subsection of biology is human anatomy, and learning this branch of science is not always easy! It can require a lot of repetition, memorization, and practice. Even then, making sure you remember after learning the various parts of the body can be tricky if you do not consistently utilize the information to keep it in your working memory. Check out these awesome worksheets to help bind the vocab to memory!
1. Parts of the Body for Kindergarten
When starting out, students need only to learn the basic body parts- feet, hands, legs, head, etc. This quick and easy diagram-style worksheet allows kindergarten students to practice labeling the parts of the body- in turn, recognizing the words and practicing their motor skills of writing letters.
Learn more: K5 Learning
2. Pre-Labeled Worksheet
This extensive vocabulary worksheet depicts over twenty body parts! It offers students in primary grades a way to practice showing and telling where these parts are on themselves so they can successfully name them.
Learn more: Tutoring Hour
3. Functions of Body Parts
For more advanced learners, or as a next step after learning body basics, this worksheet provides the perfect segway to the functions of various body parts.
Learn more: Tutoring Hour
4. My Body Parts Cut and Paste
Another option for younger students is this cut-and-paste body worksheet activity that gives students a word bank to cut words from and then glue them into the correct places. Not only will they learn body part names, but they'll also get to practice their cutting skills in the process!
Learn more: Planes and Balloons
5. My Anatomy Matching Game
This worksheet requires kids to take a body parts picture and match it to the correct body position. Going beyond just the basic human body parts, this activity will build body parts vocabulary, as well as help kids identify where major organs are located.
Learn more: Etsy
6. Human Organs Playdough Mats
While these well-designed worksheets are designed for young students, they would also be helpful for older students working on memorizing the various organs of the human body. Because they require a different modality of learning and are not exactly traditional, kids will be sure to remember what they build!
Learn more: Etsy
7. Parts of the Body Crossword
Crossword puzzles are fun and challenging. This interesting take on a fun crossword requires kids to utilize body vocabulary but also helps create the clues to go with them. This worksheet would definitely be a bit more in-depth and help those kids who are already meeting the basics of learning.
Learn more: Teach This
8. Parts of the Body Quiz
Use this worksheet to have students challenge one another and/or study body parts vocabulary to be successful on their assessments. They will have a blast practicing in pairs as they learn this important information.
Learn more: Teach This
9. Match and Snap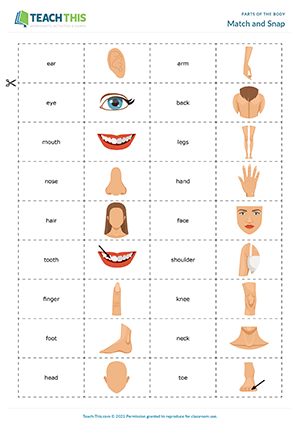 This is a fun and interactive resource for students to use to practice the parts of a body. Created for ESL students, it works wonderfully for English students as well as it's a unique way to learn and memorize the body with the help of pictures.
Learn more: Teach This
10. Describe the Body Part
This worksheet is suitable for younger students as a simple activity to learn body parts, but when introduced to older students, it can become a two-fold activity as kids learn to utilize adjectives in their writing.
Learn more: All Kids Network
11. Digestive System Labeling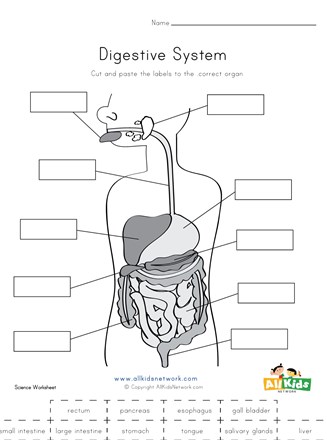 This cut-and-paste worksheet will help students learn body vocabulary associated with our all-important digestive system.
Learn more: All Kids Network
12. Human Body Unit Study Bundle
This extensive printable unit study full of worksheets helps kids gain the necessary knowledge about our beautiful bodies. This set includes matching worksheets, spelling worksheets, vocabulary worksheets, and more!
Learn more: Etsy
13. Unscramble It
Help your younger students with their spelling patterns and their body part names with this cute worksheet on the body. Kids will have to unscramble the words in order to label the body parts correctly.
Learn more: Worksheet Pack
14. Human Body Verb Practice
This worksheet is great for English language learners and teaches them how to utilize the verbs "have got" and "haven't got" in a sentence. The word bank creates a scaffold for students but can be easily hidden to create a more challenging task.
Learn more: Language Advisor
15. Correct the Spelling
Another great resource for English language learners, this worksheet focuses on spelling so that students can learn the correct letters for the various body parts. This is important because so many of the words in our English language have unconventional spelling and follow obscure rules.
Learn more: Language Advisor
16. Human Body Flash Cards and Worksheet
This worksheet comes with adorable clipart and a set of matching flashcards to help kids learn about the human body. Another perk of this set is the dual language of Spanish and English to help multiple language learners.
Learn more: Etsy
17. Realistic Body Parts
This particular worksheet is perfect for older grades as they learn more advanced body parts. This worksheet utilizes realistic imagery for more accurate representation and mature learners.
Learn more: Jumpstart
18. Build Mr. Skeleton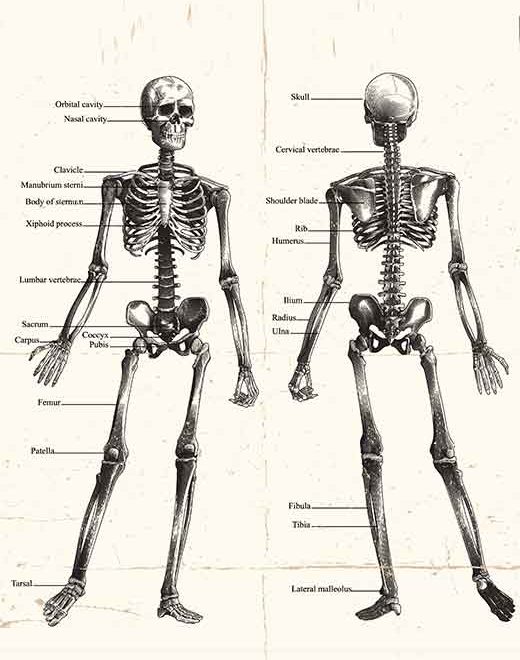 These creative worksheets offer poems with the various parts of the skeleton body so students can not only learn the parts of our skeleton but also put together their very own version!
Learn more: Scholastic Teachables