Executive, legislative, and judicial: the three branches of the United States government are a classic topic of study in the upper elementary grades and throughout high school. Introducing this complex system of checks and balances of power, while incorporating them into engaging activities, can be tricky for teachers. However, this list of resources, literature, songs, presentation ideas, and more, will make this intricate but important topic accessible to all young American history scholars!
1. Book List
Introducing this important topic in an accessible way is imperative to your classroom buy-in! Check out this list of developmentally appropriate books to help your children learn about the branches of the government on their level. It includes both fiction and nonfiction books for upper elementary grades.
Learn More: Parenting Nest
2. 3 Branches Video
This great video by Kids Academy gives an overview of each branch that you can play as an introduction or review throughout your government unit. It teaches children about the interplay of power between the parts of our government with engaging graphics, and includes a fun quiz game at the end!
Learn More: Kids Academy
3. Branches Song
Teaching through song is a great way to promote students' retention of new information. This simple song is a great way to teach lower elementary grades the names of the three branches of government and their basic roles in the form of a catchy tune!
Learn More: How to Homeschool
4. Branches Rap
For more musical branches of government fun, try this catchy rap covering the separation of powers. The song covers a lot of ground in a few minutes, including the three parts of the governing body, their members, and how they come to power. Remember, incorporating music improves recall!
Learn More: Flocabulary
5. Anchor Chart
Co-creating an anchor chart for children to reference throughout your unit is a great way to begin! After watching a few of the aforementioned videos or songs, have your class work together to identify and describe what they have learned. Revisit the chart periodically to add new facts and terms!
Learn More: Shut the Door and Teach
6. Branches Drawing
Have your students make their own anchor charts by creating these branches of the government tree drawings. Children will label three tree limbs with each branch of the government, then include relevant facts about each on leaves coming off each branch. This is a perfect activity for your artistically-minded students!
Learn More: Ginger Snaps
7. Graphic Organizer Craft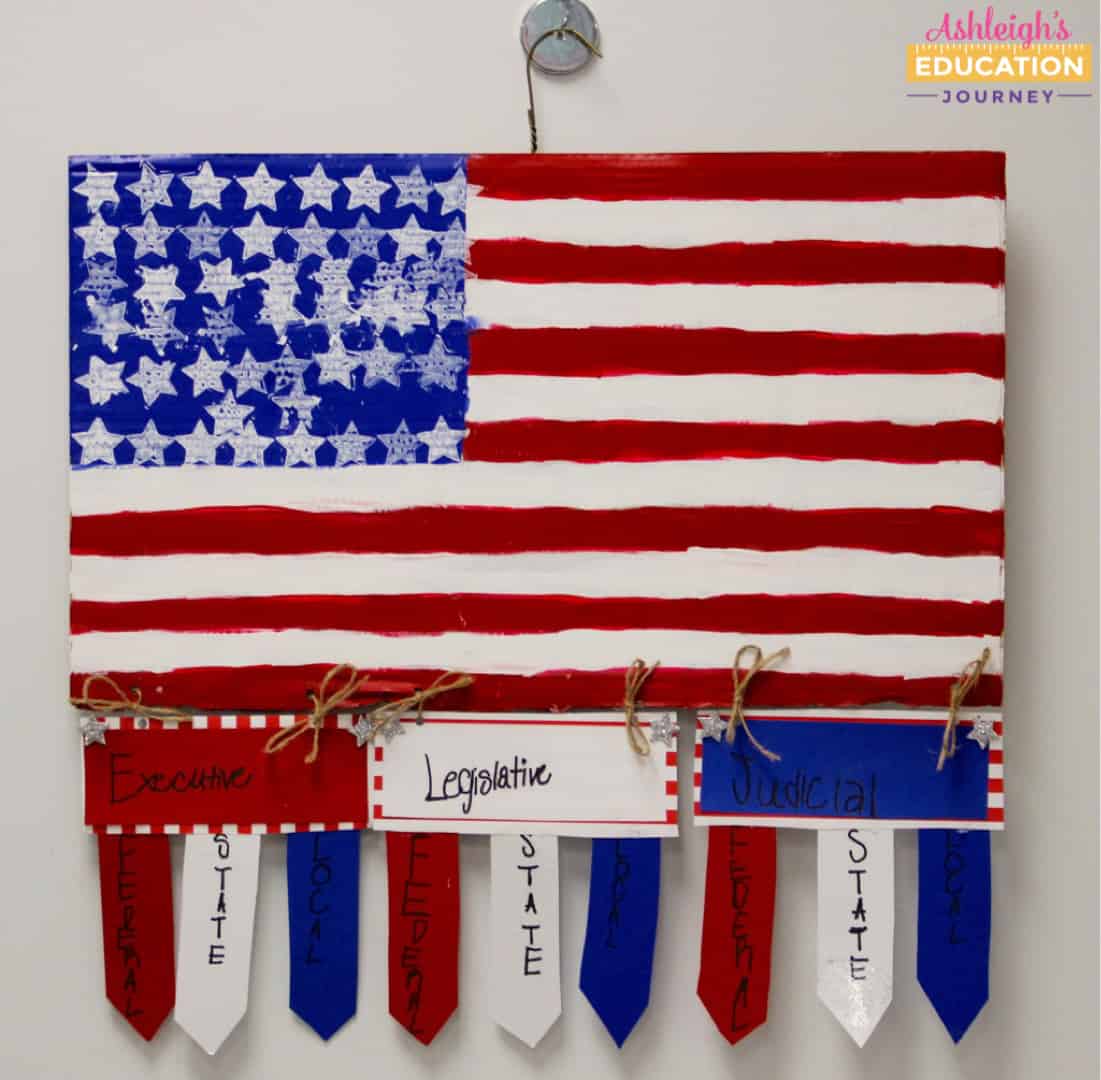 Rather than creating a written graphic organizer for remembering government branches and their respective levels of the government, try having students work in small groups or individually to create this patriotic display. Students can then use these creations to guide factual presentations delving deeper into each piece.
Learn More: Ashleigh's Education Journey
8. Foldable, Option 1
Foldables are awesome, interactive activities for teaching complex topics because children are learning information as they make them, and they can use them again as an ongoing review activity. This foldable includes the branches of power, their members, and important facts about their numbers and term limits.
Learn More: Learning is the Game
9. Foldable, Option 2
This is another free foldable option for helping students organize their thoughts and new knowledge about the inner workings of the American government. This fantastic resource also provides a personal vocabulary poster about the three powers to bolster the information students include on the worksheet pages.
Learn More: Teacher's Lounge TPT
10. 3 Branches Tree Craft
Bring a hands-on activity to your social studies block by creating these government branch trees together or as an independent activity. Students will add a piece of the "tree" to represent each branch of the government and include important facts to describe each one.
Learn More: Polka Dots & Pencils
11. Legislative Branch Writing Freebie
After discussing the judicial powers of the Supreme Court, have children write a few sentences about its importance in this fun writing freebie! Students also get to color a picture of the Court building. This is part of a larger resource with an entire unit of activity sheets and ideas about the government.
Learn More: Simply Skilled Teaching
12. The Executive Branch Storyboard
Rather than having your older students create a regular slide presentation, give them the opportunity to build a storyboard from this pre-made digital template. Specific to the executive branch, the template has students identify the who, what, when, where, and why of the existence of these powers of the government.
Learn More: Storyboard That
13. Branch-O-Mania
Branch-O-Mania is a no-prep activity for reviewing government branches. It also makes a great activity for distance learning! In gameplay, children select a branch of the government and catch icons that represent the roles of that branch. For instance, on the judicial branch level, you might catch a Supreme Court icon.
Learn More: Ben's Guide
14. Branches Mobile
Make project presentations more fun by challenging students to share what they've learned about the separation of powers and who makes up each government branch through a creative display. Whether it is a digital activity, craft, or decorative anchor chart, the innovative presentations will make this recall activity more engaging for everyone!
Learn More: Pinterest
15. Bills to Laws Game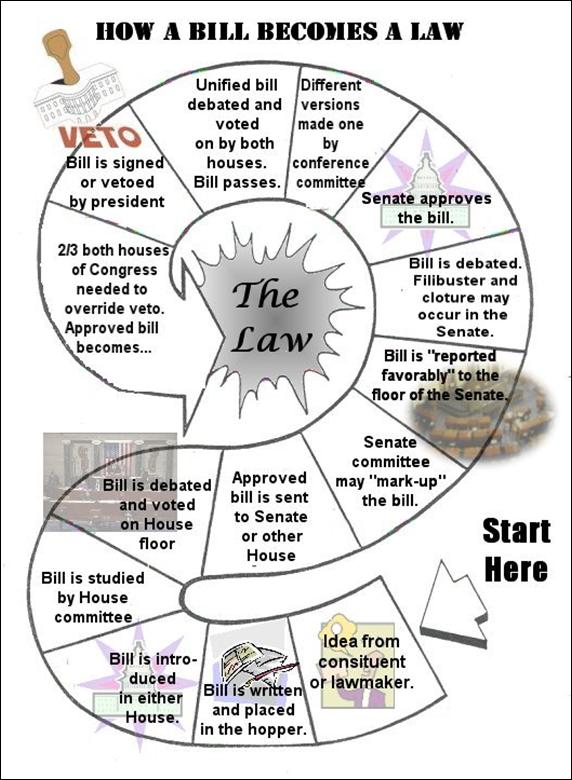 Place students' creativity skills in the spotlight in this challenging, critical-thinking activity where children make a board game to show how a bill becomes a law. Brainstorm important terminology to include, and then have children make the game board and create cards that make the players move backward or forward through the governmental powers.
Learn More: Cyber Learning World
16. Fortune Teller Review
Remember those fortune tellers you would make in your elementary free time? Harness students' enthusiasm for this fun craft activity and use them to review branches of the government! You can brainstorm with students about questions to include, then gather real-time student data as they work in pairs to answer!
Learn More: Ashleigh's Education Journey
17. Boom Cards
For whole group review, try this Boom Card set that provides a quick recap of each government branch and follows up with central questions to review their powers and crucial roles in governance. This pre-made digital activity is great to leave for substitutes or when you need a low-prep lesson!
Learn More: Hometown Happy Teacher
18. U.S. Government Game
Learning the complex checks and balances system of the United States government is a large undertaking for elementary students. Break up the deeper conversations a bit with a break to play some games! This branch of government game will make the topic accessible and engaging even to more reluctant learners.
Learn More: Sheppard Software
19. Coloring Pages
Do you ever need something "mindless" for students to do for a brain break, but still want to make it somewhat relevant to your topic of study? These coloring pages are perfect for that! This engaging resource includes vocabulary terms in cute fonts alongside the buildings housing each government branch.
Learn More: Classroom Doodles