Making an insect aquarium is a fantastic activity to learn about different insect bodies and what they need to live. Make this more educational by reading a book about insects before. After building the insect aquarium, allow kids to release insects back into the wild.
Learn more: Maximilian Weinzierl
Singing insect songs is a great way to introduce children to insect bodies. Sing a silly song about creepy crawly spider legs or the big black spider that scared away Miss Muffet. I love this channel because there are a ton of great insect songs to learn and sing.
Learn more: The Kiboomers - Kids Music Channel
13. Play the Cootie Game!
Cootie is an award-winning educational game that is so much fun! The object of this game is to be the one to create your bug first! Because of the different pieces, you will want to walk your child step by step through the rules.
Grow your child's motor skills by playing the Tic Tac Tongue game! This came is such a cool idea and takes the concept of a classic game to a whole new level.
Snug as a Bug in a Rug should be an award-winning educational game! This cooperation game is perfect for 2-4 players.
Rainy Day Bug Themed Art and Crafts
This paper plate ladybug is a fun activity for little ones learning about bugs. You need construction paper, paper plates, and some non-toxic tempera paint (or poster paint). Make sure you use washable paint! Since insect bodies can sometimes be hard to cut out, help your little one with the scissors. Pair this activity with a tasty treat!
Learn more: Non Toy Gifts
Nothing says spooky like a black spider headband with creepy spider legs. You will want to assist your child step by step with this activity. Also, you will need more than one piece of paper for your black spider crown. It would help if you had glue, black, orange, and purple construction paper (or whatever color you like!). Cut more strips of black paper and glue them to the headband as the spider legs. Pair this activity with some tasty spider cookies!
Learn more: Fantastic Fun and Learning
3. Bug Fossils with Playdoh!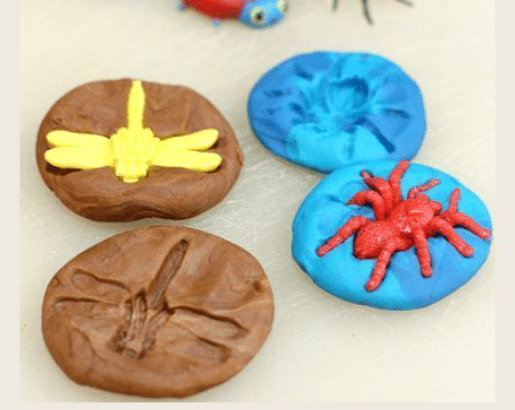 Learn all about fossils with playdoh and plastic bugs. Just like it looks, have your children or students make round patties of varied color playdoh and then press their plastic bugs into it. Then, you can either let it dry like a genuine fossil or put it away to use again.
Learn more: No Time for Flashcards
4. Clothes Pin Caterpillars
Among the insect-themed arts and crafts, this clothespin caterpillar craft is a great activity for growing motor skills while having fun! It would help if you had some clothespins, glue, googly eyes, and little poof balls to create your cute caterpillar. Use a paper label to write your child's name and stick to their bug.
Learn more: Schooltime Snippets
5. Dragonflies with Popsicle Sticks
While you may not like these creatures flying at your head in the summer, they sure are pretty and fun to look at. Just grab some popsicles, eat them, and save the sticks. Then, get some washable paint (non-toxic tempera paint) and googly eyes. Lastly, assemble as in the pictures.
Learn more: Crafty Morning