Invisible to the human eye, macromolecules are essential to all forms of life. These interactive activities are sure to have students excitably engaging with their biology and chemistry lessons. This list has everything you need to meet your yearly student objectives; from easy-to-follow videos to at-home lab experiments and student handouts! You'll even find a tasty snack or two! Investigate the major types of macromolecules, macromolecule bonds, and how our body uses them every day!
1. Molecules of Life
Start your lesson off with this exploratory video! Mr. Andersen walks students through the major macromolecules and how they're made. Learn all about the organic molecules in each structure. He also covers how a pair of molecules form covalent bonds to create the building blocks of life.
Learn More: Bozeman Science
2. Biomolecules Introduction
If Mr. Andersen's video is a little too difficult for your students, use this video instead! The colorful macromolecule characters are great for young kids! It covers the important vocabulary needed to understand macromolecules. Follow along as it explains the respective macromolecules in the human body.
Learn More: Amoeba Sisters
3. Amino Acid Game
Get your kids involved in their own learning! This interactive game is great for learning about one important type of macromolecule: amino acids! Watch as your students build their own amino acids. Other pre-made digital activities are great for older students.
Learn More: Wiley
4. Building Macromolecule Models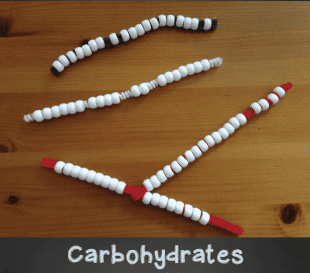 Are your students visual learners? Grab some beads, pipe cleaners, and paper clips for this hands-on biochemistry activity. Follow the instructions provided and help your kids build portable models of macromolecules that they can attach to their bags and books!
Learn More: Science with Mrs. Lau
5. Candy Atoms
Looking for a tasty way to learn about macromolecules? This activity is perfect for you! Use any candy to represent atoms: marshmallows, candy dots, and chocolate kisses all work. Then, connect the "atoms" with toothpicks to build bigger and bigger molecules! Use two toothpicks to depict stronger bonds.
Learn More: Playdough to Plato
6. Digital Macromolecules Table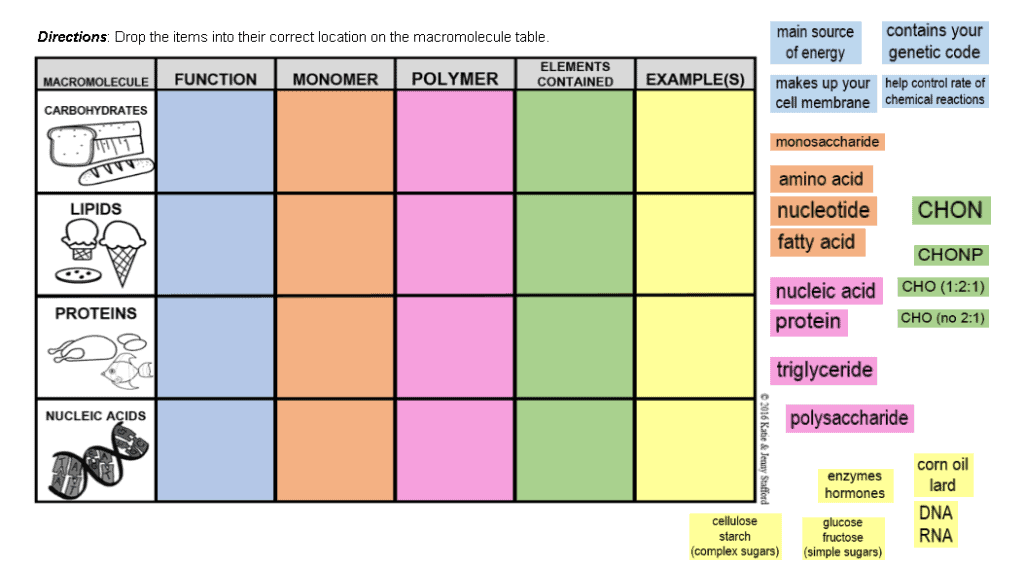 This digital sorting activity is great for in-person and digital classrooms! Students simply click and drag the terms into the correct box. The website checks the answers for real-time student data that you can use to plan your next lessons.
Learn More: Closer Look at Science
7. Protein Folding Video
Proteins are an important part of our bodies. This colorful video guides students through all the different ways in which proteins create structures in our bodies. It covers the atoms that are building blocks for proteins and how their shape impacts their function.
Learn More: Amoeba Sisters
8. 3D Protein Models
Let your students practice their protein folds with these flexible toobers. Fold and twist each toober into the correct shape. Use thumbtacks to mark important molecules and bonds. You can also use it to construct DNA models! Have students compete to make the longest model!
Learn More: 3D Molecular Designs
9. Comparison Table
If you prefer paper handouts, this comparison table is perfect for a macromolecule lesson. Simply cut out the squares and then have your students correctly place them onto the table. They'll have a macromolecule graphic to refer to all year round!
Learn More: Pinterest
10. Liver Enzyme Lab
The best part of science class is the experiments! Help your students visualize how protein enzymes work in real time. You'll need some liver, hydrogen peroxide, and some test tubes. Simply follow the instructions and be sure to wear your safety equipment while conducting your experiment.
Learn More: Science Lessons that Rock
11. Graphic Organizer
Keep your students stay organized with this simple graphic organizer. Make a list of key terms and glue it to one side of the folder. Then, use a file folder to keep their charts, tests, and visual aids all in one place.
Learn More: Pinterest
12. You Are What You Eat Worksheets
Looking for a range of worksheets on macromolecules? We've got you covered. Slide shows, lesson plans, worksheets, and quizzes. This one-stop shop has got everything you'll need to craft your lessons for middle and high school biology students.
Learn More: iTeachly
13. DNA Gene Bracelet
Turn your science lesson into an art activity! Use beads of different colors to represent various human traits. Have your students create their own DNA chains to represent themselves or their friends!
Learn More: Pragmatic Mom
14. Atomic Models
An oldie, but a goodie. Atomic models are a great visual for students of all ages! Connect the carbon, hydrogen, nitrogen, and oxygen atoms to form amino acids. Have students link them together and see dehydration synthesis at work! Create different models and use them as review questions.
Learn More: Amazon
15. Doodle Notes
Do you have a doodler in your class? These worksheets are for you! Doodle notes make note-taking more memorable and engaging for students because they engage both sides of the brain! As you cover the material, your students can color and doodle along.
Learn More: Science of Curiosity
16. At Home DNA Extraction
Why pay for expensive DNA test kits when you can make one at home? Simply gargle some salt water and take a swab from your cheek. Mix dish soap, food coloring, and isopropyl alcohol and dip your swab into the solution and watch what happens!
Learn More: Autodesk Instructables
17. Balloon Models
Want to liven up your classroom? Get groups of students to construct massive models of macromolecules. This hands-on activity is a great classroom activity to break up the monotony of lectures.
Learn More: Pinterest
18. Macromolecule Lesson Bundle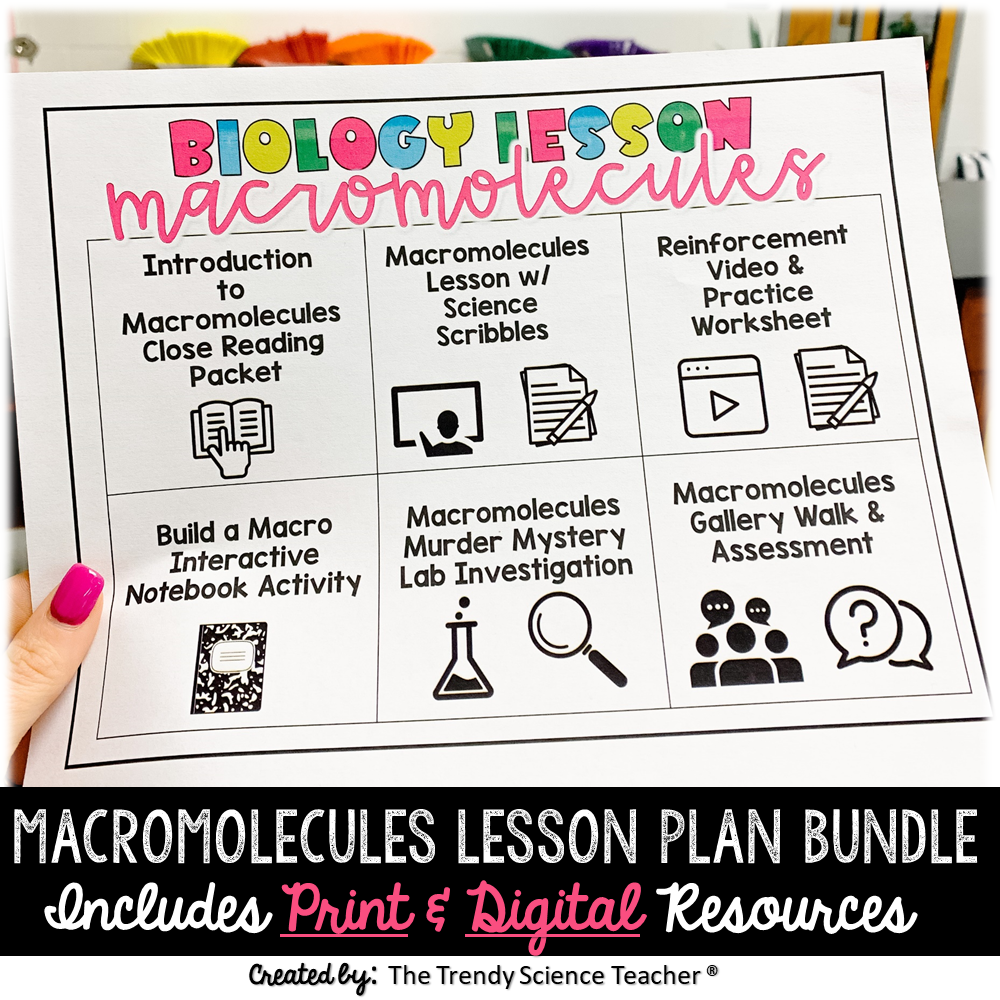 If you're starting your lesson kit from scratch, this resource is a must-have! The material covers everything from carbohydrate compositions to nucleic acid structures. You'll find both printable and digital resources so you can customize your kit to suit your needs!
Learn More: The Trendy Science Teacher
19. Monomers and Polymers Worksheet
The best way to see if you're hitting student objectives in your lesson is with tests and worksheets. This printable explains the basics of macromolecules and then tests your students' comprehension. Use it as an individual or a partner share activity.
Learn More: Chessmuseum
20. Macromolecule Vocabulary
Make learning active, literally! Grab a beach ball and label each color with a vocabulary term from your macromolecule lesson. Toss the ball to your students and have them define whatever term their left thumb lands on. Add multiple terms per color if needed.
Learn More: USBiology Teaching
21. Biochemistry Task Cards
Task cards are a great replacement for boring flash cards. Each card gives students an activity to promote active learning. Use the cards to create fun accessible check-in questions to see if your students are following along.
Learn More: Science with Mrs. Lau
22. Test for Lipids
Lipids or fats are essential for cell structures. To test for lipids, create a Sudan III stain. Next, puree foods into liquids to allow a reaction to occur. Mix in the stain, gently swirl the solution and watch. Fats will float to the top to create an oily red layer.
Learn More: ThoughtCo.
23. What Are Amino Acids?
Let the video do the work for you! This five-minute video takes your students on a nutritional journey to understanding amino acids and proteins. Learn the difference between essential and non-essential amino acids, and the best foods for each!
Learn More: Whats Up Dude
24. Testing for Sugars
We all love sugar, but know that it's not great for our health. Help students understand what foods have sugars in the form of carbohydrates with this experiment. Follow the instructions to create Benedict's solution. Add it to your samples and see if it turns blue!
Learn More: Home Biology
25. Atom Introduction
Take it back to basics. Help your students understand the structure of the atoms that make up macromolecules. Choose to draw, color, or create tasty treats representing your atoms. Link different atoms (cookies) together to make molecules. Use a whole tray for a macromolecule!
Learn More: Adventures in Mommydom
26. Biuret Solution for Proteins
Break out the blender for this protein test. Liquify your food samples and add them to test tubes. Create a Biuret solution by following the instructions. Add a few drops to the test tube. Blue means no proteins. Purple or Pink means that you've got proteins!
Learn More: ThoughCo.
27. Murder Mystery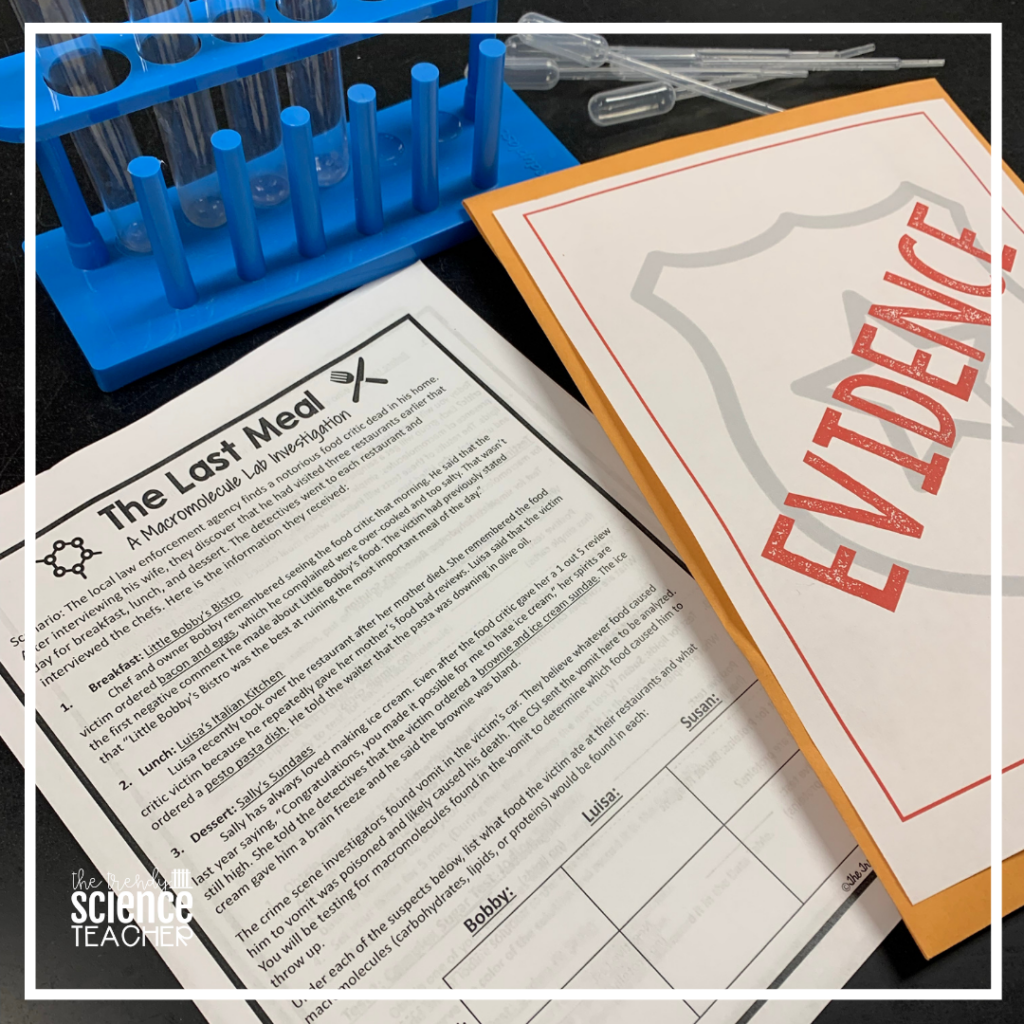 Put your kids on the case! Let them experience life as a forensic scientist with this fun activity. Provide an evidence sample and have them test for lipids, proteins, and carbohydrates to find the killer.
Learn More: The Trendy Science Teacher
28. Structural Models
Help your students visualize their macromolecules with these simple chemical structures. Have students create different macromolecules by bonding the structures together. Explore dehydration reactions by taking the structures apart. Laminate for easy reuse.
Learn More: Biology by the Math Mom