Who doesn't love a good burger? These fun activities combine learning with burgers to create the perfect at-home or at-school projects. Kids will love each of these activities that focus on creative play, imagination, shape identification, and sequence building; all following a unique burger theme. Although these activities are geared towards preschool and toddler-aged kids, they can be adapted for any age. Here are 10 food-tastic burger activities!
1. Paper Plate Burger Craft
Kids will make their own burgers using a paper plate, brown paint, construction paper, glue, and scissors. Kids can be creative and add different kinds of toppings to make their burgers more appealing. This is a fun activity to do around Memorial day or the fourth of July when cookouts are popular.
Learn More: Crafts By Amanda
2. Felt Hamburger
Felt is a great way to let kids create and explore without making a big mess. For this activity, kids will cut different colored felt pieces into a hamburger patty, vegetable, cheese, and bun shapes. Then, kids can play with the felt pieces to make their own hamburgers.
Learn More: Little Family Fun
3. Playdough Fun
Kids love playdough, especially when they can pretend to serve their favorite meals to family and friends. For this activity, kids will use play dough to make a burger and fries. What's even more fun about this activity is that the kids make their own playdough using a simple recipe!
Learn More: Plate In 28
4. Hamburger Art
This is another fun, crafty activity where children will make their own burgers using different craft supplies. They can use anything from paint to fabric, to crayons and markers to make their own 3D hamburger. The more mixed media that are used, the better!
Learn More: Things To Share And Remember
5. Burger Joint
This website offers free printables for kids to create their own burger joint. Kids can play pretend and decorate their room or another play area with the printables to simulate their very own burger joint. Kids will love pretending to take orders and serve their burgers.
Learn More: A Storybook Day
6. Burger Sight Words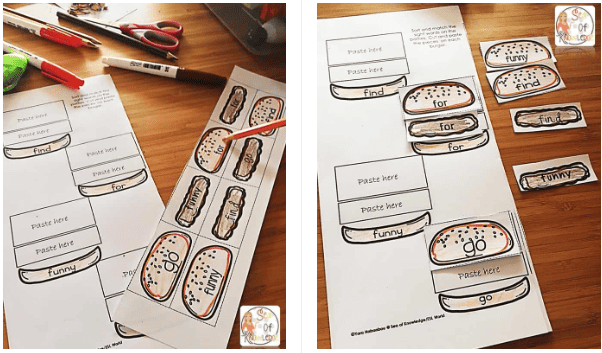 This activity helps kids learn sight words while making their own pretend burgers. Kids will use the burger printouts to match sight words and put the burgers together with buns and meat. This is a great early-education literacy activity.
Learn More: Sea Of Knowledge
7. Tootsie Roll Burgers
This is a yummy craft that makes "hamburgers" out of Tootsie rolls! Kids will heat up the tootsie rolls to make them malleable. Then they will sculpt the tootsie rolls into burgers.
Learn More: Fave Crafts
8. Build a Hamburger Game
This game is the perfect way to help your child learn and practice their shapes. Kids will match the shapes to build a hamburger. In this activity, kids will practice using triangles, circles, and squares to build the perfect hamburger and win the game.
Learn More: The Mama Workshop
9. Burger Blocks
This is a sequencing game that helps kids learn how to follow directions and create patterns by stacking shapes. Kids have to mimic the sequence on the cards using the burger blocks. This is a great tool to use in preschool and with toddlers.
Learn More: Lakeshore Learning
10. Popsicle Stick Hamburger
This is a fun back-to-school activity that makes hamburgers out of popsicle sticks. Kids will need fuzzy pipe cleaners, popsicle sticks, wiggly eyes, and paint to make their burgers. Kids will love showing off their crafts to their parents.
Learn More: Craft Project Ideas