Who doesn't love butterflies?  Making butterfly crafts with your child can teach early lessons in science with the life cycle of the butterfly, create fun dress-up moments for imaginary play or simply practice fine motor skills by creating colorful crafts with your hands.  We don't like to do the same thing everyone is doing, so we created a list of crafts that are a little different.  We hope it helps you enjoy trying new things with your little one.
Wearable Crafts you make with your Preschooler
Extend the lessons beyond the life cycle of butterflies, colors, and shapes.  Try these fun wearable crafts for you and your child to explore butterflies.  Afterward, engage in fantasy play to ignite the imagination.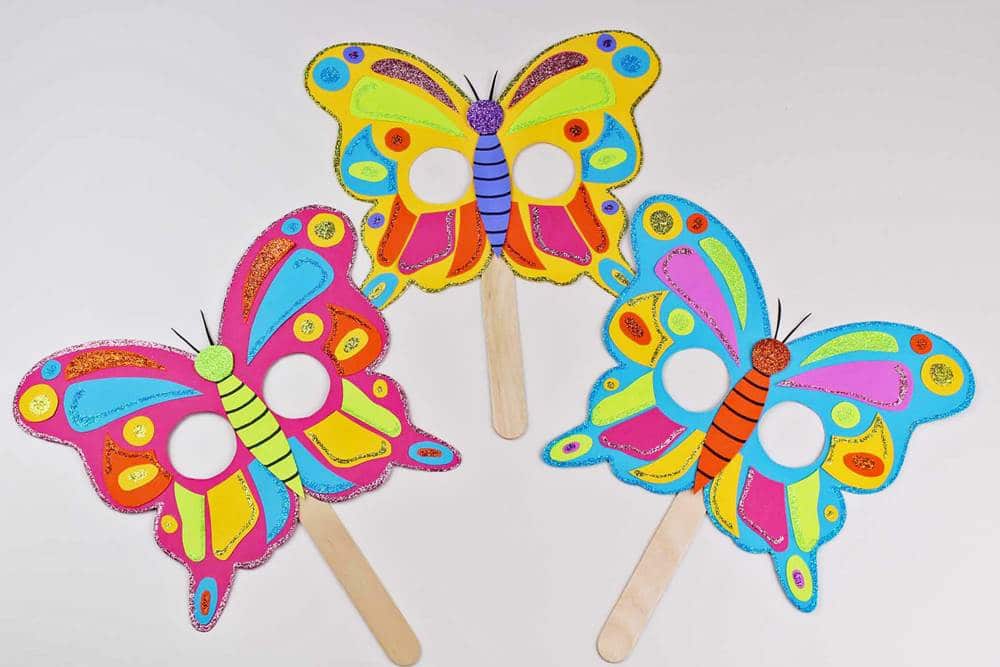 Create these fun masquerade butterfly masks using foam sheets.  Cut out the butterfly shape and two holes for the eyes.  Glue on various pieces to decorate your masks like glitter, sequins, shapes from other pieces of foam, or anything else you can think of.  Let it dry and then poke a small hole on either side of the butterfly and add an elastic band and your mask is ready to wear!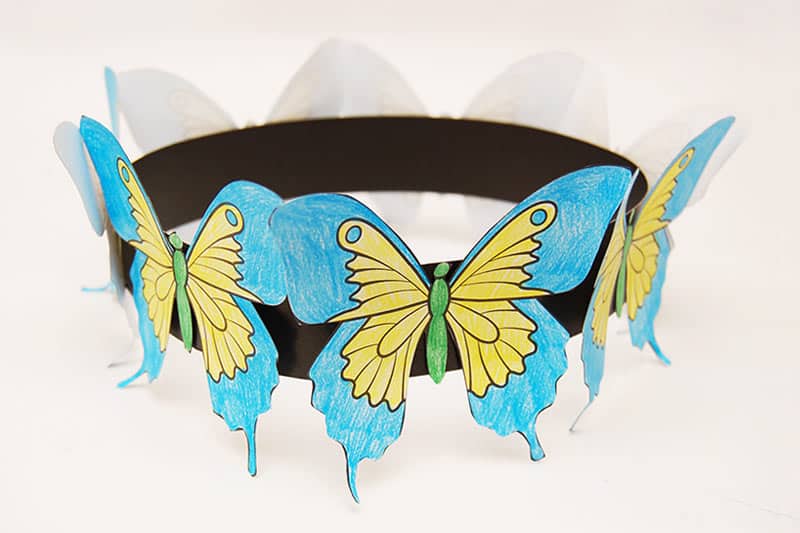 Use cardstock or heavy construction paper to print butterfly shapes. The heavier paper will help your butterflies stand up. Color the butterflies using crayons or colored pencils, then cut out the shapes. Use another piece of cardstock to cut out a band. Glue the colored butterflies to the band. Once it is dry, glue the ends of the band together. Use a paper clip to hold it together while it dries.
Watch the video for the step-by-step instructions to construct these easy butterfly wings with your preschooler.  Using simple paper, paints, cardboard, and ribbons, these wings actually stand up!  Instructions provided by this sweet girl are super fun to follow too!
Learn more: Tiffany Taylor G
4. Butterfly Life Cycle Necklace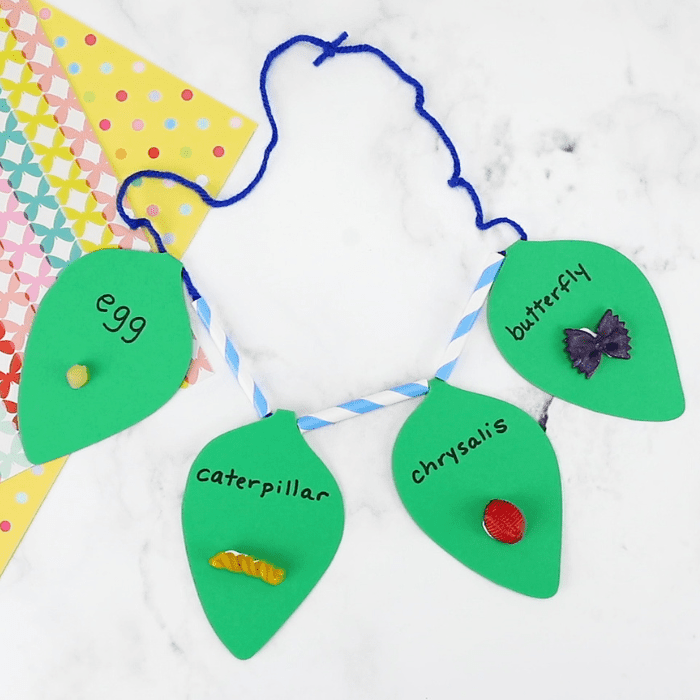 This craft project teaches the life cycle of a caterpillar to a butterfly, using simple materials such as construction paper and pasta. Label each stage on a separate leaf and talk to your child about what each means while gluing the pasta shapes on the leaves. Use a paper straw and cut it into 3 pieces. Use the straw pieces to separate the leaves on your necklace.
5. Butterfly Necklace - Amazon Craft Kit
Design and decorate original necklaces.  You can even layer the butterfly shapes to create a 3D effect. The Kit includes butterfly shapes, dangling charms, 6 necklaces, rhinestones, glue, and more. There are six necklaces in one kit, making it easy to craft and share with others.
Learn More: Amazon
6. Make Matching Aprons or Tote Bags with Fabric Paints and Stencils
Pick up inexpensive aprons or tote bags at your local craft store.  Use butterfly and fern stencils to create color-matching butterfly aprons or tote bags with your little one. It will be a special activity that you'll continue to share every time you wear them.
Learn More: Tulip Color
Make these cute butterflies from fabric scraps and use them for cute hair ties for your little one! The grown-up will likely do the sewing, and your preschooler can fold them to create the shapes.  She will love wearing something you made together. They also make great gifts or gift toppers for others.
8. Butterfly Finger Puppets
Create these fun and playful finger puppets using glue, glitter, and sequins as in the video above.  The instructions are easy to follow and will keep your little one entertained well beyond the craft creation.  These puppets can generate hours of imaginative playtime through story time and play-acting.
Little ones love face painting!  Have fun with face paints and create this pretty butterfly by following the simple steps in this video, then let them paint your face for matching butterfly beauties.
Get creative with these different paper crafts to make with your preschool-aged student. Use them for decoration, gift wrap toppers, or frame them for display.  There are so many uses for these pretty little gems and it's a great way to learn about colors and shapes too!
10. Old scrapbook materials/Wrapping Paper/Newspaper/Recycled Homework pages
Use old scrapbooking papers, wrapping paper, newspapers, or even recycle those old homework pages lying in the bottom of the backpack. Use a paper cutter or scissors to make your pages of equal size. Layer 3 or 4 pieces of the paper on top of one another. Fold the paper in half. On the unfolded edge, cut the shape of the butterfly wings.
11. Coffee Filter Butterflies
No need to run to the store for supplies, make these simple and fun tie-dye butterflies using materials you can just pull out of the cupboard; a couple of coffee filters, markers, and water.  Little hands will love this easy craft.
12. Accordion Butterflies
Use colored or patterned paper and fold it in half.  Use scissors to cut along the unfolded side to create the desired shape for your butterfly wings.  On each half of the paper in opposite directions, folding back and forth, accordion style.  Use craft or floral wire to secure the middle of the butterfly.  Shape the wire into antennae.  Use your pretty butterflies to decorate wrapped gifts.
13. Beaded Paper Butterflies
Use paper with beautiful patterns to create these elegant beaded butterflies.  Little ones will love gluing the sequins, beads, and buttons to create their one-of-a-kind masterpieces. To create your own, follow the steps detailed here: thecraftpatchblog.com
14. Tissue Paper Suncatcher
This fun project is easy for little hands and is a wonderful way to celebrate the colors of spring!  Using just contact paper and colorful tissue paper, this fun project is easy for little hands.
Learn More: The Suburban Mom
Using a unique shaving cream technique, you can make these marbled butterfly crafts with your preschooler in under an hour using paper plates, wooden sticks, and paints.
Learn More: Artful Parent
Make these sweet butterflies for spring with paper doilies, paint and wooden clothespins.  Use them to bring springtime indoors or brighten up an otherwise gray and rainy day.  They are also great for recreating pretend role-play stories.
Learn More: A Little Pinch Of Perfect
17. Aluminum Foil Butterflies
Make these beautiful butterflies with your preschool-aged child.  They are so bright and shiny and will look great on the fridge.  Just attach an easy peel and stick a magnet to the back!
Learn More: I Heart Arts N Crafts
18. Toilet Paper Roll Butterflies
Recycle those toilet paper rolls and use a little bit of paint and glue to create these adorable butterflies with your preschooler.  Embellish with glitter or sequins to make them really glamorous!
Learn More: Pinterest
Print out butterfly shapes or draw them free hand on a piece of paper.  Gather any sensory materials you have lying around.  These may include beans, colored rice, pom poms, Old buttons, foam, or fabric scraps.  Ask the preschooler to decorate their butterfly with the materials on the paper by gluing them within the outline.  Use fuzzy pipe cleaners as the body or to outline the butterfly.
19. Butterfly Pop-Up Card
3D pop-up cards can be very intricate and detailed.  This 3D butterfly craft, however, is simple and easy for little hands to create.  Make a card for someone special or use this one-of-a-kind card to say "happy birthday" for that next party.  No matter how you choose to use it, this video makes it easy to follow along for you and yours.
Let nature be your canvas and create art in the snow.  Powered tempura paints are non-toxic, washable, and easy to mix up with water.  Just mix up various colors and use paint brushes to paint the snow with pretty butterflies to bring spring early to your backyard!
This craft has it all: a hands-on activity, a lesson about colors, and music for learning! Teach colors through song while making these sweet butterflies that you can attach to trees and watch them flutter in the wind.
Learn More: Lets Play Kids Music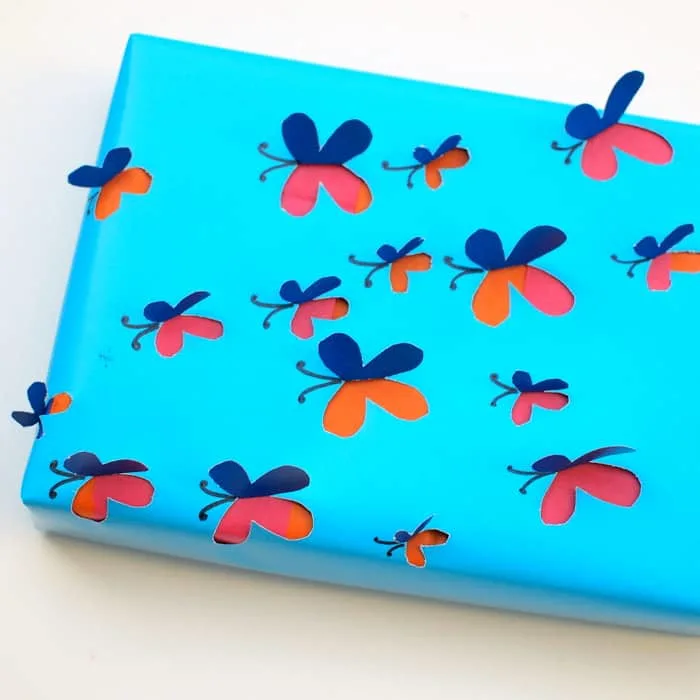 Use butcher paper and markers or washable paints.  Use a stencil template to draw butterfly outlines on the paper.  Ask your preschooler to color in the outlines and use them as gift wrap for the next birthday party you attend. Go crazy by embellishing with glitter or sequins or make a 3D butterfly and attach it to the gift wrap or use it as a card.
23. Flying Butterfly Craft
Ideal for crafting at home with your little one, this butterfly craft teaches colors and shapes while creating something that actually flies!  Great for hours of playtime fun.  Watch this video and follow along to make your own flying butterflies at home.
Use the recipes below to create yummy butterflies together!  Recipes are great for early math learning while strengthening hand-eye coordination and learning valuable lessons such as patience and flexibility.  It can also be the foundation for healthy eating habits that will serve them for the rest of their lives.
24. Butterfly Pancakes Recipe
This recipe from Taste of Home is a wonderful way to learn about fresh fruits.  Instead of using artificial sweeteners and syrups, all of the yummy goodness comes from fresh fruit.  This project allows you and your little one to actually play with your food!
Learn More: Taste Of Home
25. Butterfly Sugar Cookies Recipe
This sugar cookie recipe from Land O'Lakes is a wonderful way to introduce your preschooler to baking.  It is a simple process, rolling dough into balls, flattening, and using a heart-shaped cookie cutter to create simple shapes.  Add some sprinkles for extra fun and flavor!
Learn More: Lando Lakes
26. Butterfly Candied Pretzels Recipe
This colorful and yummy recipe is fun to make for birthday parties and Valentine's treats for the whole class.  Your little one will enjoy dipping the pretzels in melted chocolate and decorating them with sprinkles.  As much fun to each as they are to make!
Learn More: Butter With A Side Of Bread
27. Celery Pretzel Butterfly Recipe
Celery and Peanut Butter are great snacks that is easy for little hands to make and healthy too!  Add some pretzels and raisins to create your butterflies and your preschooler will enjoy eating foods that are good for them.
Learn More: Penny's Food Blog
28. Butterfly Strawberry Shortcakes Recipe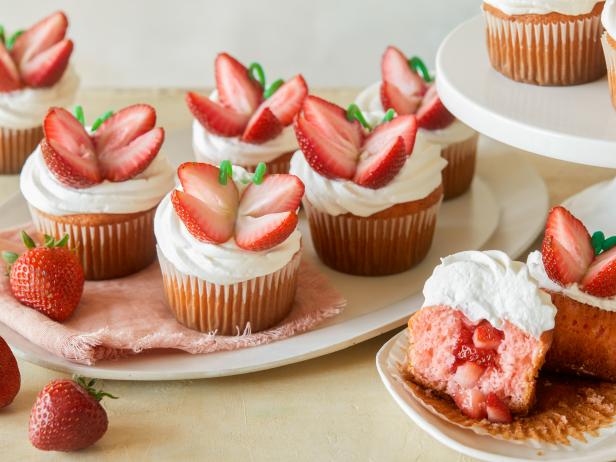 These whimsical cupcakes may look a bit complicated, but your preschooler will delight in the process of stuffing the cupcakes with strawberries like a hidden treasure inside.  Then top it off with whip cream and butterfly strawberries for a simple dessert that will wow at parties!
Learn More: Food Network
Make some butterflies that are for more than decoration, but have a practical application too!  You can use them for labels, gifts, and learning.
Print out simple butterfly shapes and ask your preschooler to color them in.  Use a hole puncher to punch two holes in the middle of the butterfly body.  Insert Lollipops.  This quick and easy craft is great for creating a class set of Valentines.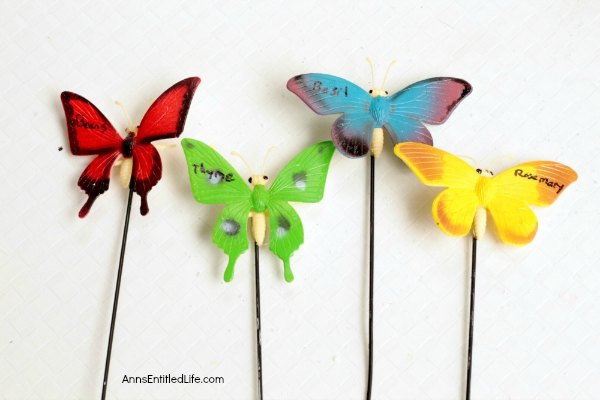 Print butterfly shapes and ask your preschooler to color them using colored pencils, markers, or crayons. Use a permanent marker to write the name of the herb on the butterfly label.  Cut out the shape and glue it to a wooden craft stick.  After it is dried, use your lovely labels in your potted herb plants.
Use old file folders to cut out bookmarks.  Use a butterfly stencil to outline the shape.  Ask your little one to color in and decorate with glitter or sequins.  Use glue and twine to outline the butterfly.  You could also use cardstock and print butterfly stencils directly onto the paper and cut out the bookmark after it is colored and decorated.
Follow the video and make your own flyable butterfly kites!  Use these to talk to your preschooler about wind and weather as well as butterflies.
Learn out the life cycle of the butterfly while making this easy mobile.
Learn More: Teach Beside Me
Create a butterfly windsock using toilet paper rolls and streamers.  Use it to teach your little one about wind direction and speed. Follow the detailed steps in the video to complete this educational craft.
Plant a garden that attracts real butterflies to your own backyard during the springtime butterfly season.
Learn More: Kids Gardening