Kick off the holidays with candy cane-themed activities and crafts that are sure to make the holiday season bright! From candy cane game ideas to cute crafts, there's something on this list for everyone. Kids will have no idea that the cheery, candy cane-themed activities are helping them strengthen their fine motor, pattern-building, and STEAM skills. Hours of fun and festive playtime will have them smiling and laughing all season long!
1. Candy Cane Game
Transform the 4-of-a-kind card game into a holiday extravaganza! Place a candy cane for each player in a circle. Then, take turns flipping over and collecting cards. First one to get 4-of-a-kind sneakily grabs a candy cane. Everyone else has to then scramble to grab one!
Learn More: Good Life of a Housewife
2. Candy Cane Pick-Up Game
Add to the holiday excitement with a fun game of pick-up sticks! Kids have one minute to pick up and move the sticks without using their hands. An awesome way to spend family time together during the holidays!
Learn More: A Girl and a Glue Gun
3. Candy Cane Fishing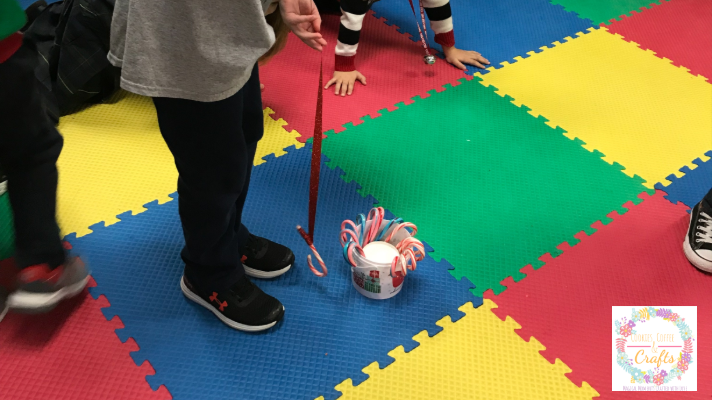 You don't need ice to go fishing this winter! The challenge of hooking the candy canes will test even the best hand-eye coordination skills. This game is budget friendly and great for kids of all ages.
Learn More: Simply Crafty Life
4. Candy Cane Hunt
There's no better way to spend a cold Winter's day than by engaging in a scavenger hunt! Hide candy canes all around the house or classroom. You can either let the kids find them on their own or make it a quest with riddles and puzzles to solve along the way.
Learn More: Messy Motherhood
5. Candy Cane Patterns
Work on pattern-building skills with a dot-to-dot painting session. You can choose to give your students AB, AAB, or AABB patterns to follow. Alternatively, let them have creative fun by designing their own patterns!
Learn More: This Reading Mama
6. Candy Cane Coloring Page
A fun coloring page is a perfect way to kick off candy cane day! This simple printable is great for little ones who are learning to color inside the lines. As they color, they can read all about the history of candy canes and their hidden meanings.
Learn More: Children's Ministry Deals
7. I Spy…
Can you find all the colors of rainbow candy canes? I Spy games are great math activities for preschoolers. They can practice counting as high as they can go and work on recognizing colors as well.
Learn More: And Next Comes
8. Candy Cane Sort
Practice comparing and contrasting with this adorable candy cane printable. If you're working on scissors skills, have your little ones cut along the dotted lines before sorting the pieces into the correct columns.
Learn More: Twisty Noodle
9. Legend of the Candy Cane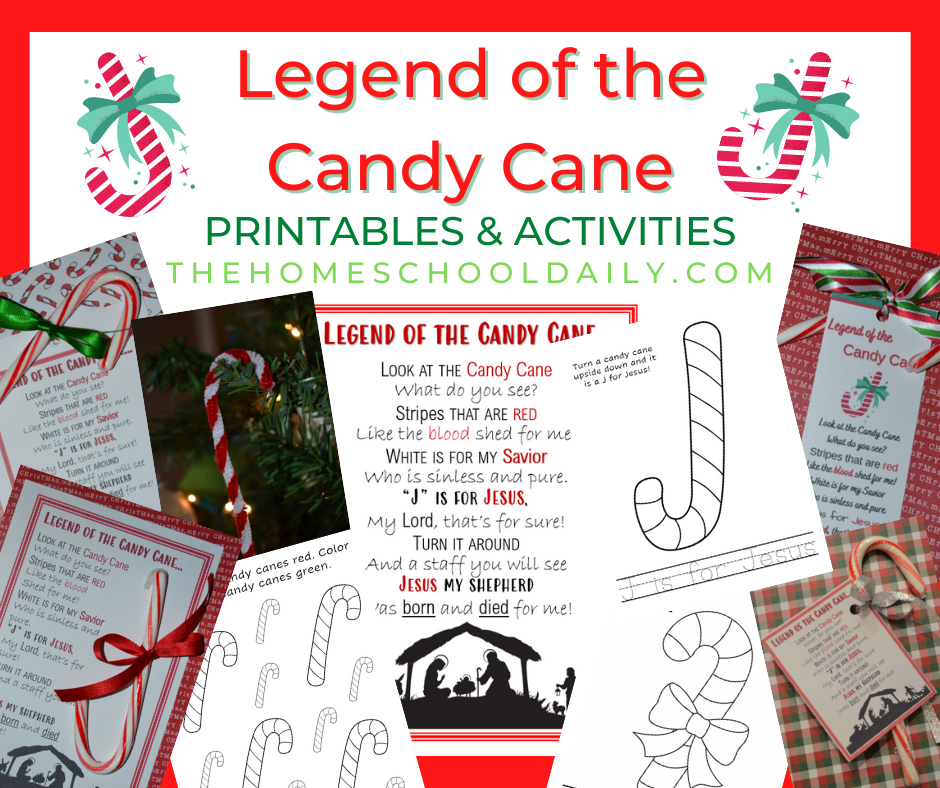 Learn all about the history of candy canes during circle time. As you read the legend, have your kids reflect on what the holiday season means to them. Afterward, tie some candy to print-outs of the legend to give as stocking stuffers.
Learn More: The Homeschool Daily
10. Candy Stripe Counting
Practice counting skills with your little ones with this holiday-themed math activity. Wrap pieces of white pipe cleaner around other candy cane-shaped ones. Kids can count the stripes and then place them in the correct order.
Learn More: Preschool Inspirations
11. Candy Cane Sensory Play
Shaving cream sensory play is a quick and inexpensive activity for kids. For this holiday-themed goo, mix red tempura paint and peppermint essential oil with shaving cream. Swirl it together slowly to make candy cane stripes!
Learn More: Learn Play Imagine
12. Candy Cane Edible Slime
This slime smells and tastes amazing! The super easy recipe can be made with marshmallows or marshmallow fluff. Once you've made your batches of slime, get your kids to twist their own canes or make up new holiday shapes!
Learn More: The Soccer Mom Blog
13. Fizzing Candy Canes
Get bubbly with this rad STEM activity! It's the perfect introduction to science experiments for preschoolers. Coat candy canes in baking soda. Then, ask your kids to guess what will happen when you drop them into vinegar.
Learn More: Fun with Mama
14. Dissolving Candy Cane Experiments
Which liquid dissolves candy canes the fastest? Find out with this cool experiment. Kids can practice the scientific method by making hypotheses, detailing their observations, and recording the results.
Learn More: Simple Living Creative Learning
15. Magic Bending Candy Canes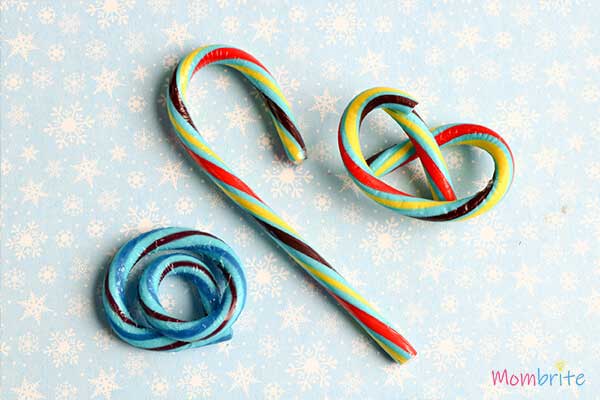 This magical experiment is geared toward older elementary and middle school students. Gently bake the candy at a low temperature for a few minutes- just until they become malleable. Then, learners can bend them into all kinds of fun shapes. Be sure to let them cool a little before handling them!
Learn More: Mombrite
16. Candy Cane Coding
Turn complex coding into a fun and easy activity! Grab pipe cleaners and different color beads. Then, create color patterns for your kids to follow to learn the basic principles of coding algorithms.
Learn More: Learning Resources
17. Melting Candy Cane Race
You'll need an assortment of holiday candy for this STEM activity. Fill jars with hot water. Before you drop in the candies, have your kids make hypotheses about which will melt the fastest. Then, they can observe and discuss what happens!
Learn More: Lemon Lime Adventures
18. Crystalized Candy Canes
Grow your own sparkly crystals this holiday season! Tie pipe cleaner candy canes to a craft stick and suspend it over a jar. Add a mixture of borax and water and watch the crystals grow.
Learn More: Little Bins for Little Hands
19. Dancing Candy Canes
Gather all those broken candy cane pieces for this bubbly experiment. Drop the pieces into a large bowl. Then, add water, baking soda, and vinegar. Watch the candy dance its way to the top and see the about chemical reactions!
Learn More: Preschool Play and Learn
20. Candy Cane Houses
STEAM activities aren't just for big kids! These educational activities are full of all kinds of candy cane fun. Little learners can build elf houses and other shapes on top of printable templates.
Learn More: Time for Toddlers
21. Candy Cane Bridges
Grab lots of candy canes for this awesome learning experience! Using only candy canes, build sturdy bridges for cars and animals to cross. For older students, increase the distance between the boxes to explore physics concepts like gravity and weight distribution
Learn More: Mombrite
22. Candy Cane Ornaments
Decorate the tree with a range of candy cane ornaments this year! From beaded candy cane decorations to colored pasta glued on sticks, there's an ornament for every skill level! As you work on these fun crafts, talk about candy cane history and where you'll hang the ornaments.
Learn More: Fountain Avenue Kitchen
23. Toddler Candy Cane Craft
Get your littlest ones excited about the holiday season. This simple candy cane craft exposes little ones to different textures and tools. After your kids paint their template with sponges, help them glue on stretched cotton balls stripes. An adorable addition to the holiday décor!
Learn More: No Time for Flashcards
24. Egg Carton Candy Canes
After you've finished baking all your cookies, upcycle the egg cartons into adorable candy canes! Cut out the egg cups and paint half of them red. Then, alternate colors and thread them onto a pipe cleaner.
Learn More: Meaningful Mama
25. Handprint Candy Canes
Embrace those sticky fingers with this fun candy cane craft! Cut out a large candy cane template. Then, get your little ones to paint the stripes with their hand or footprints!
Learn More: Little Family Fun