Whether you're looking for fun ways to repurpose pieces of cardboard or need cheap and simple materials for a project idea, you'll be surprised to see what engineering masterpieces can be made using recycled cardboard. From cardboard crafts and props for interactive learning to STEAM projects incorporating math skills and engineering, it's time to reimagine and create. Check out these 25 cardboard engineer projects using this perfect eco-friendly material, and build something amazing together!
1. Cardboard Boats
When I was young, my neighborhood had a cardboard boat regatta race each year. It was the highlight of my Summer, and each year my friends and I tried to make our boat stronger and faster! There are important engineering lessons to consider when designing and putting together cardboard that goes in the water. Waterproofing and weight distribution are key learning points for any age.
Learn More: Study.com
2. DIY Cardboard Puzzle
There are quite a few different puzzle designs you can try making with this simple household tool. Depending on the age of your kids, they can help cut and paint the puzzle before putting it together. This activity reinforces shapes and colors.
Learn More: Turtle Lion
3. Pizza Box Math
Here is a fun idea that improves kids' motor skills to make and math skills to play with! With a couple of cardboard pizza boxes, you can cut out slices with "pepperonis" for counting and draw a pizza pie with numbers for matching.
Learn More: Pinterest
4. Toilet Paper Roll Octopus
With so many cute animals to choose from, the hardest part of this cardboard tube craft is picking your favorite! This little guy can be made using; scissors, googly eyes, and paint, and it'll be ready for playtime in minutes!
Learn More: In The Playroom
5. Wiggly Worm Pencil Holder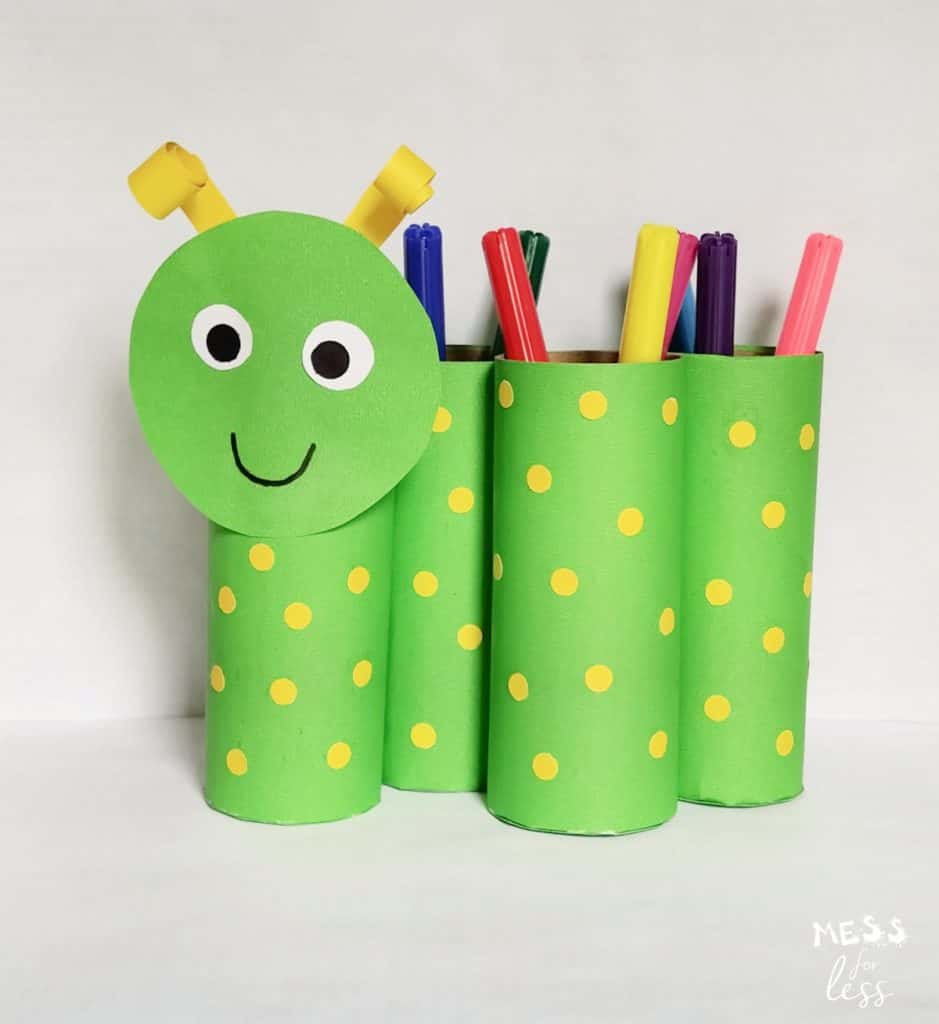 A cute repurposed craft makes the process of putting it together all the more fun! This worm is made with glue and as many toilet paper rolls as your writing utensils need. You can paint or cover the rolls with paint or construction paper. Decorate how you like and add a face for the character.
Learn More: Mess For Less
6. DIY Solar Oven
Want to have a fun and creative experience making s'mores with your kids? This DIY solar oven uses simple tools and materials, but the assembly has a few steps, so this project is best for older kids.
Learn More: Desert Chica
7. Shoebox Foosball Game
Making this game with a cardboard box is so simple your kids will be playing it in no time! Depending on what you have available, the rotating player sticks can be from hangers or other rod-shaped materials. Have your kids design their own players and use a ping-pong ball to get the game started!
Learn More: Frugal Fun For Boys
8. Cardboard Box Loom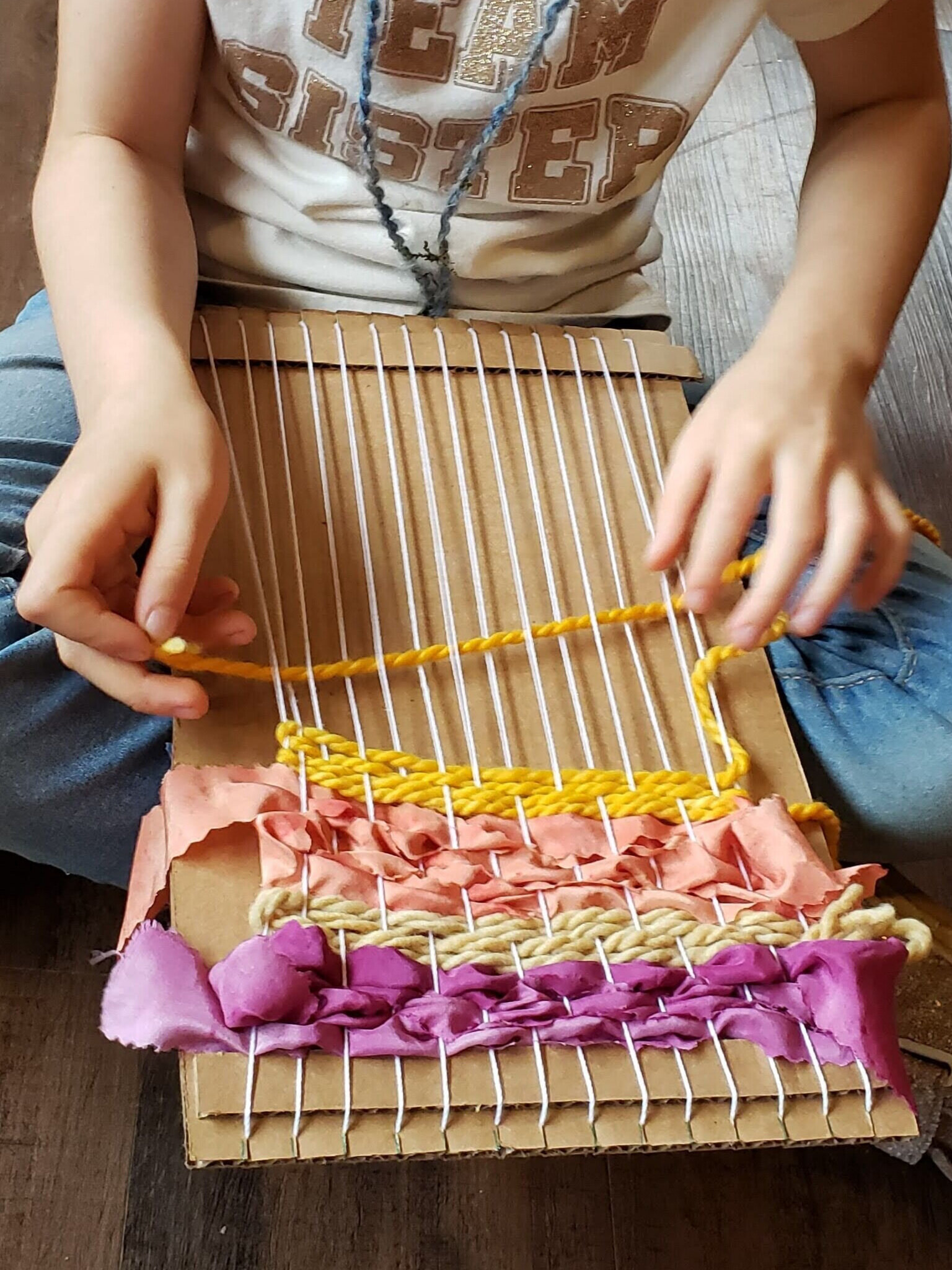 This craft has it all; making the loom takes patience and a few materials for construction and preparation. Your kids can use a needle, yarn, and ruler to set up the loom, then weave and create patterns as a beginner lesson on clothing design.
Learn More: Tinkerlab
9. Monster Jaws Interactive Craft
This project takes cardboard box engineering to the next level! You can find a template through the link that shows your little ones how to measure, cut, and piece together the cardboard strips to make a moveable monster mouth using cardboard and split pins!
Learn More: It's Always Autumn
10. DIY Cardboard Stamps
Using small pieces of cardboard, scissors, and glue, your little artists can design and create their own stamps for holiday cards or elevate craft time! The possibilities are unlimited and can lead to some very original cards and paintings.
Learn More: Artful Parent
11. DIY Cardboard Spectroscope
This brilliant science craft activity only requires the use of a few materials and can be used to educate your kids on how light reflects and reacts to different surfaces. You'll place a CD diagonally into the cardboard tube and tape it, then cut a slit to look through.
Learn More: Buggy And Buddy
12. Cardboard Egg Drop Challenge
A favorite cardboard engineering project to try is the egg drop challenge. Give your teams of kids cardboard tubes and other building materials they may need to make their vessels, and see what designs they can create!
Learn More: Buggy And Buddy
13. Awesome Cardboard Spinners
There are some fun and simple variations for these fidget toys. Cutting, decorating, and assembling the spinners is an easy STEAM activity to practice measuring, cutting, gluing, and understanding weight distribution and balance.
Learn More: Frugal Fun 4 Boys
14. Cardboard Butterfly Wings
Costumes and props are such a fun addition to any playtime or classroom environment. These DIY butterfly wings use recycled cardboard, paint, scissors, and a bit of string to bring your kids' imaginations to life!
Learn More: Pacific Playtents
15. Natural Flower Art
Using compostable materials for crafts is an eco-friendly way of teaching young learners to appreciate nature. Purchase a variety of dried beans in different shapes and colors and help your kids glue them onto cardboard flower petals before pinning them together for decorations or sweet gifts for family and friends.
Learn More: Woodlark Blog
16. Outdoor Scavenger Hunt
We love this creative idea that allows kids to collect and save natural specimens from around your school, home, or park. Check to see what flowers and plants are in your area, and make a list for players to find and stick onto the contact paper.
Learn More: Little Pine Learners
17. Cardboard Animals
Let's design and build 3D animals out of cardboard! Follow the template guidelines for how to trace and cut the various parts, then help your kiddos improve their engineering and coordination skills by assembling and decorating before playtime begins!
Learn More: Red Ted Art
18. Cardboard Car Design
There are tons of creative car designs using cardboard boxes. Some have straps so kids can run around and wear them, and others are for sitting in and being pushed. Check out all the cool ideas and choose one your kids will love making and decorating using paint and stickers!
Learn More: Inventors Of Tomorrow
19. Tissue Box Monsters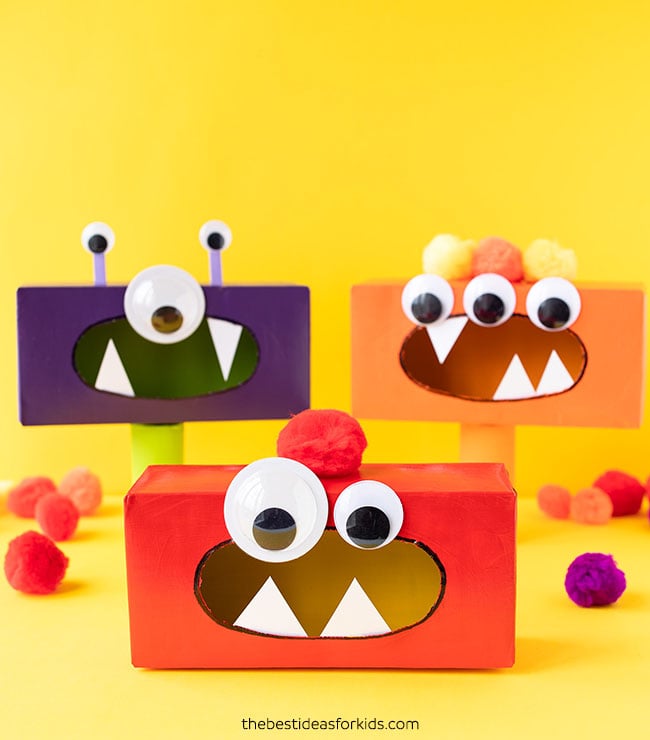 Here's another cardboard creation that is as fun to make as it is to play with. These silly monsters can be decorated with paint, googly eyes, and other craft materials you have available. You can show your kids how to add toilet paper rolls as handles for a puppet show or other fun games!
Learn More: The Best Ideas For Kids
20. Bridge Building Cardboard Challenge
Pull out all the stops with this cardboard engineering activity that reuses toilet paper rolls and cardboard to build a bridge. Before showing your kids a template for this design, see what they come up with on their own. Test their bridge's strength by placing small objects on top of the cardboard.
Learn More: Inspiration Laboratories
21. DIY Toilet Roll Balloon Car
Time for an engineering challenge that will have your little tikes off to the races! This toilet rolls car design has a balloon for the engine and teaches kids about the different components of a machine and how they work together to propel things around.
Learn More: Left Brain Craft Brain
22. Tubular Marble Maze
Let's see who can make the coolest marble maze using cardboard tubes, tape, and scissors. You can build the maze on a wall or another flat, vertical surface. Try a marble or another small object to see if the design works, and help your kids adjust their maze accordingly.
Learn More: Tinker Lab
23. Cardboard Superhero Cityscape
Inspire your little creators to transform spare cardboard into a magical world of superheroes and villains. Cut and draw buildings and landscapes for LEGO characters to move through and see their fantastical stories unfold.
Learn More: Pink Stripey Socks
24. Cardboard Catapult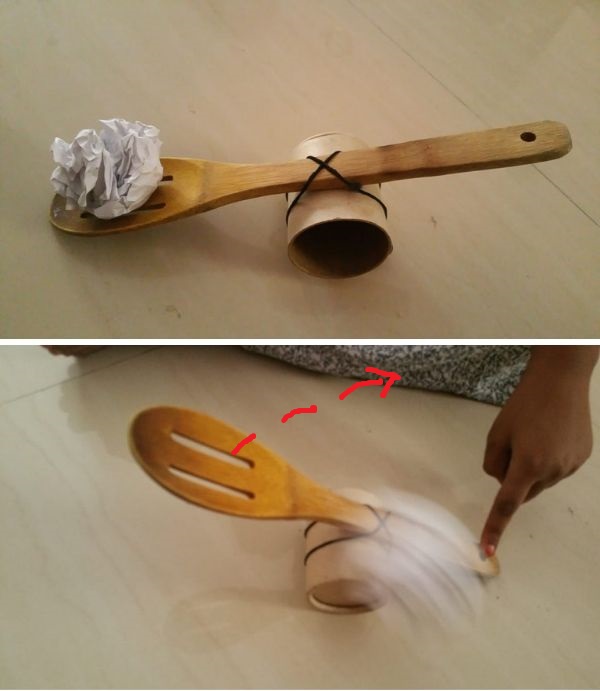 A toilet roll and a wooden spoon are basically all you need to demonstrate how a catapult works. Help your little ones put together their own using a few basic household items and see what they can launch. Take the game outside to see whose object flies the farthest.
Learn More: Go Science Girls
25. DIY Cardboard Kaleidoscope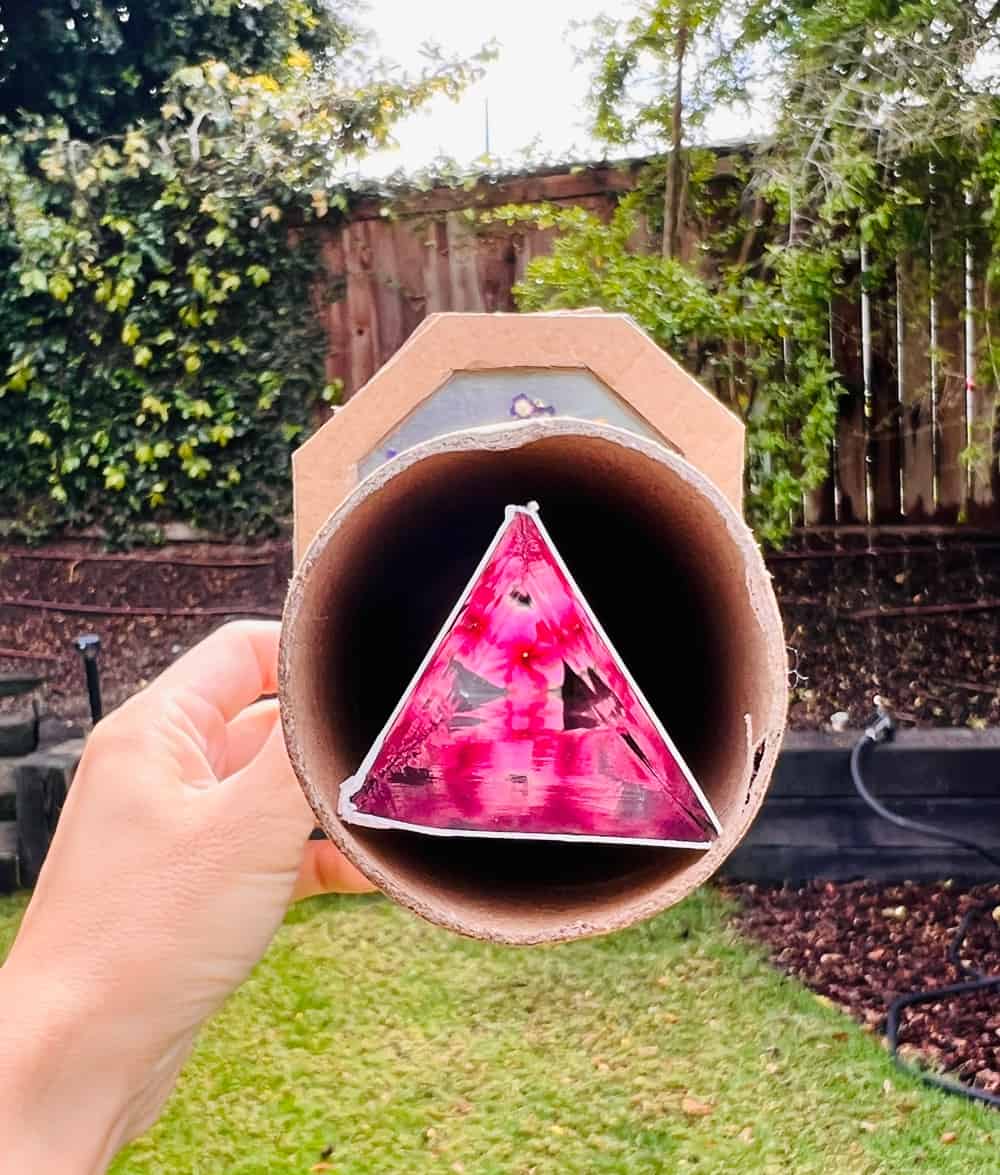 These visual illusion toys are a great way to teach kids about mirrors, reflections, and objects changing contextually. Instead of buying one in the store, make your own using cardboard tubes, flowers, metallic paper, and glue.
Learn More: Hello Wonderful