If you leave the door open, the cat will get out. If you eat all of your dinner, you can have dessert. We use cause and effect language all of the time with our children, so we assume they just know what it means. But the truth of the matter is it is something we need to teach them. Use the activities listed below, and they will soon be cause and effect pros!
1. Cause and Effect Anchor Chart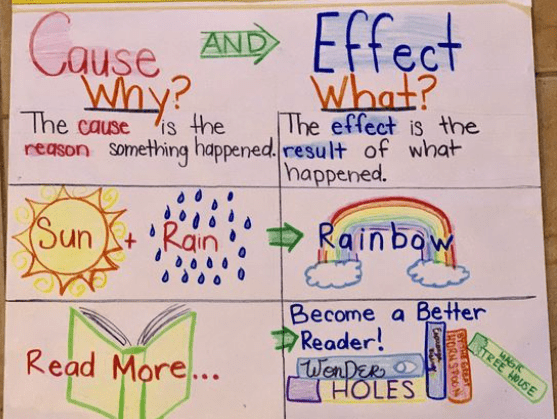 Introduce the idea of cause and effect with an anchor chart. Listing keywords--like "because" or "since"-- helps teach reading for meaning, as students will search for these words to find areas cause and effect is being used within every story you read.
Learn more: Nicole Marshall
2. Teaching Cause and Effect Using A Bad Case of Stripes by David Shannon
Why doesn't Camilla Cream eat lima beans even though she loves them? Because nobody else in her school likes them! Read this book with multiple examples of cause and effect to reinforce this important reading concept. By the end of the reading, they will all be cause and effect experts!
3. If You Give a Mouse a Cookie (by Laura Numeroff) Lesson 
If you give a mouse a cookie, he's going to ask for a glass of milk. When you give him the milk...the mouse's demands never stop! Teach students that all of their actions (cause) have an outcome (effect) by reading one of children's favorite books.
4. Room Recess: Digital Activity
Teach this essential reading skill using this cute cause and effect game where students put ice cream onto the correct cones. Have them race against the clock to see how many they can get right before time runs out.
Learn more: Room Recess.com
Use the link above to go to a short video on YouTube. This cute, three-minute video has multiple examples of cause and effect. What causes the power line to go down? What makes the little birds lose all of their feathers? Watch the video to find out!
Learn more: Irina Siman
6. Cause and Effect Jeopardy
Targeted at upper elementary grades, this interactive game will engage all students. Break out the classroom devices, break the class into teams, and let them all test their knowledge of cause and effect with this fun game.
Learn more: Jeopardy Labs
7. Cause and Effect Matching Game
Looking for hands-on activities for teaching cause and effect? Cut up these strips of simple sentences and have students match each cause and effect.
Learn more: Florida Center for Reading Research
8. Bowled Over Graphic Organizer
As you go over a reading passage with your class, have students fill in this graphic organizer about different cause and effect relationships within the story. After, ask them how changing one cause would make there be a different effect. This can be used at all different reading levels and is a great post-reading activity.
Learn more: The Mailbox
If you are looking for internet activities for cause and effect, look no further than this game that gives them lots of practice matching causes with their effects to save their kingdoms.
Learn more: Room Recess.com
10. Cause and Effect Task Cards
A good way to get students up and moving around the classroom is with task cards. Partner them up and have them walk around the room answering the questions on the different task cards. Remind them to look at the class anchor chart if they need help.
Learn more: Teaching Made Practical
11. Signal Words with When I Grow Up by Peter Horn
After teaching children cause and effect signal words, read When I Grow Up to them and have them identify each time the author uses each signal word. An extension activity would be to then use these signal words to write cause and effect sentences as a class.
12. Interactive Anchor Chart
Make your anchor chart interactive by giving students sticky notes and having them write their own effects to given causes. They will delight in seeing how many different effects they can create for each cause.
Learn more: Sarah Gillam
13. Reading Lessons: No, David! by David Shannon
This fun picture book offers plenty of opportunities for students to point out causes-- David's actions-- with their effects-- him being told "No, David!" on a regular basis! Younger elementary students will delight in and relate to this charming book.
14. Cause and Effect Charades
Students love creative activities. Use the video above as inspiration to create your own game of cause and effect charades for your class! It is great practice for students while being fun at the same time!
Learn more: Stephanie McCoy
15. Cause and Effect Song
The cool thing about songs is they can reach a wide range of students, regardless of their skill levels. Use the song in this video to teach the complex skill of cause and effect to your students. Students will be singing the song all day.
Learn more: Kristina Hamilton
16. Alice in Wonderland Worksheet
One of the best comprehension strategies there is is teaching students how to identify cause and effect. As you read through Alice in Wonderland as a class, give them worksheets like the one in the link for them to recognize the relationships between the causes and effects of the characters' actions.
Learn more: K12 Reader
17. Cause and Effect Scoot Game
This site offers multiple practical activities to teach cause and effect, like this "scoot game" where students move from one station to another answering cause and effect questions on these paragraph task cards.
Learn more: Foreman Teaches
18. Cause and Effects Tutorial
This classroom-friendly cartoon introduces cause and effect and gives multiple examples to help children understand. You can also use this video if some students are still struggling with the concept after you have introduced it to the whole class.
Learn more: Story Bag
19. Everyday Lives and Cause and Effect
Use the real-life examples on this site to teach students that cause and effect relationships are around us every day. Why did the light switch come on? Because you flipped the switch. An extension activity could be to have students write down cause and effect events from their daily life. This will teach them to recognize the connection between events.
Learn more: Your Dictionary
20. Cause and Effect Board Game
Follow the link below to be inspired to either create your own cause and effect board game or be taken to another link to purchase a premade game. This game gives students ample opportunity to demonstrate their knowledge of cause and effect.
Learn more: Teachers Pay Teachers