Which came first- the chicken or the egg? While this all-important question has been widely debated for years, one thing has not: kids love learning about life cycles! Though they may not be able to answer that question, but one thing is certain: learning about the life cycle of a chicken will undoubtedly create a unique, hands-on experience for students to learn a little biology! Keep reading for 19 activities you can include in your chicken life cycle unit.
1. Preschool Introductions
While students need to be older to fully comprehend the whole chicken life cycle idea, there is nothing that says a fun activity like this cannot be introduced to preschoolers. A chicken life cycle puzzle is the perfect way to begin teaching the idea of the life cycle.
Learn More: Pinay Homeschooler
2. Chickens
Nothing replaces a good book when it comes to researching a topic. A book like this one is a great introduction to present to students to begin building background knowledge about a topic. It can be used as a part of a science center or as a read-aloud.
Learn More: Amazon
3. Realistic Toys
When younger students are involved in learning through play, they often remember and grasp concepts a little easier. Kids can reference a life cycle poster and then utilize these toys to put the life cycle in order on a graphic organizer or a mat.
Learn More: Safari Limited
4. Egg Exploration
Older students will love exploring the various stages of egg development for the life cycle of a chicken. If you can't get your hands on a cool set like the one linked below, printable cards or a diagram will do!
Learn More: Carolina
5. Hatch a Chicken
Many schools will allow you to incubate eggs in the classroom! What better way to learn about the life cycle of a chicken? With eggs in the classroom, kids will be right in the middle of the action learning about this idea with a hands-on experience.
Learn More: One Kreative Kindergarten
6. Embryo Development Video
Prep older kids with this interesting and informative video of chicken embryo development. Labeled diagrams will simply awe your students as they learn how chickens develop inside the eggs.
Learn More: Poultry Hub Australia
7. Discover the Importance of the Eggshell
This science experiment helps students begin to understand how the shell of the egg is important to the developing chick. Using a grocery store egg and some vinegar, kids will be amazed at how the shell disappears in the acidic liquid leaving a goo-filled membrane.
Learn More: Home Science Tools Resource Center
8. Feather Exploration
Gather several different feathers. As you discuss the purpose of feathers with your students, show them how each type of feather works. For example, down keeps chicks warm, and flight feathers help keep older birds dry.
Learn More: Home Science Tools Resource Center
9. Fertilization to Hatching
When you are thinking about your chicken exploration centers, be sure to include this digital lesson. The included video offers a ton of information on the life cycle of a chicken. To top it off, it includes the life cycle of other animals to help students compare the process.
Learn More: Study.com
10. Sequencing Practice With Life Cycle
Help young students practice their sequencing skills as they read and write. They will use their knowledge of the life cycle to write complete and proper sentences in the order in which they occur. This worksheet is a great tool to practice transitions.
Learn More: Twinkl
11. STEM Brooder Box Challenge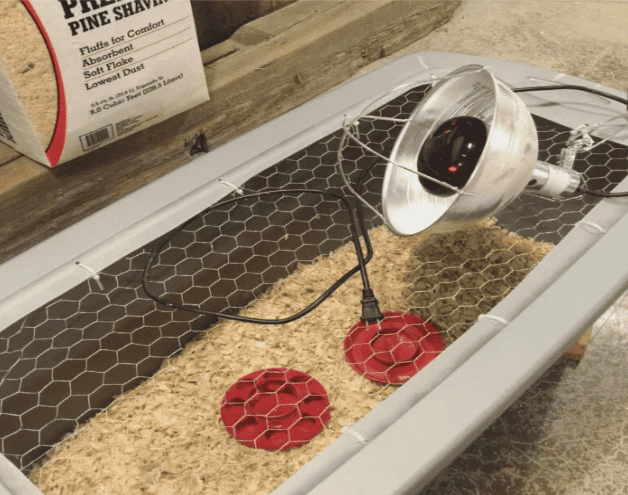 After eggs hatch, chicks need a place to grow. Challenge pairs or groups of students to design and build the best brooder box to present to the class. Be sure to include parameters to make a level playing field!
Learn More: Pet Keen
12. Text Features and Structure
The best way to teach reading skills is in context. The life cycle of a chicken is the perfect vehicle to teach timelines and chronological order. These passages are great educational resources and include questions to help provide practice and data.
Learn More: Teachers Pay Teachers
13. Slideshow and Work Along
This slideshow is an amazing resource that includes an awesome set of chicken lesson plans that are meant to be used with the accompanying worksheets. From writing about chickens to putting the cycle in order, your learners will love this resource!
Learn More: Teachers Pay Teachers
14. Egg Craftivity
Get kids' creative juices flowing with this fun and simple project! This chicken-based activity includes an egg that slowly reveals the embryo stages as it's spun around.
Learn More: Pinterest
15. Life Cycle Project
Coming at you with another cute chicken life cycle project for kids to try out! This one allows kids to create a display-style poster or replica of their stage of the chicken life cycle to present to their class.
Learn More: Pinterest
16. Create-a-Chicken
Using paper plates, students can make these adorable chickens! Have them make a pocket in the paper plate and place photos or drawings of the chicken's life cycle inside to assist with recall at a later stage.
Learn More: Pinterest
17. Egg Collection
Dramatic play is incredibly important for preschool kids. Allow them the same opportunity through your chicken life cycle lesson using pretend chicken coops and plastic eggs. For another layer of discovery, add images or physical objects to the eggs to represent the different parts of the cycle.
Learn More: Ikat Bag
18. Quick Vocabulary Intro
This clever worksheet combines comprehension and vocabulary. Students will read the informational text about the chicken life cycle and then define the vocabulary words at the bottom of the page.
Learn More: Education.com
19. Mixed Media Craft
The chicken life cycle stages are replicated on this giant egg using a variety of crafting supplies. Be creative and use what you have on hand to save a few bucks and recreate the diorama.
Learn More: Pinterest