Keen on a creative way to increase your child's excitement about what they're reading? Have them color their own bookmarks! When children can mark their pages with a personalized creation, it builds a sense of ownership and encourages them to explore more literary adventures! We've got 54 fabulous, themed bookmark ideas for your kiddos to choose from. Spanning a variety of interests, we've got something to tickle everyone's fancy!
1. Animal-Themed Bookmarks
These adorable bookmarks encourage children to explore the Earth's abundance of wildlife. As they color, they'll develop their fine motor skills and express their creativity while learning about diverse wildlife.
Learn More: Amazon
2. Sea Creatures Bookmarks
Dive into an underwater adventure with bookmarks featuring friendly octopuses, dolphins, fish, and more. These bookmark designs invite your kids to explore marine life and creatively enhance their understanding of the ocean's biodiversity.
Learn More: Amazon
3. Magical Creatures Bookmarks
Let your students' imaginations take flight with bookmarks showcasing mythical unicorns, dragons, and fairies. The charming images are sure to foster creativity and serve as a gateway to enchanting storytelling sessions.
Learn More: Twinkl
4. Fruit-Themed Bookmarks
These bookmarks offer up a bounty of delicious fruits such as apples, strawberries, and pineapples. They provide a fun coloring activity and teach kids about different types of produce- all while promoting healthy eating habits!
Learn More: Amazon
5. Cupcake Bookmarks
Add a sweet touch to reading time with cupcake-themed page markers. As your kiddos enjoy decorating each cupcake, they'll engage their senses and improve color recognition while nurturing an appreciation for baking and confectionery.
Learn More: Dribbble
6. Monster Bookmarks
Meet the friendliest monsters around! These cute coloring pages encourage children to view "monsters" in a positive light- promoting imagination and reducing fear of the unknown.
Learn More: Pinterest
7. Robot Bookmarks
These futuristic bookmarks feature friendly robots of different shapes and designs. As your kiddos color them, you can guide them to learn more about technology and foster an interest in STEM subjects.
Learn More: Create in the Chaos
8. Transportation Bookmarks
Watch kids' imaginations take flight as they color exciting modes of transport like planes, cars, and trains on these vibrant placeholders.
Learn More: Twinkl
9. Insect Bookmarks
Invite your students into the mini world of bugs and bees with these funky bookmarks. Each marker features different insects!
Learn More: Pinterest
10. Flower Bookmarks
Blooming buds and intricate flowers await coloring- a perfect pick for nature-loving learners who enjoy detail-oriented tasks!
Learn More: Amazon
11. Weather-Themed Bookmarks
Sun, clouds, rain, or snow capture the various moods of the weather! This marker makes a splendid tool to spark conversations about climate and seasons.
Learn More: Twinkl
12. Patterned Bookmarks
Geometric and abstract patterns allow students to experiment with color combinations and foster their creativity. Allow each learner to pick a personalized pattern to make this craft that much more special!
Learn More: Amazon
13. Alphabet Bookmarks
Each of these bookmarks features a letter from A to Z. They're perfect for your early readers as each learner can be encouraged to read by coloring in a bookmark with the beginning letter of their name!
Learn More: Pinterest
14. Dinosaur Bookmarks
Step into the prehistoric era with dinosaur figures that are just waiting to be brought back to life. What a fun accompaniment to upcoming history lessons!
Learn More: Amazon
15. Space-Themed Bookmarks
Rocket ships, stars, and planets make for exciting color-ins; especially for little astronomers who are discovering our world in new ways every day!
Learn More: Amazon
16. Coral Reef-Themed Bookmarks
Give your students a peek into the vibrant underwater world filled with beautiful coral formations and aquatic life.
Learn More: Nature-Inspired Learning
17. Fairy-Tale Bookmarks
Characters and elements from beloved fairy tales are sure to engage even the most reluctant of readers- helping you spark a love for reading and storytelling!
Learn More: Teachers Pay Teachers
18. Jungle-Themed Bookmarks
The call of the wild echoes in these bookmarks that showcase a variety of jungle animals and tropical plants.
Learn More: Adobe
19. Sports-Themed Bookmarks
For the sporty spirits in your class, provide a range of athletic equipment and jersey designs to color.
Learn More: Amazon
20. Superhero Bookmarks
Children can color in their own superhero characters- empowering their imagination while promoting a love for reading!
Learn More: Twinkl
21. Music-Themed Bookmarks
Musical notes and instruments on these bookmarks are perfect for piquing the interest of all music lovers!
Learn More: Etsy
22. Holiday-Themed Bookmarks
From Christmas to Easter, various festivities come alive on these markers! What a delightful way to remind your learners to continue reading as they set off and enjoy beloved holiday traditions.
Learn More: Pinterest
23. Food-Themed Bookmarks
Playful food illustrations give students a tasty coloring activity! Furthermore, these markers are wonderful tools for introducing them to an array of diverse cuisines.
Learn More: ESL Vault
24. Bird-Themed Bookmarks
Bring colorful birds to life as your kids color these pages. Offering a creative way to learn about different bird species and their habitats, your kiddos will be prompted to take their reading outdoors as soon as they're finished coloring!
Learn More: Amazon
25. Beach-Themed Bookmarks
Bring the vibe of the beach right to your classroom! Sandcastles, beach balls, and shells encourage conversations about coastal ecosystems as your learners color away.
Learn More: The Craft-At-Home Family
26. Castle Bookmarks
Invite your kiddos to color magnificent castles with these markers. How great for sparking the imagination and encouraging storytelling about knights and princesses!
Learn More: The Grifik
27. Princess Bookmarks
Royal adventure beckons as your children color princesses in various poses. Who is their favorite- Cinderella, Fiona, or Sleeping Beauty?
Learn More: World Of Printables
28. Pirate Bookmarks
A swashbuckling adventure lies in store with these pirate ships and treasure chests! Providing an exciting and historical context for coloring, they make a great gateway to engage learners in conversations about real pirates.
Learn More: Teachers Pay Teachers
29. Farm Animal Bookmarks
From pigs to cows, your kiddos can color their favorite farm animals- making these bookmarks a wonderful addition to lessons about farm life!
Learn More: Pinterest
30. Mandala Bookmarks
To help you introduce the concept of mindfulness to your students, try having them color these intricate mandala patterns. They're also brilliant for encouraging focus and relaxation!
Learn More: Muse Printables
31. Forest-Themed Bookmarks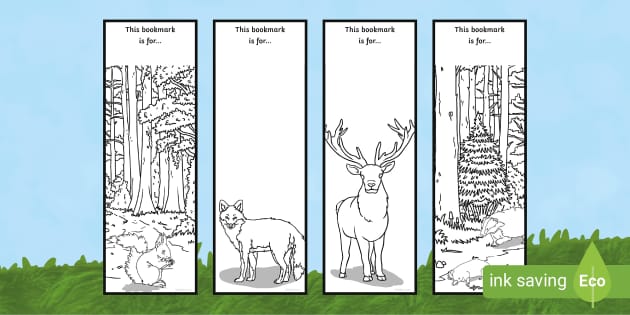 Guide your kiddos through the enchanted world of forests with an array of woodland creatures and plant life. These markers make a wonderful accompaniment to any lesson on forest animals!
Learn More: Twinkl
32. Vehicle Bookmarks
Can you hear the zoom and vroom of the motorway? These bookmarks are a perfect fit for children intrigued by mechanics and transportation as they're covered in all types of vehicles.
Learn More: Twinkl
33. Toy-Themed Bookmarks
Teddy bears, dolls, cars, and more await a burst of colors! Whilst coloring, engage your littles in a discussion about their favorite toys.
Learn More: What Do We Do All Day
34. Funny Face Bookmarks
Emphasize emotions and expressions with these funny faces! As your kiddos color, encourage them to identify and discuss the different feelings that they've personally felt.
Learn More: Scribble & Stitch
35. Abstract Design Bookmarks
Abstract shapes and designs will let your student's creativity fly as they experiment with illuminating them in various colors.
Learn More: Etsy
36. Circus-Themed Bookmarks
Clowns, elephants, and circus tents take center stage on these markers- offering your pupils a chance to explore the colorful world of circus art as they color!
Learn More: What Do We Do All Day
37. Cactus Bookmarks
Did you know that there are an estimated 2000 cacti variants? Here, the world of desert plants becomes an exciting coloring opportunity for budding artists.
Learn More: Etsy
38. Garden-Themed Bookmarks
These markers are awesome for providing a rich context for your little environmentalists. From flower beds to insects, prompt your kiddos to get savvy with a garden scene of their choice!
Learn More: Twinkl
39. Festive-Themed Bookmarks
Featuring motifs from various festivities, your kiddos can enjoy a cultural tour by coloring these markers.
Learn More: Mum In The Madhouse
40. Cartoon Character Bookmarks
Have your kids bring charming and friendly cartoon characters to life with these character bookmarks- perfect for promoting creativity and a love for reading!
Learn More: PNG Tree
41. Animal Print Bookmarks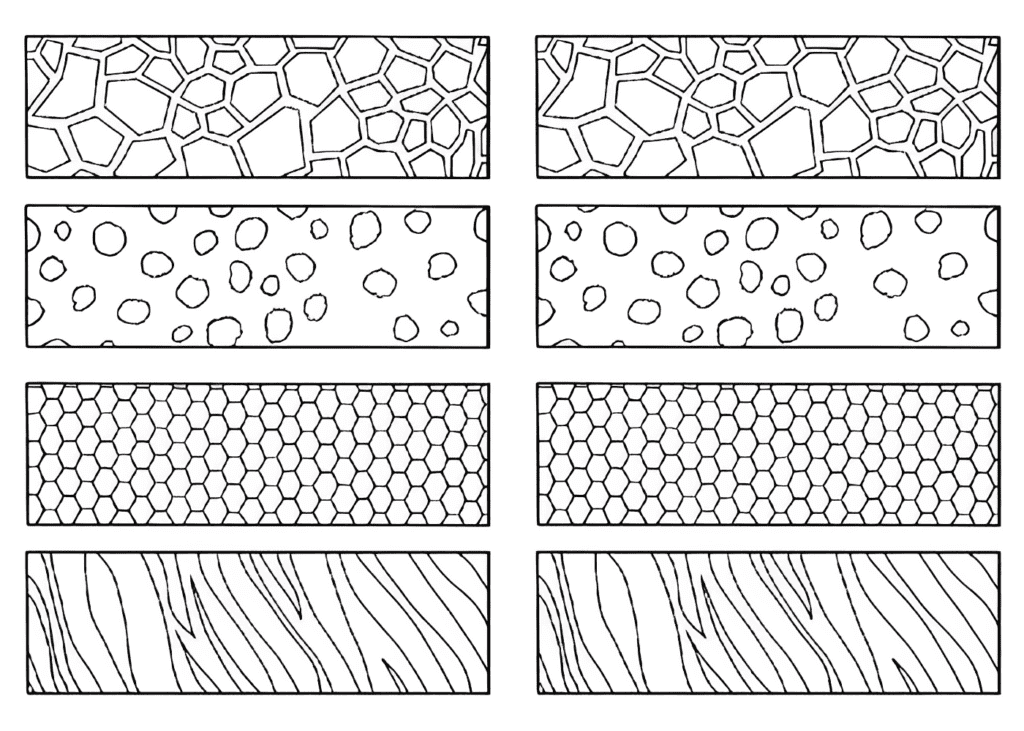 Wild patterns like cheetah spots and zebra stripes give students a unique coloring experience. Use these markers as a segway to introduce them to wildlife themes!
Learn More: Teachers Pay Teachers
42. Bakery-Themed Bookmarks
Fresh pastries and the aroma of baking come alive on these pages. With them, you can spark curiosity about baking and the magic behind it!
Learn More: Etsy
43. Center of the Earth-Themed Bookmarks
Journey to the center of the Earth with these bookmarks! Showcasing the life and layers beneath the surface, these markers make for a great introductory activity for your next Earth science class.
Learn More: Superstar Worksheets
44. Fashion-Themed Bookmarks
For budding fashionistas, an array of fashionable outfits and accessories is a dream! Invite your learners to express their unique style as they bring these markers to life!
Learn More: Etsy
45. Winter-Themed Bookmarks
Cozy up with these markers featuring a few elements from a winter wonderland. From snowflakes to woolen mittens, these make the best markers for the cooler months!
Learn More: A Peace of Werk
46. Hot Air Balloon-Themed Bookmarks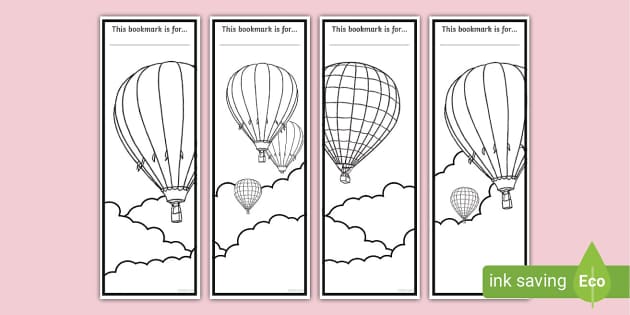 Hot air balloons in various shapes and sizes provide a fun and festive coloring activity. Why not use these markers as gifts to cheer your students on in dreaming big!
Learn More: Twinkl
47. Dragon-Themed Bookmarks
Mythical dragons promise a fiery coloring session! As they color, stoke your kiddos' imagination and creativity by getting them to envision a world where dragons roam their town!
Learn More: Twinkl
48. Alien-Themed Bookmarks
Encourage your little space explorers to bring life to friendly extraterrestrials and space crafts with these alien-themed bookmarks!
Learn More: Amazon
49. Wizard-Themed Bookmarks
Young wizards will love these themed markers! They can enjoy coloring magical elements like hats, wands, and potions.
Learn More: Twinkl
50. Sweet Treats Bookmarks
Tasty candies, ice creams, and lollipops offer a sweet escape for your students' creative minds. We bet they'll be drooling as they color!
Learn More: Amazon
51. Pet-Themed Bookmarks
Celebrate furry friends with these markers featuring various pets—a heartwarming coloring session for all pet lovers.
Learn More: Etsy
52. Nautical-Themed Bookmarks
Sail the seven seas with markers that showcase nautical elements. From ships to sea creatures, your learners can explore it all!
Learn More: World Of Printables
53. Funny Message Bookmarks
Share a laugh with your students by sharing bookmarks that feature hilarious one-liners!
Learn More: The Grifik
54. Emoji-Themed Bookmarks
Bring the digital emoticons to life with these markers- an instant hit among tech-savvy youngsters!
Learn More: Scribble & Stitch