Our reserve of 20 beloved bible activities for kids is sure to enhance all church lessons. We've got something to suit every age and level, and with so many creative lessons and activities to choose from, you can add one to your weekly lesson plans for months to come! Read on for unique ways in which to introduce children to scripture and awaken a deeper love and understanding of the Bible.
1. The Gift Of Salvation Worksheet
With the modern world as progressive as it is, the message of the church and the gift of salvation is often lost. This printout reminds readers of the promises the Lord has made by referring to the relevant scripture references. Once children have read over the page and discussed its contents, they can try their hand at a fun maze.
Learn More: Arrow Kids Club
2. Cursive Handwriting Practice Sheets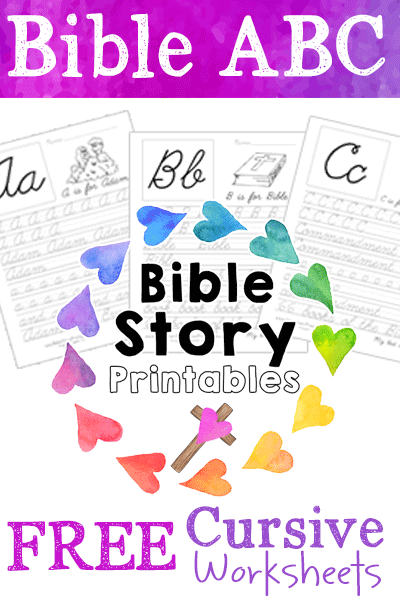 As learners are reminded of different stories and key characters from the Bible, they will work on improving their cursive handwriting. Once pupils have made their way through the entire alphabet, have them choose a letter and its message to write about, for example; A is for Adam, and C is for The Commandments.
Learn More: Bible Story Printables
3. Frame It Sentence Jumble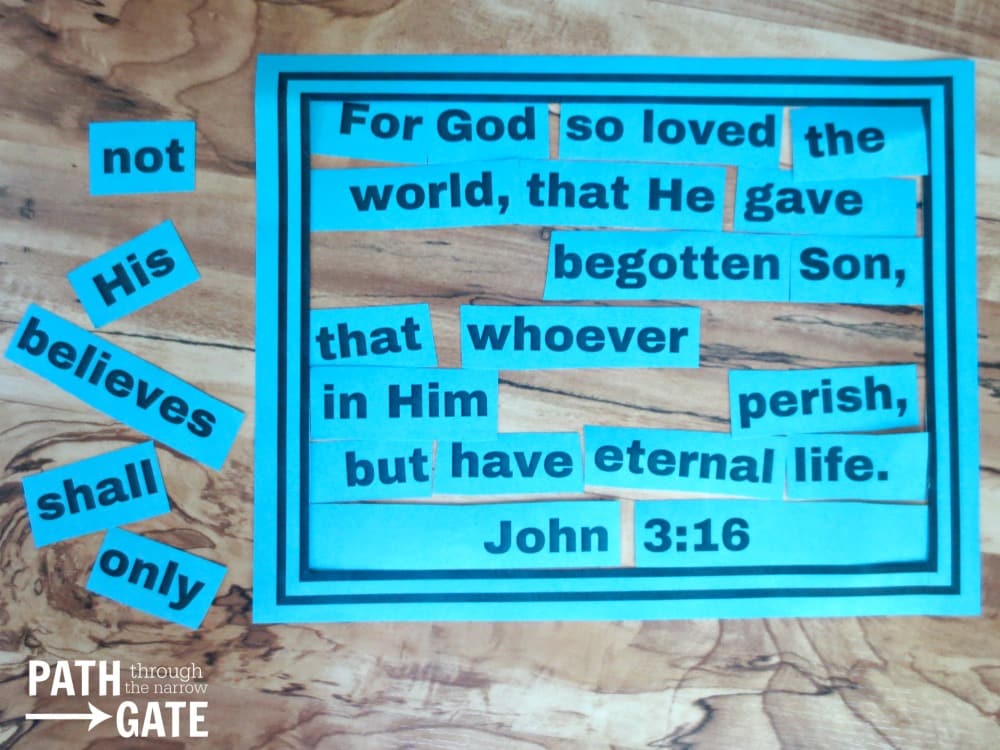 This activity is perfect for elementary children who have just mastered the skill of reading. Divide your class into small groups and have students race against the clock to sequence a Bible verse into a frame. They will need to work as a team to unscramble the words they are given and complete the task.
Learn More: Kids Bible Teacher
4. Jenga Verses
This activity is wonderful for helping children memorize their favorite verse. Simply build a Jenga tower and use blu tack to adhere the words of the verse to the side of the tower. As learners pull blocks from the tower, they can repeat the verse and work on binding it to memory.
Learn More: Kids Bible Teacher
5. Lego Verse Builder
Enhance your learner's basic scripture knowledge with the help of this fun challenge. Divide your group into teams and have them work together to unscramble their word blocks. The objective is to build a tower that correctly displays a given verse.
Learn More: 123 Homeschool For Me
6. Puzzle Review Game
Another awesome unscramble activity! Teachers or group leaders can purchase a puzzle of between 25-50 pieces, correctly assemble the puzzle upside down, and write a verse on it. Once the puzzle has been disassembled, students can enjoy the challenge of piecing it together themselves before reading the verse.
Learn More: 123 Homeschool For Me
7. Old Testament Timeline
The Bible's record of numerous events certainly provides a vast amount for students to understand and remember. This Old Testament timeline provides a lovely visual of the sequence of events. It can be hung in the Sunday school classroom or cut up for students to piece together correctly and memorize the sequence.
Learn More: We Wilsons Blog Spot
8. Three Wise Men Craft
These adorable Three Wise Men make the perfect craft to include in Biblical lessons for preschoolers. Little ones can learn all about the birth of Jesus and the gifts He received from the Three Wise Men. Simply gather; toilet rolls, paint, markers, glue, and craft paper to get started!
Learn More: Rainy Day Mum
9. Nativity Ornament
This nativity ornament is a wonderful addition to church lessons that fall around Christmas. It serves as a reminder to young children of the true reason behind the season. Print out your template for baby Jesus, the star, and the basket, as well as gather glue, scissors, twine, and crayons to get started!
Learn More: Mrs. Jones Creation Station
10. Parting Of The Red Sea Pop Up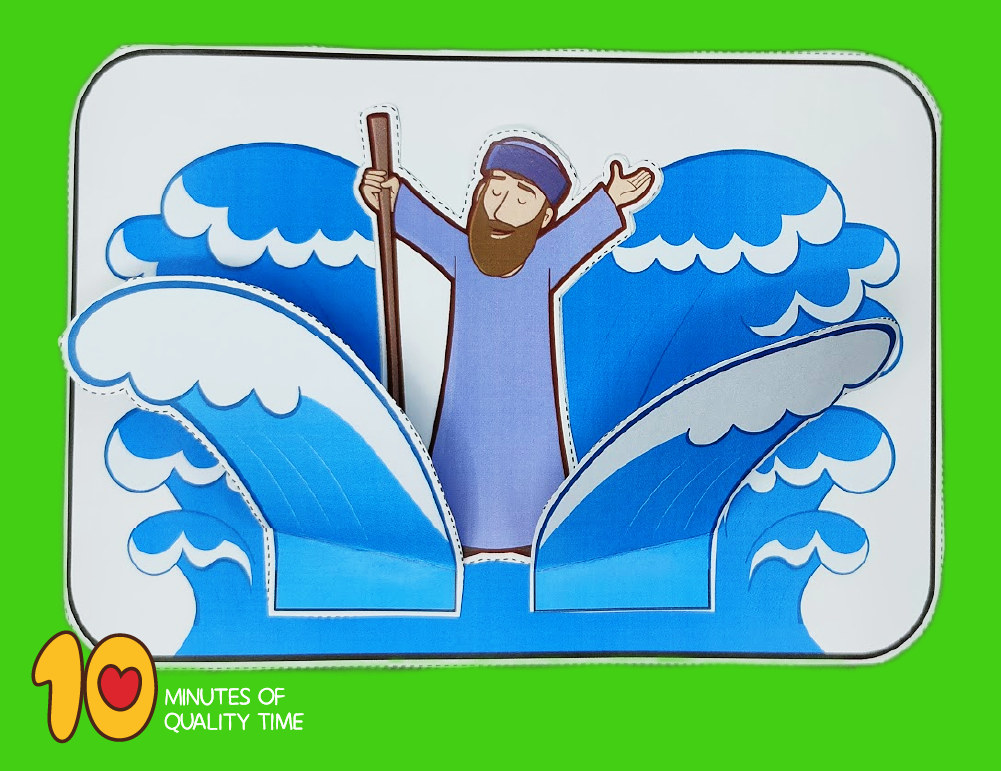 Learn about Moses and discover the story of how he parted The Red Sea with this unique learning activity. After having studied the lesson of Moses, children can cut out their waves and color them in. Then, they will use them to create a pop-up drawing to serve as a reminder of the remarkable occurrence.
Learn More: 10 Minutes of Quality Time
11. 10 Commandments Hand Print Craft
This creative art lesson is bound to leave your learners with a lasting memory of the 10 Commandments. Learners will each receive a piece of paper and 10 stone images depicting the laws of God. Students will pair up and take turns painting their partner's hands before pressing them onto the sheet of paper and, once dry, gluing one commandment onto each finger.
Learn More: Pinterest
12. Snake & Apple Mobile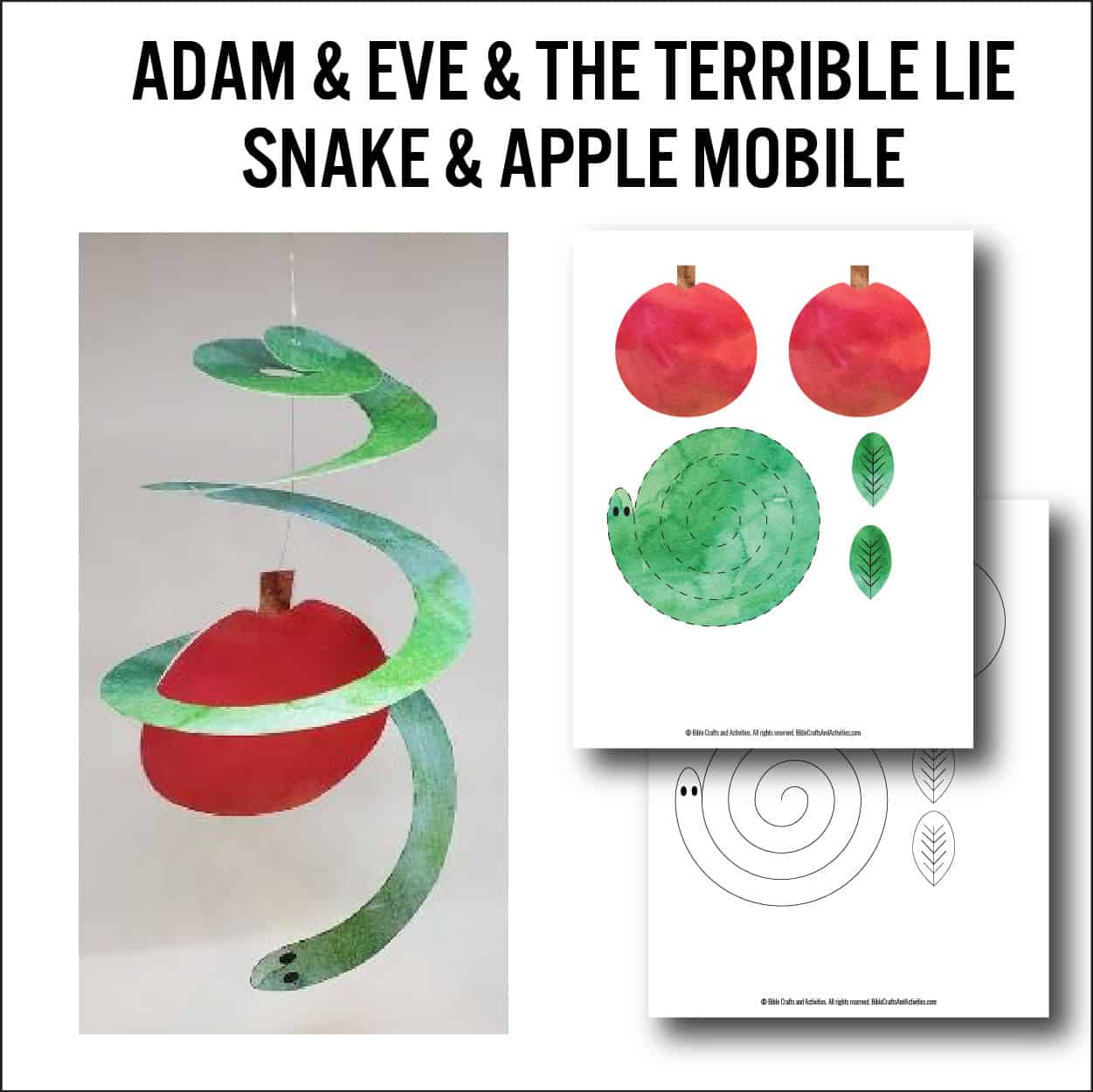 With the help of this mesmerizing mobile, you can remind your students of the deception that took place in the Garden of Eden. All that's required to bring the craft to life is a piece of fishing line, paint, scissors, and the printable snake and apple template.
Learn More: Bible Crafts & Activities
13. Happy Heart, Sad Heart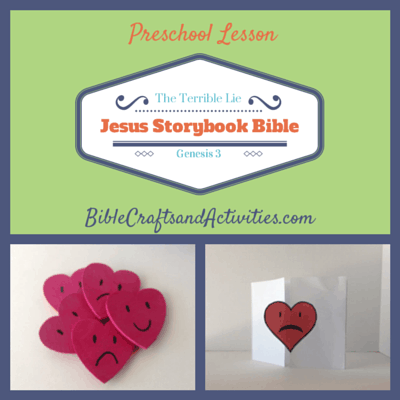 This craft reminds learners of the unconditional love of God. Whilst students glue happy and sad hearts onto a foldable piece of cardstock, they are reminded that God's heart is saddened when we engage in bad deeds and is overjoyed as a result of good deeds.
Learn More: Bible Crafts & Activities
14. Parable Of The Lost Sheep Craft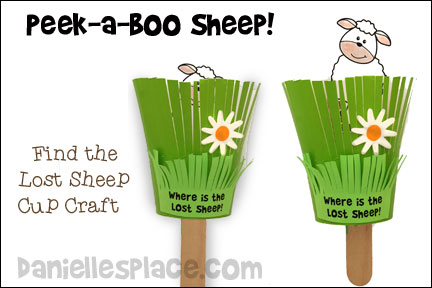 Another awesome craft to include in your church curriculum is this peek-a-boo sheep! Incorporate it when covering the parable of the lost sheep to remind students that no matter how insignificant the world makes them feel, they are always precious to God. All you'll need is green cardstock, a jumbo popsicle stick, glue, foam flowers, and a sheep printout.
Learn More: Danielle's Place
15. 10 Commandments Cup Game
Up the ante on church games with this fun cup knockdown activity. The objective is for players to take turns trying to knock down the commandments, written on plastic, as the group leader calls them out.
Learn More: Church Leaders
16. Jonah And The Whale Word Search
This word search makes for a lovely quiet time activity. After having studied the lesson of Jonah and the whale, little ones can spend time contemplating what they have learned as they complete a fun word search and color in the whale on their worksheet.
Learn More: Time Warp Wife
17. Noah's Ark Spin Wheel
Kids often find Sunday school lessons boring, but fear not; this colorful craft is just what you need to add some spunk back into the swing of things! Using assorted markers, template printouts, and a split pin, little ones can create a spin wheel replica of Noah's ark.
Learn More: Christian Preschool Printables
18. Scrabble- Bible Addition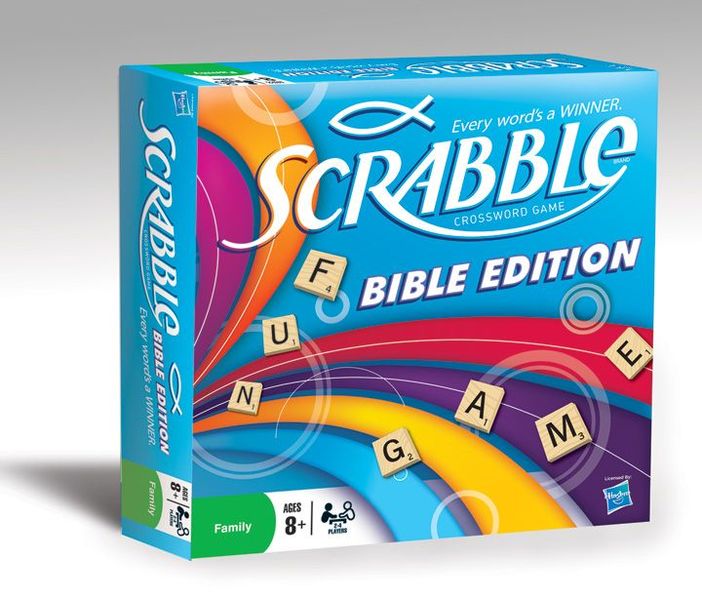 Sure to quickly become one of your youth group's favorite games is this bible edition of beloved Scrabble. It makes an awesome class-bonding activity and is also a wonderful inclusion in family fun nights! Players compete individually; taking turns crafting crossword-style words.
Learn More: Board Game Geek
19. David And Goliath Craft
This assortment of David-and-Goliath-themed crafts helps your pupils become closely acquainted with these biblical characters and the lessons they teach us. All that's required to recreate the crafts are the premade templates, scissors, and glue!
Learn More: Inspire The Mom
20. Lion Origami
Teach the lesson of Daniel and the Lion to your students using this unique lion craft. After studying the appropriate passages, they'll color in their lion template and then follow the instructions to fold it into a hand puppet. Encourage your students to open it up and read the verses inside when they need encouragement to be brave.
Learn More: Ministry Ark