Ready for a blast from the past? Dive into our collection of 88 children's books from the 1980s and 1990s! From award-winning series to one-hit wonders, there were many books that became popular picks during this time period. With their beloved storylines, memorable characters, and special lessons, your little ones are sure to love every single one! Jump right in to see if your favorites are in this fantastic round-up!
1. The Kissing Hand
This classic tale of love between a mother raccoon and her baby is a favorite for many. This beautiful story tells of how a mother reassures her baby that he is never alone and always has her love with him. This is a popular book to use for back-to-school or in other times of separation of parent and child.
2. Go Away Big Green Monster
A super fun story for back-to-school time or around Halloween, this book has bold and vibrant illustrations. It is a great book for helping children face their fears. Generations of children have used this book to gain confidence and overcome fears.
3. Guess How Much I Love You
Available in the form of a board book, this sweet story of love between a parent and a child is a story that has been enjoyed by many. Perfect for bedtime, this simple story is a great way to help express the special love and bond between parents and children.
4. Where's Waldo?
Where's Waldo is a whole series of interactive stories to keep youngsters busy for hours! With limited text and many extremely detailed illustrations, children can seek to find Waldo and his friends hiding amongst very busy backgrounds. They are well hidden so these fun stories are great for explorers who love a challenge.
5. The Polar Express
The delightful story of The Polar Express is a classic picture book popular around Christmas time. A beautifully illustrated Caldecott winner, this story takes readers on an adventure that is full of magic and wonder, as a little boy makes his Christmas wish.
6. The Berenstain Bears
Silly and fun, but always ending with a moral lesson, The Berenstain Bears series is definitely a favorite from this timeframe. These picture books feature a friendly bear family and help the reader to learn a real-life lesson that can apply easily to this age group.
7. The True Story of the Three Little Pigs
A hilarious spin on The Three Little Pigs, this fracture fairy tale tells the clever adventure from the perspective of the wolf. He claims the pigs have it all wrong and he wants a chance to tell the true story. His version is quite different, of course. This is a great book to use for a fairy tale unit and to introduce fracture fairy tale writing.
8. Where's Spot?
A wonderful lift-the-flap book, this adorable board book will keep little ones engaged. This interactive book follows the story of Spot the dog and all his hiding places. This is a classic bedtime story for little ones who enjoy reading about animals.
9. Five Minutes' Peace
This delightful story is a fun and silly depiction of day-to-day life for some moms. This is a classic bedtime story, sure to get some giggles from the whole family. Children enjoy watching the elephant mom try to escape for a few minutes of peace, as her babies follow her and need her the entire time.
10. Oh, The Places You'll Go
This Dr. Seuss classic is a popular gift for graduations and end-of-year ceremonies, but it's also an inspirational read for students of all ages. The book covers life's journey and challenges; making it a motivational addition to your classroom library. It's a fantastic choice if you're looking to instill a sense of hope and inspire greater ambition in your students.
11. Chicka Chicka Boom Boom
Loved by preschool and kindergarten teachers everywhere, this is a classic must-have book for every home and every classroom. This adventure for toddlers and young school-aged children is a great introduction to the alphabet in the form of a picture book.
12. Where the Wild Things Are
Where The Wild Things Are is a wonderful picture book for children of all ages. Max is sent to his room and enjoys a visit to where the wild things are, as his imagination runs wild and free. Children have enjoyed this captivating book for many years. Winning a Caldecott Award, this book is a wonderful story full of adventure and detailed illustrations.
13. Amelia Bedelia
Amelia Bedelia is a housekeeper who is extremely literal. She does exactly what she is told to do. Generations of children have enjoyed this series, as more books are added over time. The hilarious antics and fun figures of speech will keep readers engaged and interested in these silly stories.
14. Alexander and the Terrible, Horrible, No Good, Very Bad Day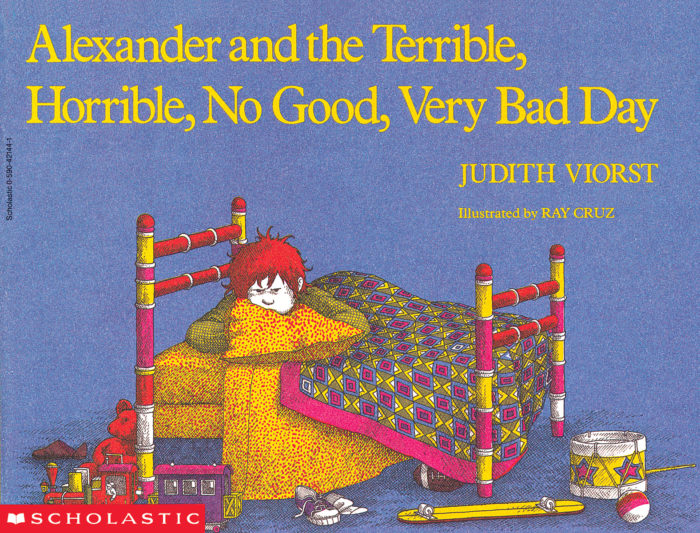 A wonderful story of a boy who is living his worst day ever! Children of all ages will relate to the terrible and horrible things that Alexander experiences on his very bad day. This is a wonderful picture book to read when life sends hiccups your way and you are having a very bad day.
15. Goodnight Moon
A classic title, Goodnight Moon, is a perfect board book for toddlers and young readers. It is an ideal bedtime story, as the book takes the time to go through all the goodnights for every item the little bunny sees.
16. Cloudy With A Chance of Meatballs
A humorous story of raining food, this amusing and fast-paced adventure follows life in a unique town. It is fun and funny until the weather takes a turn for the worst. What will the town and the townspeople do when the portions get heavier and bigger and the raining food does not stop?
17. Love You Forever
Not only a best seller in English, but in other languages as well, this loving book shares the tender love and affection between mother and son. The classic title is perfect for the sweet emotion that a mother has for her own. The book follows the son as he grows and his mother's love for him never wavers.
18. We're Going on a Bear Hunt
Going on a bear hunt is always fun, and this book tells you just how to do it. It carries you on a fast-paced, fun-loving adventure through all sorts of wilderness. Read with a chant, it keeps children engaged and interested.
19. The Brave Little Toaster
Made into a movie shortly after its release, this book is an adventure like no other. When several small appliances go in search of the person they belonged to, they face challenges and difficulties all along their way. This is a great twist on your average bedtime story and should definitely be on your book list!
20. The Jolly Postman
A favorite interactive book, this picture book has little envelopes, complete with letters. They are written like classic fairy tales and Mother Goose rhymes. This clever book keeps children engaged and curious about what comes next.
21. Funnybones
Perfect for young readers, the Funnybones series will always get a giggle. These classic picture books have won many awards and come highly recommended for young readers. Full of humor and fantastic illustrations, these books are a big hit!
22. The Babysitter's Club Series
A series that every girl must dive into, The Babysitter's Club has an extensive number of titles in the collection. A popular book for tween girls, topics range from friendship to crushes to school to family life. They are wholesome and great chapter books for girls of older elementary and younger middle school.
23. Arthur's Nose
Marc Brown has brought us an entire series full of Arthur classics! This is the one when Arthur decides that he wants a new nose because he does not like the one that he has. Your children will enjoy this one and all of Arthur's other classic tales!
24. The Butter Battle Book
Told in classic rhyming text, Dr. Seuss brings a book that helps young children understand and respect differences. Through the story, students will see that it is perfectly fine to have a different opinion than others.
25. Brown Bear, Brown Bear, What Do You See?
One of the most loved children's picture books of all time, this story is great for learning more about colors and animals. In the predictable pattern of this book, readers will love meeting the friendly bear and all his friends.
26. Stellaluna
This sweet story follows a baby bat who is dropped from her mother and finds herself among a family of baby birds. Although they will all eventually fly, she is very different from them. They accept her and she becomes part of their family in the adorable story.
27. Sideways Stories from Wayside School
Sure to tickle your funny bone, Sideways Stories from Wayside School is a funny chapter book filled with silly characters and goofy events. The school is built sideways and the characters all have their own unique quirkiness.
28. Beezus and Ramona
Beezus is just trying to be a good and responsible big sister, but Ramona is a walking tornado, full of mischief and energy. She is always up to no good and manages to bring trouble wherever she goes. Beezus tries to be patient, but Ramona is a special kind of trouble.
29. The Very Busy Spider
Another awesome picture book by Eric Carle, The Very Busy Spider has long been a favorite book for children. Uniquely illustrated, this interactive book is fun to touch, as well as read. Fun for all ages, this book for toddlers, early childhood, and even elementary-aged children is a must-have for every bookshelf.
30. Little Critter Series
Little Critter is among my favorite series of picture books. He, and later his little sister, share their experiences with their family and as they grow up. These awesome picture books are great for young readers and ideal for bedtime stories.
31. Goosebumps Chapter Book Series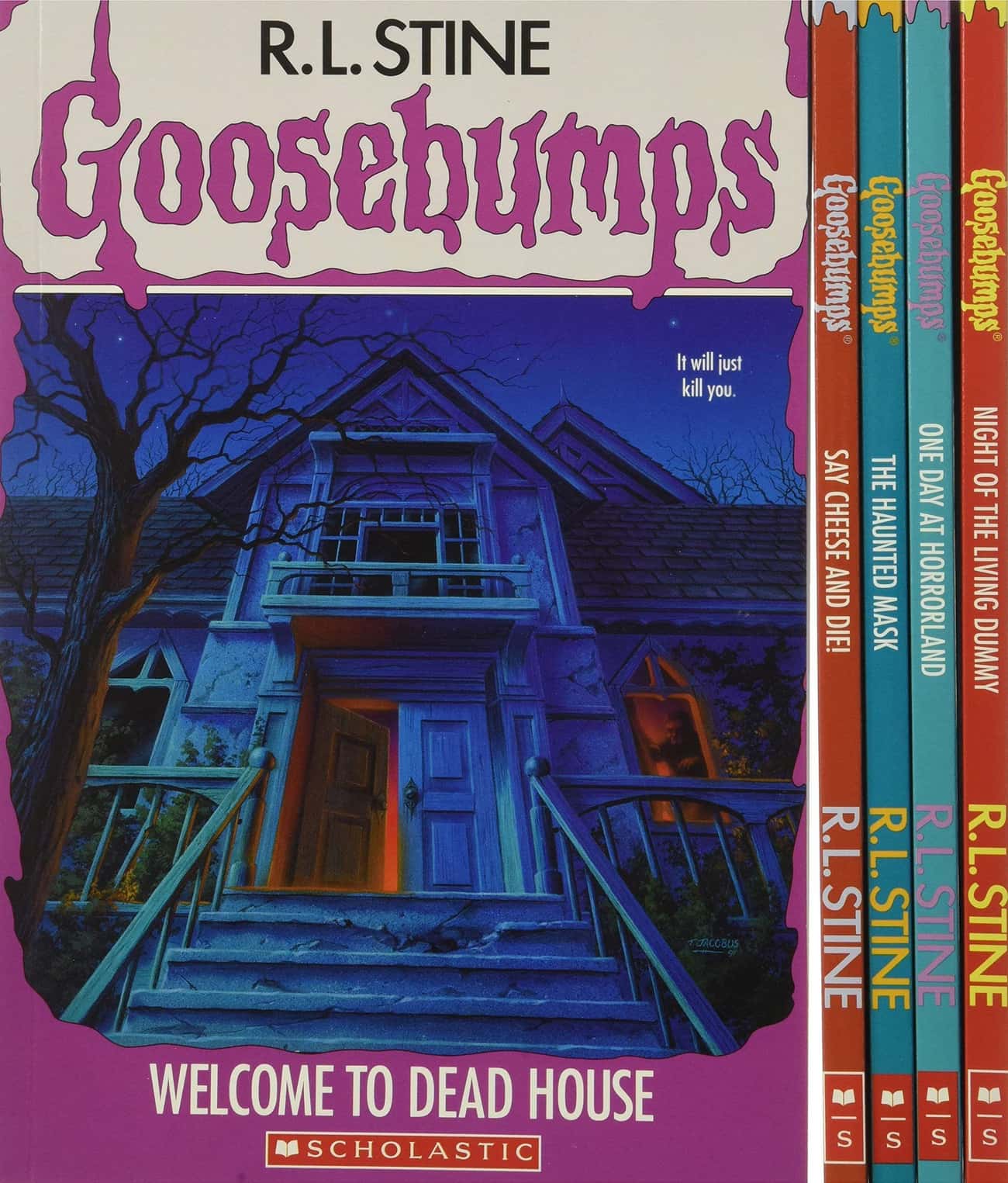 A whole series of wildly spooky and scary chapter books. Boys and girls in elementary school will love reading about the different scary stories and how they may end in R.L. Stein's Goosebumps series.
32. Scary Stories to Tell in the Dark
Does your little learner love scary stories? This is the book for those who enjoy ghost stories and frightening bedtime tales. While they read these folktales and spooky stories, they will enjoy simple illustrations that will help keep them fearful and frightened. But not too scared!
33. The Rainbow Fish
One of the most beautiful book covers ever, The Rainbow Fish has exquisite detail in the colorful and shiny scales. The story is a sweet tale of learning to share and being a good friend. This book is a great choice for starting back to school and setting a tone of kindness in your classroom.
34. Franklin's Bad Day
A whole series of books follows Franklin, a turtle who helps young readers learn valuable life lessons. This particular Franklin book is a good choice for when a friend has to move away. It is a good book to help young readers process emotions of sadness.
35. Where the Sidewalk Ends
Shel Silverstein is a classic poet with plenty of content! He thinks up the silliest, fun adventures possible. Children will giggle and can't wait to turn the pages of his books, as they soak up the equally silly illustrations and goofy topics.
36. The Paper Bag Princess
In this fun twist on the "damsel in distress" tale, The Paper Bag Princess features a courageous and resourceful princess who saves the prince from a terrible dragon. This story serves as an inspiring teaching tool, offering a fresh perspective on gender roles and empowering your students to challenge the norm.
37. The Giving Tree
This beautiful story shines a light on unconditional love and selflessness. Spinning the story of a boy and his favorite tree, Shel Silverstein weaves a tale that shows how the tree literally gives everything it has to show affection for his boy. The Giving Tree provides a treasure trove of teaching opportunities. This story encourages dialogue about what it means to give and take, love and appreciate, offering you a unique way to inspire selflessness in the classroom.
38. The Secret of the Old Clock
This first story in an amazing series of detective tales, The Secret of the Old Clock is the first book in the iconic Nancy Drew series. Your students will be riveted by the suspenseful storyline, clever clues, and young Nancy's intelligence and bravery. It's not just a mystery—it's an inspiration to young girls about the value of being resourceful and inquisitive.
39. The Snowy Day
Capturing the essence of a child's delight during a snowy day, this book is a seasonal favorite. The Snowy Day makes for a great anchor text to discuss seasonal changes, weather patterns, and the joy of a simple adventure. This story is a celebration of a child's wonder at the natural world and teaches lessons in observation and description- encouraging your students to explore their surroundings.
40. The Mouse and the Motorcycle
The Mouse and the Motorcycle features Ralph, a daring mouse who embarks on an epic adventure with a toy motorcycle. This whimsical and adventurous story offers lessons on friendship, bravery, and understanding, giving your students a great example of storytelling while providing you with rich topics for classroom discussions. It's an ideal book for promoting a sense of daring and encouraging your students to use their imaginations
41. The Magic School Bus
Ride on the Magic School Bus with Ms. Frizzle, her third-grade class, and her adventure-loving iguana named Liz. Your students will be enchanted by the captivating journeys into the world of biology, space, physics, and more. This highly entertaining series enhances the scientific curiosity of children; making it a perfect complement to your STEM curriculum and science content instruction.
42. Matilda
Matilda is no ordinary child and her story is anything but average. The book celebrates intellect, the love for books, and the idea that it's okay to be different. Matilda's ability to overcome difficulty and celebrate triumph serves as an inspiration for students, encouraging them to persevere through difficult times. The messages of resilience and resourcefulness make it an inspiring reading choice for the classroom.
43. Island of the Blue Dolphins
The Island of the Blue Dolphins is a gripping story of survival and self-discovery. This timeless tale highlights the importance of resourcefulness, bravery, and the resilience of the human spirit. The story serves as an engaging segway to discussing survival skills and exploring various cultural perspectives.
44. The Boxcar Children
Delve into a series of adventures and mysteries with the Alden siblings in The Boxcar Children. This extensive book series will certainly entertain and educate your kiddos, and further prompt them to discuss family values, the joy of problem-solving, and the thrill of adventure.
45. The Cat in the Hat
Take a walk on the wild side with Dr. Seuss's zany and imaginative tale, The Cat in the Hat. Written in a rhyming style that's engaging and fun, this story provides a captivating narrative that can help your students improve their phonemic awareness.
46. The Little House Collection
Journey back in time with The Little House Collection; giving your students a look into the pioneer days of America. The stories focus on the life and adventures of Laura Ingalls Wilder, guiding your learners to explore historical events, family values, and the human spirit.
47. The Tale of Peter Rabbit
The Tale of Peter Rabbit, a classic story by Beatrix Potter, is a charming story that has entertained children for generations. Filled with delightful illustrations, the story tells the tale of a mischievous rabbit who finds himself in a tough situation after disobeying his mother's warnings to stay out of the farmer's garden. It provides a whimsical, and thought-provoking tale that will engage your students while teaching them important moral lessons.
48. The Chronicles of Narnia
Step through the wardrobe and into a magical world filled with talking animals, valiant battles, and incredible adventures. C.S. Lewis's The Chronicles of Narnia offers a rich, multi-layered narrative that sparks discussions around courage, friendship, and the battle between good and evil. The first book in the Chronicles of Narnia series, The Lion, the Witch, and the Wardrobe is an excellent starter book for introducing fantasy literature and is great for teaching your kiddos about the importance of bravery, teamwork, and moral integrity.
49. Ramona Quimby, Age 8
Take a journey through the ups and downs of third-grade life with the hilarious and relatable Ramona Quimby in Age 8. Beverly Cleary's classic tale will help your students connect with the joys and challenges of being a kid and dealing with school life, whilst exploring themes of friendship, family dynamics, and everyday challenges.
50. The Complete Adventures of Curious George
Curious George never fails to engage students with his endless adventures and monkey mischief. These stories offer endless amusement while also teaching valuable lessons about curiosity and problem-solving. Each tale offers an entertaining way to help you spark discussions on cause-and-effect, decision-making, and the importance of thinking outside the box.
51. A Light in the Attic
Introduce your students to the quirkiest and most fun poetry collection out there. Shel Silverstein's collection of fun and whimsical poems in A Light in the Attic is sure to make even your most reluctant readers race for the poetry bookshelf.
52. Caps for Sale
The classic tale Caps for Sale by Esphyr Slobodkina features a peddler and a band of mischievous monkeys. Filled with humor, the story serves as an amazing anchor text to encourage problem-solving and pattern recognition. Its warmth, humor, and repetitive nature make it a perfect read-aloud for preschool and kindergarten students.
53. Flat Stanley
Flat Stanley, written by Jeff Brown, is the perfect chapter book for young readers who are just stepping into the world of longer texts. After being flattened by a falling bulletin board, Flat Stanley goes on some pretty amazing adventures. Despite his unusual appearance, he encourages students to embrace their individuality and see the bright side of difficult situations.
54. Goosebumps Series
R.L. Stine's Goosebumps series delivers thrilling tales that will draw your students in and keep them on the edge of their seats. These books are perfect for introducing elements of suspense, tension, and surprise in storytelling. Furthermore, the high-interest chapter books are a great choice if you're looking to encourage more independent reading!
55. Stone Soup
Stone Soup is a classic French folktale that has remained a popular classroom book since its first publishing in 1947. Using the story of Stone Soup, you can teach your students valuable lessons in resourcefulness, community, and the power of working together. This age-old tale will show them that sharing, kindness, and unity can turn even the most dire situation into a positive experience.
56. Bridge to Terabithia
Get ready to take your students on an emotional journey when you dive into Bridge to Terabithia. This story is an award-winning tale that delves into themes of friendship, loss, and the power of imagination. The narrative provides an opportunity for your students to explore complex emotions and grapple with real-world challenges. With the death of a friend, they'll be brought along and encouraged to navigate the intricacies of growing up, changing, and navigating complex relationships.
57. The Wind in the Willows
Immerse your students in the poetic and adventurous world of The Wind in the Willows. With its rich descriptive language and fun characters, the story offers a tale that's perfect for teaching character analysis, plot development, and the beauty of friendship. The story details the adventures of Mole, Ratty, and Badger as they try to help Mr. Toad get out of trouble. It also includes short stories that enrich vocabulary and encourage literary appreciation.
58. Strega Nona
Bring the enchanting tale of Strega Nona into your classroom to teach lessons in responsibility and the consequences of one's actions. This award-winning folktale combines humor and folklore to weave the humorous and engaging tale of Strega Nona, Big Anthony, and a disastrous accident with a magical pasta pot. It's a book that your students will love and one that is positively filled with teachable moments!
59. Frog and Toad Are Friends
This collection of simple, yet emotionally rich stories is perfect for young readers. Frog and Toad Are Friends is a short chapter book featuring a series of individual stories that offer lessons in friendship, responsibility, and problem-solving. The series serves as an excellent introduction to early chapter books; promoting a love for reading and encouraging students to develop reading stamina and confidence.
60. The Runaway Bunny
The Runaway Bunny is a timeless tale about a little bunny who fantasizes about running away from home. Each time he devises a plan, the ever-patient and loving mother responds with her own plans to return her special bunny back to his burrow. This classic storybook is engaging for young readers and will reassure them of the existence of unconditional love.
61. Holes
Geared towards older readers, this book dives into the intriguing life of Stanley Yelnats, a young boy who finds himself in a juvenile detention center. Stanley spends his days digging holes- a punishment that soon becomes a mystery to solve. Filled with historical elements, humor, and suspense, this book is sure to capture your students' attention and leave them wanting more at the end.
62. The Day the Crayons Quit
Let your students' imaginations run wild with this unique tale. This fun tale begins when Duncan receives letters from his crayons explaining why they've quit. With a touch of humor, and some really creative storytelling, this book will help your younger students learn about colors whilst discovering ways to articulate their feelings.
63. A Wrinkle in Time
Dive into alternate dimensions and invite your learners to explore the fabric of time and space with Meg Murry- a young girl who embarks on a quest to save her father. A Wrinkle in Time is a beautiful blend of adventure and fantasy. Its strong themes of courage, love, and good vs. evil lend themselves well to teaching a variety of curriculum standards.
64. The BFG
A highly popular book and movie, Roald Dahl's whimsical story features Sophie and her adventures with the Big Friendly Giant. Together, Sophie and her BFG embark on a mission to stop the bigger, child-eating giants from taking any more children. With elements of fantasy and loads of humor, this book makes for an entertaining read.
65. The Wonderful Wizard of Oz
This classic tale is a must-read for your students- especially if they've seen the movie beforehand. With a plot that hardly relates to the one known in the movie, it's a perfect way to show your students that books are always better than movies. The story follows Dorothy and her friends as they seek the Wizard of Oz to grant their wishes. Rich in lessons about courage, intellect, and camaraderie, the story is just as impactful today as it was when it was written.
66. Stuart Little
Discover the charming world of Stuart in a read about a mouse who lives with a human family. A tiny mouse with a big personality, Stuart takes on a human-sized world to find his way to happiness. This tale is an excellent way to explore themes of friendship, courage, and acceptance in the classroom.
67. The Little Engine That Could
This timeless tale is the perfect read to encourage a sense of self-belief and determination. It features a little blue engine that tackles a seemingly impossible challenge by being persistent, determined, and repeating the phrase, "I think I can".
68. Are You My Mother?
In this charming story by P.D. Eastman, your students will follow a baby bird on an adventurous journey to find his mother. Along the way, he meets some curious characters but doesn't give up his quest to locate his missing mama. With simple illustrations and an engaging storyline, this book is ideal for early readers. The narrative is simple yet impactful; perfectly capturing the essence of the bond that exists between parent and child.
69. The Lorax
Take your students on a journey through the whimsical world of Dr. Seuss, where they will meet the Lorax. This creature speaks for the trees and will teach your kiddos about the importance of caring for our environment. The Onceler, an industry tycoon, learns his lesson about conservation and the effects of pollution when he ruins the once-beautiful fields of truffula trees. The perfect book to make your students think more deeply about the planet!
70. The Secret Garden
Introduce your students to the transformative tale of Mary Lennox, who turns a neglected garden into a sanctuary of beauty and friendship. The story captures the spirit of human transformation and the impact of nature on the human spirit. The Secret Garden is a magical read that can inspire your students to find beauty in every situation, regardless of how dark things may seem.
71. The Velveteen Rabbit
This timeless story about a stuffed rabbit longing to become real is a testament to the power of love. The tale explores how love is so powerful that it can make even a stuffed toy feel alive. This book is a heartwarming tale that includes lessons about friendship, love, and the magic of being true to oneself.
72. Corduroy
Meet Corduroy- a small teddy bear sitting on a store shelf who wishes for a friend. This classic narrative revolves around themes of friendship, love, and perseverance. Your students will undoubtedly fall in love with this endearing story of a bear's journey from a store shelf into the arms of a loving owner.
73. Charlotte's Web
This literary gem spins a web of a tale about the friendship between a pig named Wilbur and a spider named Charlotte. The story is full of life lessons on friendship, sacrifice, and the circle of life. Reading this book with your students is sure to foster important discussions on acceptance, empathy, and the beauty of the world around them.
74. James and the Giant Peach
This imaginative story follows young James; an orphan boy with a difficult, and quite dismal, home life. James' life takes a thrilling turn when he finds himself inside a gigantic peach with magical insects for companions. The story is full of fantasy, adventure, and lessons on friendship and bravery. This Roald Dahl classic is an amazing way to introduce the fantasy genre, as well as engage your students and keep them coming back for more.
75. A Bear Called Paddington
Fall in love with Paddington- a bear from Peru who arrives in London and finds himself getting into all sorts of adventures. With his love for marmalade sandwiches and his heart of gold, Paddington is a charming character who brings kindness, joy, and a touch of mayhem into the lives of the Brown family. The tale's use of humor and acts of kindness make it an excellent read for young students.
76. The Little Prince
Take your students on an enlightening journey through the cosmos with the Little Prince. While the story is a simple exploration of various planets, it presents profound lessons about love, friendship, and the importance of looking at the world through the eyes of a child. The book will offer your students a chance to reflect on life, love, and human nature, and is a perfect addition to any classroom bookshelf!
77. Green Eggs and Ham
This classically renowned Dr. Seuss book is an excellent choice for early readers. With just 50 unique words, the story is about Sam-I-Am's mission to convince a grumpy character to try green eggs and ham. Along the way, your little ones will get a little more comfortable with reading thanks to the book's repetitive text and predictive rhyme.
78. Madeline
Set against the beautiful backdrop of Paris, your students will be enthralled by the tales of a little girl named Madeline. Her boarding school adventures are filled with courage, charisma, and fun. Beyond that, her ability to face challenges with grace and poise will certainly inspire your kiddos to be brave and adventurous.
79. Hatchet
This gripping tale of survival is perfect for older students. Young Brian, the product of a broken home, survives a plane crash only to find himself alone in the Canadian wilderness with nothing but a hatchet. This brilliant novel by Gary Paulsen will draw your readers in and keep them on the edge of their seats with its thrilling plot line. It's also the perfect story for teaching resilience, the importance of self-reliance, and the power of determination.
80. The Mitten
This Ukrainian folktale is an entertaining winter read for your students. When a boy loses his mitten, Jan Brett shares the adorable hijinks as various animals find it and make it their home. As more and more animals snuggle up inside the mitten, your students will be charmed by the story's warmth and the beautiful, detailed illustrations.
81. The Monster at the End of This Book
This hilarious and interactive story is a lovable tale that features Sesame Street character, Grover. Throughout the book, he pleads with readers not to turn the page to reveal a supposed monster at the end; creating suspense that will undoubtedly keep your students engaged. This clever and engaging book will easily help you foster a love for storytelling whilst encouraging participation and generating laughter that will echo across your classroom.
82. Mike Mulligan and His Steam Shovel
This classic tale will teach your students the values of hard work, determination, and friendship. Mike Mulligan and his trusty steam shovel, Mary Anne, prove that age doesn't limit one's ability to contribute to society. In their quest to compete against newer and more efficient technology, this story aptly highlights that no one is too old or outdated to be valuable.
83. Because of Winn-Dixie
Meet Opal, a young girl who, with her dog, Winn-Dixie, explores friendship and unravels secrets about her past. This heartwarming tale teaches your students about the importance of love, friendship, acceptance, and family. It's a beautifully written story that's sure to make for a perfect read-aloud or novel study.
84. Jumanji
In this action-packed story, a magical board game brings chaos, destruction, and loads of adventure into the lives of two unsuspecting children. Mayhem erupts when the magical game unleashes dangerous and somewhat frightening animals into the real world in this thrilling book that will captivate your students' imagination and keep them engaged from start to finish. It's a must-read if you're looking to inspire discussions on bravery, problem-solving, and the power of teamwork.
85. If You Give a Mouse a Cookie
This entertaining tale is a fun introduction to the concept of cause and effect. With every action leading to a funny reaction, your students will be captivated by the endless antics of the mouse. It's a light yet educational read that's perfect for younger students.
86. Dear Zoo
Dear Zoo is an interactive, lift-the-flap book that aims to make reading exciting for your youngest students. The story follows the correspondence between a child and the local zoo in a quest to find the perfect pet. Along the way, the zoo sends a myriad of terrible pets and will leave your students happily guessing which animal the zoo has sent. Dear Zoo is a charming and fun way to captivate your students' attention while also teaching them about persuasive and descriptive techniques, along with teaching them about different animals.
87. The Polar Bear Son: An Inuit Tale
Based on a traditional Inuit folktale, this story teaches your students about kindness, mutual respect, and cultural diversity. A great introduction to Inuit culture, this read follows the life of an old woman who adopts a polar bear cub that later returns to care for her. It's an excellent choice if you're keen on sparking meaningful discussions about diverse cultures and exploring the power of love and family.
88. The Stinky Cheese Man and Other Fairly Stupid Tales
The Stinky Cheese Man and Other Fairly Stupid Tales is a hysterical collection of fractured fairy tales that will have your students giggling from start to finish. This book takes classic stories like "The Ugly Duckling" and "The Gingerbread Man" and turns them upside down and inside out; making them the perfect choice to engage young readers, stimulate creativity, and inspire them to write their own fantastical stories.