Are you looking for holiday-themed classroom activities for your elementary students? If so, this list may be just the inspiration you're looking for. The festive activities listed below are great for getting you and your students into the holiday spirit.
Whether you're looking for a class party idea or something to add to your holiday lesson plan, these creative ideas will lighten everyone's mood. Read on to find an activity that is appropriate for the grade level you teach.
1. The 3D Christmas Tree Card
Have your students create a list of family members to make cards for. Then have multiple card stations set up for this card and the two ideas that are listed below. Students can make any of these card suggestions suitable for any family member!
Learn more: Steam Powered Family
2. Present Card
This cute card cover just needs red cardstock and glitter paper, a red ribbon, googly eyes, and a sharpie. What a simple shopping list for fun and effective holiday cards! Help students with prompts to write inside to their families.
Learn more: The Best Ideas For Kids
3. Finger Print Christmas Tree Decorations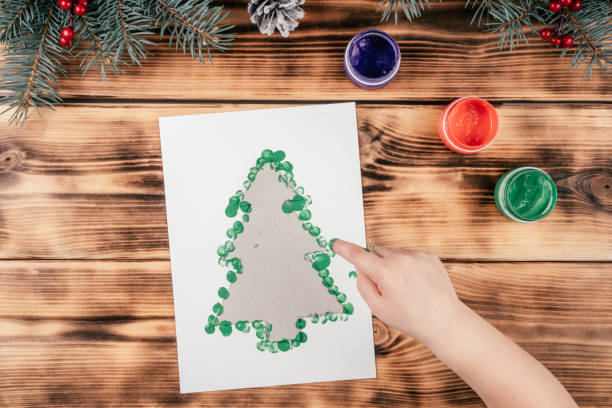 Leave it as a decoration, or you could turn this painting into a greeting card. Be sure students are able to wash their hands before moving to the next activity! The best part about this is students can decide if they like the actual tree or the outline better.
Learn more: Rhythms of Play
4. Countdown Blocks
These blocks are a fun and easy daily activity you can do with your students starting when they get back from Thanksgiving. Younger students will love changing the blocks out every day. It can be part of a math lesson for younger minds.
Learn more: Everyday Dishes
5. The 3D Wreath
You will need lots of toilet paper rolls for this one, so start collecting them now! Have students write a message on each one before gluing them to a paper plate. Pre-cut the greenery for younger kids, or have older students make their own leaves.
Learn more: Look to Him and Be Radiant
6. Pipe Cleaner Wreath
Need some fresh ideas for low-prep activities? Pipe cleaners and yellow buttons are all you need for this! Students will use their pencils to create the perfect wreath twist. Since there's a lot of finger coordination, this is suggested for older elementary students.
Learn more: When Running Amok
7. Advent Calendar
Students can make their own calendars, or you can make one large calendar for the whole class. Either way, adding the stars to cover up each day to Christmas makes for a great whole class holiday activity. The largest star is for Christmas Eve!
Learn more: That Artist Woman
8. Creative Writing Activity
Have a list of 20 prompts ready to go (see the next item on this list). Then use the random prompt picker to select the one students will write about. Hit "pause" to select which number prompt the green reindeer will land on.
Learn More: Youtube
9. Writing Prompts
A full list of prompts can be found here. This holiday-themed journal activity will challenge students in third grade and up as they use critical thinking skills to apply their imagination to topics around the holiday season.
Learn more: Minds in Bloom
10. Daily Jokes
After counting down the days until Christmas, start each day in December off with a wintery joke. This is sure to be a hit with students as you lighten the mood and get a quick chuckle out of the group before diving into these other cool ideas.
Learn more: A Sparkle of Genius
11. Christmas-opoly
Below you will find three board games. Host a board game day in your classroom with multiple classroom games to choose from. Kids will love being able to pick which Christmas-themed game they will get to play.
Learn more: Amazon
12. Grinch Grow Your Heart Card Game
Get your game boards ready to go for this interactive game. See who can make the Grinch's heart grow the biggest as students draw cards and make strategic decisions about which ones to keep and which to discard.
Learn more: Amazon
13. A Christmas Story Memory Card Game
I love a classic memory game, and this one is straight from A Christmas Story! If you're looking for a movie day, perhaps you could play this movie before the memory game so students can laugh as they remember the silly scenes shown on the cards.
Learn more: Amazon
14. Christmas Tree Cup Stacking STEAM Challenge
This cup stacking game doubles as a way to bring STEM activities into the classroom. The red and green cups add some festive flare to this stacking game. You'll also need a wide strip of cardboard and a toilet paper roll.
Learn more: Raising Dragons
15. Magazine Christmas Trees
Do you have a bunch of magazines in a random storage closet? You can easily get rid of them with this fantastic idea. Lots and lots of folding are required to make these magazine trees, so be sure the little hands are up for it!
Learn more: Raising Dragons
16. Christmas Math Song
Are you looking for a way to ask some maths questions during the holiday season? This video is a maths activity that is all about adding double numbers. Students can work on their math skills while helping Santa figure out how many presents he needs.
Learn More: Youtube
17. Color by Code Activity
This is such a great way for students to learn new words. The constant repetition of short words for each color will help cement these words in their memory while learning to color in the lines. They will be so excited when the stocking appears.
Learn more: A Teachable Teacher
18. Glyph Activity
What is a glyph, you ask? It's a worksheet that works on decoding data. Glyphs help to build math and reading skills, usually with a picture. Think of it like solving a word problem or a riddle. The glyphs you see here are specifically for December.
Learn more: Our Journey Westward
19. Yuletide Blanket Story Time
Celebrate the winter solstice with some kid-friendly Yuletide activities. One idea is to have story time on this Yuletide blanket. Start the lesson with an explanation of what the winter solstice is, and what the blanket represents, and end with a story about winter.
Learn more: Attic 24
20. Grinch Prize Wheel
Use this classic carnival game as a way to dish out prizes for some of the games you and your students played. Have a few simple prizes ready to go like candy canes, pencils, or erasers. Winners get one chance to spin.
Learn more: Oriental Trading
21. Snowball Bowling Game
Your 5th-grade students will love this holiday-themed bowling game. How many snowman cups can they knock down with their snowball? Be sure to have set rules on where the snowball throwing is allowed and if they need to place the cups on the floor.
Learn more: Amazon
22. Snowman Paper Plate Game
Here is a simple activity that just requires paper plates and a sharpie. Students will put a paper plate on their heads and keep it there until the teacher reads all instructions. The teacher will provide directions for students to draw snowmen while the plate is on their heads!
Learn more: Little Cooks Reading Books
23. Art Frame Gift
Double up the popsicle sticks to make some sturdy picture frames. Ask students to bring a family photo to place inside the frame before wrapping it in tissue paper. This is one of the best activities for children that doubles as a gift.
Learn more: Farm Food Family
24. Footprint Ornaments
These are such cute ornaments! Big kids will take up too much room, so these are best for kindergarteners. Getting your foot covered in paint is such an exciting time! Kids will love sharing these with mom and dad.
Learn more: Eigthteen25
25. Elf Crossword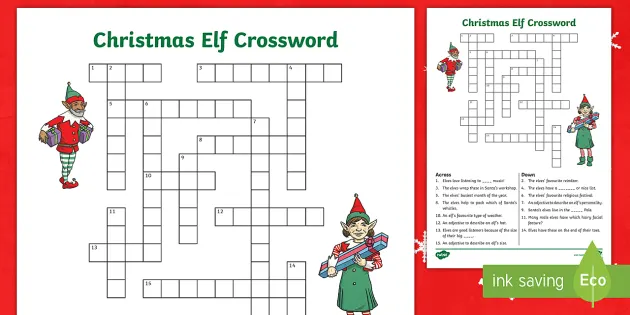 Have students complete the crossword in groups. Students will need to keep these faces down until you say "go." The first team to accurately complete the crossword is the winner. Be sure to have the answer key printed out before beginning.
Learn more: Twinkl
26. Gingerbread Shape People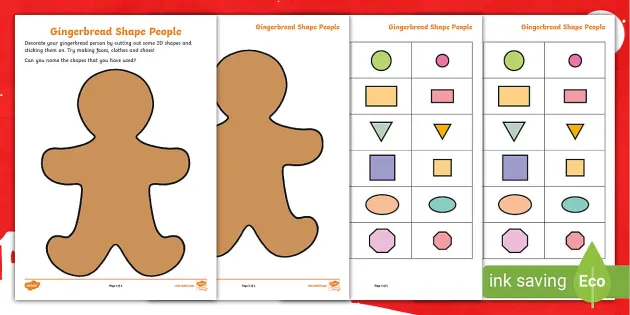 Younger students will love cutting out these shapes and using them to decorate their gingerbread men. Chipper children will have fun with their friendly teacher the entire time they are working on these special shape people.
Learn more: Twinkl
27. Christmas Math Mosaics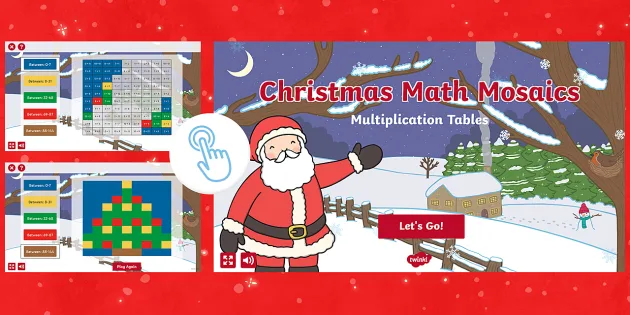 Santa is here to help with maths lessons! The solution to this multiplication table will look like a Christmas tree. Fourth graders will love this interactive mosaic filled with challenging questions designed to enhance their math skills.
Learn more: Twinkl
28. Host a Gift Exchange
Use these gift tags for a simple yet lovely gift like a box of crayons. Have each student bring in a gift for a gift exchange. If you have a small class, you can play Yankee Swap where students get to steal a gift up to three times!
Learn more: Etsy
29. Tissue Paper Christmas Trees
For these trees, you will need four pieces of 15x30cm of tissue paper per student. Multiple small pieces of wire per student are also needed. Make long sticks out of rolled newspaper ahead of time. Then it's just a lot of folding and spreading out.
Learn More: Youtube
30. Candy Cane Reindeer
These super cute candy cane reindeer can be an ornament or a stocking stuffer. There are many fine motor skills involved with tying the ribbon and making the antlers, so this is best for older elementary students.
Learn more: One Little Project
31. Felt Candy Ornaments
Are you a 5th-grade teacher? If so, these felt candy ornaments might be the perfect new experience for children in your grade. You'll need craft felt, lollipop sticks, multiple glue guns, embroidery floss, and a needle.
Learn more: Happiness is Homemade
32. Beaded Snowflake Ornaments
Have students choose if they want to make the felt ornaments or a beaded snowflake ornament. Many students have bead sets at home that they can bring in. You'll need to provide the wiring and string for hanging.
Learn more: Happiness is Homemade
33. Christmas Slime
This slime is easy to make! The ingredients include glue, liquid starch, food dye coloring, and glitter. Younger students will love this super sensory activity as they feel the slime between their fingers. It can be something kids can play with if they finish a craft early.
Learn more: Mom Dot
34. Mice Ornaments
These mousey ornaments require glue, candy canes, scissors, and felt. Be sure to cut out the mouse bodies ahead of time if you are working with younger kiddos. Pipe cleaners can be used instead of candy canes.
Learn more: Mosswood Connections
35. Holiday Math Riddles
These riddles contain maths questions for first through 8th grade. Riddles make for a fun maths activity! This resource has five pre-made riddles ready to go. Look through the list to decide which riddle is best for your age group.
Learn more: Mashup Math