During the holiday season, it can be difficult to keep toddlers focused on activities! Themed Christmas activities are definitely the way to go at this time of year as they help build excitement whilst keeping learning on track!
We have put together a fantastic list of Christmas activity ideas for toddlers to enjoy. Our list is packed with fine motor activities, games, crafts, and other fun ideas to celebrate the holiday season.
1. Painted Footprint Christmas Card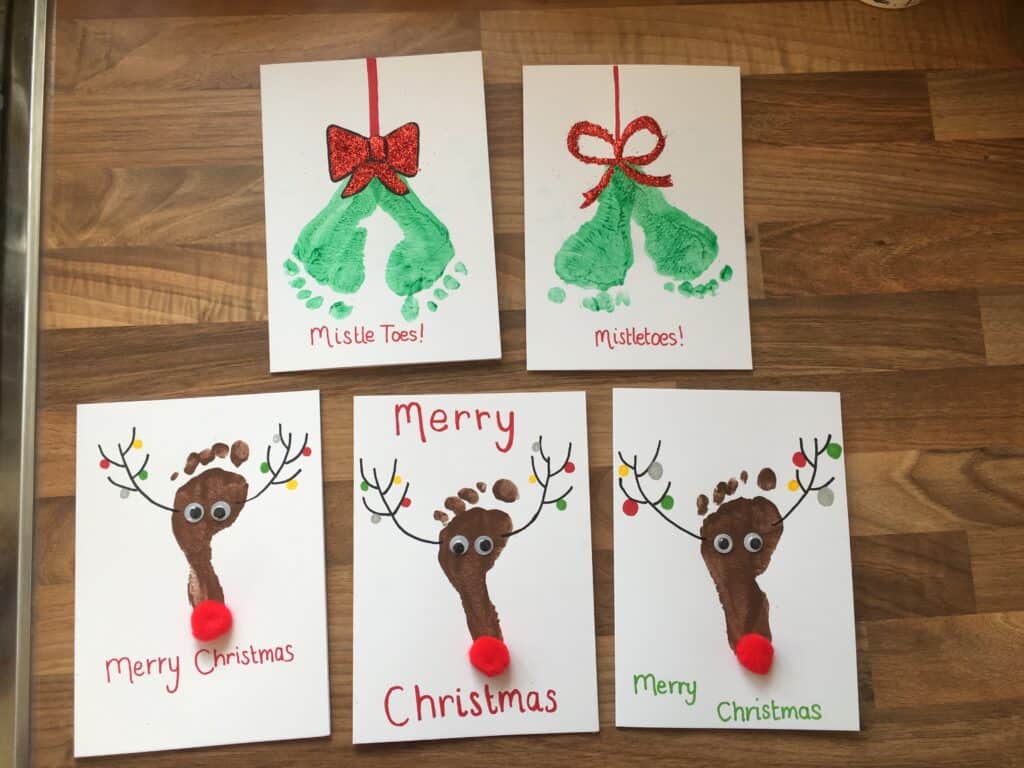 These painted footprint cards are the perfect craft to enjoy with toddlers. They will love the messy, sensory aspect of the feel of the paint and parents will love the adorable footprint memento!
Learn More: Mummy Miller
2. Pom Pom Sorting Tree
This festive, fine motor activity is a super way to get kids practicing their grip. You can differentiate this activity for different ages and abilities by changing the materials! It's also a great opportunity to recycle those old egg cartons!
Learn More: Instagram
3. Pine Cone Posting
The possibilities of this activity are endless. You could modify the activity to make different-sized holes for children to sort small and large objects into, or you could assign each hole a specific color and design a color-sorting activity. Or, like the creator, you could encourage an exploratory approach and see how your toddlers decide to engage with it!
Learn More: Instagram
4. Decorate a Christmas Jumper
This fun activity is a fantastic way to get your little ones into the Christmas spirit! Set up this fun tabletop activity and watch as your kids create a unique Christmas jumper! You could set up multiple jumper outlines so each child can create their own or you could let them work together on creating just one special version.
Learn More: Pinterest
5. Christmas Tree Decorating
Help your kids develop their fine motor skills by decorating these tiny Christmas trees with some tiny decorations! Challenge them with smaller pom poms and make it easier with bigger ones.
Learn More: Buggy and Buddy
6. Snowman Names
This fun holiday activity is a great way to get kids to identify the letters in their names and gives them some practice at writing their names. These will also make a great display in your classroom around Christmas time.
Learn More: Fun-a-Day
7. Sing a Counting Christmas Song
Keep the kid's numeracy skills ticking in a festive way with this fun Christmas song; practicing numbers 1 to 10. There are even more Christmas-themed counting songs on this YouTube channel to pick from. Your toddlers will love dancing and singing along!
Learn More: Super Simple
8. Jingle Bell Sticks
This super simple craft is a great way to build excitement for the jingle bells of Santa's sleigh! Let your children create and decorate their own jingle bell sticks and have fun with musical games or activities!
Learn More: Early Learning Ideas
9. Counting Christmas Tree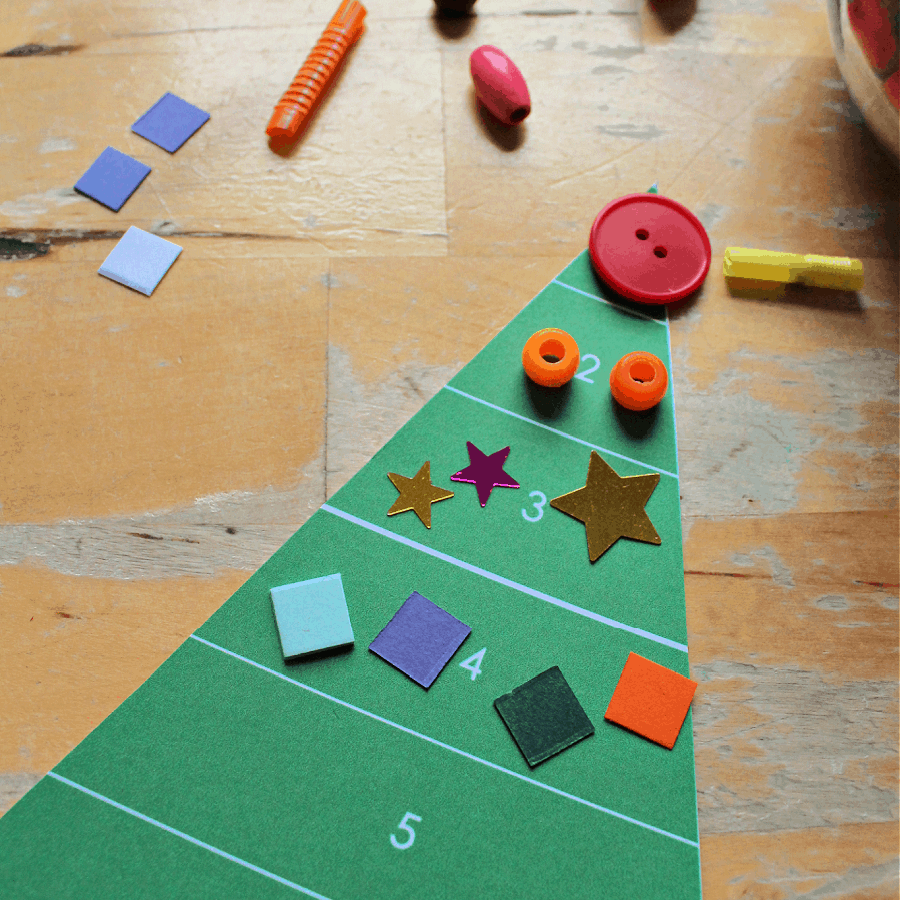 Have fun practicing numbers using this counting game. You could provide the objects or challenge your kids to go on a scavenger hunt to find items in the room to place on the tree! This versatile activity is super simple to create and can be used in so many different ways.
Learn More: Nurture Store
10. Christmas Tree Messy Play
There are lots of activity ideas for messy Christmas play, but this is one of our favorites! All you need is a can of shaving foam to create your tree and some water beads, or other colorful items for decorating. Leave your toddlers to explore their creative side and decorate their own Christmas tree.
Learn More: Crafty Kids at Home
11. Make Hanging Bird-Food Decorations
This activity is a new twist on the traditional ornament craft. Using a simple recipe, kids can make the perfect decorations for our feathery bird friends! These hanging decorations are safe for the environment and are a great way to decorate gardens or outdoor learning spaces.
Learn More: Muddy Puddles
12. Fingerprint Christmas Cards
Fingerprint Christmas cards are beloved by toddlers who enjoy getting their hands into paint! These cards are easy to make and a cute way to capture fingerprints as a memory for the future. There are so many different fun ideas to make fingerprints into festive designs.
Learn More: Be a Fun Mum
13. Nativity Role Play Area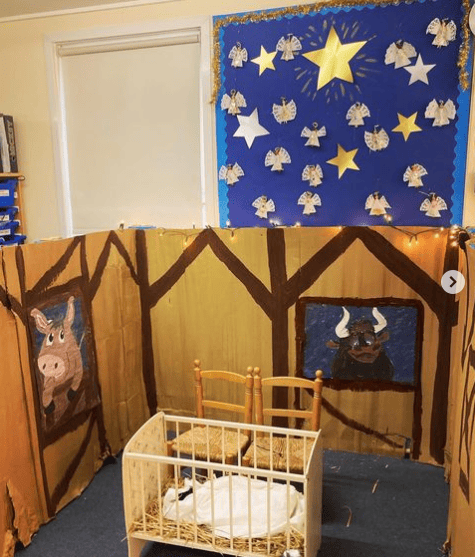 This lovely idea will help toddlers learn where some of our Christmas holiday traditions and stories originate from. If you are doing a nativity show with your kids, this is also a great way to help them practice!
Learn More: Instagram
14. Christmas Phonics
During the festive period, it can be tough to keep up with regular learning like spelling and phonics with all the activities going on. Combine the two with this fun Christmas-themed phonics song!
Learn More: Rock N Learn
15. Cut Santa's Beard- Scissor Skills Card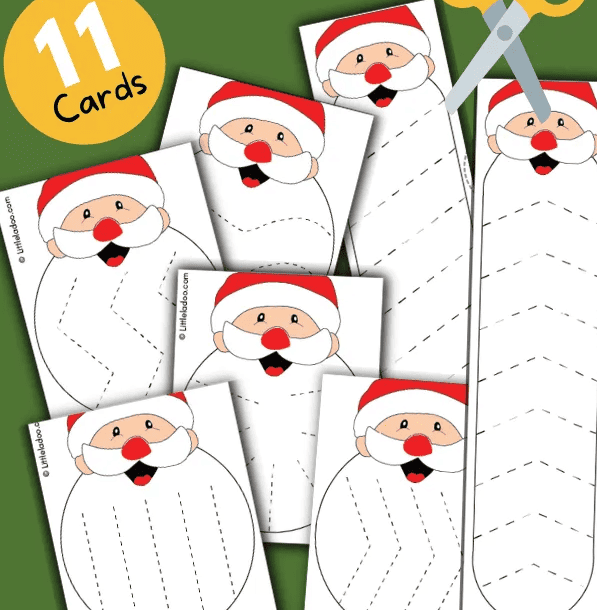 Toddlers will love this activity where they will have the chance to cut Santa's beard! This activity gives kids a chance to practice their scissor skills and will improve fine motor control.
Learn More: Little Ladoo
16. Christmas Tree Geo Board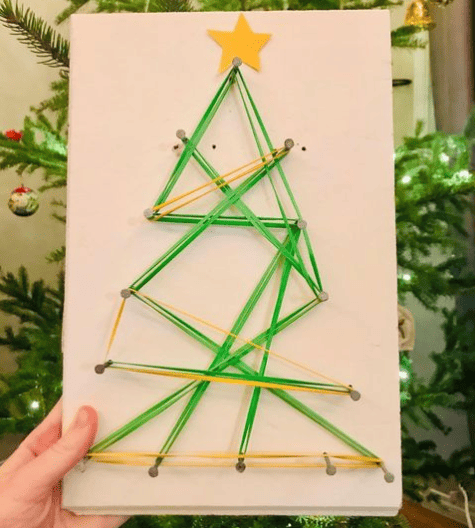 Practice some more fine motor skills with this cool Christmas tree geo-board. You could create different Christmas-themed shapes or let your toddlers create completely unique designs. These are easy to set up and will look great on display!
Learn More: Instagram
17. Footprint Christmas Tree Card
What toddler doesn't love the chance to get their feet covered in paint!? The finished product will look great and parents will love the sentimental value of having their little one's footprints captured in this festive momento.
Learn More: Messy Little Monster
18. Christmas Tree Hand Decoration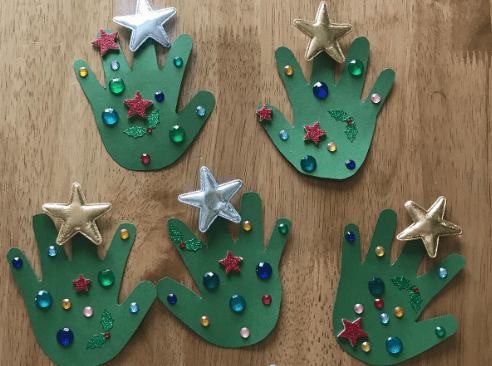 This ornament craft is the perfect activity for toddlers. These personalized lightweight decorations are great to hang up in class or to send home. Students just need to draw around their hand, cut out the shape, then decorate it like a Christmas tree.
Learn More: Instagram
19. Salt Dough Decorations
Using a quick salt dough recipe, this ornament activity is a simple way to create a special gift for parents or other family members. Salt dough is a great sensory activity as kids can spend time kneading and playing with the dough before making their hand prints and then creating these sweetly painted Santa crafts.
Learn More: Coley Kuyper Art
20. Christmas Sun Catcher Decorations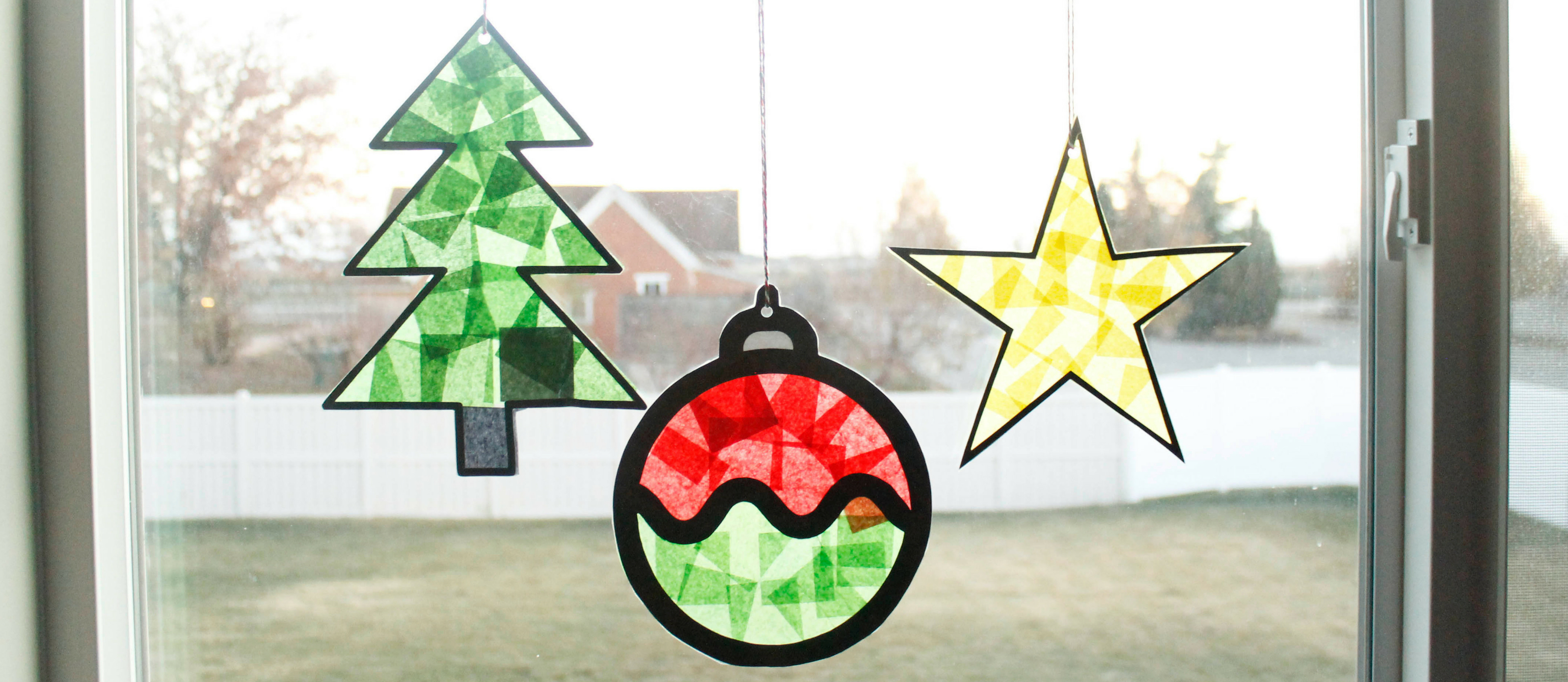 These stained glass window decorations make great sun catchers, which will look amazing in the Winter sun. All you'll need are some cut-up pieces of colored tissue paper, adhesive contact paper, and some cards to print the templates onto.
Learn More: Fun365
21. Christmas Light Slime
It's no secret that kids love sensory activities and this one definitely won't disappoint! Using only a simple slime recipe, some non-electrical Christmas lights, and a torch, this activity is sure to impress. Just make sure you have somewhere dark you can go to really see your Christmas light slime at its best!
Learn More: Steamsational
22. Christmas Tree Balance Game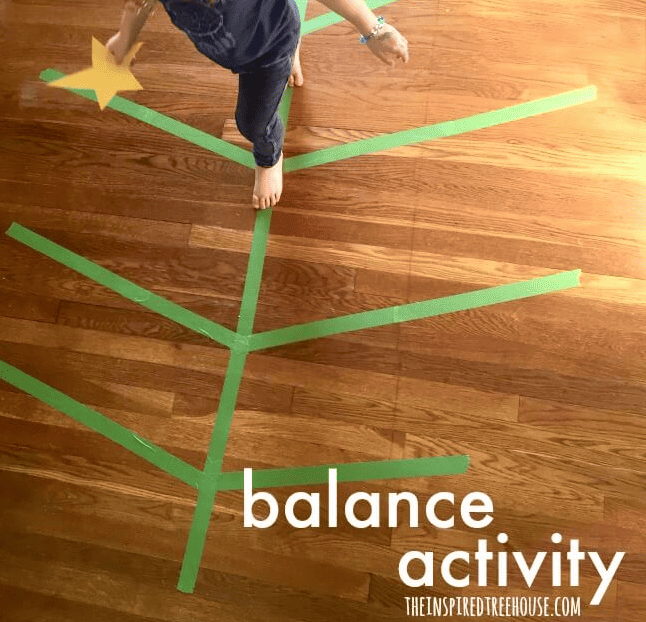 This activity is perfect for improving gross motor skills. All you will need is some tape to mark out a Christmas tree shape on the floor and your toddlers can then walk along the tree and its branches while they do their best not to fall off! Make it even more challenging by adding Christmas ornaments for them to pick up along the way!
Learn More: The Inspired Treehouse
23. Follow the Star Walk
Getting toddlers outside is the perfect way to burn off some energy. This activity links well with the nativity story. Create a scavenger hunt or simply write challenges on each star you hide for the children to complete when they find it.
Learn More: Creative Star Learning
24. Loose Parts Christmas Tree
Challenge your toddlers to build a tree with blocks and cardboard. They will need to order the cardboard from longest to shortest before the build and will need to think carefully about ornament placement to make sure that their tree is balanced!
Learn More: Easy Play Ideas
25. Don't Ring the Jingle Bells
This game is a super fun idea for toddlers and also perfect if you need a moment of quiet and calm! Attach some jingle bells to a hula hoop and set up an obstacle course and watch them go!
Learn More: Childhood101
26. Christmas Tic-Tac-Toe
Tic-Tac-Toe is a super simple game to play with toddlers. This Christmas version is something you could have set up in the classroom over the festive period. Encourage kids to think about their next move to build their strategic thinking skills.
Learn More: Kindergarten Worksheets and Games
27. Christmas Tree Fingerprint Art
Sensory activities are sure to get kids enthusiastic and engaged! All you will need for this finger-painting activity is a Christmas tree cut out, some paper, and a few different colors of paint.
Learn More: A Dab of Glue Will Do
28. Santa's Workshop Role Play Area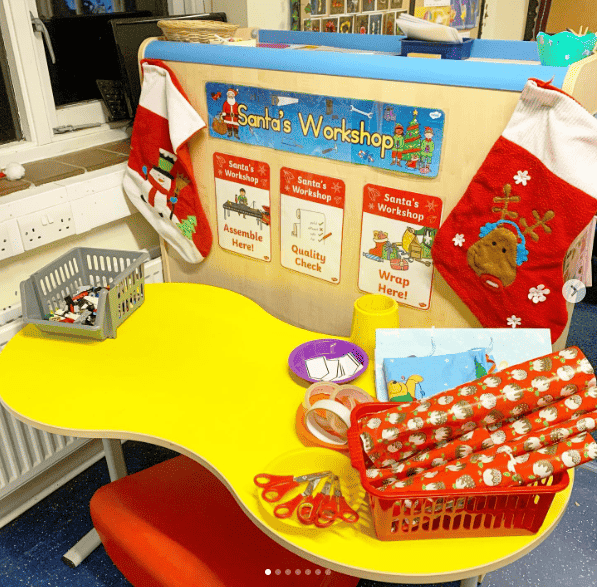 This fun, themed activity is perfect to get your toddlers thinking creatively. Kids can try to wrap gifts, create some brand-new toys with recycled materials, or just play pretend.
Learn More: Instagram
29. Snowchildren
Creating these snow children is a great activity that could be used to display photos of kids in your class over the festive period. Kids can personalize the hats and the buttons on their own snowman!
Learn More: The Pike Fam
30. Decorate Your Outdoor Space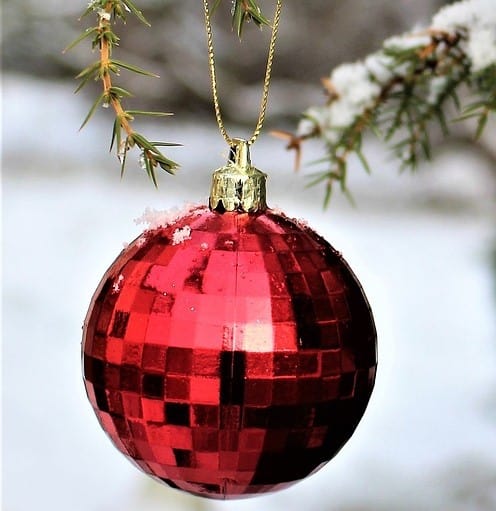 Spruce up your outdoor learning space for the holidays with this lovely idea. This is a great way to get toddlers excited about going outside and lets them get creative with decorating.
Learn More: Facebook
31. Hide the Reindeer
This basic engineering activity is a great introduction to STEM. Kids will try to figure out the best way to hide a toy deer and, during the activity, will learn about deer and how they might hide or run away from danger in real life.
Learn More: Steamsational
32. Christmas Tree Races
This game is perfect to burn off some energy and get them moving! Using printed pictures of ornaments, shapes, or anything you want, this fun racing game is a fun way to get competitive with your toddlers.
Learn More: Castleview Academy