Bring the holiday cheer to your preschool classroom by incorporating a few of our jolly activity sheets. Specifically tailored to young minds, our collection interweaves fun and learning with the most magical time of the year. From pattern recognition with Christmas ornaments to an adventure with the Nutcracker on a number match, these activity sheets are designed to captivate your students while enhancing their skills. So, let's jingle all the way to a merry, educational Christmas!
1. Christmas Pattern Parade
March along with the Christmas pattern parade as your kiddos relish in this coloring activity in which they'll need to identify and complete Christmas-themed patterns.
Learn More: All Kids Network
2. Santa's Sleigh Load
Santa needs your preschool class' help! Can your learners figure out what presents fit into his sleigh based on their shapes and sizes? With this interactive task, you can foster spatial reasoning and problem-solving skills in an engaging and magical way.
Learn More: Twinkl
3. Jingle Bell Math
Let's take a trip to number town with a merry arithmetic activity! Let your learners use jingle bells for counting and solving simple equations to blend holiday cheer and math skills.
Learn More: Super Simple
4. Elfin Christmas Card Making
Get an assembly line going as your students design and color their own Christmas cards. With stations to fold, cut, glue, decorate, and write a special message, they'll be able to craft cards for all their loved ones!
Learn More: YouTube
5. Christmas Carol Crossword
This festive crossword activity challenges kids to find words from popular Christmas carols. It's a mind-stimulating exercise that not only improves vocabulary but also boosts their knowledge of classic holiday tunes.
Learn More: Riddles Now
6. Candy Cane Stripe Counting
Get counting to discover how many stripes each candy cane has! This sweet counting activity invites preschoolers to count the number of stripes on various candy canes before enjoying a tasty treat with the real thing!
Learn More: Nurture Store
7. Magical Snow Globe Drawing
Shake up some creativity with this magical activity! Here, learners can illustrate their very own snow globe scene, unleashing their imagination while fine-tuning their artistic skills.
Learn More: Art With Crystal
8. Reindeer Route Maze
Oh, the weather outside is frightful, but finding the correct route is so delightful! In this exciting maze activity, learners will need to guide Rudolph back to Santa's sleigh, just in time to deliver presents for Christmas.
Learn More: Twinkl
9. Snowy Day Symmetry
"Let it snow, let it snow, let it snow!" With this activity, your kiddos can explore the concept of symmetry as they draw the missing halves of beautifully designed snowflakes.
Learn More: Teach Beside Me
10. Christmas Rhyme Time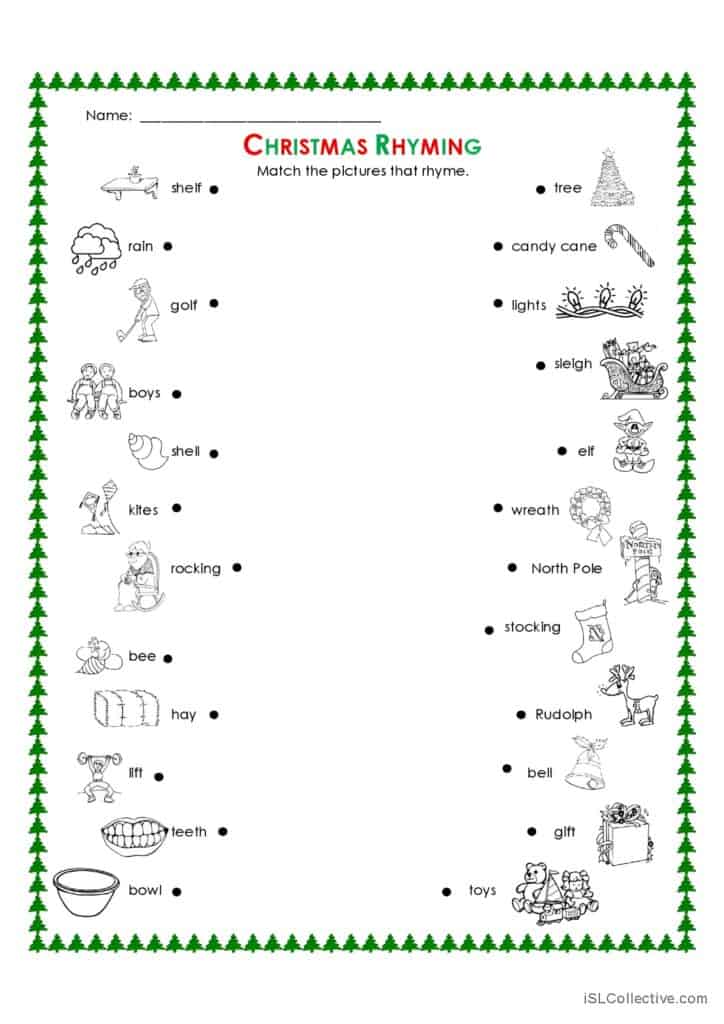 The fun-filled fusion of phonics and festivities will have your kiddos rhyming all season long! The activity sheet prompts your students to match pictures of words that rhyme; all set against a holiday backdrop.
Learn More: ISL Collective
11. Gift Box Geometry
As your students transform a piece of paper into a cube, they'll be able to craft their very own Christmas gift boxes. Have them festively decorate their box before cutting, folding, and gluing it together!
Learn More: Super Coloring
12. Holiday Meal Planning
It's time for your little chefs to step into the culinary world as they draw their dream holiday feast. Not only will the activity trigger engaging and insightful conversations about nutrition and food groups, but it will also introduce them to family traditions around food enjoyed over the holidays.
Learn More: YouTube
13. Journey to Bethlehem
All aboard on a mystical trip to Bethlehem! This seemingly simple map activity takes your learners back in time and introduces them to the story of Christmas in an interactive and faith-filled way.
Learn More: TES
14. Frosty's Math Sheet
Who knew that math could be so frosty and fun? Help your kiddos boost their math skills by coloring in fractions of a cheery snowman image after solving simple math problems to decipher the colors.
Learn More: Mrs. Thompson's Treasures
15. Christmas Tree Sequencing
Oh, Christmas tree, how grand are you? This activity sees your students arrange Christmas trees in order of size- a festive twist to understanding size comparisons and sequences!
Learn More: Sparkle Box
16. Festive Five Senses
This Christmas, let your kids touch, taste, hear, see, and smell the festivities! This festive five senses sheet encourages your students to take a deep dive into the sensory experiences that Christmas affords them.
Learn More: Life Over C's
17. Winter Wonderland Alphabet Hunt
Allow your littles to discover the Wintery wonder of words as you engage them in an alphabet hunt! It's a splendid way for them to learn their ABCs as they search for hidden letters amid a snowy spectacle.
Learn More: Homeschool Preschool
18. The Life of a Snowflake
From the clouds to the ground, we invite you to follow the enchanting journey of a snowflake. This activity tasks your learners with sequencing images of snowflakes and immerses them in the mesmerizing world of Winter.
Learn More: Montessori Nature
19. Twelve Days of Christmas Math
This activity features math problems based on the "Twelve Days of Christmas" song. It's a fun fusion of music and math that will have your kids singing all the way to Christmas!
Learn More: This Reading Mama
20. Christmas Carols Fill-In-The-Blanks
Fill in the blank spaces and ignite the holiday spirit! As your learners figure out the missing words, they'll strengthen their vocabulary and have a blast singing along to time-favored Christmas carols.
Learn More: Free Printables Online
21. Holiday Spot the Difference
Can your kids spot Santa's missing hat or the misplaced Christmas candy? This activity involves two similar holiday images with subtle differences; urging your littles to pay attention to detail as they try and spot the variations.
Learn More: The Epoch Times
22. Stocking Stuffers Sorting
This engaging activity encourages your learners to categorize different stocking stuffers; a hands-on lesson in organization and categorization- all under the guise of festive fun!
Learn More: Teach Me Mommy
23. Nutcracker Number Match
With the Nutcracker's enchanting theme music playing in the background, have your students match numbers to the corresponding amount of nuts.
Learn More: PreKinders
24. Christmas Colors Sight Words
In this color-by-number activity, each color represents a sight word. As your littles identify the words and color them in, they'll unveil a unique Christmas image.
Learn More: A Teachable Teacher