Brain breaks are a great way for students to take a few minutes for a break from the constant learning in the daily classroom. Giving students a few minutes to rest their minds and take a step away from the content can help them regain focus and prepare to tackle again the content ahead of them.
With the Christmas season in sight, these 25 fun and engaging brain breaks all work with the Christmas and holiday theme.
1. Boom Chicka Boom Christmas
The Dancing Christmas Tree Song is one that is super fun for the little ones! Bringing the Christmas tree and snowman to life to dance with Santa is a great way to engage young learners. Add in fun music and silly dance moves and you have a great Christmas brain break!
Learn more: Kids TV 123
This brain break starts with teaching the dance moves to the students. It uses familiar Nickelodeon characters to show the dance moves and get students up and moving! Complete with a winter background, this brain break was designed for Christmas time.
Learn more: 2k Play
The best thing about this brain break is that it can be used in two different ways. You can print and play or use the video to play. This fun Santa dance brain break will get your students moving and grooving! There are different types of dance moves featured for a perfectly wiggly time.
Learn more: Your Therapy Source
When students need a movement break, this one is a great option! This fun and upbeat Christmas song is a great one to add to your resource library. Take a few minutes and add in some awesome dance moves to get your bodies moving and give your brains a break!
Learn more: The Learning Station - Kids Songs and Nursery Rhymes
Calling all Ice Age fans! This one is our favorite little Sid and he is showing off his dance moves! Join him and get some physical activity into your day. Move your body and rest your brain before diving back into learning!
Learn more: Official Ice Age
24. Christmas Freeze Dance 
This is an awesome brain break! This song gets us moving but still has us listening and watching so we know when to freeze! Add this simple video to your collection of brain breaks. This is perfect for wintertime and a Christmas theme.
Learn more: The Kiboomers - Kids Music Channel
25. Christmas Brain Break Cards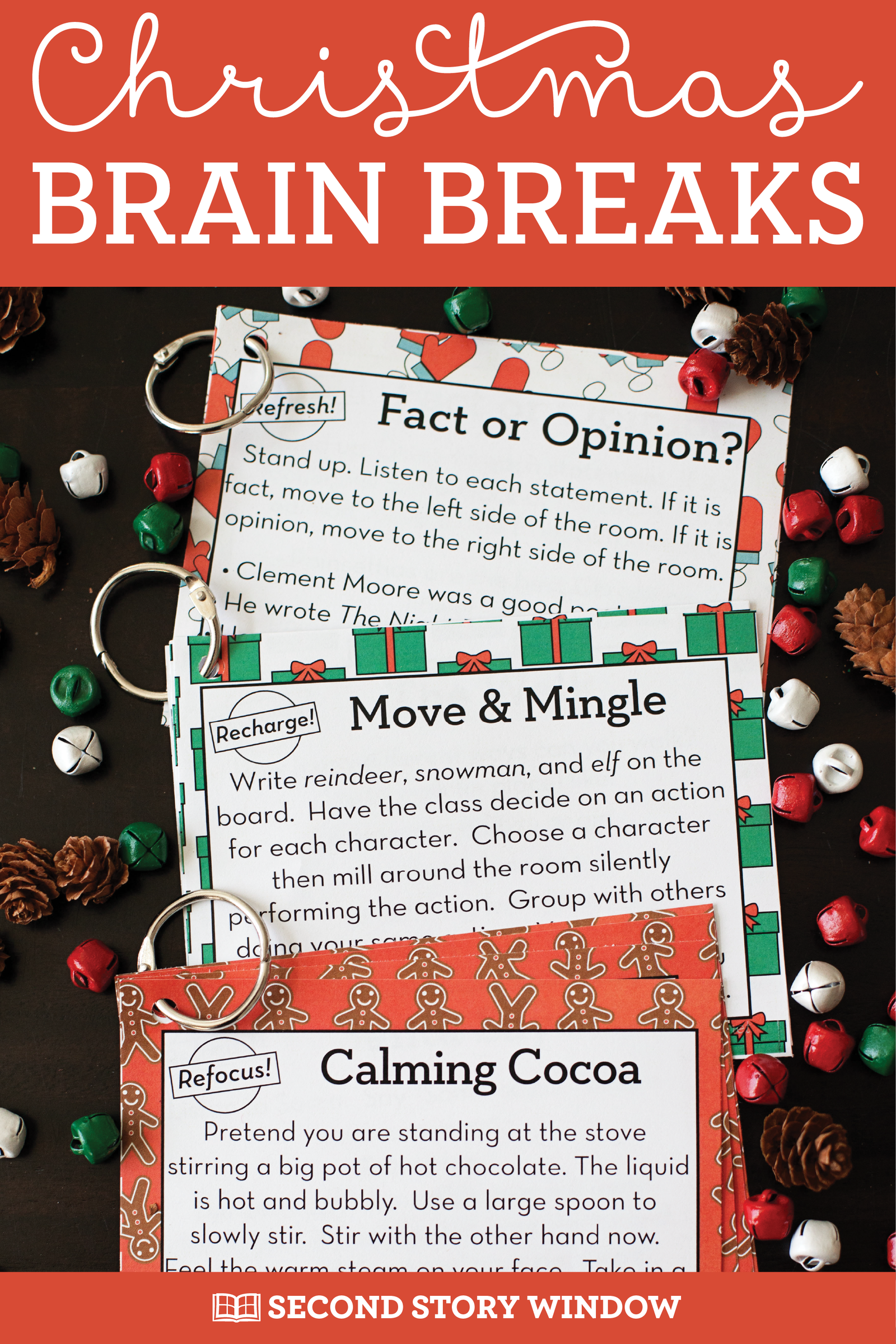 Created in three separate categories, these "refresh, recharge, and refocus" cards are great for the holiday season. They feature movement activities, writing tasks, and cool information. These are perfect for tired teachers who need to give students a quick brain break so they can get back on track and be hard at work.
Learn more: Second Story Window