With the holiday season around the corner, and your little ones at home, make playtime a festive sensory experience. A bin full of bells, a tub full of tinsel, what else can you imagine adding to a festive activity to make it interactive and hands-on? Sensory bin activities focus on tactile, visual, and creative components that stimulate young children. Get inspiration from your child's favorite Christmas characters like The Grinch, Santa, and Rudolph, or maybe sweet holiday treats they'll love. Check out our 28-holiday sensory bin ideas and try a few this December!
1. Green Dried Pasta Sensory Tray
This tray uses pom poms, dried pasta, and small metal holiday scraps to entice your little learners to explore. Give your toddler a magnet wand and let them practice picking up the bells and other craft supplies to discover what is a medal and what is not.
Learn More: Elated Mama
2. Candy Cane Rice Bin
Colored rice is a fantastic holiday sensory tool, and dying it at home is easier than you think. The link gives you step-by-step instructions, as well as ideas for what other toys and items to add to your sensory bin for extra holiday flair.
Learn More: Teaching 2 and 3-Year-Olds
3. All Natural Sensory Bin
Do you live in an area that experiences a true Winter season? This activity tray contains beans, pinecones, leaves, and other natural items your little ones can find in the pantry or outdoors.
Learn More: Paper And Glue
4. The Grinch Sensory Bin
We've all seen the classic cartoon and fallen in love with the Grinch and his pup Max. The theme of this sensory activity is growing the Grinch's heart, so why not grow your baby's mind by providing them with tools and small items to practice fine motor skills?
Learn More: Crafting A Fun Life
5. Sticky Christmas Tree Sensory Activity
This brilliant and festive Christmas tree sensory bin uses green painter's tape and cardboard to build a sticky Christmas tree for your toddlers to decorate. Use green tape and wrap the cardboard, then find small holiday scraps to place in the bin for your kids to stick on the tree and create their own unique designs.
Learn More: How Wee Learn
6. Water and Ornament Sensory Play
Any activity for kids that involves water is sure to be a splash hit! Mix some green food coloring in the water and give your kids clear plastic ornaments, strainers, and basters to fill and measure with.
Learn More: Little Bins For Little Hands
7. Peppermint Rice Sensory Playtime
It's time to incorporate some holiday smells into happy toddler playtime. You can make rice or another filler material smell like Christmas by adding peppermint extract, shaking, and letting it dry. Fill the aromatic tray with bells and small sensory items for a hands-on activity.
Learn More: Parenting From The Heart Blog
8. Epsom Salt Sensory Play Activity
Forget the rice and beans, and try using this large crystal Epsom salt in your sensory bin this holiday season! You can dye your salt with liquid watercolor to give it a metallic look. The texture has a different feel that will stimulate your toddler's imagination, and you can throw in some cookie cutters for extra fun!
Learn More: And Next Comes L
9. Gingerbread Cloud Dough Bin
Cloud dough is such a fun, tactile learning tool for babies and toddlers to mold, mix, and create with. This gingerbread dough is made with flour, vegetable oil, and holiday spices, so it is safe to eat. Add your dough to a tray with scented items and cookie cutters for your tikes to enjoy.
Learn More: Views From A Step Stool
10. Split Pea Search and Find Bin
This learning activity is perfect for your holiday lesson plan because it incorporates a little competition and excitement into sensory play. Similar to an I Spy activity, you hide small objects in the bin, and players must first search with their eyes, then try to grab them with their hands before anyone else does.
Learn More: Still Playing School
11. Snow Painting Playtime
If you live in a place that experiences a white Christmas, this sensory activity is for you! Bring your kids outside, collect some snow in a bin, put some paint in bowls, and let your kids design and draw to their little heart's content!
Learn More: Mom It Forward
12. DIY Fake Snow Indoor Activity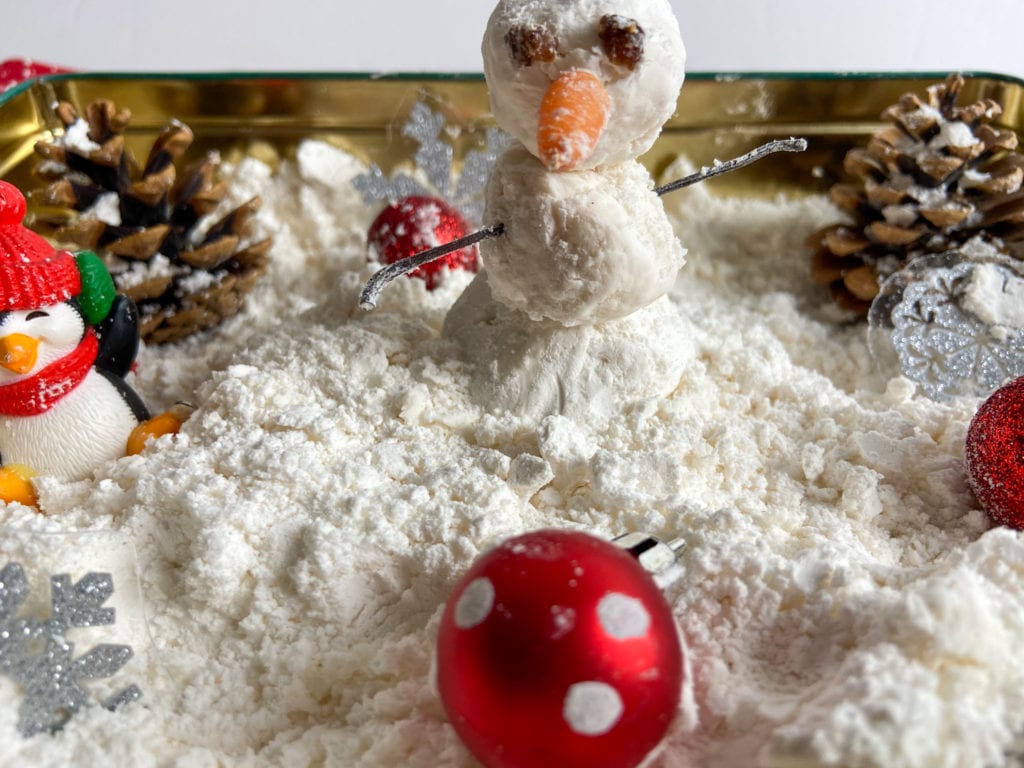 Similar to cloud dough, fake snow can be a fun and tactile material for kids to play and build with. This recipe calls for baby powder, warm water, and vegetable oil. Mix up a batch and add some holiday party supplies for an interactive indoor experience.
Learn More: Raising Veggie Lovers
13. Jingle Bell Rock Sensory Play
This classic Christmas song comes to life in a goofy way with this simple sensory bin full of rocks, jingle bells, and a toy tree. You can give your toddlers mini shovels to pick up and play with the rocks and show them how to decorate the tree with the bells.
Learn More: Modern Preschool
14. Cranberries in Water Measuring Game
Cranberries are a staple fruit during the holidays; they are used to make juice, sauce, and even pie filling! This super easy sensory bin needs water, fresh cranberries, and any measuring tools you have. Let your kiddos practice fine motor skills and measuring with very little prep or cleanup.
Learn More: Fun Early Learning
15. Water Beads Bin
If you haven't heard of water beads, they are really great for sensory activities and are super easy to use. You buy them dehydrated and add water when it's playtime! Add your holiday-inspired water beads to a tub and add water to hydrate them. Give your kids scoopers and cups for hand-eye coordination practice.
Learn More: Pre-K Pages
16. Red and Green Measuring and Math Activity
The time for exploration and learning is NOW! This creative sensory bin idea uses different-sized pasta dyed red and green, as well as pom poms and pipe cleaners. The purpose of having all these materials is so kids can experiment and test what they can do and make. It touches on fine motor skills and basic math concepts like measuring length, width, and size.
Learn More: Stay-At-Home Educator
17. Deck the Halls: Decorations Sensory Bin
Setting up for this sensory experience couldn't be easier. When you take out your Christmas decorations, instead of putting them directly on your tree, put some tinsel, ornaments, fake presents, and other holiday decorations in a bin. The different colors, textures, and shapes will make for some silly play and creations.
Learn More: Taming Little Monsters
18. Let it Snow Winter Scene Play
This snowscape has many components, but you can get creative with the available craft materials. First, make some Christmas trees with construction paper and glitter paint or stickers to decorate your bin. Asking your little ones to help in the preparation process will make the whole experience way more fun and personalized.
Learn More: Fun Littles
19. Reindeer Food Sensory Bin
The premise behind this sensory bin is what reindeer might eat. Our best guess is oats, and this is something you can easily find at the store. Fill your bin with oats and other craft supplies for your kids to make up stories and get in the holiday spirit.
Learn More: Whole Child Homeschool
20. Christmas Vocabulary Sensory Play
What do you think of when you picture Christmas in your mind: Santa, jingle bells, presents, ornaments? Fill a bin with as many small Christmas-themed items as possible and watch your toddler pick up and play with them. Practice teaching them the words and making language associations.
Learn More: Whole Child Homeschool
21. Shredded Paper Christmas Search and Find
This is one of my favorite holiday bin ideas because it offers so many learning points. Kids must dig through the shredded paper to find the hidden item, and once they find them all, they can sort and place them in the correct number category.
Learn More: Montessori From The Heart
22. Packing Peanuts Sensory Bin
Looking for a fun way to repurpose the packing peanuts you have lying around? Kids love playing with these small foam pieces, and adding other stimulating holiday items like; pipe cleaners they can mold and bells that jingle will keep them playing for hours!
Learn More: Olives And Pickles
23. Chickpea Sensory and Measuring Activity
You can find dry chickpeas at the store and use acrylic paints to color them red and green. Add measuring tools and other holiday items to the bin for simple, sensory fun!
Learn More: Pocket Of Preschool
24. Magnets and Jingle Bells Holiday Bin
Mess around with magnets this holiday season, and teach your little ones how they work in a hands-on and musical way! Get some magnet wands and jingle bells, fill some clear plastic ornaments with bells, and let your kiddos fill, pick up, and shake them for hours.
Learn More: Laly Mom
25. Christmas Beads Bin
Let's make some DIY ornaments for the Christmas tree while practicing fine motor skills like gripping, filling, pouring, and measuring. Fill your bin with Christmas-colored beads, then place some scoopers and empty ornaments inside.
Learn More: Montessori From The Heart
26. Playdough Tree Decoration Station
Time for your kids to build and decorate their own mini Christmas trees out of play dough! This hands-on experience uses motor skills to mold the tree, then use the beads and bells to decorate.
Learn More: Instagram
27. Winter Spice Sensory Bin
What smells remind you of Christmas? Think about it, then add these festive items to a sensory bin for your kids to play with! The dried fruits, warm spices, and varied textures make for a full-on sensory play experience.
Learn More: Instagram
28. Kinetic Sand Gingerbread Bin
If you haven't used kinetic sand before, you're in for a real treat! The texture is pliable and holds its shape really well. Get some different-sized gingerbread molds and scoopers, and let your kids build and create with this cool material.
Learn More: Teaching 2 and 3-Year-Olds