Opportunities to develop fine motor skills are becoming increasingly rare in our digital age. A return to the hands-on basics of clothespin play will help young learners develop hand-eye coordination and dexterity while encouraging creativity and independence.
Clothespins make an easy addition to any lesson and can help reinforce mastery of core skills while adding an element of fun. The squeeze, clip, and texture of the wood all make this an exciting manipulative for kids to explore!
1. Colored Clothespins
Simple wooden clothespins can easily be color-coded using strips of paper, markers, or bright paint. Pair them with color-sorting activities or colored number cards, and you've got an exciting way to learn numbers. Adding dots on the number cards allows students to target the clip location for added fine motor development.
Learn more: Where Imagination Grows
2. Alphabet Match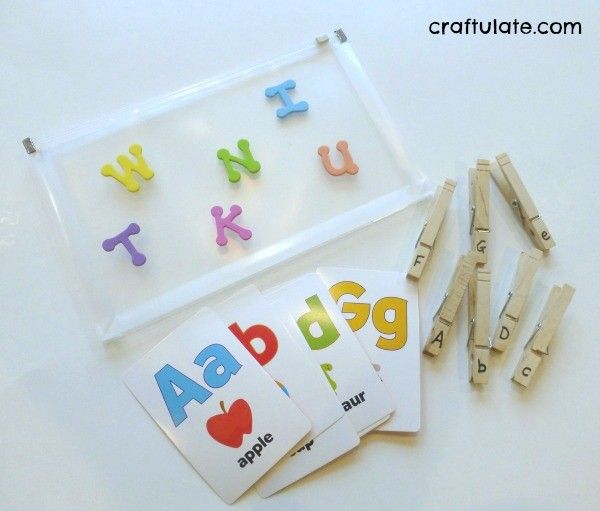 Beginning learners can easily clip clothespins to alphabet flashcards or letter walls. Why not use a permanent marker to easily create multiple sets of alphabet clips? Students can be challenged to identify a specific letter or match the letter to the image or card.
Learn more: Craftulate
3. Lowercase-Uppercase Match
Make two sets of wooden clothespin clips, one with uppercase letters and one with lowercase letters written with a permanent marker. Then, invite kids to clip the matches together or clip them to the corresponding card as in #2. Color code the letters to add an extra element, such as matching the red A with the red a.
Learn more: I Can Teach My Child
4. Hungry Caterpillars
A study of Eric Carle's literature affords every crafty toddler the opportunity to create their own hungry caterpillars. Clothespins paired with colored pom-poms can be glued onto the wooden pins. Add a set of googly eyes and you've got a wiggly representation of the book that can travel and clip anywhere.
Learn more: Scattered Thoughts of a Crafty Mom
5. Beautiful Butterflies
Coffee filters paired with clothespins help transform dull caterpillars into colorful butterflies. Kids can try matching the pompom colors with the marker color added to the wings or paint shapes and dots before spritzing them with water to blend the colors together. Add a chenille-stem antenna and voila – you've got a kaleidoscopic butterfly!
Learn more: The Simple Parent
6. Dinosaur Fun
A fun way to transform one dinosaur craft into another is with colored clothespins. A non-assuming turtle-like form transforms into a stegosaurus when clothespins are added across the back of the cardstock figure. Glue on a googly eye and add a smile before allowing your dino-expert kiddos to get creative with additional details.
Learn more: No Time for Flashcards
7. The Jar Game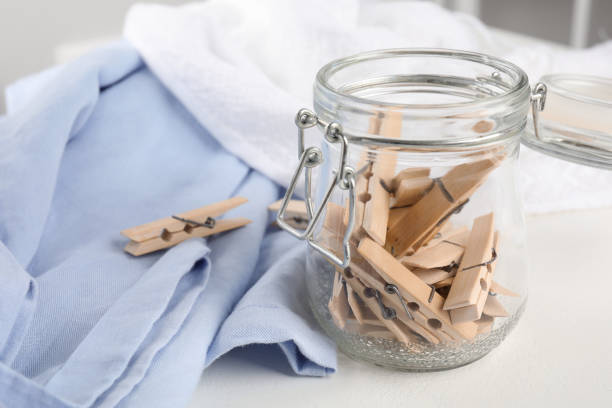 The Jar game combines color-matching with fine-motor skills and physical activity. Lining up small, color-coded jars is a great way to get kids moving, as they pick up colored objects and carry them to the corresponding jar. Why not reverse the activity by having them remove the items with their clothespins?
Learn more: The OT Toolbox
8. Mega-Lego Block Match
Colored clothespins allow kids to explore a number of color-based activities, especially when paired with the ultimate toy – stacking blocks. The bigger the better as kids can attach multiple clothespins to larger blocks. Why not extend this activity by using Legos and having kids pick them up and sort them with the clothespins?
Learn more: Laly Mom
9. Bird Feather-Craft
Colored clothespins resemble feathers on a bird when clipped to a basic aviary shape. From turkeys to bluejays, kids will love painting the clothespins with washable paint and then clipping them to the base shape. Apart from creating adorable decorations, they allow for ample imaginative expression.
Learn more: Messy Motherhood
10. Dot Painting
Elevate your dot daubers with fine-motor skills by using clothespins clipped to pom-poms. Dip the pom-poms into different colors of paint before using them to complete your dot activities. This is also a wonderful activity for painting images, decorating backgrounds, or allowing kids to explore paint.
Learn more: Fantastic Fun and Learning
11. Clothespin People
The rectangular design of clothespins makes them a perfect choice for transforming into tiny figures. Start by painting the base areas – the face, shirt, and pants, before using the back of a brush to dot on a face. Finish off your creation by clipping a bunch of yarn to add wild hair!
Learn more: Happy Hooligans
12. Number Match
Reinforce basic number skills with clothespins by printing different numbers before pairing them with a wheel of dots to find the corresponding match. You can also add cards with different numbers of animals or objects, but basic dots are the better choice for visualizing multiplication arrays.
Learn more: Money Saving Mom
13. Egg Carton Poke
Another great option for developing fine motor skills is practicing one-to-one matches, which can be frugally created with clothespins and egg cartons. Just poke a hole in the bottom of each section and voila! Holes for kids to insert the clothespins. Why not elevate this activity by coloring the sections, adding letters, or enhancing with tactile matching components?
Learn more: Mrs. MaryAnns House
14. The Claw
Kids are sure to love pretending to be a giant claw machine, reaching into a bowl of colored pom-poms or other soft, small items. Call out what you want them to grab, or have them sort the poms into a color-coded egg carton or another receptacle to help strengthen their pincer skills.
Learn more: Hands-On as We Grow
15. Clip Anything
String, mesh baskets, pencils, crayons – clothespins can be clipped to almost anything. Encouraging fine motor skills with simple activities like this one serves multiple purposes: It strengthens developing muscles, hones dexterity, and shows kids the utility of a clothespin for both clipping and fastening.
Learn more: Kids Play Hub
16. Laser Maze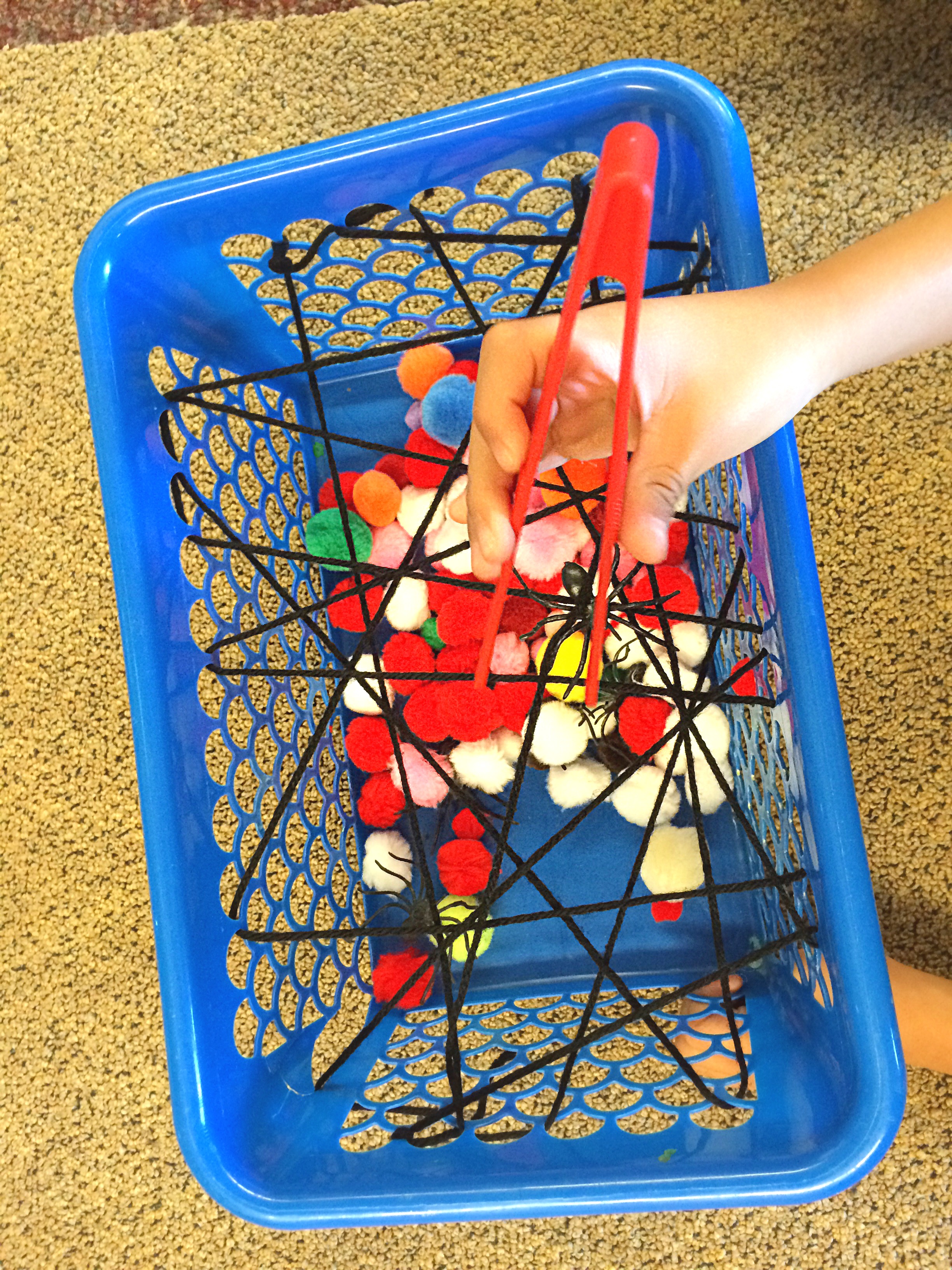 Hook red string or yarn through a mesh crate to create a laser-type maze that kids will love to navigate through! Place pom-poms or other small items, such as candy, at the bottom of the bin and give them clothespins to reach the objects without "tripping" the laser!
Learn more: Preferred Therapy Toys
17. Number Line
Start by using a wide popsicle stick, colored and labeled with numbers from 0 to 9. Next, give kids clothespins that they can use to answer math questions by holding them up for confirmation. As an extended activity, you can challenge young learners to fill in the missing numbers with a sharpie.
Learn more: Planning Playtime
18. Greater Than or Less Than Alligators
Chomping numbers is always been fun, so why not pair this classic activity with greater than and less than signs? Color your clothespins green, add some eyes, and start gobbling up those numbers! Begin by writing out two numbers before inviting kids to identify the larger or smaller ones. Later, they can add the proper mathematical symbols to reinforce their understanding.
Learn more: Playdough to Plato
19. Clothespin Puppets
An open and closing clothespin looks a lot like a talking mouth so why not create chomping clothespin puppets by using different styles and shapes? This craft can easily accompany a study of animal or storybook characters, allowing students to use their puppets to act out different roles.
Learn more: RedTedArt
20. Engineering for Kids
Kids are natural builders, and clothespins are an easy way to practice balance, symmetry, and construction basics. The alligator clips help build kids' fine motor skills while giving them STEM practice and encouraging higher-level thinking skills. Be sure to try a "how high?" or "how long?" feat for an added challenge.
Learn more: Frugal Fun for Boys and Girls