Learning about clothing can benefit kids by fostering personal independence, teaching them to dress appropriately for different weather conditions, and promoting cultural awareness. Engaging in clothing-related activities also enhances fine motor skills and hand-eye coordination, while encouraging creativity and self-expression through personal style choices. These 22 educational ideas blend clothing themes with literacy, numeracy, and games; providing a fun and interactive experience while keeping young minds entertained and engaged.
1. Items of Clothing I Like to Wear Activity
In this hands-on craft activity, kids personalize a paper template to resemble themselves and showcase their favorite clothing styles. They can decorate one of the four available cutouts with their favorite clothes, helping to express their personal style, encouraging creativity, and allowing them to get to know one another.
Learn More: A Little Pinch of Perfect
2. Roll and Dress Clothes Activity
In this winter-themed activity, kids roll a die to dress up a paper doll. After coloring and folding the dice, have them roll the dice to determine which winter clothing items (mittens, boots, scarf, coat, or hat) to add to their doll. This engaging activity encourages creativity, color recognition, counting, and graphing skills.
Learn More: Miniature Masterminds
3. Seasonal Clothing Vocabulary Activity
In this sorting activity, kids cut out images of clothing items and paste them onto pages labeled "summer" or "winter." It's a wonderful way to help kids understand appropriate seasonal attire while improving their fine motor and scissor skills.
Learn More: From ABCs to ACTs
4. Clothing Unit PowerPoint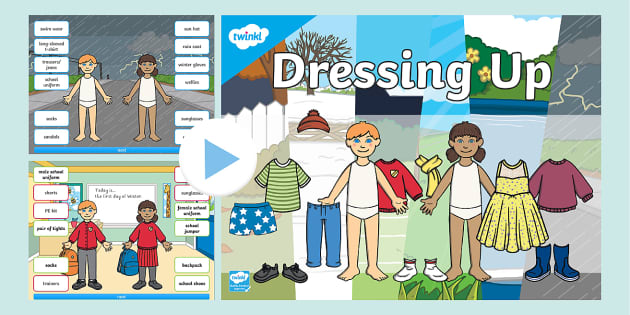 Engage students with this slideshow presentation where they select suitable clothing items based on weather or special occasions. This fun exercise promotes an understanding of appropriate attire while serving as an ideal introduction to a clothing unit.
Learn More: Twinkl
5. Design Clothes Worksheets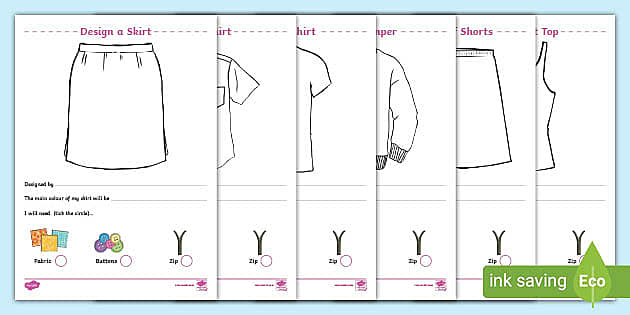 Invite kids to play the role of fashion designer and get creative decorating an entire wardrobe! They are a wonderful way for kids to learn about colors, patterns, and textures, as well as cultivate a sense of personal style and cultural awareness.
Learn More: Twinkl
6. Busy Bag with Pictures of Clothes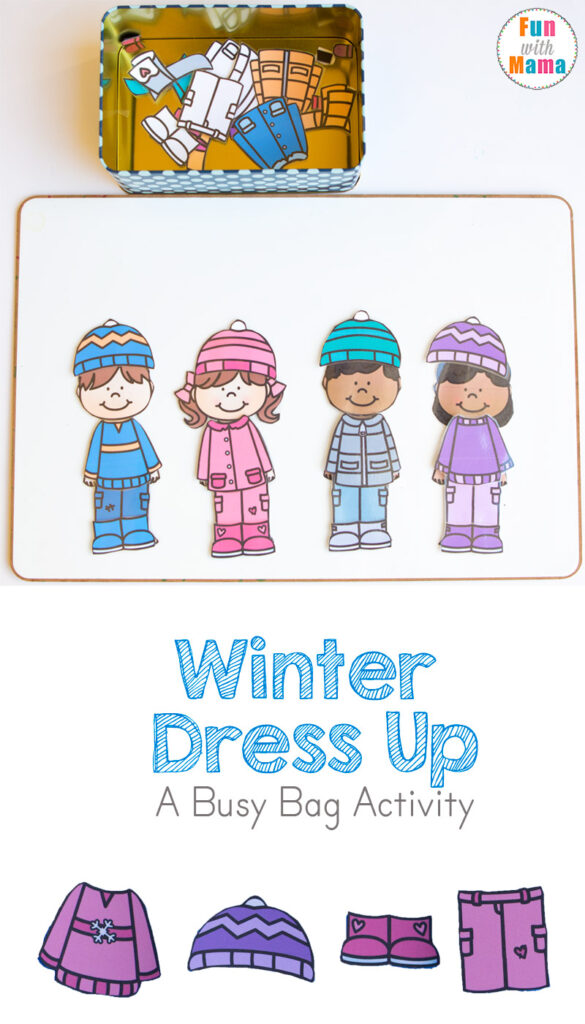 Print and laminate paper dolls and clothes, attach magnets, and provide a magnetic surface for children to mix and match outfits. This is a fantastic way to encourage creativity and develop vocabulary, color recognition, and fine motor skills while enjoying imaginative play.
Learn More: Fun With Mama
7. Clothing Phonics Activity
Invite kits to practice spelling and sounding out clothing-related words with consonant blends. This fun phonics exercise helps kids improve their reading and writing skills while familiarizing them with clothing vocabulary.
Learn More: Education
8. Loose Clothing Math Activity
Have kids count the clothing items in each box and then subtract the darker items. This engaging worksheet helps young learners understand the concept of subtraction, improve their number sense, and practice counting within the range of 0-10.
Learn More: Education
9. Fun Physical Activity with Magna-Tiles
Engage students in a creative clothing activity using magnetic tiles to design outfits on diverse templates. With 13 no-prep templates, children can explore shapes, critical thinking, and creativity in play areas or small groups.
Learn More: Teachers Pay Teachers
10. Clothing Flashcards for Students
These 16 colorful and engaging flashcards are perfect for teaching children about various articles of clothing. Use them traditionally or as coloring booklets in black and white. The activity promotes vocabulary development while enhancing communication skills.
Learn More: Teachers Pay Teachers
11. I Spy Game With Names of Clothes
This simple activity introduces counting up to 3, one-to-one correspondence, and visual discrimination. The game features six different winter clothing items, and children can discuss the items, colors, and details while practicing counting and positional words.
Learn More: Simple Fun For Kids
12. Wardrobe Pop Up Craft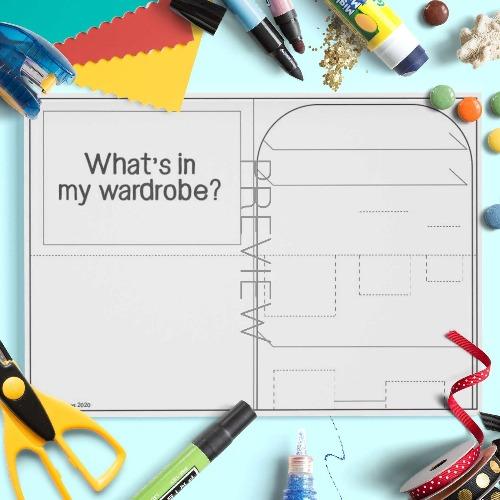 In this clothes-themed craft activity, children create a pop-up wardrobe to learn English vocabulary related to clothing. By cutting, sticking, and coloring, kids can practice new words, reinforcing their language skills while also developing fine motor abilities.
Learn More: Gru Languages
13. Clothesline Matching Activity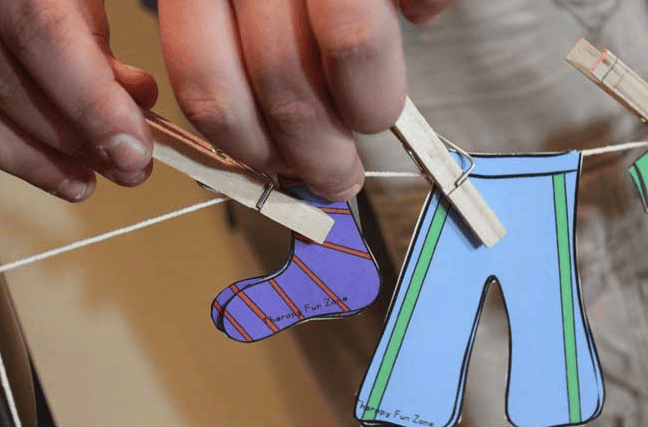 Have kids hang play clothes on a clothesline using clothespins to help develop their fine motor skills, finger strength, and visual perception. This activity can be done individually or cooperatively and can incorporate various positions and movements to encourage physical development.
Learn More: Therapy Fun Zone
14. Trace and Color Clothes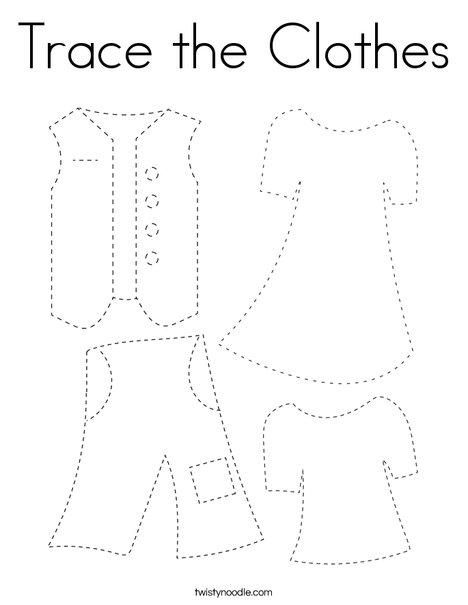 Have kids trace clothing items on this coloring page, allowing them to practice their fine motor skills and hand-eye coordination. This activity helps children become familiar with different types of clothing and enhances their creativity as they color the traced items.
Learn More: Twisty Noodle
15. Make Pajama Art
Children will love using dot markers to create their own unique pajama designs. After painting their pajamas, let them dry before adding embellishments, such as glitter or stickers. This art project is a great way to encourage creativity and color exploration.
Learn More: Toddler Approved
16. Design a Costume
Invite preschoolers to design their own costumes, incorporating colors, patterns, and different types of clothing. This activity helps kids engage with familiar everyday objects while creating something they can wear and play with.
Learn More: My Bright Firefly
17. Change Kids' Attitudes Towards Clothes
This classic picture book teaches kids about the importance of wearing appropriate clothing for different weather conditions. As they follow Froggy's winter adventure, kids are encouraged to engage with the story by dressing up in various winter clothes themselves, enhancing their understanding of seasonal clothing.
Learn More: Amazon
18. Clothing Bingo with Actual Clothes Vocabulary
In the Bingo game for clothes, kids use Bingo boards featuring various clothing items to learn and practice the names of clothes in English. This classic game is perfect for helping beginning English learners expand their everyday vocabulary.
Learn More: English Daisies
19. Play a Memory Game with Clothes-Related Vocabulary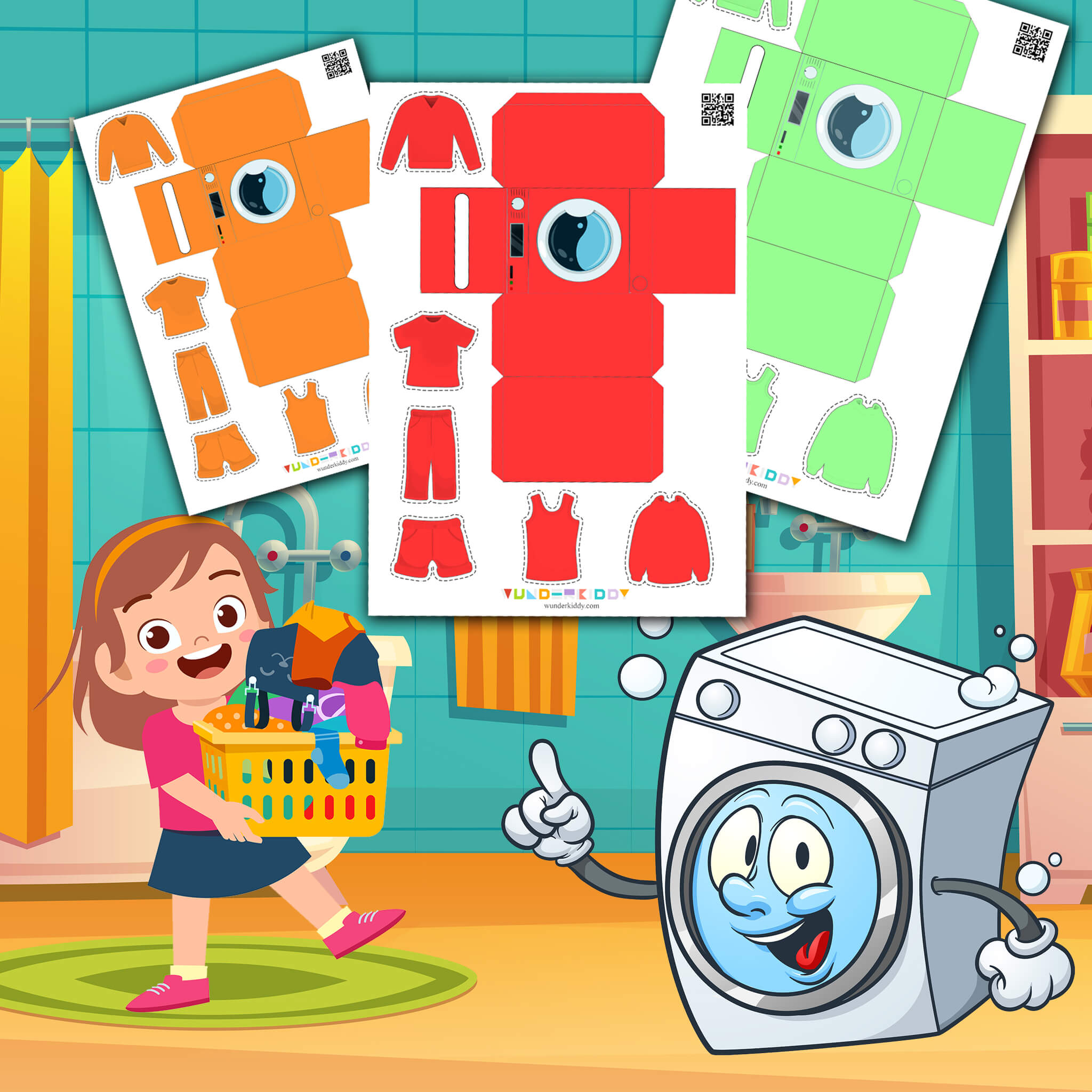 In this laundry sorting game, children learn to sort objects by color. Using a three-dimensional washing machine template, kids mix and sort clothing items, choosing the right washing machine for each item. This activity helps toddlers learn basic colors and understand the principle of laundry organization.
Learn More: Wunder Kiddy
20. Actual Target Vocabulary Words
Challenge students to read descriptions of various clothing items and then draw and color the clothes accordingly. This educational activity helps kids learn and practice English vocabulary related to clothing items, such as t-shirts, shorts, and hats, while also working on their reading comprehension and artistic skills.
Learn More: Gru Languages
21. Create a Pretend Clothing Store
In this clothing unit activity, children set up a pretend clothing store. They fold, hang, and label donated clothes, create signs, and engage in role-playing. This hands-on, student-led activity helps kids practice organizational skills, environmental print recognition, and cooperation.
Learn More: PreK Tweets
22. Clothes and Weather Clothespin Matching Activity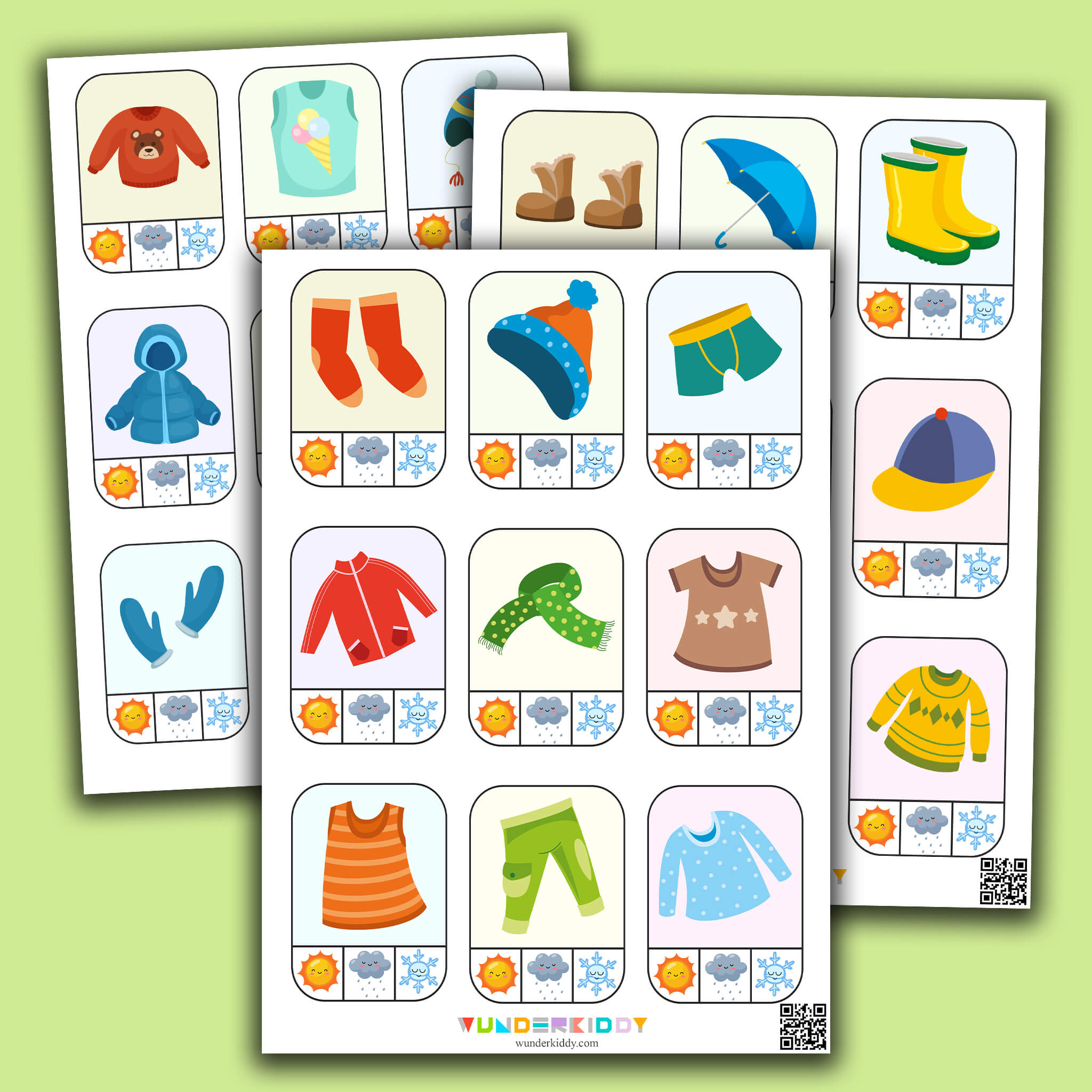 Guide kids to use flashcards with weather symbols and clothespins to mark suitable weather for each clothing item. This colorful activity helps kids develop imagination and logical thinking by learning to choose appropriate clothing for different weather conditions.
Learn More: Wunder Kiddy