Being a kid can be tough! It's no surprise that our students are often falling victim to some pretty unhelpful ways of thinking and getting stuck in these negative thought patterns. Cognitive distortions are patterns of thinking that are often biased and end up having a negative effect on an individual. Oftentimes, these negative patterns can be anxiety-inducing for our students and ultimately land up affecting their academic performance. We've put together a list of 25 activities that will help your students kick cognitive distortions to the curb!
1. Thinking Traps Video
Explaining the concept of distorted thinking to kids can be tricky. This video is a great way to introduce the subject in a child-friendly way and point out all the ways in which our brains can often trick us into falling for the worst-case scenario!
Learn More: Healios
2. Teach Students to Re-Frame Their Thoughts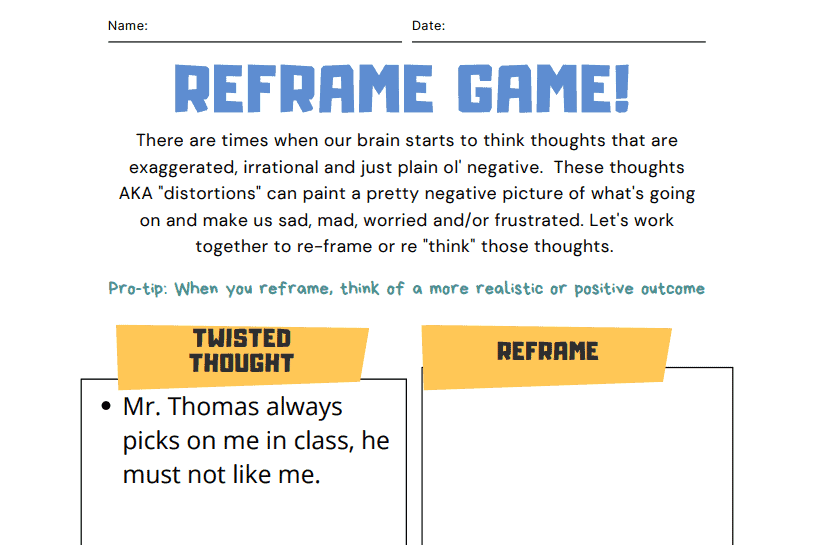 Unhelpful thoughts disable your student's ability to feel good about themselves and their life. This worksheet gives examples of some "twisted" thoughts and prompts students to come up with a way to re-frame them positively.
Learn More: Teachers Pay Teachers
3. Interactive Jeopardy-Style Game
Competition and the chance to play on an electronic device are some of the best ways to get students engaged in their learning. This interactive Jeopardy-style game can be adapted for as many teams as you like and challenges what students know about different types of distorted thinking.
Learn More: Jeopardy Labs
4. Teach Your Students to Become Thought Detectives
Oftentimes, our distorted thoughts are not grounded in reality. This cognitive behavior strategy encourages students to fill each box with evidence that encourages or discourages specific thoughts.
Learn More: The Responsive Counselor
5. The Power of Positivity
The power of positive thinking and feeling good has been well-documented by psychologists for a long time. This video demonstrates how a negative thought pattern can actually worsen performance in a task; regardless of how the same person performed previously.
Learn More: National Geographic
6. Cognitive Distortions Game
This online game is perfect to give your students a look at real-life scenarios that they might come up against. They must match the scene with the name of the pattern of distorted thinking. Students must try to match the pairs in as few tries as possible to increase their scores.
Learn More: Educaplay
7. Keep a Positive Self-Talk Journal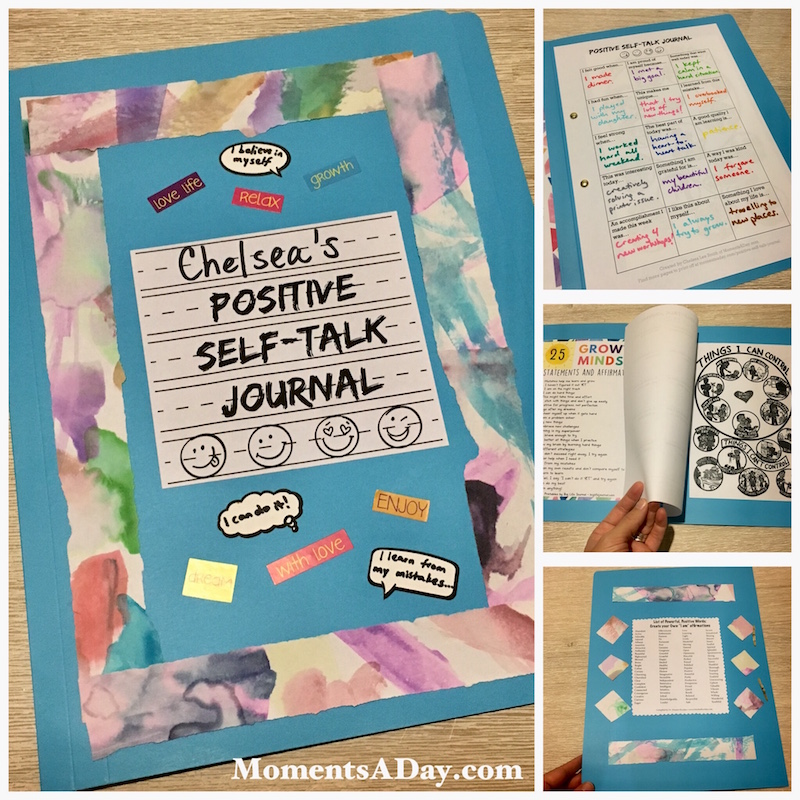 A positive self-talk journal is an excellent tool to encourage students to reinforce positive thinking patterns, helping them keep distorted thinking at bay! This free, printable resource has a range of different pages and activities that learners can include in their journals.
Learn More: Moments a Day
8. Sorting Different Types of Thinking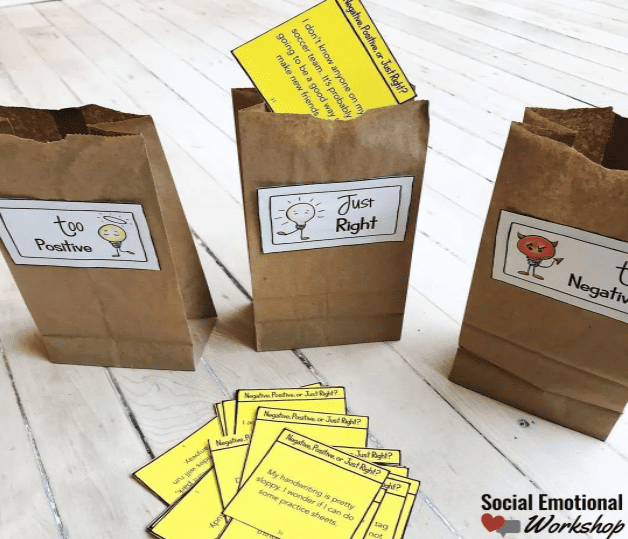 Reflecting on our thinking is key to understanding if we've been too negative or positive about a situation. This activity tasks your students with placing situation cards into their appropriate "thought bags".
Learn More: Social Emotional Workshop
9. Positive Self-Talk Worksheet
Self-talk is an incredibly powerful tool and has the ability to leave us feeling good. This worksheet introduces students to the concept of how your positive self-talk "hero" can fight off your negative "shadow self" and gives them a short exercise to give it a go.
Learn More: Centervention
10. Learn That You Are Not Your Thoughts
This video focuses on the key message that although you can get caught up in your negative thoughts, you are not what these thoughts might make you out to be. It encourages students to observe their thoughts and then choose to act in ways that can help them navigate away from negative feelings.
Learn More: About Kids Health
11. Set Up Growth Mindset Activity Stations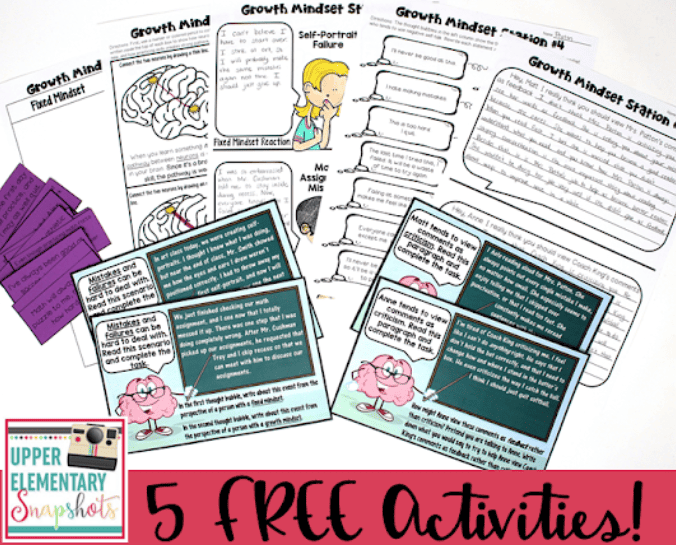 A growth mindset encourages positive thinking patterns in students and their approach to problems and will change how they handle challenges. This wonderful pack includes five different activities that you can set up at stations or assign individually for independent practice.
Learn More: Upper Elementary Snapshots
12. Practice Changing Anxious Thoughts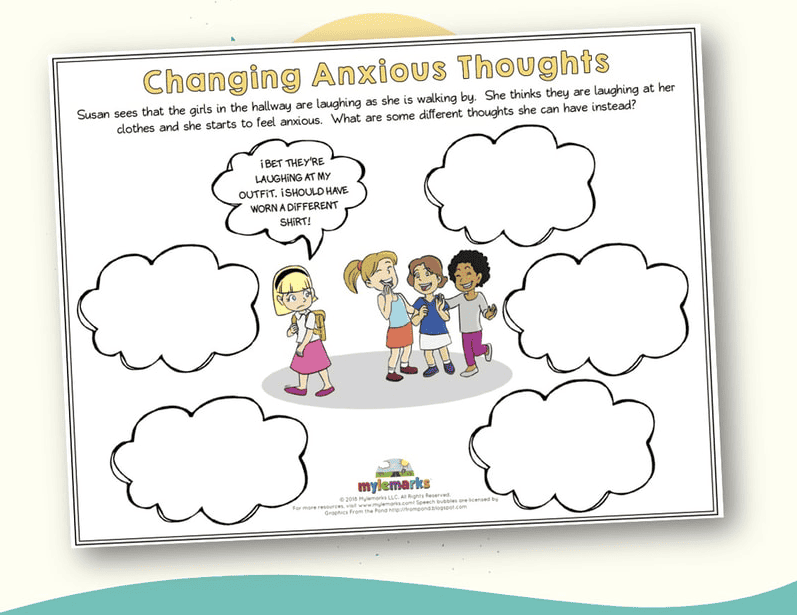 With distorted thinking, our brains jump to the worst-case scenario in social situations. This worksheet gives students practice at challenging these negative assumptions to bring about reasoned, positive thoughts.
Learn More: Myle Marks
13. Learn More About Cognitive Distortions With A.N.T. Buddies
Delve deeper into common distortions and the patterns of thinking associated with them by learning about Automatic Negative Thoughts (A.N.T.) Buddies. This free pack has a range of different activities to engage your learners.
Learn More: SEL Sketches
14. Change Your Words With a Growth Mindset Post-it Note
Make up phrases or use phrases that you've heard students say and display them around the classroom. Then, ask students to make the statements more positive or helpful by attaching a post-it note to them.
Learn More: Pinterest
15. Learn How to Defeat Negative Thinking
This fun, animated video examines common, unhelpful patterns of thinking by suggesting that the negative thoughts represent a defense attorney in a courtroom and your students need to argue the evidence against them.
Learn More: Twill
16. Growth Mindset Flip Book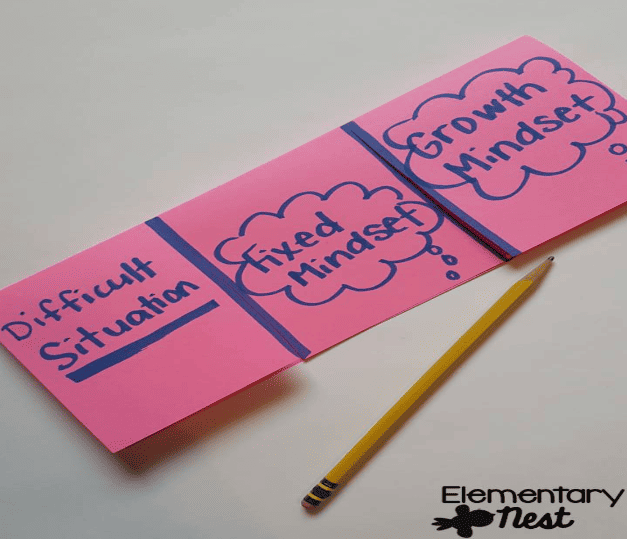 Students can create these simple flip books to help them get through difficult situations. They can explore the fixed or negative approach and the growth approach and decide which is best.
Learn More: Pinterest
17. Whole-Class Growth Mindset Craft
Positive self-talk is a great way to get your students feeling good about themselves and enable them to effectively combat thinking distortions. Students will reflect on the benefits of positive thinking, write their thoughts on a 3D triangle, and then glue them together to create a beautiful star that can be displayed in the classroom; perfect for reminding students of the importance of thinking positively.
Learn More: Top Floor Teachers
18. Visualize a Flexible Mindset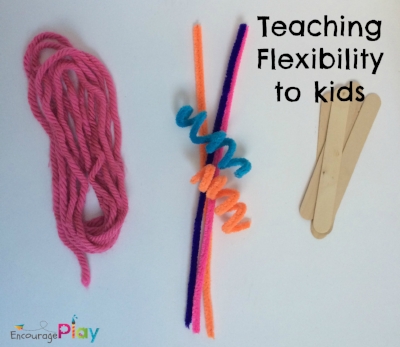 Flexible thinking is so important to escape from distorted thinking as it allows us to have an open mind when it comes to new situations. Teaching students about brain plasticity and how our brains are made to learn and change can help them overcome negative thinking.
Learn More: Encourage Play
19. Demonstrate Flexible Thinking
This super activity is another lesson in brain plasticity and flexible thinking. Students can see that by being flexible, the brain is able to handle lots of information and "stretch" to take it in. Have them draw a brain on a piece of paper, fold it accordion-style, and then open it up again.
Learn More: The Speech Bubble SLP
20. University of California: Your Brain is Wired for Negative Thoughts
This video explains that often our brains find it easier to see the negative in a situation as that is simply how they're wired! It also explains that it's possible to shift our thinking to be more positive- we just need some practice!
Learn More: Fig. 1 by University of California
21. Talk Through Some Flexible Thinking Scenarios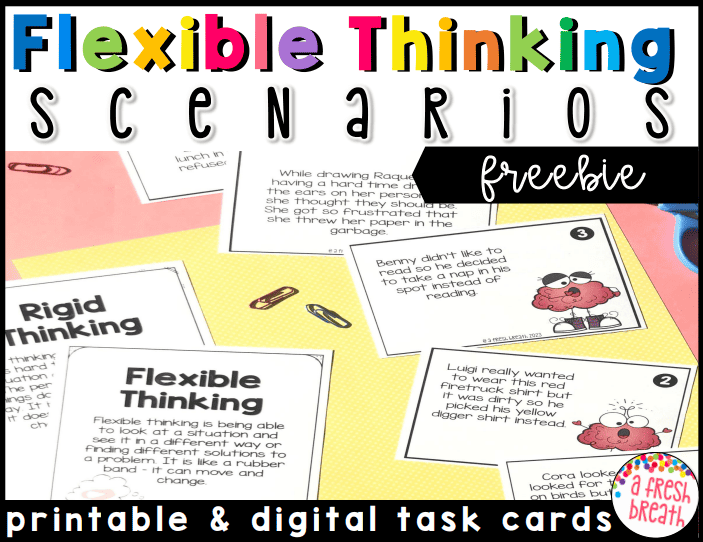 These flexible thinking cards offer a wide range of scenarios for students to read, consider, and discuss before categorizing hypothetical situations as either rigid or flexible thinking patterns.
Learn More: Teachers Pay Teachers
22. Body Tracing Affirmation Activity
This cool affirmation activity is the perfect opportunity to boost positive emotions and get your students feeling good about themselves. Students can draw around each other on a large piece of paper and then write positive affirmations about that person inside their outline. Learners can then look at their kind messages when battling cognitive distortions.
Learn More: The Chaos and The Clutter
23. Demonstrate How to Change Your Mindset
Upper-grade students can use this free printable worksheet to demonstrate what they've learned about growth mindset and how they can use this tool to combat cognitive distortions.
Learn More: Runde's Room
24. Practice Grounding Techniques
Grounding techniques are science-based exercises that can be used to control negative emotions and interrupt spiraling worries. Try these ten techniques to give your students a toolkit to manage their stress and negative thought patterns.
Learn More: Counselor Keri
25. Explore Finding Positivity for Young Kids
Mindfulness is growing in popularity and is an excellent tool for children of any age and is a great way to help them focus on the positives and keep calm during stressful times or experiences. This video includes five awesome tips for students to calm their worries and keep distorted thinking away.
Learn More: Headspace