Is your community helpers unit coming up? This preschool unit is a great way to introduce students to police officers, construction workers, community workers, hospital workers, and other essential workers in our lives. Use our collection of fantastic activities to help you plan for your next bunch of hands-on community helper activities. Read on for fifteen fun ideas that focus on a variety of skills and developmental areas!
1. Introductory Video
Start your unit by getting kids excited about this topic using this video. Students will learn what a community helper is and what they do. Afterward, have students work on their alphabet knowledge by matching the first letter of a given word to a picture of each community helper from the video.
Learn More: Kids Academy
2. Why Should I Help
Read this story during circle time with your students. While there are many ideas for practicing literacy skills, reading aloud is one of the best and easiest ways to teach these essential pre-kindergarten skills.
Learn More: The Reading Train
3. Pretend Play
Here's a fun idea! Collect some recycling trucks, garbage trucks, and street sweepers for a pretend play scene. As students are playing, ask them what letter their truck starts with. Be sure to label each truck beforehand so that your learners can practice letter recognition.
Learn More: Stay-at-Home Educator
4. Thank You Handprint Cards
This is a great way to connect students with community helpers. Pre-make these cards and have your students decorate them with a colorful handprint. Have students read the cards with you before decorating and then hand them out to community workers during a field trip.
Learn More: Erica Taylor
5. Sight Word Puzzle
Use this community helper printable to create sight word puzzles for your students. Be sure to laminate this community helper puzzle before cutting for the best results! Mix all the pieces around before having your learners build the puzzle and read the completed words.
Learn More: Simple Fun for Kids
6. Build Community Maps
Decorate maps using paper squares that depict community helpers and their vehicles. This picture shows multiple states, but you could get a large local map and have students paste the appropriate community helper picture to their precise location in the town.
Learn More: Fun a Day
7. Post Office Dramatic Play
I love this well-thought-out play center! Labeling each part makes it easy for students to practice associating words with pictures. Let their imaginations go wild as they pretend to mail letters to grandma. Teach budgeting skills by handing out pretend money for them to use to pay for cards and postage fees.
Learn More: Fairy Poppins
8. Safety Community Helpers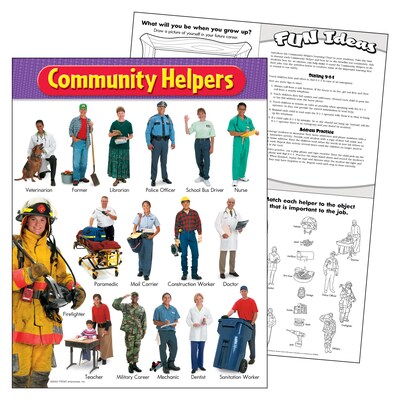 Start a community helpers bulletin board with this poster. Students will connect the written names of the workers to real-life pictures. Have kids pick their favorite community helpers from this poster to start a lively discussion at the beginning of your community helpers unit.
Learn More: Quill
9. Firefighter Movement
The community helper theme would not be complete without firefighters to the rescue! Firefighters are the most notorious neighborhood community helpers. This fun fire truck-themed ladder game provides a movement break by working on motor skills.
Learn More: Pink Oatmeal
10. Road Safety Signs
Community signs are a great way to teach letters. My three-year-old son knows how to spell "stop" just because he always sees the red sign and knows what it says. Adding these signs to your literacy center focused on community helpers is a must!
Learn More: Early Learning HQ
11. Work on Counting Skills
Here is a simple yet effective math counting game. It requires a little preparation for cutting, but if you laminate, you will only have to do it once! Students will count the number of images on the card and place their pegs over the correct number.
Learn More: Modern Preschool
12. Read Whose Hat is This?
Preschool students love working with construction worker tools and reading all about them. Add this book to your next circle time or literacy block during a community helper unit. Have students bring in their favorite worker hat from home to contribute to the reading fun.
Learn More: Amazon
13. Trace Dentist Letters
After playing a dentist game, have students work on their lowercase letters by tracing on this worksheet. This free worksheet easily incorporates letter formation practice into your community helper unit.
Learn More: Easy Peasy and Fun
14. Play a Matching Game
Since each of these pictures is labeled, it's great for both memory and letter recognition. Have students play in teams and perhaps have a prize for whoever makes the most matches.
Learn More: Life Over CS
15. Firefighter Yoga
End your unit with some deep breathing, relaxation, movement, and yoga! This firefighter-themed yoga class is the perfect community helpers-themed activity for winding down and closing the unit.
Learn More: Classy