Adjectives are an important and powerful part of speech. Whether you're working with irregular adjectives or any other part of speech, it is important to ensure proper usage. The ultimate goal is to have students use comparatives and superlatives in the correct context. In order to do this, students will need to understand how to change the original adjective within superlative sentences or comparative statements. Take a look at this helpful list of 16 sensible activities to improve your teaching in this area!
Definition Of Comparative and Superlative Adjectives
Comparatives and superlatives are forms of adjectives. Comparative adjectives are describing words. These words are used to compare two objects. More specifically, the comparative form of adjectives compares two things and states how they are different. In contrast, superlative forms compare one item or object to other objects of the same kind.
You must account for different syllable adjectives when writing the preferred usage and proper form. When using one-syllable adjectives, you usually add -er or -est to form comparative and superlative adjectives. When dealing with two-syllable adjectives, you often need to use the words more, most, less, or least. Sometimes you will need to drop the y at the end of the word to form the proper version of a comparative or superlative adjective. Now, when 3 or more syllables are involved, you will notice that you must add more or most or least or less before the adjectives to form the correct comparative or superlative form.
So with all this information, how do you know when to use comparative or superlative adjectives? Use them when you're looking to provide a deeper meaning or comparison! Enjoy this super list of superlative and comparative adjectives, their definitions, examples, and exercises.
An Example List Of 16 Comparatives And Superlatives
| | |
| --- | --- |
| Comparatives | Superlatives |
| 1. Bigger | 1. Biggest |
| 2. Stronger | 2. Strongest |
| 3. More expensive | 3. Most expensive |
| 4. Better | 4. Best |
| 5. Darker | 5. Darkest |
| 6. Easier | 6. Easiest |
| 7. Taller | 7. Tallest |
| 8. Sadder | 8. Saddest |
| 9. Happier | 9. Happiest |
| 10. Busier | 10. Busiest |
| 11. More expensive | 11. Most expensive |
| 12. Better | 12. Best |
| 13. Smaller | 13. Smallest |
| 14. Worse | 14. Worst |
| 15. Less | 15. Least |
| 16. Hotter | 16. Hottest |
8 Captivating Comparative Exercises
1. Chain Game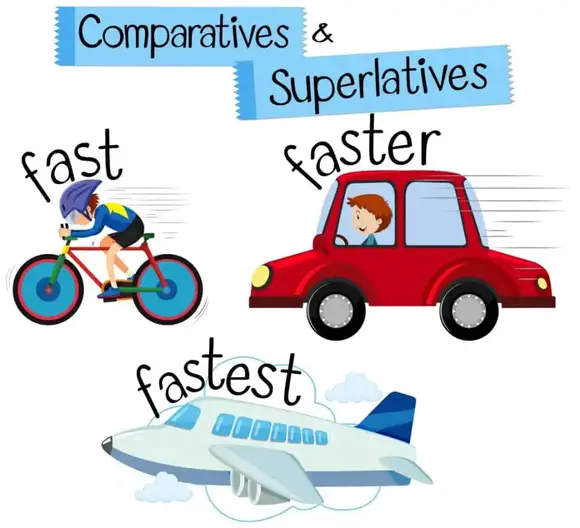 This fun game is great for helping students think on their feet. Students provide a statement and the last word in the statement must start the next student's statement. This is how the chain forms. It is important to stress that each statement must be a comparative statement.
Learn More: Games4ESL
2. Noun Cards
This activity is great fun for partners or small groups. Provide a stack of cards with different nouns on them. Let students each choose a card and come up with a statement to compare the two cards. Remind them to use an appropriate comparative adjective for each set of cards.
Learn More: Rike Neville
3. Fascinating Facts with Comparative Adjectives
Cross-curricular activities are always helpful in tying subject areas together. Let students research some nonfiction texts to find true facts. Let them rewrite the facts by creating comparative statements that they can share with classmates.
Learn More: Rike Neville
4. Guess the Comparative
This is a great speaking activity that will help students express their comparative statements verbally. They can make statements, using comparative adjectives and statements without naming their chosen object directly, to see if their peers can guess the object that they are trying to describe.
Learn More: Using English
5. What Do You Know Board Game
This cute little board game is a great way to play and learn. This game is a good review of using comparative adjectives and is played with multiple players with game pieces, moving about the board.
Learn More: All Things Grammar
6. Comparative Sentence Race
Separate your class into two teams. Each team will take turns choosing a card that displays two words. The person who draws the card must write a sentence on the board; comparing the two items by using the correct comparative form with the correct word forms.
Learn More: All Things Grammar
7. Magazine Pictures Comparative Game
Give students a describing word. They can then use magazines to find a picture to pair with the word. Challenge them to take it a step further by writing a comparative sentence.
Learn More: ESL Kid Stuff
8. Hot Potato Comparatives Game
Just like the classic game of Hot Potato, let students pass around a ball or another item. As they pass the ball around, whoever has it when the music stops, must a comparative statement. Be sure to help students remember the correct form of the adjective.
Learn More: Teaching In Korean University
8 Super Superlative Exercises
1. Slogans with Comparatives and Superlatives
Using cool and trendy products, have students write comparative and superlative statements that could be used as slogans for the product. This will give students a completely different purpose when writing and will allow them a chance to describe things based on their preferences.
Learn More: Pinterest
2. Tiered Adjective Fans
Create tiered adjective fans! Provide the class with a describing word and have students come up with the comparative and superlative forms. Students can even add small pictures that represent the words they are writing. Put them on a keyring for quick reference for students.
Learn More: Ms. Crafty Nyla
3. Comparative and Superlative Shamrock Craft
This simple craft is a great way to take the original form of an adjective and add in the comparative and superlative forms. This fun craft requires no more than paper and glue. Students can even add a colorful rainbow and cotton ball clouds to complete the image!
Learn More: Ms. Crafty Nyla
4. Comparative and Superlative Match Game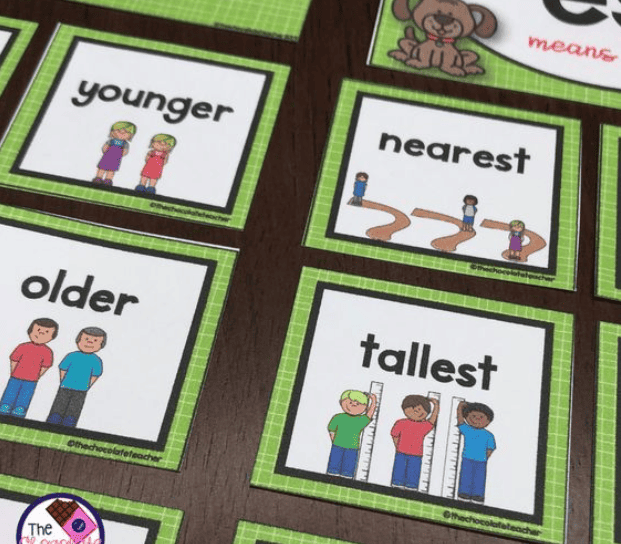 Matching games are a great way to help students form connections between content. Matching the comparative and superlative forms of adjectives is a great way for students to see and understand the different forms of words.
Learn More: The Chocolate Teacher
5. Drawing Adjectives
Students like to draw and it gives them a break from traditional writing tasks. When given a describing word, and the comparative and superlative forms, let students draw pictures that will represent each word form.
Learn More: The Chocolate Teacher
6. Robot Adjective Forms
Make this adorable robot craft with your students to help them practice the comparative and superlative forms of an adjective. Help them make paper flaps that can fold back and forth and show the different forms of the adjectives. Students can then decorate their robots as they wish!
Learn More: Raj Classroom
7. Comparative and Superlative Chart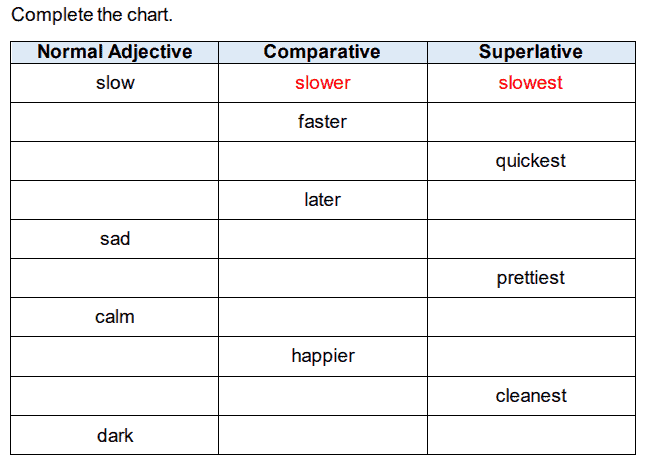 By giving students one of the adjective forms, they should be able to find the other forms. There are three columns on this handout: adjective, comparative, and superlative. Students must decipher the correct form no matter which forms they are given. This activity is a great, post-unit assessment.
Learn More: K5 Learning
8. Comparative and Superlative Sorting
Provide students with a list of comparative and superlative adjectives. Laminate these little mats and let students sort the adjectives into the correct columns. Students could work in pairs or small groups, or do this activity alone.
Learn More: Pinterest
Credit:

https://www.grammarly.com/blog/comparative-and-superlative-adjectives/?gclid=Cj0KCQiAtICdBhCLARIsALUBFcE0FceaY42KDbfth93IkwLYLTG3pk3ImocDO2kYPVp2RLNpUAaCPpgaAtHYEALw_wcB&gclsrc=aw.ds
https://www.wallstreetenglish.com/exercises/comparative-superlative
https://learnenglish.britishcouncil.org/grammar/english-grammar-reference/comparative-and-superlative-adjectives
https://www.ef.edu/english-resources/english-grammar/comparative-and-superlative/
https://www.albert.io/blog/comparatives-and-superlatives/
https://www.sparklebox.co.uk/literacy/vocabulary/word-lists/comparatives-superlatives/