Fractions can be tricky for students to grasp, but with the right activities and games, it can be a fun and engaging topic to learn! We've compiled 20 fraction activities that are perfect for math centers, small-group work, or whole-class instruction. These hands-on activities and games help students of all grade levels develop a deeper understanding of comparing fractions. From fraction pizza to fraction war, your students will love exploring fractions through these interactive and exciting activities.
1. Fraction Sorting
This game is a great way to help your students become experts with fractions. Using benchmark fractions to compare and sort, this game is perfect for third, fourth, and fifth-grade students who want to take their fraction knowledge to the next level!
Learn More: Loving Math
2. Fraction War Card Game
The game makes learning fractions fun and fast-paced! Kids will love competing to build the biggest fraction. As players draw cards and race to compare fractions, they'll develop a strong understanding of fraction sizes and equivalents; making it perfect for 3rd and 5th graders.
Learn More: Amazon
3. Fraction Walls
This is an engaging game that supports understanding fractions and equivalent fractions. Players roll two dice to make a fraction and must then color in the corresponding section on their fraction wall.
Learn More: NZ Maths
4. Fraction War with Dice
Fraction Showdown is an excellent game for comparing fractions. Pairs work together to roll two die and make a fraction with the smaller roll being the numerator. Partners then determine which fraction is larger to see who wins.
Learn More: PDST
5. Fraction Jeopardy
Jeopardy is a perfect game for practicing fraction skills. Students can choose from various categories like "Comparing Fractions with Like Numerators" and "Equivalent Fractions to Half" and put their knowledge to the test!
Learn More: Jeopardy Labs
6. Fraction Top-It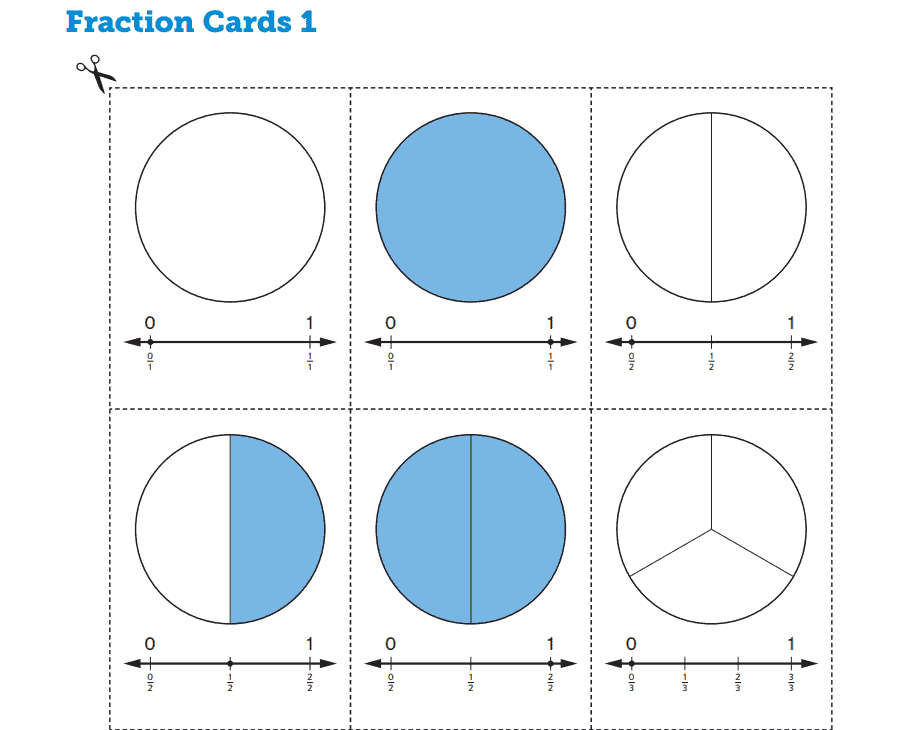 Fraction Top-It is an excellent way to help your students practice comparing fractions. In this game, students will use cards to compare fractions and aim to get more cards than their opponent. This engaging game is perfect for helping students master their fraction skills while having fun.
Learn More: WDBQ Schools
7. Fraction Flip Book
This interactive fraction flip book from Mr. Mault's Marketplace is perfect for practicing bar fractions, fraction circles, and fraction number lines. Plus, the flip book can be used as a reference tool to represent fractions visually.
Learn More: Homeschool Giveaways
8. Fraction Relay Race
This exciting activity helps students explore and understand fractions using real-life scenarios. Students work in teams to plan a relay race by dividing the race into fractional parts and determining the distance each runner will run. They then write equations that will equal one whole.
Learn More: Tools 4 NC Teachers
9. Fraction Comparing Task Cards
This set of 32 task cards is perfect for fourth-grade students to practice comparing equivalent fractions. It includes a recording sheet, answer key, and self-checking answer sheet, making it an easy and time-saving math center activity.
Learn More: The Teacher Next Door
10. Fraction Dominos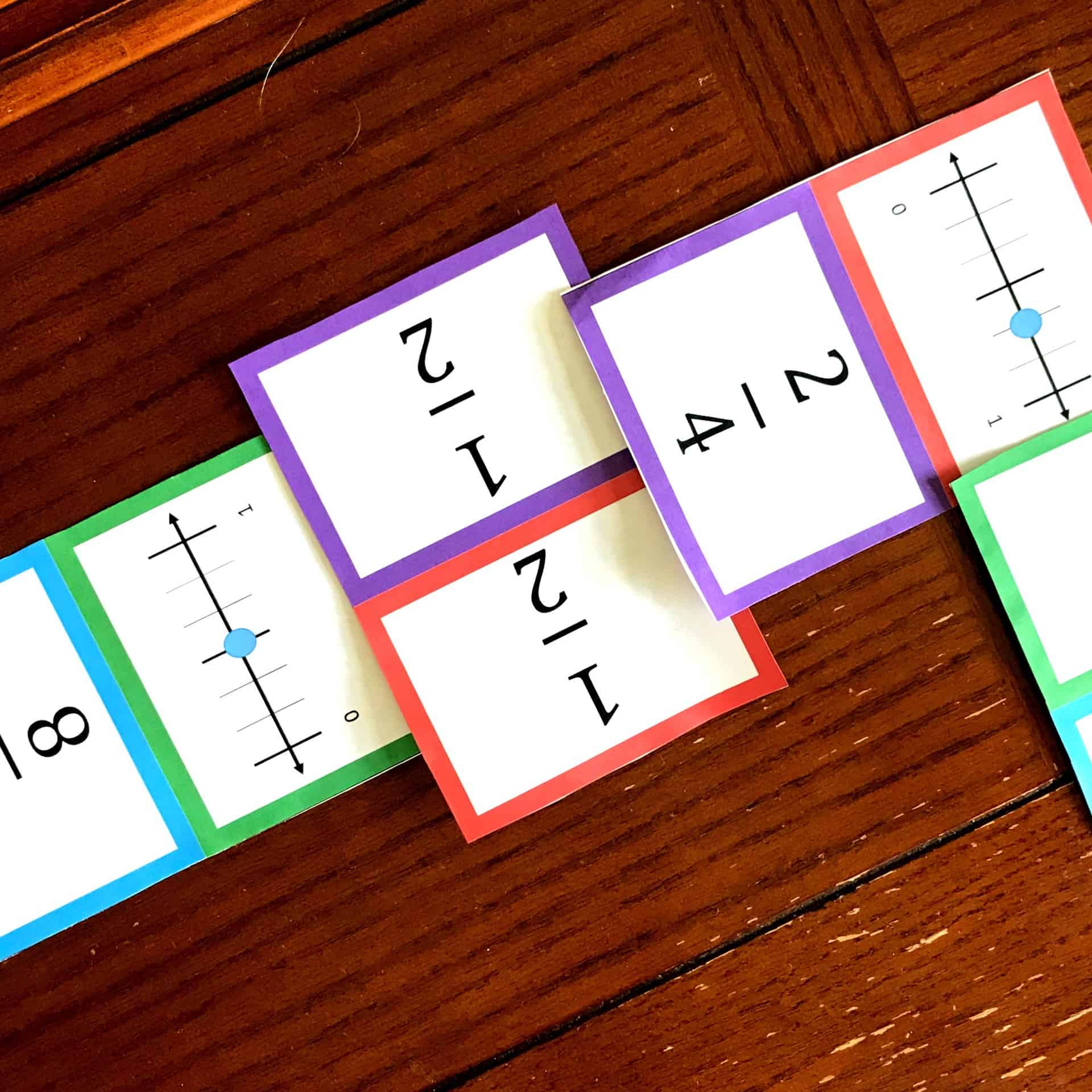 Fraction Dominoes is a fun game for children to practice finding equivalent fractions using number lines, fraction models, and fractions. It's a great activity for math centers or for practicing math in small groups. Players draw dominoes, take turns placing equivalent fractions, and the winner has the fewest dominoes left.
Learn More: You've Got This Math
11. Fraction Bingo with Comparisons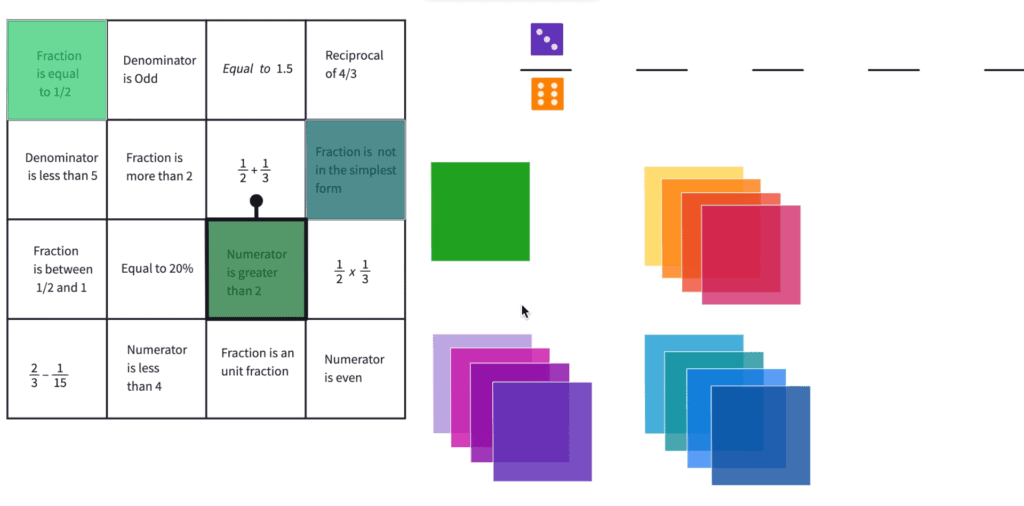 Fraction Bingo is a game designed to teach students about equivalent fractions, comparing fractions, and expressing whole numbers as fractions. Each player has a bingo card with 16 spaces that describe different fractions. The first player to cover all the squares wins.
Learn More: Mathigon
12. Fraction Order Up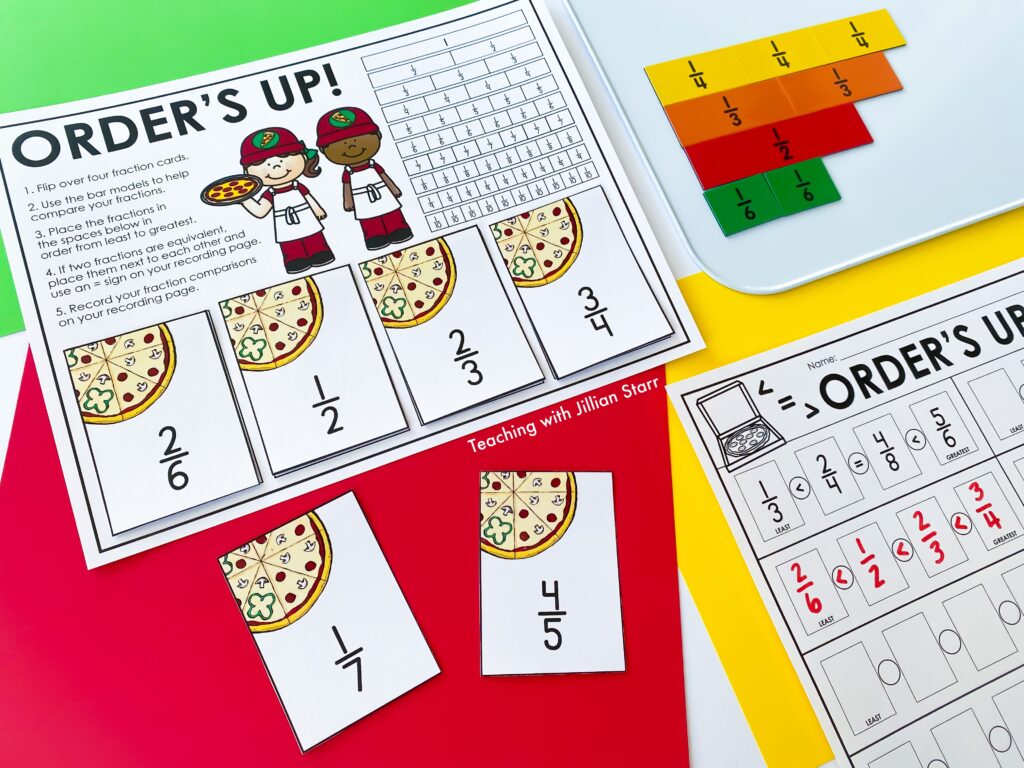 Order Up is an engaging game where students create "pizzas" based on their understanding of fractions; using given orders or their creations. After checking each other's orders, they complete math-related task questions focusing on partitioning wholes, explaining numerators and denominators, and using models to show equivalents and compare fractions.
Learn More: Pam's Place
13. Fraction Line-Up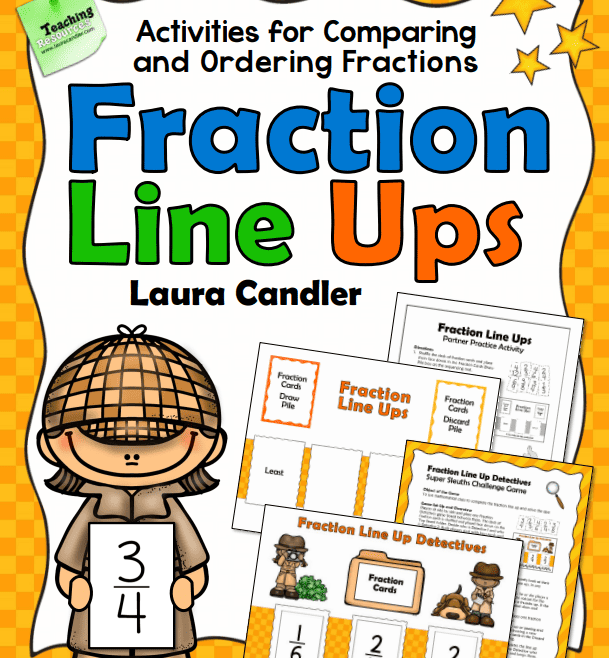 Laura Candler's Fraction Line Up activity is an exciting and interactive way to explore fractions. This activity challenges students to arrange a set of fraction cards from least to greatest, all while engaging in critical thinking and problem-solving skills.
Learn More: Laura Candler
14. Jenga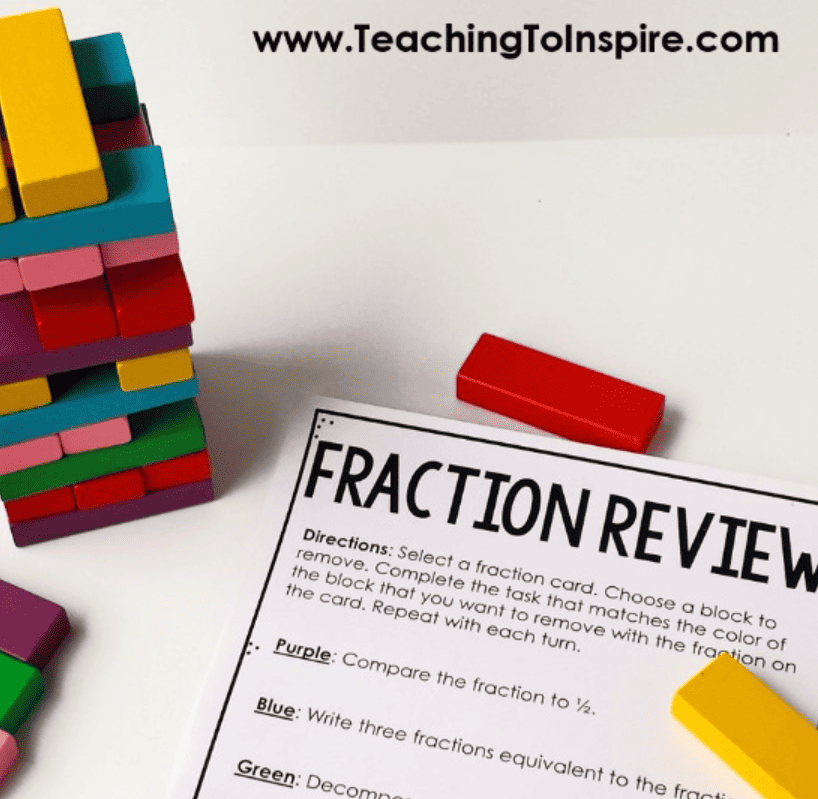 Jenga is a fun and versatile way to review fractions with your 4th and 5th graders. With colored Jenga blocks and free fraction game printables for 4th and 5th graders, students select fraction cards and complete tasks based on the block color they move.
Learn More: Jennifer Findley
15. Fraction Four
This fun fraction game is an excellent way for children to learn about simple fractions while having fun playing a game of Connect Four. With just a few pieces of tape and a marker, parents and teachers can help children develop their mathematical abilities by creating game pieces labeled with simple fractions.
Learn More: No Time for Flash Cards
16. Fraction Fishing
I Have, Who Has is an interactive classroom game that challenges students to compare fractions with different denominators. With engaging gameplay and collaborative learning, this activity promotes critical thinking and math skills while keeping students entertained.
Learn More: WDBQ Schools
17. Fraction Pizza Party
Get ready to make math more delicious than ever before with this Pizza Party Pack! Your students will explore fractions in a yummy and relatable way through activities like "Dividing a Whole" and "Comparing Fractions with Unlike Denominators".
Learn More: Teachers Pay Teachers
18. Color By Number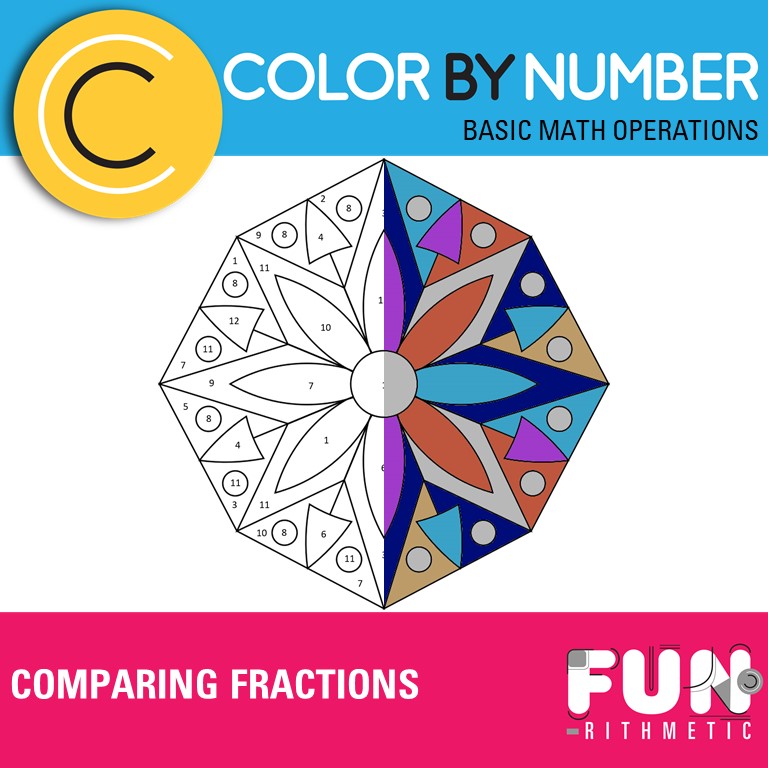 Get ready for a mandala masterpiece with this comparing fractions color-by-number activity! With the ability to use it for sub plans, enrichment, or just extra practice, this activity is a must-have for any classroom.
Learn More: Funrithmetic
19. Escape Room
In the equivalent fractions escape room, students will test their equivalent fractions skills in a fun and exciting game. From simple fractions to more difficult calculations involving multiplication and division, this game offers a challenging yet accessible learning experience that students will love!
Learn More: Math Curious
20. Fraction Puzzles
These fun puzzle activities are sure to excite students about learning equivalent fractions! With varying difficulty levels, these puzzles challenge students to match equivalent fractions and simplify fractions; making math more engaging and enjoyable.
Learn More: SV Pact